Not a big fan of the cold season? I bet you can't say no to the exciting winter holiday period. As the leaves slowly fall from the trees and the days become shorter and shorter, it's a sure sign that winter is coming. It's time to get cozy, grab a hot cup of tea or hot chocolate, and spend quality time with your family and friends.
What better way to spend an evening than having all your loved ones together, sitting by the fireplace while enjoying the traditional winter holiday feast? It is time for love, warmth, and generosity.
Whether you celebrate Christmas, Kwanzaa, or Hanukkah, this time of year is for sharing. It means you must start being creative and preparing the ideal gift for your loved ones.
Your gifts must be memorable. A great idea would be to personalize them to ensure the recipients will like them and won't regift them to someone else. Finding the perfect gift might not be accessible while sticking to a strict budget, but no worries, you may find some great DIY gift ideas for Hanukkah here.
Hanukkah, also known as the ''Festival of Lights", means dedication in Hebrew. It is a festival commemorating the Holy Temple's rededication and is celebrated for eight days and nights during winter. It also honors the Maccabean victories over the Seleucid king Antiochus IV Epiphanes. According to the Hebrew calendar, Hanukkah starts on the 25th day of Kislev and may occur anytime from late November to late December. One of the essential Hebrew traditions during the festival is lighting the menorah each evening. The Hanukkah menorah is a nine-branched candelabrum lit during the eight-day Jewish holiday. Why nine branches, you may ask? Well, the ninth holds a candle called shamash- helper, which is used to light the other eight. One candle is lit on the first evening, and an additional candle is lit on each following evening until eight candles are burning on the last evening. Also, they celebrate the holiday by getting together with the family, singing songs and prayers, and giving gifts to children.
Imagine yourself walking down the streets of Israel during Hanukkah. The cities are brightening, whether it's Jerusalem, Tel Aviv, or any other place. The true magic of the holiday can be experienced strolling through the neighborhoods of Israel. Families gather outside their homes to light candles at the sunset. What more endearing sight to see than families gathering to celebrate this unique holiday? Across the country, during Hanukkah, magnificent theatrical productions take place. Also, people indulge in traditional fried meals and decadent treats, like sufganiyot, a rounded jelly doughnut.
If you don't want to overspend your budget on buying gifts from the store, or if you have a creative side that you want to put into practice, here are some homemade Hanukkah gift and decoration ideas.
Homemade Hanukkah gift ideas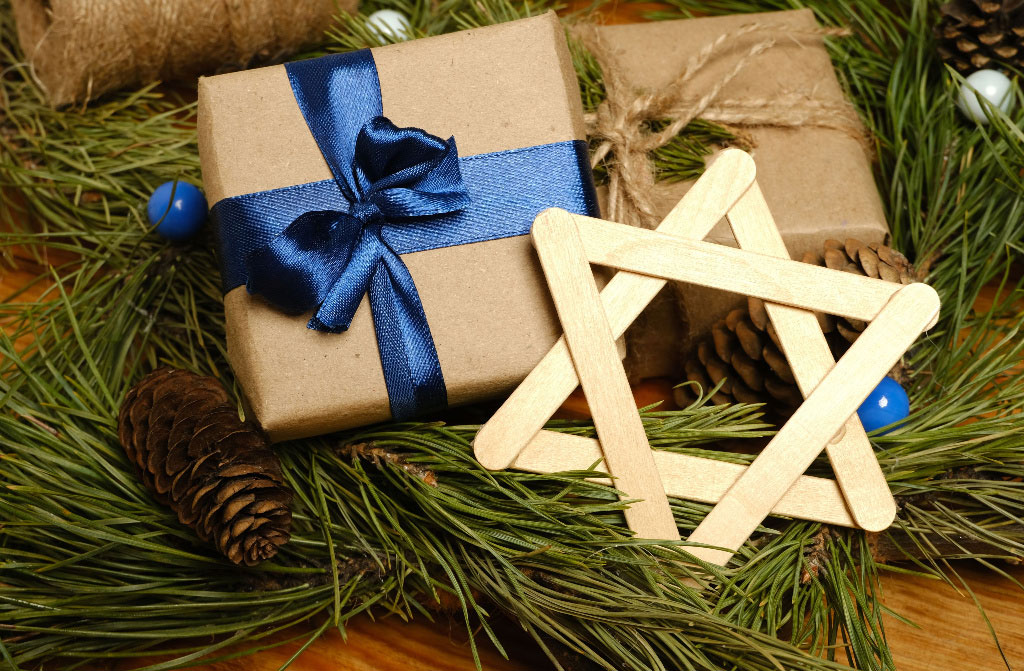 Finding the perfect gifts for your loved ones might not be easy, but nowadays, there are plenty of sources of inspiration to create the perfect gift yourself. The online platforms are filled with DIY Hanukkah gift ideas, and here we've gathered the most original ones.
1. Gift-Box Menorah
Use eight small boxes and one larger box in this gift-giving menorah. A good idea might be to use boxes made from recycling paper so that your menorah will be environmentally conscious. Start by punching a hole in the center of the top flap of each box, then cut a yellow ribbon into nine pieces. Fold each piece in half, and push the ends through the hole. Don't forget to hot-glue ends to the flap. Then attach four boxes with double-sided tape to each other, and repeat the same thing to the other four. Wrap them in silver ribbon, hot-gluing ends to secure. Wrap the larger box into the silver ribbon, then attach it to the other eight smaller boxes with hot glue.
The last step is to fill the eight small boxes with treats or small gifts, one for each night of celebration.
2. Hanukkah gift bags
A simple and cheap Hanukkah gift idea that doesn't require origami skills. You will need eight small paper bags, Hanukkah gift tag clips, card stock, scissors, mini clothespins, and sweets. The first step is to place the candies or trinkets in the bags, bring two corners together, and fold the top over many times. Then print the tags onto card stock and secure them to the bags with mini clothespins. It is simple as that to create this thoughtful, DIY Hanukkah gift.
3. Hanukkah fruit and sweets box
Express your appreciation to your family and friends with a box filled with the delightful flavors of the season.
While plenty of Hanukkah fruit boxes are on the market, making them will allow you to choose your treats. Add the box, sweet apples, juicy pears, decadent chocolates, yogurt-covered almonds, festive cookies, and more. It is the perfect gift for everyone, and it can be used for other occasions as well. For example, it can be a great housewarming gift.
4. Hanukkah Songbook
Create a songbook with all the songs that tell the Hanukkah story. A sing-along is a perfect way to gather all the family around the piano and have good times together. It will create a warm and cozy atmosphere, and you won't have to worry about overspending. Just decorate the book with Star of David stickers and patterned scrapbook paper, and you are pretty much done.
5. Hanukka Gift card holder
It is not easy to give someone a gift. You have to get creative, which is time-consuming, and this could provide headaches. An easy way to avoid this issue is to express appreciation with a gift card. While not the most inspiring choice, it might do the trick if you customize it. For example, an easy way to do it is to create a paper gift card holder. You only need to cut out a pair of paper triangles using a template you can easily find online. One should be white; the other one should be blue. Using a knife, make a slit wide enough to fit a gift card in one triangle. Attach triangles with double-sided tape, creating a pouch. Using a ruler and blue ink, draw borders. In the end, you can insert your gift card.
How many gifts do you give for Hanukkah?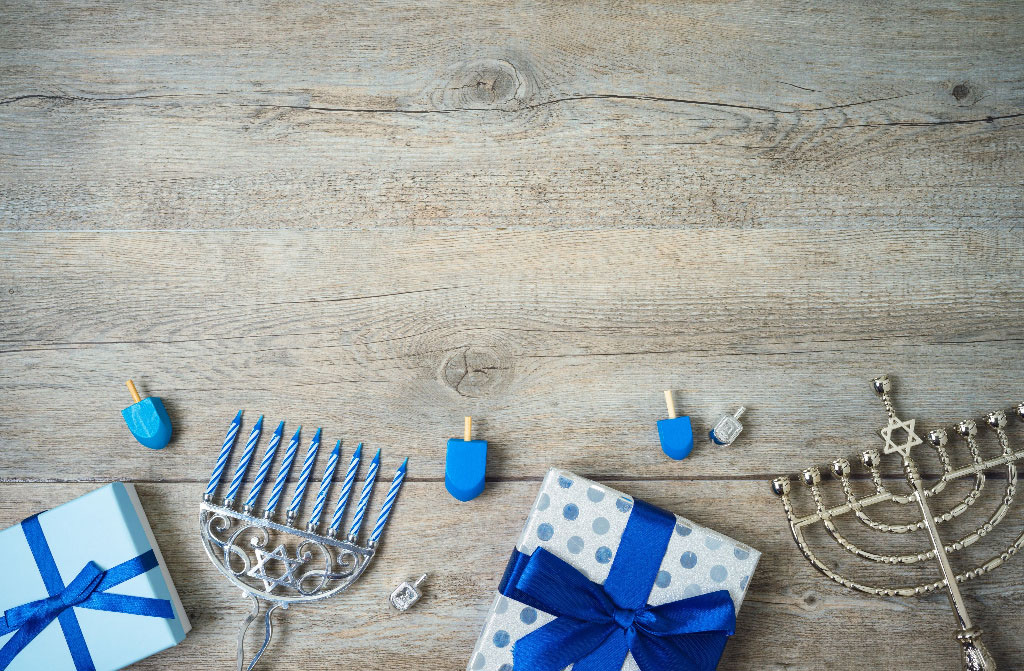 The much-awaited time of year when everyone celebrates with family and friends is nearly coming. Hanukkah is a holiday that celebrates Jewish strength, perseverance, and continuity. Numerous non-religious customs are related to it, like festive meals, songs, games, and gifts.
Traditionally, gifts were not a part of Hanukkah, but nowadays, many families include gift-giving. How many gifts? There's no specific answer to this question. Some give a symbolic gift each day during the celebration, while others prefer one day and give a more significant gift. There's no rule to it. A common practice during this holiday is to provide money or gelt to small children.
They give a dollar the first night, two the second night, and so on. It adds up to $36, a lucky number in Hebrew culture. The number 36 is a ''double-chai''.(18 is the numerical equivalent of chai, the word for "life" in Hebrew).
From a Jewish perspective, charitable donations are one of the best gifts you can make. So, when considering buying a gift for Hanukkah, you don't need to make a hassle. Just don't forget to send cards with the name of the organizations you contributed to and the person you had in mind when donating. It is a nice gesture, and many could benefit from it.
DIY Hanukkah decorations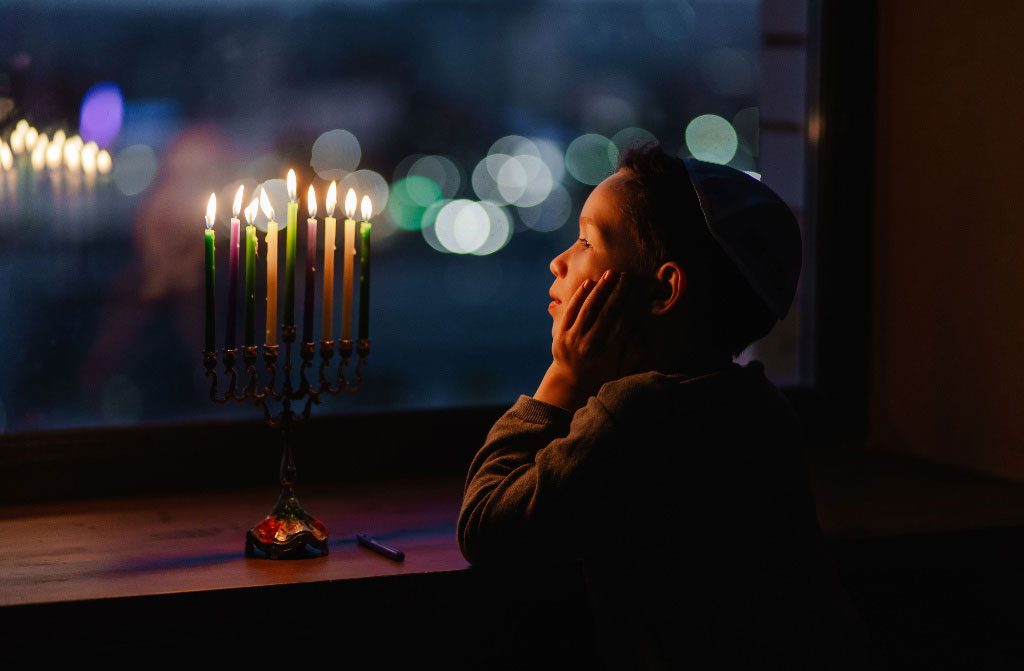 The holiday season is the perfect time to express your gratitude for life and your creativity. It is time to elevate the mood, get cozy, and brighten up your house to make it welcoming for yourself and your guests. Here are some easy, budget-friendly DIY Hanukkah decorations that will make your home stand out.
A festive holiday meal is an essential part of Hanukkah traditions. Thus creating a welcoming table setting is vital. Use a dip-dye blue and white table runner to personalize it. Make matching dip-dye napkins, and add some flowers to the table to make it more vivid. You can use lilies, which are the traditional Hanukkah flowers. Use blue paper napkin rings to give the table setting a new spin. You can hand draw the shape of the Star of David on it. To create a 3D design, cut out half the form, then fold along the center line.
You can easily decorate your Hanukkah serving trays or cake pedestal by sticking a silver foil Star of David. You only need to cut thin foil tape strips into the Star of David's shape, cut the ends at an angle, and then stick them to your trays. When you are done, they can be effortlessly peeled off.
The Hanukkah bush is a beloved tradition among some North-American Jewish households. It will give your home a festive air, and you can decorate it in many ways. You can add white and blue lights, miniaturized menorahs, and a Star of David to the top. Don't be afraid to get creative with it. Your children will appreciate it for sure.
Gather around your family to create some DIY Hanukkah decorations together. You can make paper Star of David, glittered garlands, and lettered banners that spell '' Happy Hanukkah''. You can hang them next to your windows to greet everyone passing by.
These are just a few ideas to personalize your celebration. Whether you want to put into practice some DIY Hanukkah gift ideas or some DIY decorations ideas, there's a wide range of options for you. You need to get creative and put some of your time into it. I bet the result will be satisfying, and your beloved ones will truly appreciate your dedication and effort.