Isn't it wonderful to just walk out of your room with a cup of coffee in hand and just enjoy the morning breeze on your balcony? Just hearing the outside sounds from the hustle and bustle of people starting off their day in the thrill of early beginning ignites a sense of relaxation that's always a good way to start off your day. Being able to sit down and look down into the street as you take one moment to yourself before getting ready for work could be considered a luxury, even if it's one of the simplest and most accessible things to do.
Those of us living in apartment buildings in the downtown area of cities know that a balcony is the epitome of good city living. While there are balconies in the suburbs, as any single-family home can be designed, within permit limitations, to the desires of the homeowner, we aren't going to focus on those in this article. That's not to say, however, that the following suggestions can not be applied to single-family homes and their balconies or patios. It's just more that space may be less limited there, but, by all means, if you don't know how to make a balcony look nice and are looking for some budget balcony ideas, have at it. After all, this article is about transforming that small outdoor space into a balcony oasis, regardless of the building it is in.
Knowing how to make a balcony look nice isn't such a complicated matter, and it depends on what your needs from that balcony are and what you have to work with. A smoker may want to limit his bad habit and wish to transform his balcony into a comfortable area, while a plant lover may end up with a small jungle on their balcony. Whichever your balcony oasis ideas are, here are some budget balcony ideas that will show you how to make a balcony look nice, regardless of your financial situation.
Balcony Oasis Ideas on a Small Budget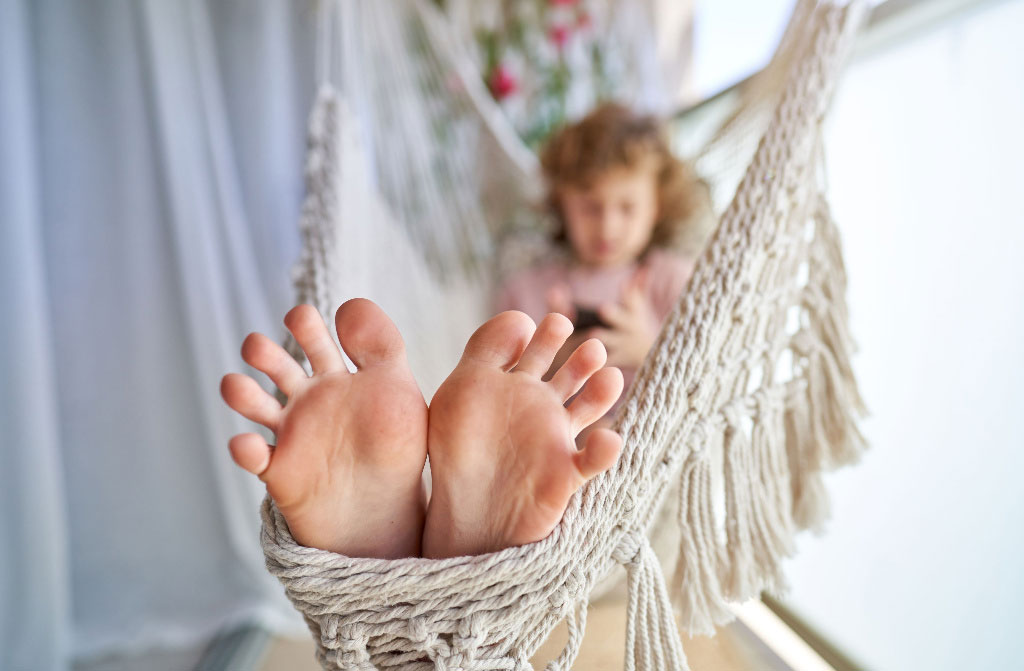 Once you have finished scrolling through Pinterest and saved your favorite designs, you need to get to work. This will be a lot easier than you might expect, and if you keep scrolling, you'll only end up wasting more time that you won't be able to spend lounging in your private balcony oasis. So if you have a general idea of what you want, put your phone down and get to work. After all, a budget balcony oasis won't be so budget-friendly if you hire people to do it for you. And before you get anxious or start doubting your abilities, trust me, if a woman that weighs less than 110 pounds can do it, you will be more than fine to perform the following steps.
Coziness Under Your Feet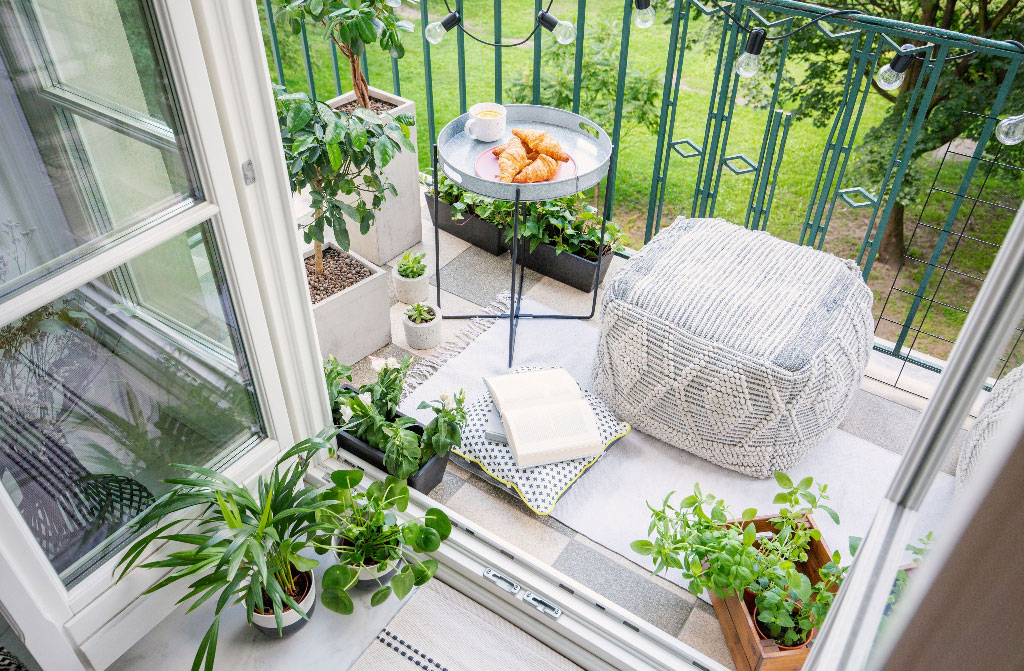 While there are many things that can be used in a balcony oasis for flooring, we need to limit spending money. Otherwise, you could look into all the types of flooring available and hire the help you need. Still, a balcony oasis can be better achieved if coziness can reach you from the moment your feet feel the floor. There are two budget-friendly alternatives that can apply here but choosing the right one depends on the type of balcony you have.
If a higher floor doesn't cover your balcony, then it would be best to go for materials that the elements can not damage. Rain could get into your balcony and ruin all your hard work if you don't plan accordingly. For these types of balconies, I suggest you use artificial grass through which water can just seep to imitate a garden oasis that you could have if you lived in a single-family home. It will also be comfortable under your feet, offering plenty of cushion against the concrete.
If a higher floor covers your balcony, the space will be a lot more protected and less at the mercy of the elements. In this case, you can increase the Hygge factor tenfold and cover that dull concrete with some outdoor rugs. Depending on the style you choose, you can look into plain rugs or go a bit extra and have fun with their colors. Based on what you choose, you can start your color pallet. For a plain rug, use some coloring in the furniture, but with a colorful rug, you can choose more conservative furniture designs.
Comfort From Outdoor Furniture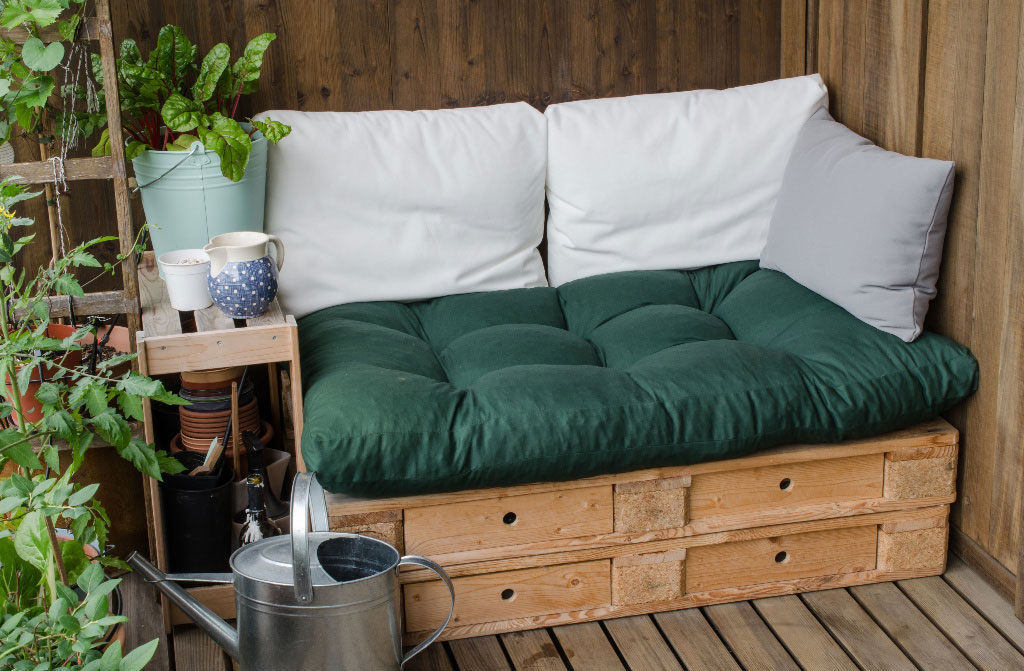 While the cheapest and simplest option would be to choose some plain plastic chairs, we are going for comfort here, and I don't like plastic. If you do, have at it, but consider some wood pallets before you buy the chairs. Depending on your balcony size, you can fit the pallets snuggly or cut them to work with the space you have. If you decide to go with pallets, you won't have chairs, but a comfortable two-seat sofa that is easy to do and will make the space even cozier. Just stack two pallets on top of each other and one behind them (maybe at an angle) and throw either some foam material cushions or blankets. Add a few decorative pillows, and the seating area will already be covered.
Another option I implemented as I had a very limited budget and some items on hand is a sofa or chairs made of tires. Here you could simply arrange two tires side-by-side and throw a spongy mattress on them (what I did), or use some rope and wood to transform them into large ottomans. Again, it depends on the size and shape of your balcony. Using what you have available will make your balcony oasis more budget-friendly. I didn't spend a dime for the whole balcony makeover I did.
Just use a small crate if you need a table, maybe for some outdoor movie nights. You won't need more space, and it will clutter your balcony. Just something on which you can put a cup of coffee or a glass of wine and a laptop if you want.
Spruce Things Up and Relax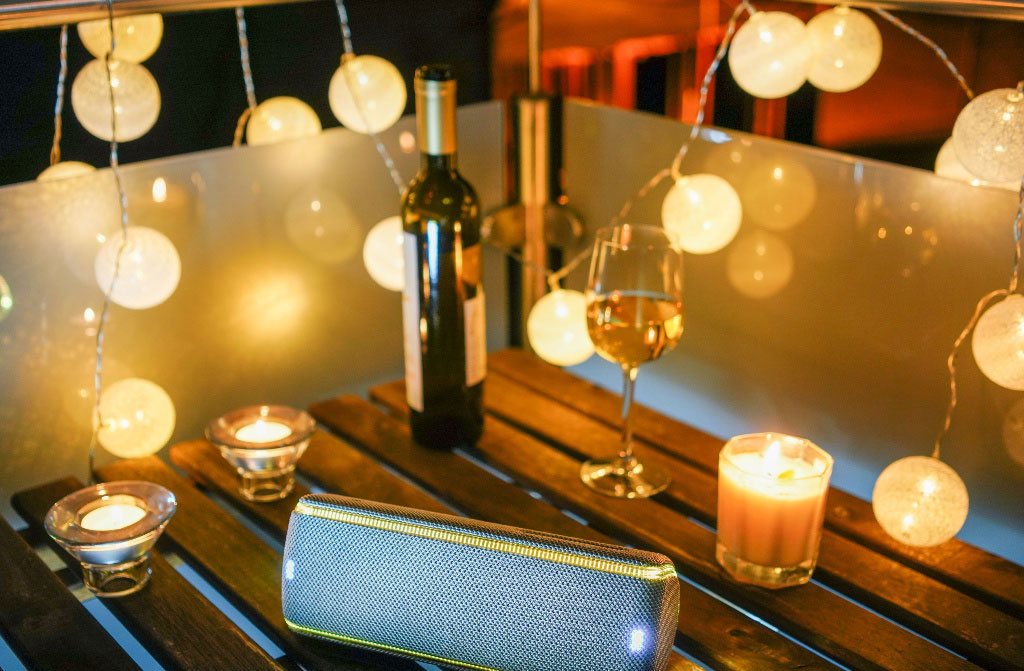 With the main function and design elements out of the way, you can start thinking about making it homey and welcoming so that when you have a special someone coming over, you can both enjoy the light breeze and the outdoor weather. One of the simplest ways to make a balcony oasis an actual oasis is by introducing a few plants into the space. Greenery and the accidental pop of color from a blooming flower adds cheerfulness to any space, indoor or outdoor. But when you browse the shops for the most beautiful plants to re-home in your balcony oasis, keep in mind the amount of natural light that would reach them. Depending on how your balcony is directed in relation to the sun, you need to be aware that not all plants require the same amount of light. Some may need shaded areas while others, the full power of the sun. Choose your plants accordingly and organize them in such a way that they receive what they need from our small star. You can even use them to ensure a bug-free space. The pots and planters should also work with the style of furniture you chose and the colors, but it's not a requirement.
While we are decorating an outdoor area, outdoor lighting comes in handy. Now, I'm not referring to any expensive lighting system as it's not necessary. One of the simplest and most cost-efficient ways to introduce some atmospheric light into your balcony oasis is to simply string a few string lights in the space. If you have a railing, use it to guide the light around it. You can also screw in a few hooks and hang string lights on them. Another great way to increase the coziness level is to cover the walls, or just one, with them. While all these are budget-friendly options, you could be even more efficient and just use your Christmas lights.
For some extra privacy, you can use dividers made out of eco-friendly bamboo. They are cheap and increase protection from the elements while also making it impossible for your neighbors to spy on you.
Conclusion
While you can invest as much as you want in a balcony oasis makeover, this may be one of the lowest return-on-investment spendings you will ever find. Most of the things you do in your balcony will make it look amazing, but as they will come down and get packed up when you leave, there's no way to recover any of the money you spent on making it look amazing. So, why spend much? There's also a big chance that you won't be able to use the same elements in another balcony, so be budget-friendly about it. It can look just as amazing as those on Pinterest, if not more so if you do it yourself. Use as much as you can from what you already have, take second-hand things if you can, and let your creativity run wild. It's that easy. You don't have to make a hole in your budget to be able to enjoy your own oasis, and it doesn't even take a long time to do. I did a complete makeover where I could watch movies outside in one day.
Let us know in the comments section below what you think is the best way to make your balcony a place where you can relax. I find these soothing once they were implemented, but maybe there's something else that you like. Like & Share this article with friends who might want to make the most out of their balcony as well. We all know how nice it is to have a place where you can just unwind.