Step outside into your backyard and take a deep breath in while you close your eyes. Hold it there for a few seconds then slowly allow the air to leave your lungs. No, we are not doing a yoga exercise, but try to understand how your backyard makes you feel. Does it fill your mind with a sense of comfort and tranquillity, or does it overwhelm you with a sense of dread and anxiety? If you answer with the latter, then we have another exciting project for you.
We all want our backyard to feel like an oasis of relaxation where we can just unwind after a long day's work. If you're not getting that from your backyard space, don't worry. We have just the right tips and tricks to guide your backyard towards becoming the oasis you're longing for. Once you know what you want for that space on your property, you only have to start implementing it. For this project, you don't even need a professional but do be open to getting your hands dirty a bit. In my opinion, doing a project yourself can be one of the most fulfilling experiences. In the end, you'll know that it was your work, your hands, and your sweat that got the job done. Whether you have a pool or not, by implementing a few backyard ideas, you'll have the ideal spot for relaxing without even leaving your home.
A backyard oasis isn't unattainable, no matter how large or small your backyard is. With a bit of imagination and a lot of dedication, you won't even have to spend a large budget on it. Just grab a pair of boots, some gloves, and get to work. We'll provide you with some verified methods and DIY backyard oasis ideas that will bring the holiday a few feet away from your home's back door.
How much does it cost to create a backyard oasis?
Firstly, in this article, we will describe how to turn your backyard into an oasis without the use of a landscaper. This means that the cost depends on the plans that you have, the size of your backyard, and the elements you want to implement within it. Depending on the scale of your project, you can limit your backyard oasis budget or not. As mentioned above, the cost of a backyard renovation can increase your necessary budget by a lot, with landscapers demanding between $7,500 to $10,000 for a whole project. However, if you don't shy away from getting down and dirty, the cost will be limited to the actual materials and products that you use.
The most important thing is to determine if you have a budget and decide what the limit is. The best thing about backyard oasis projects is that you can always continue later on if you spend all the budget available. As long as you get your essential elements installed, the rest can come in due time.
How to Turn Your Backyard into an Oasis?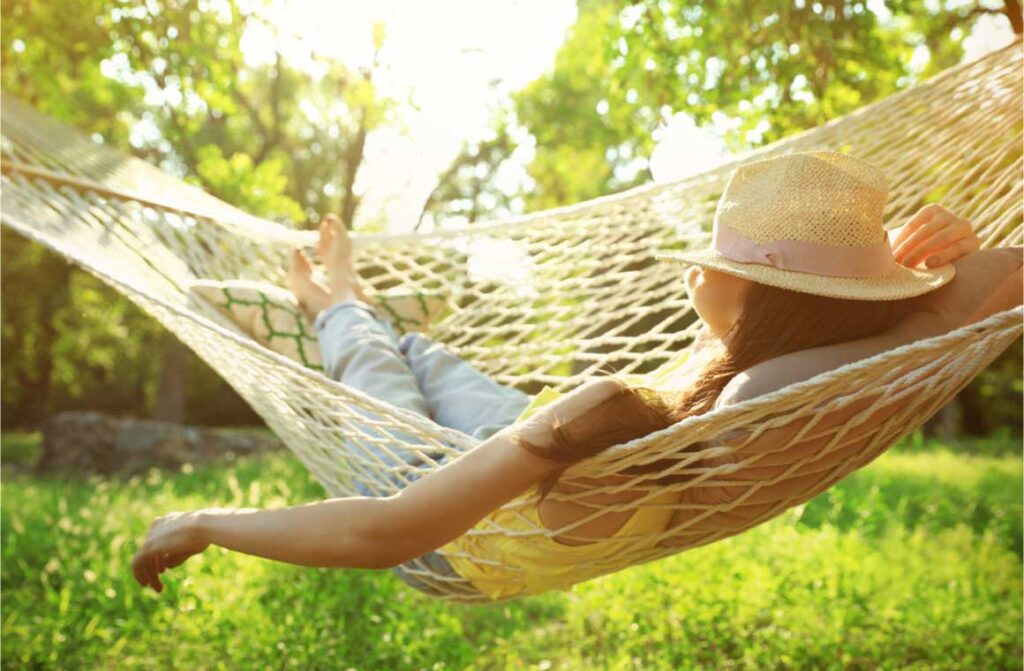 When you start planning your backyard oasis, you have to start with a plan. That only makes sense and is an essential part of any home project. Think of all the elements you wish to have in your backyard. Whether these include water elements, outdoor seating, a She Shed, a gazebo, paved trails, a fire pit, outdoor lighting, and privacy elements, put it all down on a piece of paper and start thinking about how you will organize it all.
This is where the budget comes into play. Keep it in mind if you want to finish your backyard in one go. While backyard projects aren't as time-sensitive as a kitchen renovation, it is more satisfying to complete the project when you put down the shovel. Up next, you'll see the steps necessary to create a backyard retreat right outside your home that can rival any resort destination with the least amount of stress on your budget. You can also learn how to grow vegetables around the house if you arrange an area in your backyard for that purpose alone.
Get your yard ready for work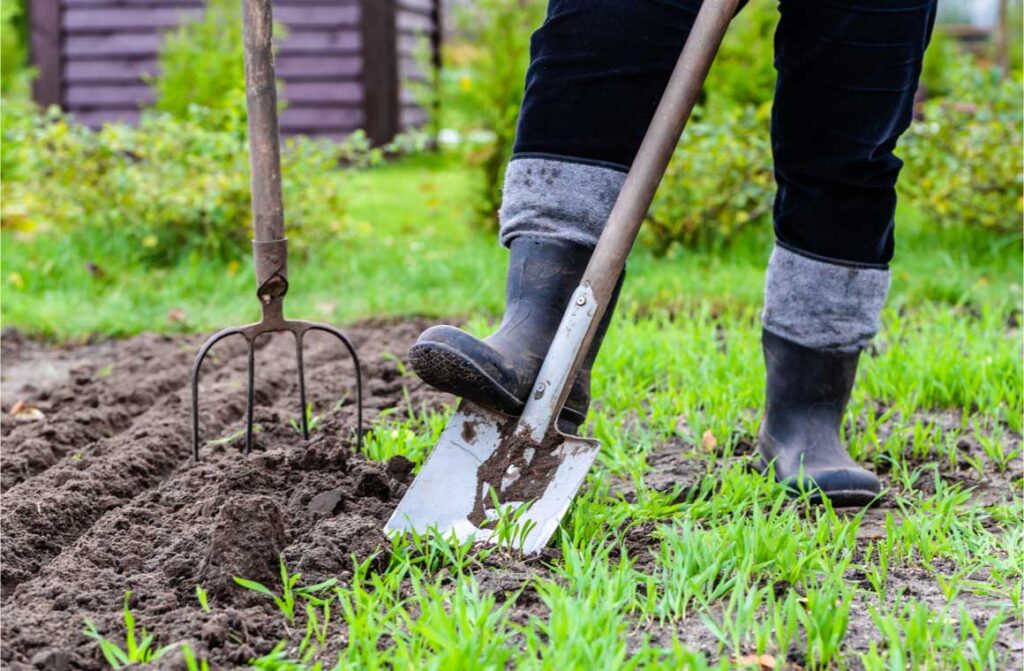 To start, rake up the leaves and clear any planting beds that you want to replace, eliminate any dead foliage and weeds and get the area to look like a blank canvas. This is where you will need gloves, a rake, and maybe a shovel for any deep-rooted plants that you want to take out. If you're going to spend your budget wisely, don't take out what you can still use. Any perennial plants should stay if they don't bother you in smell or aspect, and in the next section, we'll talk more about plants in general.
If you want to implement a water feature, a fire pit, or any other element that requires a clean surface to stand on or around it, you need to keep the weeds out. For this, you first need to determine the area where you want the feature installed, set edging around it with edging stakes, and add landscaping fabric to stop the weeds from growing. Once done, set pea gravel with a garden rake and level it out. Now you can use anything from sand to cement to finish it off.
Work the greenery for your oasis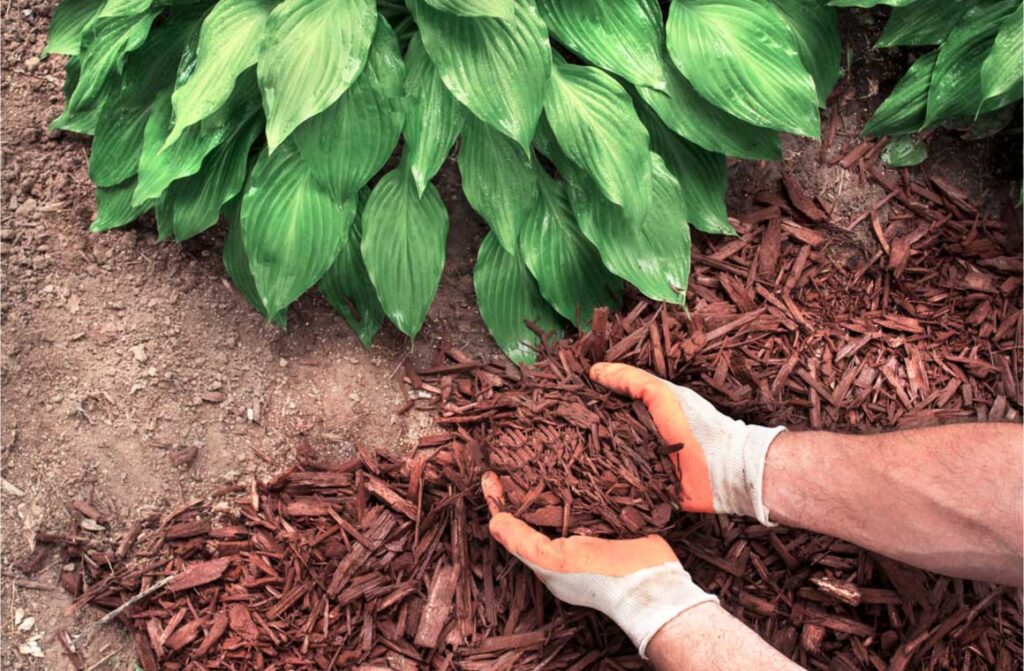 When it comes to plants and flowers, the best place for most of them is in your backyard. If you live in an area that gets a moderate amount of rain, you might not even have to care for them excessively, but a bit of love only makes them grow faster. Plants have a way of relaxing us, whether from their aspect or smell, they increase the appeal of any backyard, so don't be shy with them. For a more interesting look, you can layer your plants, use containers to add some texture, organize them based on colors, build a vertical garden for added privacy and choose large-leafed plants for their extra height. Mix them up and create your own oasis. Just make sure that they are not poisonous, especially if you have pets and small children.
Sustainability Tip #1: If you have old barrels that you no longer use, old tires, wooden crates, or a bathtub, use them as containers. They will add extra dimension and personality to your backyard. 
Sustainability Tip #2: You can plant some herbs and vegetables that can be used for some of the best homemade recipes from your garden.
DIY a low maintenance water feature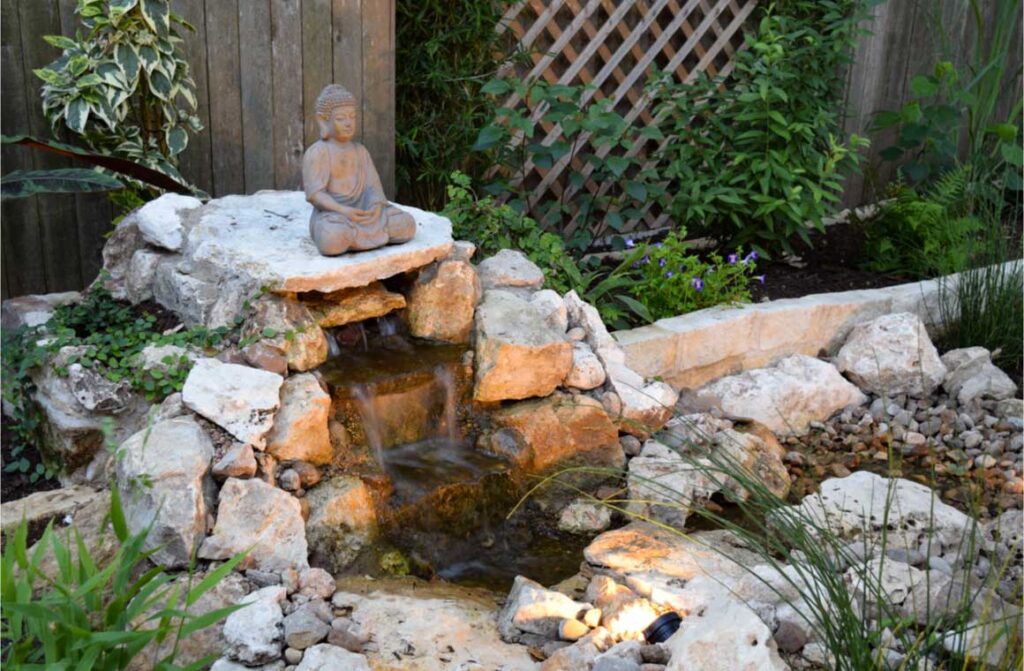 One of the most calming sounds in nature is the sound of running water. It just creates a peaceful atmosphere and drowns out any other sounds that might pollute the area. Whether it is a small waterfall created from old pots and pans, or a closed-circuit waterfall and stream, it will add a dramatic touch to your backyard. Most water features can be implemented in backyard oasis ideas with a pool. Just by stacking a few large rocks, one on top of the other, creating a flow from the top to the bottom where it will meet the pool, and adding an inconspicuous hose at the top will give you the waterfall you've been dreaming of. 
If you want a water feature that resembles a pond, there are two ways of getting it. Either dig up space where you want the pond to be, line it up with a material that will stop the water from seeping through, add the water, some rocks for aesthetics, and any water plants you want. The second option would be to use a container like old pots, ceramics, or even a bathtub. Like this, you can just place them where you want them, add the water and the flowers, and you're done. The bathtub can even be used as it was designed if you have enough privacy in your backyard.
Create your cozy space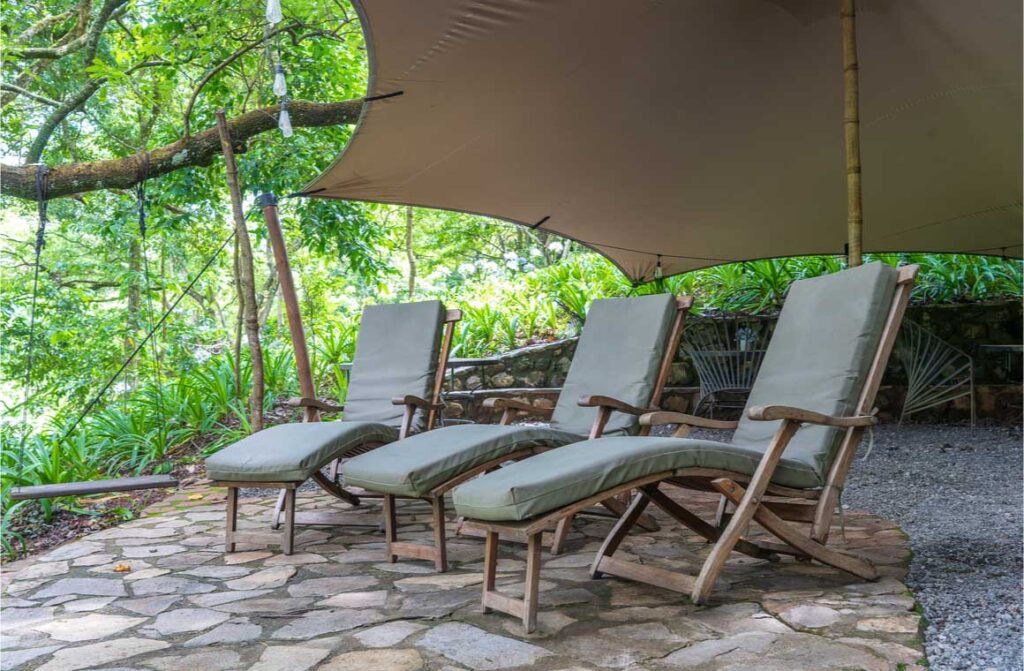 Whether it's repurposed old furniture that is water-resistant and can be used outdoors, some benches made out of pallets, or outdoor furniture from the store, the furniture will give you access to that level of comfort you've been searching for. Depending on what you want from your backyard oasis, you need some seating. Suppose you want it to be a place where you can serve dinner, invest in some setting options. If you want to enjoy a good book, install a hammock, swing set, or fire pit. A fire pit is also an excellent place for some late-night marshmallows with your children. For some privacy, if the vertical garden isn't enough, use some fences, garden walls, or a privacy screen. If you can't block your neighbor's line of sight, will you even be able to relax fully?
Use light like a pro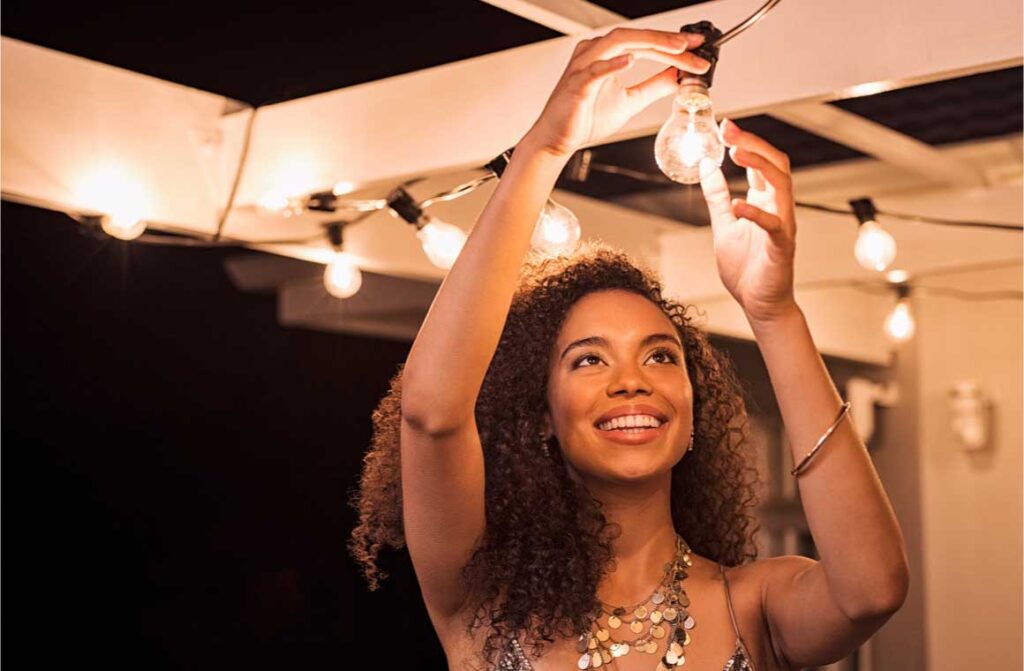 If you want to be able to enjoy your backyard during the evening as well, always keep in mind the amount of light required for that. Use some string lights for a cozy and welcoming atmosphere that doesn't provide too much light and maintains a warm overall feel. During the day, however, you need to ensure that the areas where you want to relax are shaded. The last thing you want is to get sunburnt and heat stroke. You can do this by using umbrellas, building pergolas, or installing canopy or retractable awnings. When the sun is at its highest, it's better to protect ourselves from its heat, especially if we want to relax. But even if you are an avid lover of heat and sunlight, some shading won't hurt and will only increase your backyard's cozy factor.
Conclusion
In order to get an ideal backyard oasis, you have to understand that maintenance is necessary. When it comes to plants, getting rid of the weeds, making sure they get enough water and sun are things that you have to keep track of. Once your backyard oasis is done, you should organize your time so that you have a few hours during the weekend to take out any persistent weeds so that you don't have to worry about chemicals that won't only damage your plants. Still, it will also affect your garden and health.