Deciding how you're going to decorate your backyard may be easy for some but complicated for others. Their backyard is their relaxation space for some people, while for others, it's their vegetable garden. Landscaping can be for show or provide a place where you can host outside parties. It might also be a place where nature shows its full potential and provides produce for you to eat.
Whether it's a French country garden or an oasis where you can center yourself, if you traveled, you probably saw a large variety of designs and styles. Some flowers may be local and challenging to climatize, while others can grow in any part of the globe. So, if you're thinking of taking a page out of the landscaping book from other parts of the world, you've reached the right place.
Further below, you'll find examples of landscaping techniques, designs, and styles specific to certain countries. While it may come as a surprise, a lawn-covered yard isn't universal. Even the Brits, the ones that wrote the book on the perfect lawn, don't limit their yards to lawn. The reason is, the lawn doesn't make you stand out, and it doesn't help anyone. It's difficult to maintain and does not provide a friendly fauna for the birds, bees, and butterflies to pollinate.
German Viewing Gardens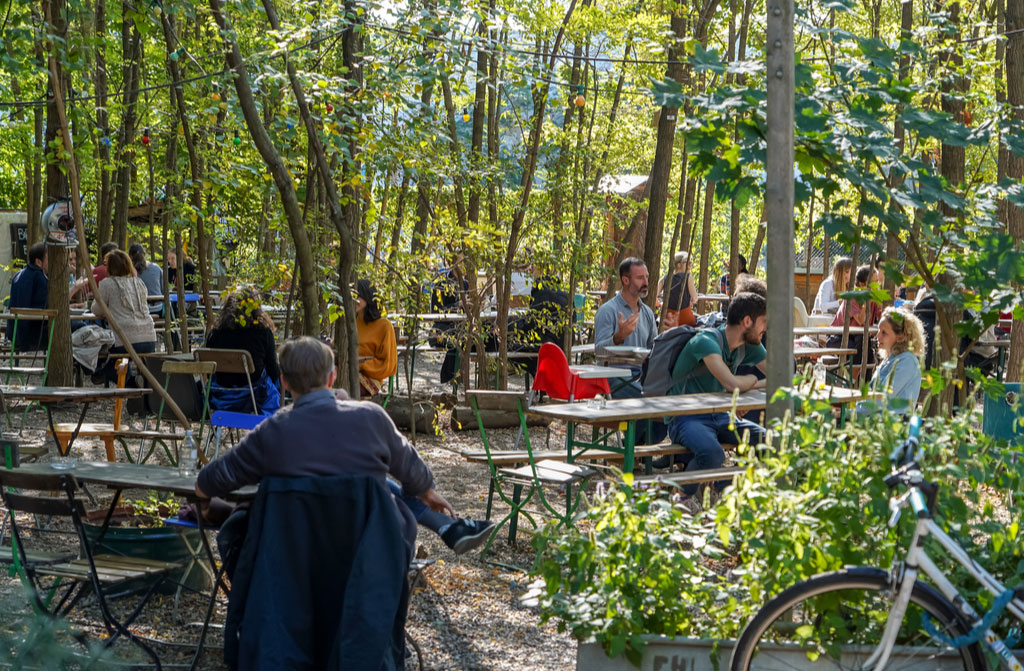 Gardening and landscaping have entirely different meanings in Germany. Backyard gardening and large spaces available for each individual home aren't such a common occurrence across Europe. Even in Germany, where people have their backyards, most places have community gardens. Due to a lack of space, especially in cities, landscaping is something that a whole community can enjoy. Instead of each home having its garden, they have urban vegetation on the side of roads.
Plant communities or societies started in Germany in the middle of the last century. They showcase a new attitude towards gardening and landscaping. Whoever wants to can volunteer, come when they feel like it, and the result is a garden of perennial flowers and vegetables for homemade recipes. The vegetables are for sale and used in on-site cafes. As one of the most floriferous cities globally, Berlin bursts into blossom every year in spring. Magnolia begins the season, followed by Lilac, and wild or cultivated plants complement each other perfectly.
Germany made flowers a part of their culture, and the views are spectacular. Do not avoid a German Beer Garden if you ever get the chance to visit Berlin. They don't use umbrellas for shade. They have trees and strings of light that beckon you to stay a bit more.
Netherlands Modern Gardens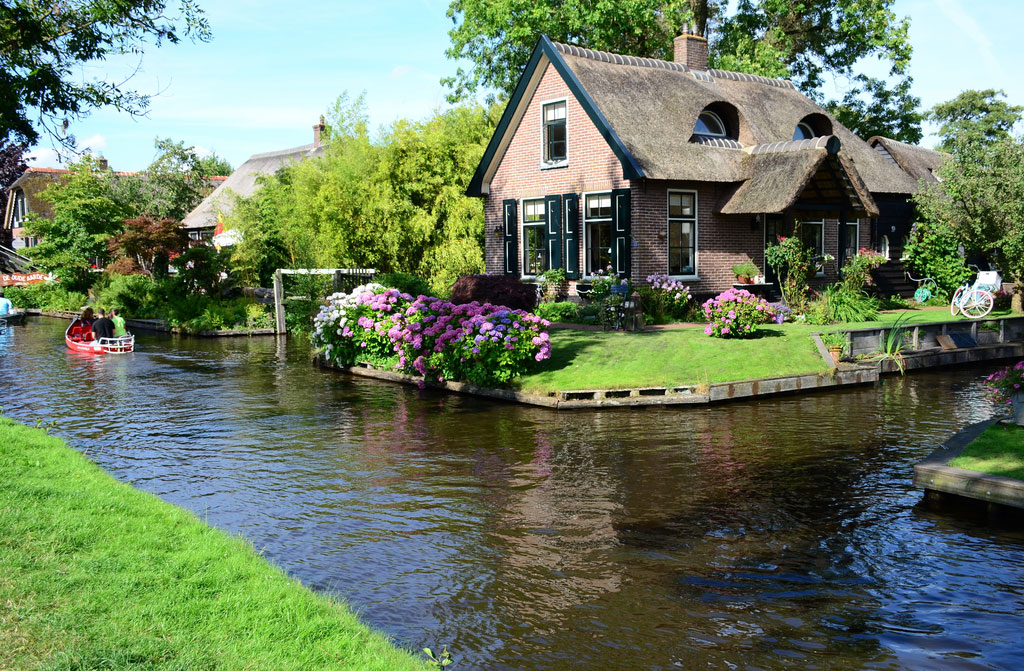 If you heard of something related to Dutch garden designs it's tulips fields. But there's a whole culture surrounding some of the most exciting landscaping ideas from the Netherlands. The formality and geometric design present in Dutch garden styles are famous for their efficient use of space. Traditional Dutch homes are smaller in size than we are used to in the US. They have much less space surrounding them even if they are considered detached single-family homes. The detached part doesn't ensure a vast space on the sides of houses. Organizing a well-groomed and maintained garden isn't always easy. Still, the Dutch found two ways to go around these cultural aspects.
Firstly, since the 1950s, the Dutch were flooded by the influence of landscape artist Mien Ruys. She focused on landscaping designs that include laws bordered by flowers. Brick or stonework surrounded them, then lawns. The limited amount of space and light makes this kind of design accessible in traditional architectural neighborhoods. It doesn't overcrowd the space but uses it to the most of its capacity. Rooftop gardens are common in the Netherlands as well.
The second aspect that we will focus on is tulips. That signals Dutch garden style through linear lines and rectangular patterns. Fields are colored in the most vibrant of colors. While people think that the Netherlands is all about tulips, they don't limit themselves to them. The town Lisse is nicknamed the Garden of Europe for its most famous example of gardening. The Keukenhof (kitchen garden) showcases over 7 million bulbs every spring. But besides tulips, you can find roses, carnations, lilies, and irises, scattered through sculptures and various other works of art. This is done through a collaboration with 25 artists every year.
Greek Mediterranean Whitewash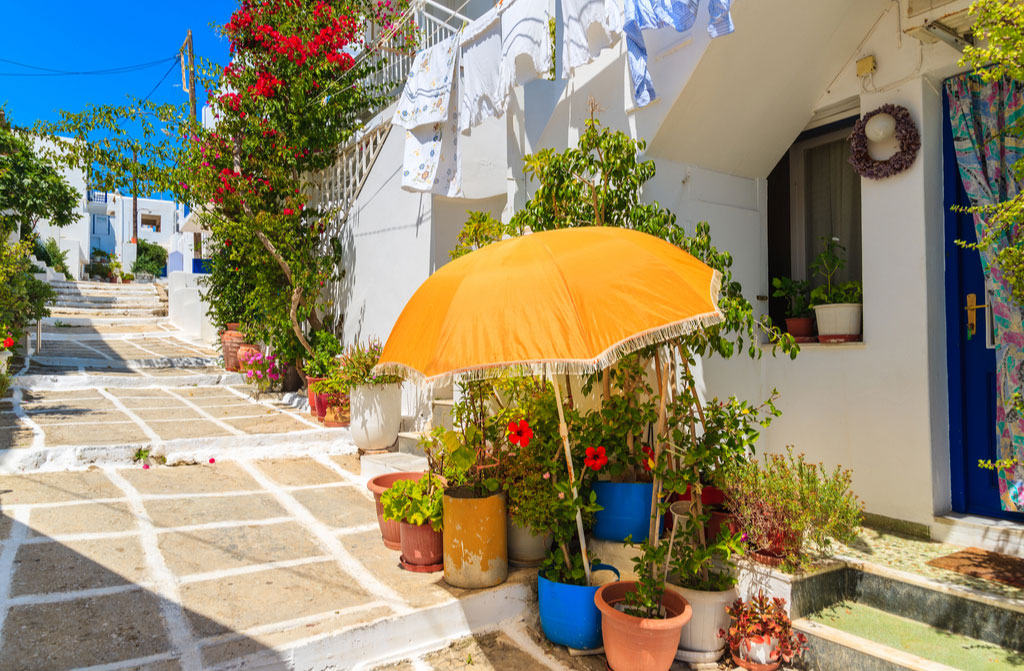 Greek gardens are designed so that they endure and thrive in the extreme conditions of the Mediterranean climate. We all know that Greek architectural styles focus on the color white for the exterior walls. We may not know that the predominance of white colors is related to how the sun interacts with it. This means that it reflects the sun's heat. Plants are sturdy and drought-tolerant because they need to be. However, you are mistaken if you expect this to mean that Greek gardens are dull, uninteresting, and simple.
Terracotta decorations are scattered throughout the space to add pops of color through pots. Those pots most certainly have plants in them that have a better life for being placed in terracotta pots. Terracotta is a highly porous material that makes overwatering impossible. Living in Greece means that humidity is an issue, while at the same time, drought is an issue. Plants that grow and thrive in Greece don't need too much water as they would be burned by the sun, but they must retain the amount of water they get.
There is a minimal amount of space when we look at Greek gardens, which is why they had to make do with alternatives. Lawns aren't typical in Greece at all. For many residents, the typical garden is the street in front of their homes. These limited spaces are decorated imaginatively through clusters of terracotta pots. These can be strewn against the home's walls and windows. Succulents, olive trees, drought-tolerant perennials, cypress trees, rosemary, sage, thyme, and many other aromatic herbs are ideal for the climate and the limited space conditions.
French Flower Frivolity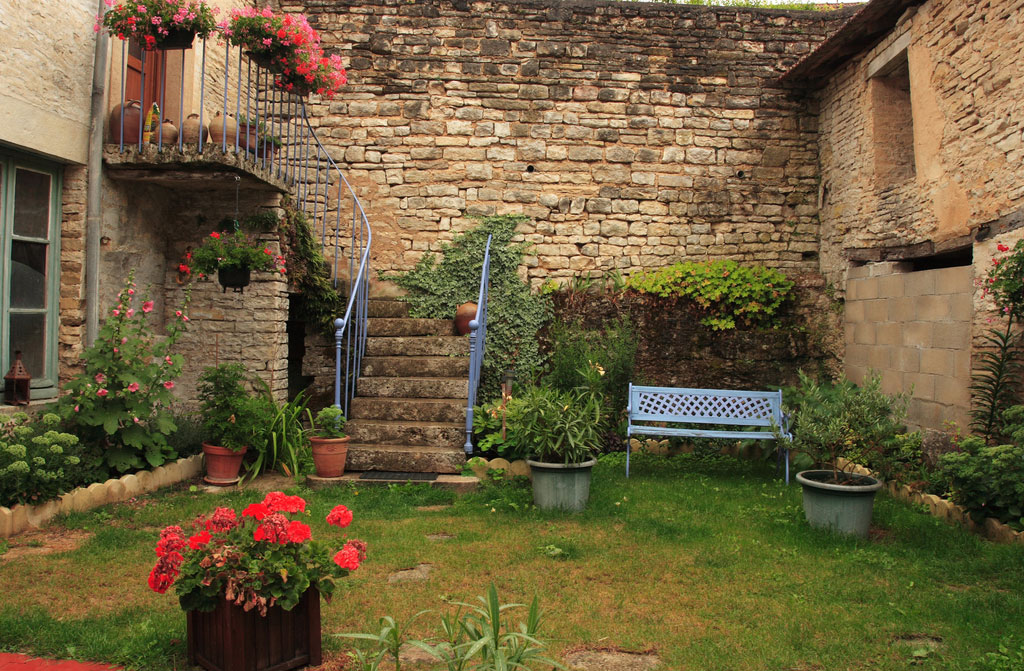 The lush and extravagance of the grounds of Versailles may not be at everyone's disposal, either from a financial or spatial point of view. However, French country gardens have their own charm that makes one not even think of courtyard gardens. Through stonework, window boxes, and stucco walls, give way and enough space for planting beds and shrubs to accentuate the home's style.
The most humble residential landscapes might be limited to a style like the ones from the Netherlands based on the same reason – space limitations. Still, cities like Paris or other major cities have a style of their own. Interior courtyard gardens in residential buildings encompassing several units are common. Terraces also offer space for plants and shrubs or boxes placed in the windows. Due to them, French gardens use flowers in a frivolous way that enhances their surroundings. Parterres can also be encountered with various geometrical patterns. Made solely out of shrubs, with pops of flower to stress outside landscaping ideas.
The size of the garden doesn't limit the powerful statement they can make. Whether it's stretched across acres of land or is limited to a balcony, French gardens know how to stand out. We can scale down all the elements listed above. The geometrical patterns can also be adhered to even if it's done in a smaller way. Stick to lines, axial views, bordered walkways, and alleys when space allows it and have a central point to catch the eye. It can be a sculpture, a fountain, a bench, or the entrance to your home. Greenhouses and sunrooms represent the French garden style. Through them, the inhabitants get a relaxing atmosphere throughout the outdoor space available.
Chinese Nature Oasis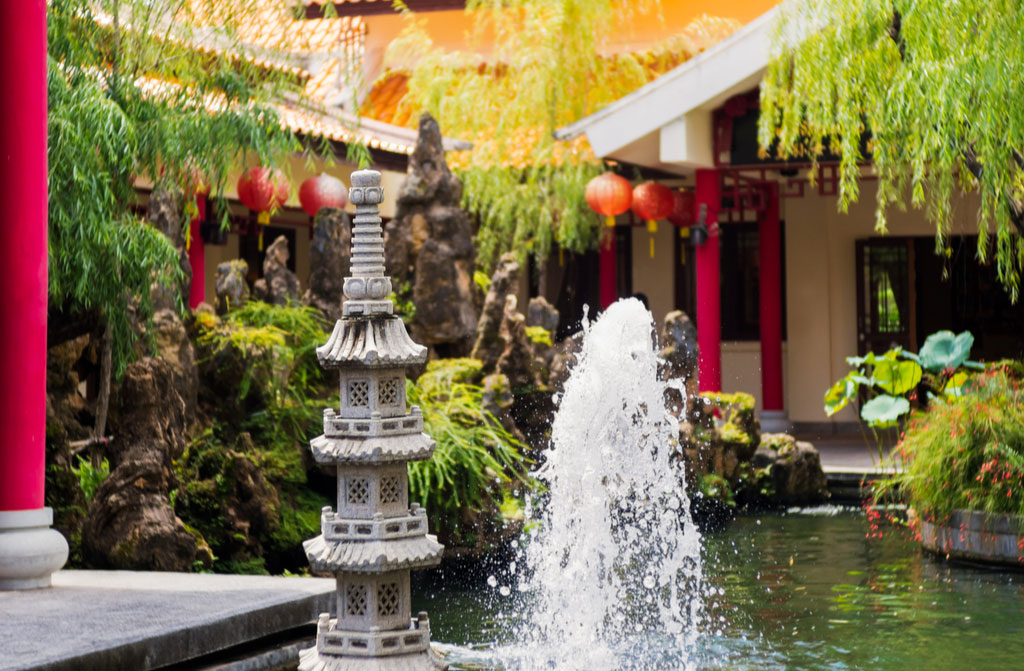 Culture has an important role when it comes to Chinese-styled gardens. Cultural know-how is also crucial as every element, plant, or path has a meaning and a purpose for the home and those who inhabit it. Understand the culture behind the placement of every rock. Like that you'll get to enjoy the benefits brought by years of tradition, symbol, and ancient art form.
Creating a Chinese garden isn't only about the elements used but appreciating the value brought by each one of them. The significant components used in a Chinese garden are water (life and nature's constant metamorphosis), stones (endurance and equilibrium), and plants (texture, sense, and beauty). From an architectural perspective, common outdoor structures are teahouses and pavilions. They have the purpose of creating the ambient for reflection, refreshments, and conversation.
Flora isn't only meant to provide an aesthetically pleasing environment. There is a meaning behind every plant that is placed in a Chinese garden. From shrubs, trees, and perennial plants, Chinese gardens also include aquatic plants, bonsais, and annual plants. For example, bamboo, one of the most versatile, green materials available, symbolizes flexibility. The lotus stands for purity. The peony exemplifies social status and wealth, and the scotch pine means longevity. Plants are selected with care and understanding of meaning, but beauty is a focus as well. The space can be minimal or extensive, but ponds stand for lakes and rocks for mountains.
Conclusion
Wherever you find inspiration, make sure you show respect from each culture in understanding why and how they implement each outdoor feature. There's nothing wrong with having your own Chinese oasis as long as you know and understand where it comes from. French gardens embody a welcoming atmosphere that should be what embraces your guests when they arrive there. Not having your own garden can be blamed on things like space availability and the amount of time you're able to dedicate to maintaining it. What you give is what you get when it comes to transforming and renovating your outdoor space. Give nature what it needs, and it will give you back an abundance of good vibes and a comforting atmosphere.
Let us know in the comments below if any of these styles struck a chord with you or if you're more attracted to another that we didn't mention. Like & Share this article with friends and family that want to have a piece of the world's most fun landscaping ideas right in their backyard.