"Maine Says … Go Away Tourists; You're Scaring Away All the Lahhbstah" Is there any other food in Maine besides lobster? Do all people speak with a funny accent? And have they indeed grown tired of tourists? These are the most common cliches people in Maine have to face daily. We can assure you, dear visitor, that local folks are the most welcoming in the states. They will happily address all your inquiries. Yes, even the ones related to the lobster.
They have a saying in Maine. Let the Polar Star "Dirigo," or show your way to safer shores! The Polar Star guided the mariners to man their ships "over the pathless ocean to the desired haven" (Maine's guidebook). In our case, this slice of heaven refers to "The Pine Tree State" (one of Maine's many nicknames). Let's see what Maine "The Way Life Should Be" prepared for us on the menu, shall we?
Summary:
Do you have what it takes to be a tourist in Maine?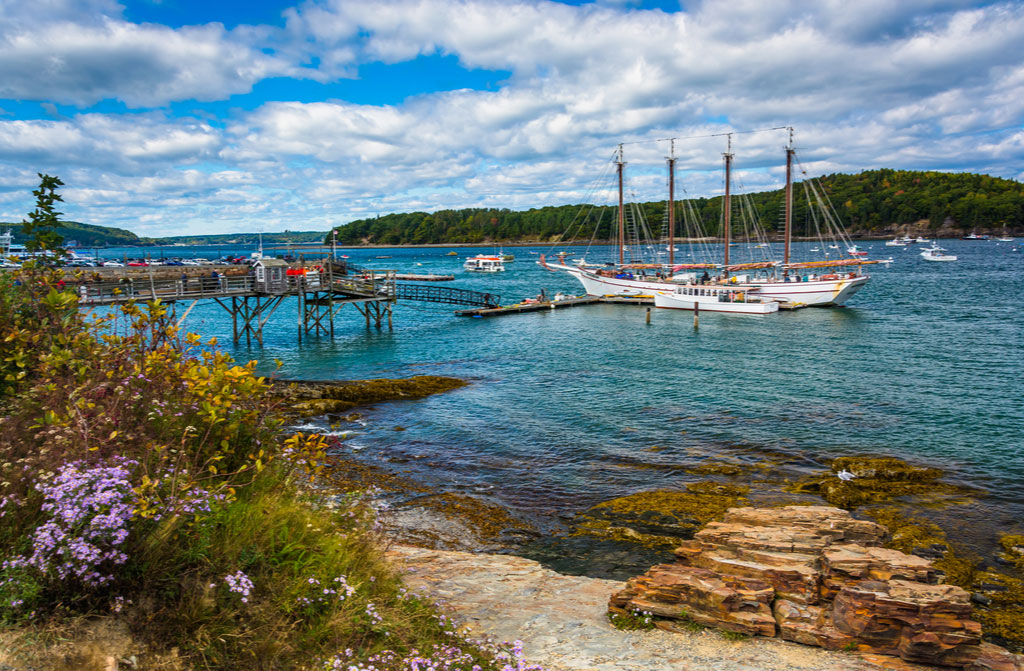 Doesn't the idea of taking a wild journey to a rocky environment fascinate you? Maine has plenty to offer for those adventurous in spirit, especially the northern area that features lots of woods and lakes. It welcomes nature-lovers. Life is complete when you share it with someone, wouldn't you agree? Maine believes in showing affection, and it's a real champion at romance. So you'll have plenty of opportunities to spend quality time together in one of its many romantic mountain cabins.
Sports enthusiasts seek no further! Officially, proactive travelers called Maine an outdoor activities paradise. Skiing, snowboarding, hiking, white water rafting, mountain climbing are all available in Maine. Let your imagination run wild! There are many unique things to do in Maine. Have you heard about leaf-peeping? The area serves with the perfect backdrop to take awesome pictures of its beautiful autumn foliage. The pics would look nice on your Instagram! They offer a dazzling spectacle!
So, Maine became one of the most satisfying recreational hotspots and fun times! Are you sold on visiting it already? Get in touch with local real estate agents to show you around when visiting Maine!
A beginner's guide to Maine: what to expect?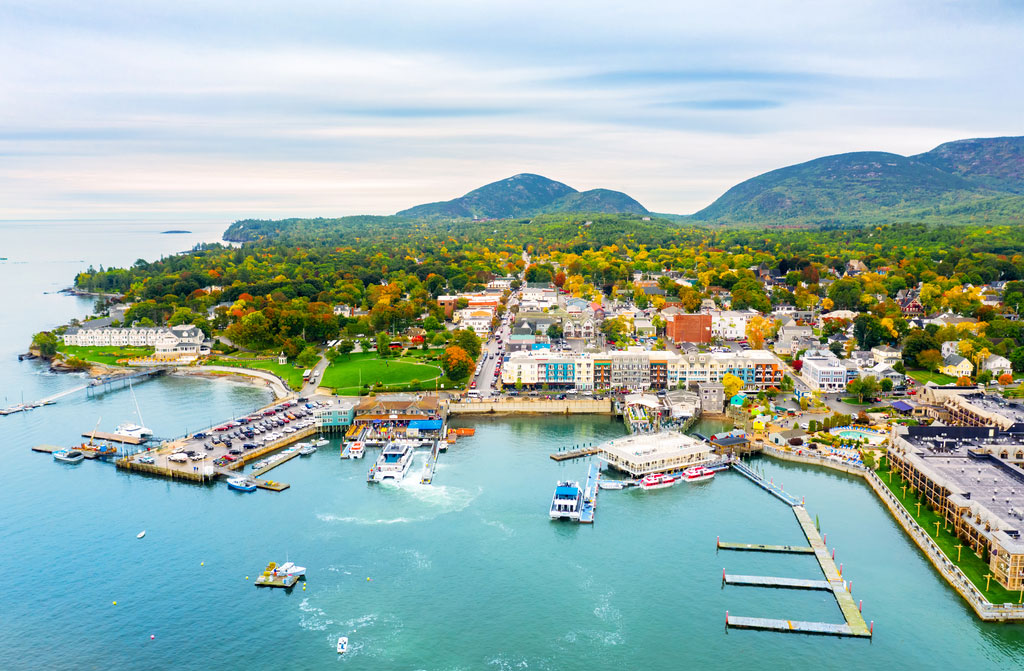 You can find Maine, "Where America's Day Begins," in New England. It borders one single American state, namely New Hampshire on the west. The Atlantic Ocean washes its shores in the southeast. And you can visit the Canadian provinces of Quebec and New Brunswick by travelling northeast and northwest of Maine. Our state is the 12th smallest and the most rural American state. Its most populous city is Portland, while Augusta is its capital. Besides, Maine has the lowest population density in any state east of Mississippi.
"The Old Dirigo State" displays rocky and jagged mountains and the scenic Bayshore coastline. Maine's central regions showcase thick forests and spectacular waterways as wild lowbush strawberries decorate the landscape.
You'll find a humid continental climate in Maine. Summers are warm and humid, while the cold and long winters, especially in the north, bring lots of snow. So, if you decide to visit Maine in winter, get those warm socks for cold feet! Still, even the cold disappears among the new ski routes. On the other hand, areas on the Atlantic Ocean's coastline know milder winters and slightly cooler summers than the inland of Maine.
Experience wildlife in its purest form!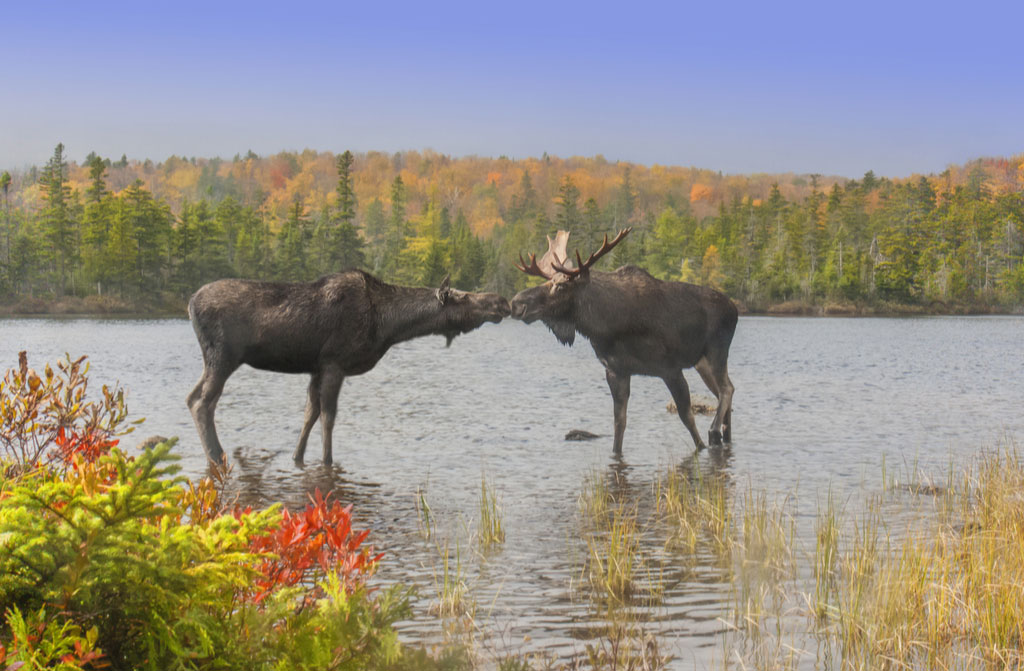 We have already found out how Maine features some of the most breathtaking forests in the US. And these woods host the most diversified wildlife. Bird-watchers gather! Orange-billed puffins are otherwise extremely rare, but they fell in love with this region! We recommend checking them on Maine's ocean islands. Most notably, you can see them nesting on Seal Island and Matinicus Rock at Penobscot Bay!
We bet you never attended a moose safari or moose-watching trip before! Behold the splendid "king of the forests" and Maine's official state animal! And don't forget! Moose hunting is banned! You can book a Baxter State Park and Moosehead Lake tour from May to July or in the fall.
Here comes the ultimate tourists' dream. You can actually spot all sorts of whales, for instance, pilot, minke, and humpback whales! All you have to do is embark on a whale watching cruise. That's why we think you should explore Channel Islands National Park on the Central Coast! Whales seemingly adore that location. Fun times watching exotic water wildlife can't stop here! Observe sand eels, plankton, and copepods too in local waters.
See the world from another perspective: lighthouses in Maine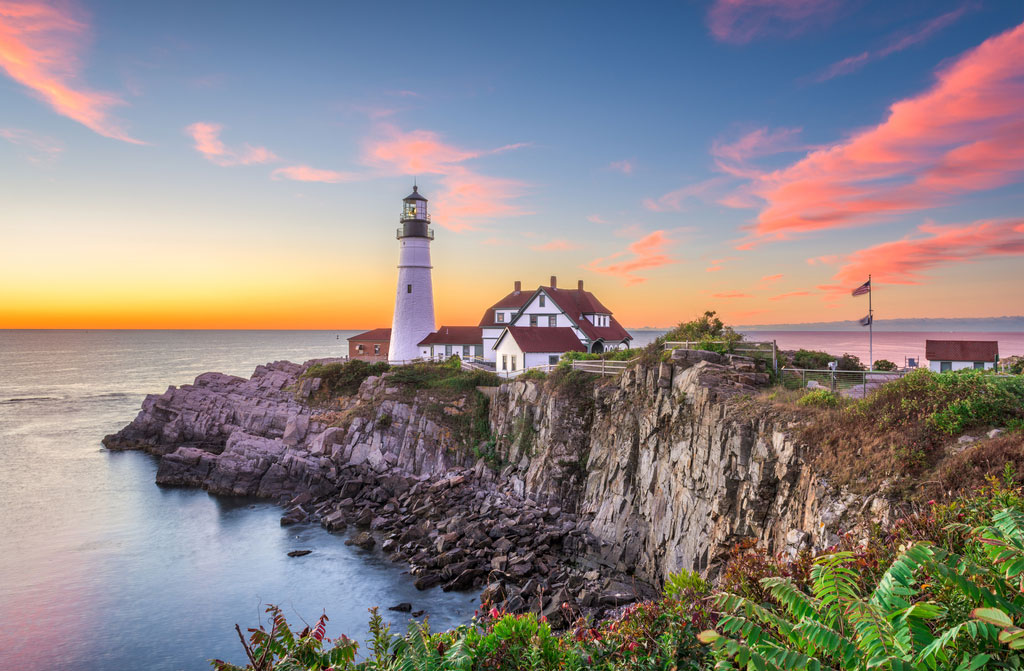 You can observe the ocean's endless expanse from a traditional Maine lighthouse! Climbing the spiral staircases might seem risky at first sight but they are all completely safe! There are about 60 historic lighthouses in Maine; each of them is worth visiting!
Still, our favorite is the Cape Neddick Lighthouse (York, ME) and the Portland Head Light (Cape Elizabeth). Also, the West Quoddy Head Light (Lubec, ME) is an impressive watchtower in America with red and white stripes. This experience will indeed broaden your horizon.
Explore National Scenic Byways in Maine!
You can take part in fantastic cruises around lighthouses. Maine has one of America's oldest Scenic Byway systems, offering majestic scenery of the Western Mountains and the rocky Downeast coastline. Maine's Byways provide exceptional year-round leisure possibilities. Additionally, state residents preserved their rural lifeforms well. In the meantime, traditional arts and an abundance of wildlife will surely find a way into your heart.
Be sure to participate on the Arcadia All-American Road. It will take you on a memorable family-friendly tour through Bar Harbor and Mt. Desert Island!
Attractions designed for the entire family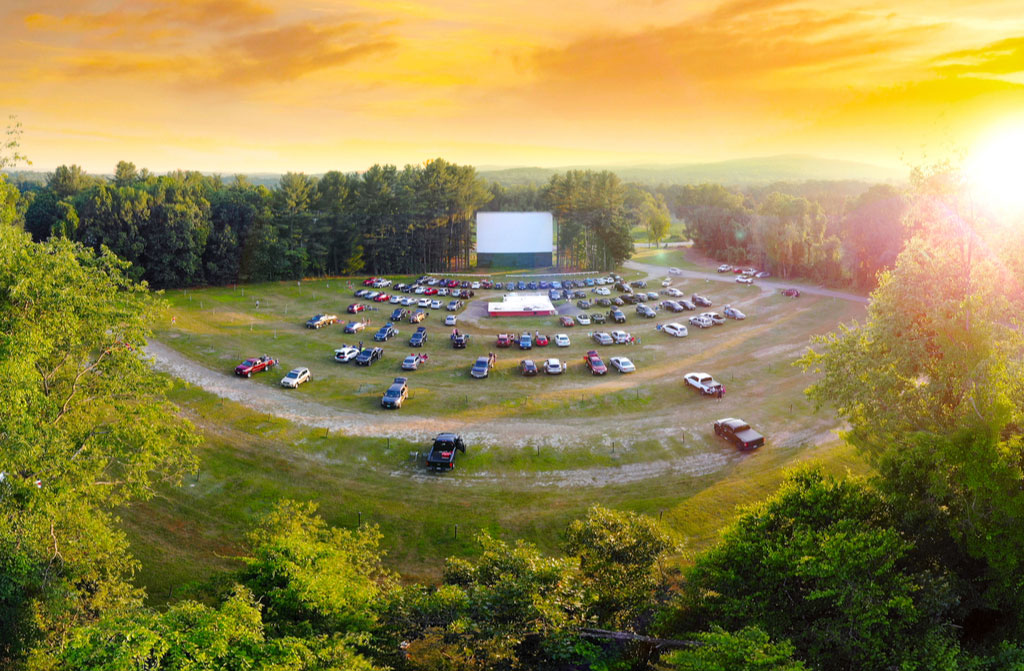 Maine is the best place to visit with your family! Sunlight is brighter on Maine's gorgeous beaches and while you're there, don't miss seaside roller coaster rides! These lovely little towns have prepared lots of family-friendly fun activities on their sandy beaches. Explore the beach-town charm in Old Orchard Beach, ME, and Kittery, ME!
Do you wish to relive your childhood's best memories? Then Funtown Splashtown USA in Saco, ME, is a must-see! You will likely feel a heart-warming nostalgia when you jump on the wooden roller coaster. Oh, did we mention a drive-in to watch a movie after a hard day's fun time?
Winter sports
Due to its unique mountains and chilly winters, Maine turned into the perfect ski lover's paradise. Sugarloaf (Carrabassett Valley ME ) and Sunday River (Newry, ME) are Maine's most significant holiday ski resorts.
Frozen lakes, slopes covered in pristine snow, and endless trails will become your new home. You will never want to leave this place. Once here, try your hand at ice fishing too! Wrap up for a day of adventure exploring Maine's thousands of miles of linked snowmobile routes! Cross-country skis or snowshoes provide quieter passages. Fans wanting more adrenaline-rushed thrills will take the steeper downhill turns. Nothing is off-limits!
Cultural life and museum exhibits in Maine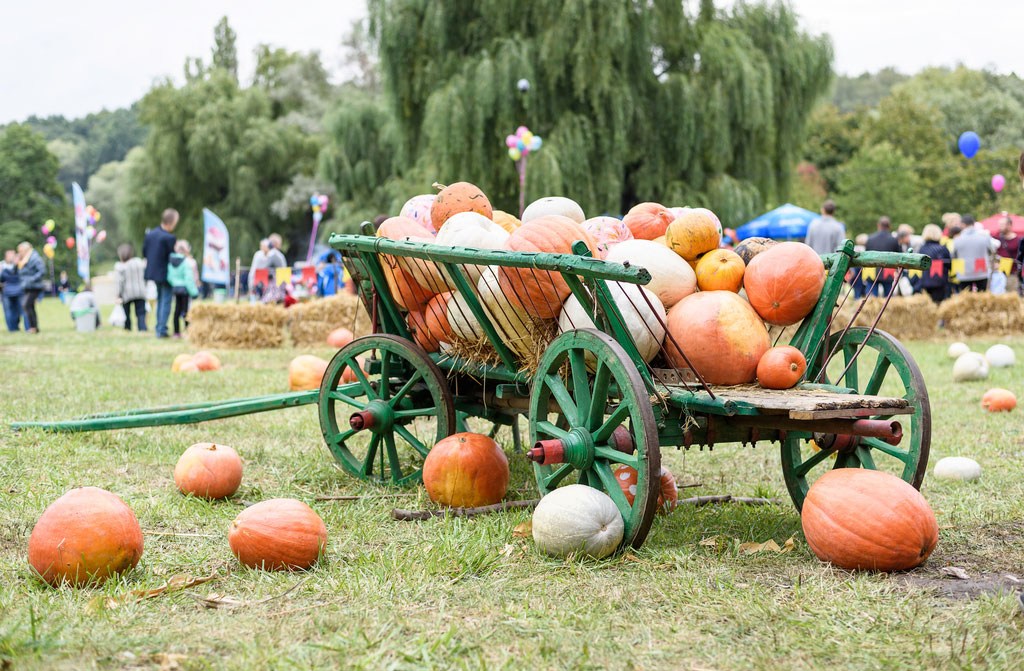 Every city in Maine succeeds in organizing buzz-worthy music festivals. Of course, attending such a celebration of local talents must be the coolest thing ever. In downtown Saco, they host the Pumpkin Harvest Festival in October. Your children will surely have the time of their life on the pumpkin playground. Auburn, ME, sets up the Saint Dominic Academy Holiday Festival in November. The festival will feature many local talents.
Are you into captivating arts and culture exhibits? Then you should check the Maine Art Museum Trail! In short, this one-of-a-kind trail includes nine museums and more than 80,000 works of art on 350 scenic miles. Observe ancient artifacts and world-famous masterpieces displayed in Bates College Museum of Art in Lewiston, Maine, and the Zillman Art Museum in Bangor, ME, etc. Museums also showcase contemporary gifted Maine artists and their formidable installations.
Maine cuisine does not stop at lobster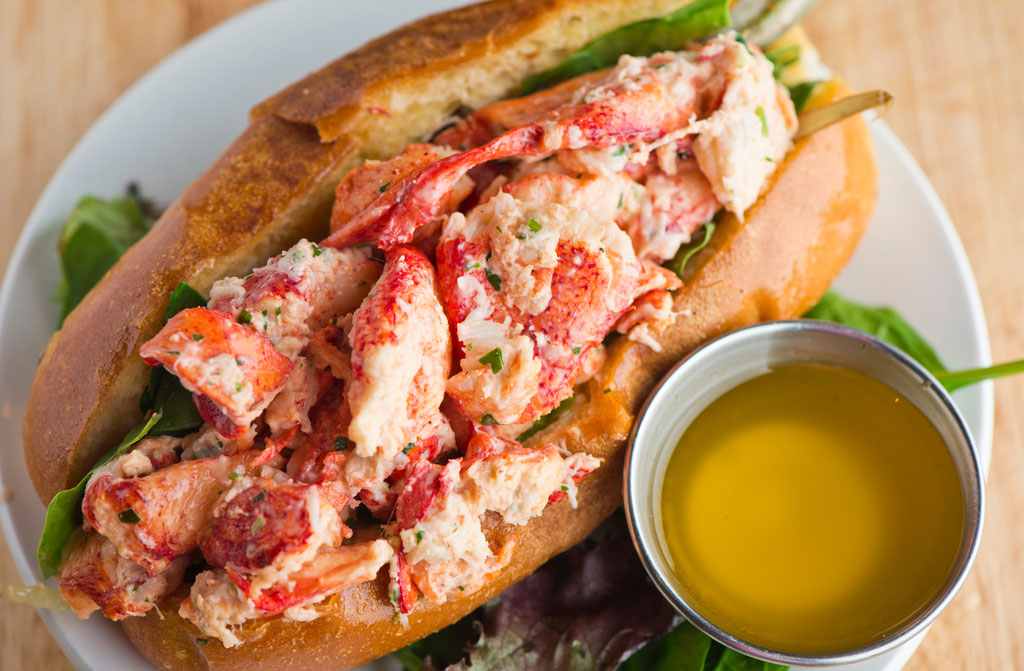 "Maine: We're Really Cold But We Have Cheap Lobster!" Although there are some delicious food cities in America, none of them serves lobster better than Maine. You need to try the American lobster as one of the best underappreciated American dishes! Of course, tasting local cooking will not stop at lobsters. Prepare to expose your taste buds to fine-tasting salmon and oysters!
Do you have a sweet tooth? Then, Maine's clam chowder, blueberry jam, and seafood rub won't disappoint you. You can add maple syrup to your breakfast toast, too. Also, ask for Maine's specialty, the blueberry pie prepared with wild blueberries! But where exactly do they serve these delicious meals? Well, if you wish to be meticulous about tasting local food, try Maine Lobster Festival in Rockland. Attending the Salmon and Seafood Festival in Eastport will leave a sweet taste in your mouth.
Beer lovers assemble! The Maine Beer Trail features the state's finest craft brews at more than 17 locations. You can taste the heavenly beverage at Belfast Bay Brewing Company or Oxbow Brewing Company in Newcastle, etc.
Conclusion
"Worth A Visit, Worth A Lifetime" is yet another Maine motto. Why don't you test it for yourself? You won't get bored of things to do in Maine! We hope we have convinced you to pay a visit to this extraordinary tourist destination! Every generation will find something delightful to do in Maine. People in Maine nicely wrapped arts and culture, nature and wildlife observation, and sports in a lovely bouquet. It's up to you whether you catch it or not.
If reading about Maine got you all shook up, please give the article a big thumbs up. Share it with your friends on social media! And, as always, come back for more engaging articles on must-see American tourist destinations!