Humankind has always been famous for its insatiable spirit to explore new, undiscovered territories. It is in our very nature to go beyond frontiers and get along under the most vicious circumstances. Such can be the harshest economic conditions. But, did poor financial situations ever stop us from advancing? Or just made us more creative and resourceful? 
Summary:
Give in to the spirit of exploration!
This article will not be about the no-can-do spirit. On the contrary, it will celebrate the ingenuity of the frontier spirit to look beyond financial constraints and see the uncut gems. Choosing one specific holiday destination is a tough nut to crack. A sunny spot away from home does not only imply recharging your batteries. More importantly, it reveals a sense of adventure buried deep down inside to move forward in life and uncover a new slice of nature. Of course, before doing something passionate in the heat of the moment, one must be considerate about the do's and don't in nature.
Naturally, you have to deal with the chaotic aftermath left by the global pandemic too. There are still heavy regulations in effect at specific tourist locations. We compiled a list of places to visit once travel restrictions are lifted, which are way too hot for you to skip entirely.
How are we influenced to select a holiday resort?
Evidently, social media plays a massive part in it. Your friends are posting posh pictures on their profiles, inadvertently contributing to the hype of certain ski resorts. All these hi-res photos beam with joy at exotic locations. Who wouldn't follow in their footsteps? At first sight, you wish you had been part of the troupe. Still, before joining the gang, there are the ins and outs of traveling with friends to take into consideration. And then you must consider the huge financial aspect, which you may not be able to afford.
Using Photoshop to illustrate how you are having the best holiday ever in a unique location might be a humorous cost-effective response. The truth comes out sooner or later and you could be losing faith in front of everyone.
Once you're done experimenting, read carefully through this article to discover where those budget-friendly holiday destinations are located just for you! We guarantee they offer just the most authentic holiday experience!
Leave your comfort zone behind and go on a truly unique holiday this year! Due to a well-financed marketing campaign, only the more expensive holiday resorts seem to turn into the hot topic of the day. Trendy holiday spas and destinations draw more tourists, who generate the buzz around them. What about the cheaper ones? Do they not deserve a chance?
We will focus on little-known yet trustworthy and visitor-friendly ski resorts here, in the US, and Europe. Make sure to check in before all low-cost accommodations are gone! Speaking of the competitively priced alternatives, you should also check the international resorts that won't break the bank!
On the other hand, suppose you are more of a spa fan enjoying the cool breeze touching your face in the rugged wilderness. You wouldn't believe the incredible and chilling atmosphere those resorts in Gatlinburg, TN, have to offer you!
Try tree-skiing at Schweitzer Mountain Resort — Idaho!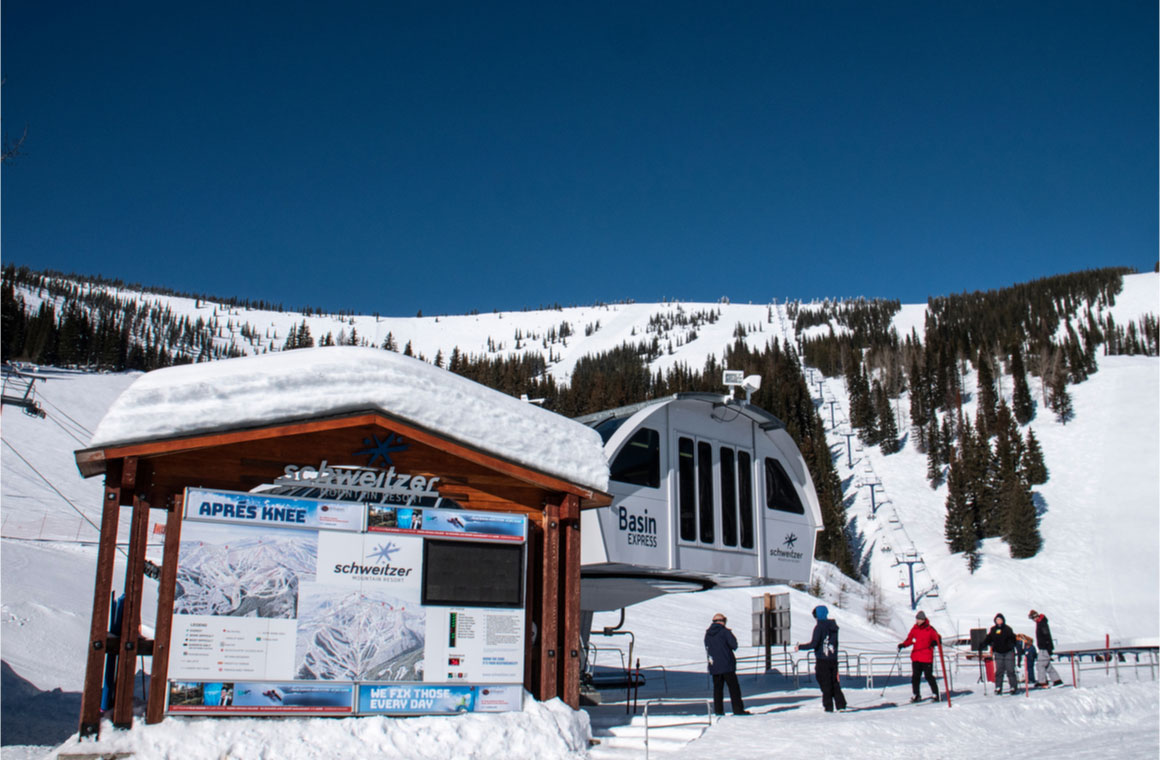 The Schweitzer Mountain Resort is the most fabulous holiday resort in the state of Idaho. The mountain vacation destination is equipped with all amenities to make your stay memorable. Not only regular tourists and beginners come to visit this joyful place, but skiers that reached a more advanced level. Of course, we are talking about tree skiers who explored and found Schweitzer's wooded lands to be the ultimate training terrain. Tree skiing or glade skiing is alpine skiing through trees off-trail or on woods trails.
They offer many mind-blowing experiences here: scenic lift rides, Nordic skiing, and even tubing. Moreover, there are terrain parks, twilight skiing, snowboarding, and much more options for the more advanced skiers.
We recommend you fly to Spokane, Washington. Then take a two-hour drive to Sandpoint, Idaho. Though the Schweitzer Mountain Resort is slightly problematic to approach, we guarantee that the skiing experience itself is worth all the trouble!
Find Whitefish Mountain Resort in Montana!
Whitefish Mountain Resort is a terrific ski resort in the western part of America, located at Big Mountain in northwestern Montana. More precisely, it is in the Flathead National Forest, 4 miles from the town of Whitefish, 16 miles west of Columbia Falls, and 21 miles north of Kalispell.
So, depart from your plane at Kalispell, in the town of Whitefish, and just drive for 30 minutes till you reach Whitefish Mountain Resort. Once you step out of your car, a jaw-dropping view shall unfold before your eyes! This mountain resort is a hidden gem. Now it is up to you to discover!
And let's not forget about the Glacier National Park in the vicinity! It is 31 miles east of Whitefish Mountain Resort.
There is a large variety of activities you can choose from. Now get on the slopes! You can snowshoe in Glacier National Park or take a guided ice climbing adventure! Also, don't miss the fabulous ride on a Fat Bike! Get on a wild adventure on Horse-Drawn Sleigh, and, lastly, take the "Ski Train"!
And did we mention that the Whitefish Mountain Resort resort offers bowl and tree skiing terrains? The average snow amount per year is also impressive: 320 inches! In short, there are plenty of adventures to engage in.
Enjoy the pristine snow at Wildcat Mountain Resort in Notch, New Hampshire!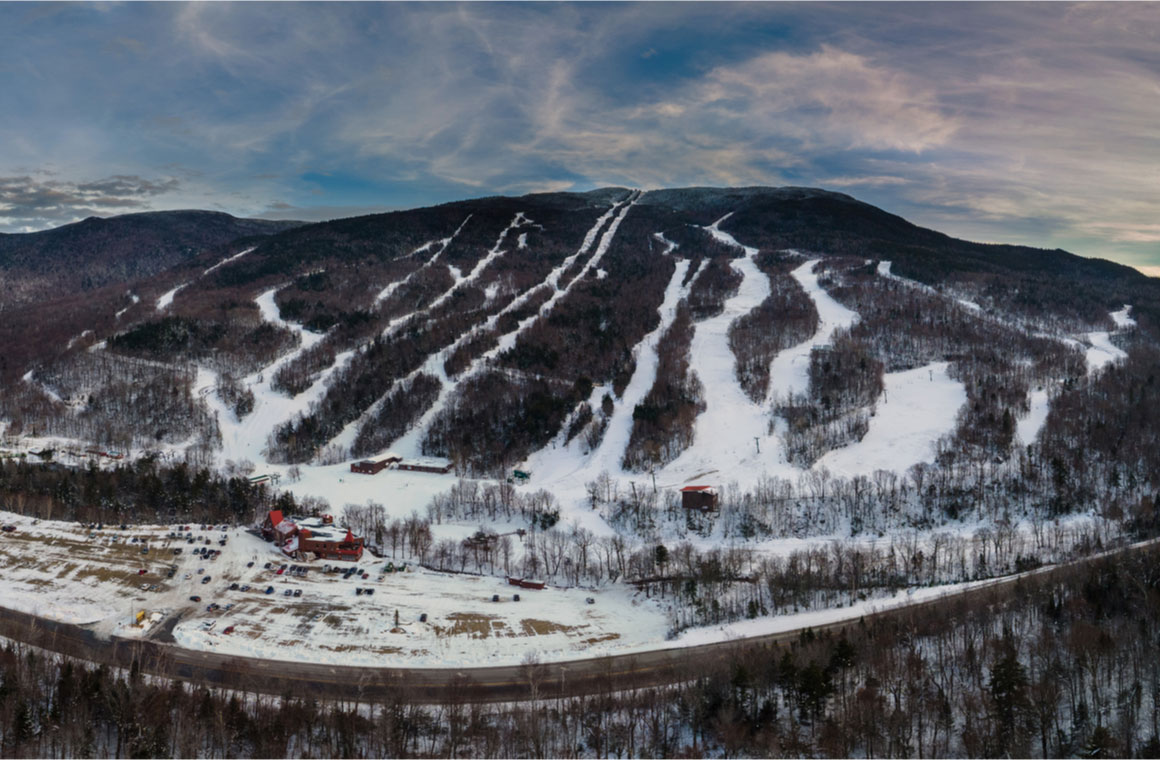 Visit one of the steepest mountains in New Hampshire, with a drop of 2,112 feet located in the White Mountain Forest. Don't miss the longest summit-to-base novice trail with 2.75 miles showcasing some drop-dead gorgeous views along the way! The resort provides visitors with first-class ski lessons as well! Two hundred twenty-five acres of land will await you to ski both for professionals and beginners.
Since you are in the neighborhood, we wholeheartedly recommend the city of Conway, lying about 20 miles away next to the resort, for additional thrills. The holiday spot and the city go hand in hand mutually highlighting the charm of the entire region. Explore the town displaying Victorian-era houses, classic sweet shops, and welcoming pubs. Locals are non-stop family-friendly, ready to offer a taste of their legendary New England grace.
Investigate European ski resorts bought for a song
According to public opinion, there are only expensive ski resorts in Europe because everybody instantly thinks of the elite Switzerland winter holiday centers. That could not be further from the truth! Let's not forget the good old continent, shall we?
Skiing is a pleasure. Recharge your batteries, feel the fresh air on one's skin and the softness of the wind! You just slide down the slope and enjoy the breathtaking landscapes.
In the upcoming part, we will show you that skiing in Europe is not the privilege of the high-class aristocracy or well-off business people. Let's discover the most affordable, well-infrastructured winter resorts together!
Bulgaria, home of low-cost ski resorts!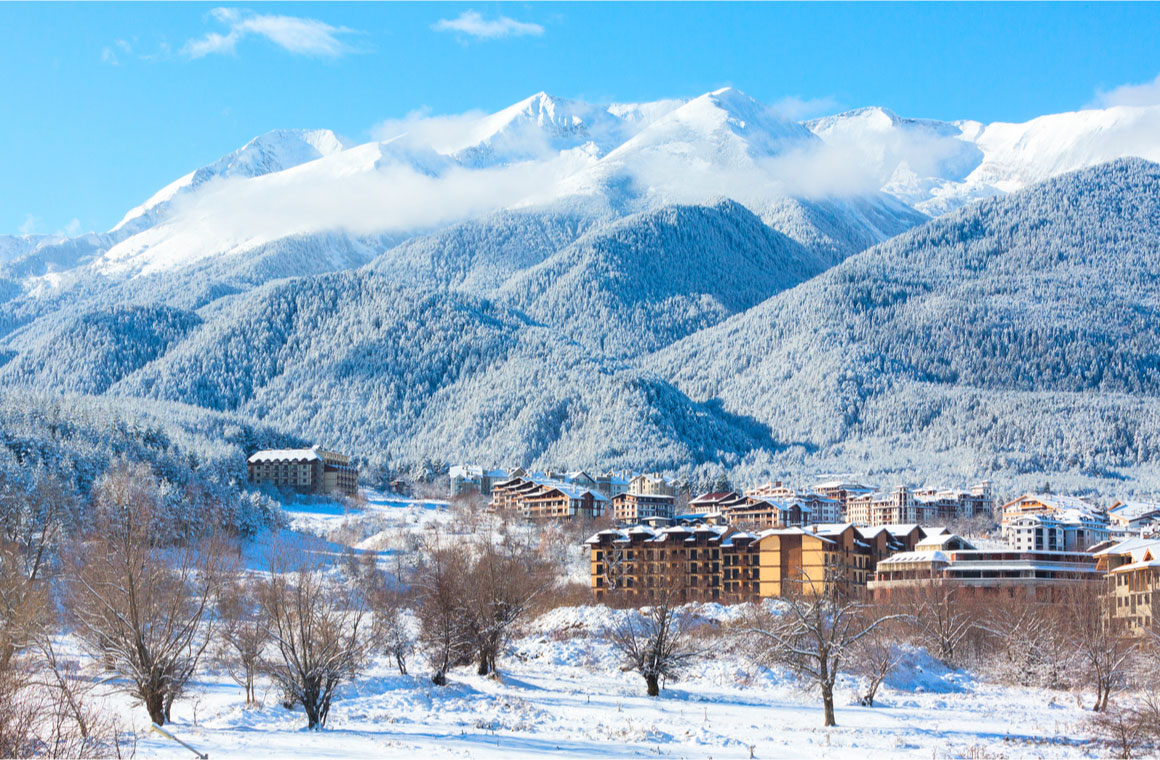 Generally speaking, Bulgaria is a country with progressively growing tourism due to its breathtaking natural landscapes. Locals managed to take full advantage of that, we assure you. Where shall we start? The constantly improving quality of its beaches, low-cost hotels, mesmerizing landscapes, the family- and visitor-friendly atmosphere surrounding the newcomers? In addition, Bulgaria is making a name in the ski resort business too.
Affordable skiing paradise at Bansko
Bansko is one of the most popular and affordable winter resorts in Bulgaria. Equipped with 14 lifts, Bansko has turned into a dream ski destination for tourists from all over the globe. However, don't let yourself be misled! For around 400 euros/dollars a week, you will have the ride of your lifetime! You can slide down 31-mile-slopes! Low prices don't come with poor quality.
Spa, slippery slopes, and top treatment at Borovets
For about 500 euros/dollars a week, you will be treated royally at Borovets's skiing holiday in the province of Sofia, Bulgaria.
Thirty-seven miles of slopes and 13 lifts are waiting just for you from December to May! Unique adventures, chill, and thrill are on the menu! You can stay at a luxury hotel for that amount of money, and enjoy all its amenities. We highly recommend the "Yastrebets Wellness & Spa" hotel situated at the foot of the ski slopes for this very purpose.
Eat delicious Bulgarian foods at the local gourmet restaurant, spend remarkable evenings at the piano bar! The view won't leave even from the balcony of your room. Sweet dreams are guaranteed here. Internationally acknowledged, Borovets is one of the top and cheapest ski destinations in Europe. Book a room now!
Spend a romantic skiing session at Jasna – Demänovská Dolina in Slovakia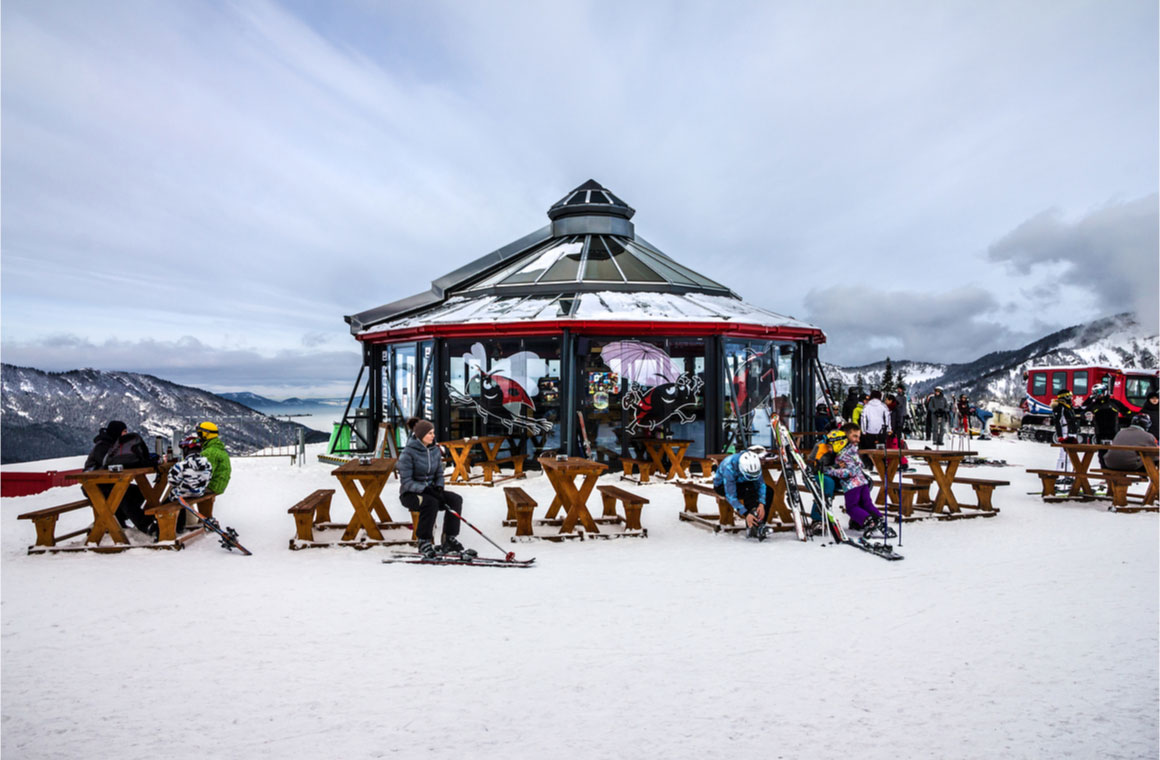 Jasna has over twenty-five mile-long skiing tracks and 27 lifts! Is there anything more we could add? Jasna is one of the most cost-effective ski resorts in Central Europe. Furthermore, it provides skiers and snowboarders with a marvelous spot to engage in their hobbies. Even in peak season, a family or a romantic couple can enjoy well-equipped hotels with tons of facilities to attract tourists. Besides, you won't be staying too far from the lifts. For 1,000 euros/dollars per week, the "Hotel Galeria Thermal Bešeňová" can offer two adults a real treat in the winter season.
Low prices and royal treatment at Les Houches in France
In the neighborhood of Chamonix Valley, Les Houches displays more than thirty-one miles of slopes and 15 lifts. The excellent ski resort is a top-notch winter resort ideal for families and beginners of this sport. As opposed to nearby resorts, accommodation in Les Houches is more reasonable. A couple can expect to pay around 1100 euros/dollars a week, which is a bargain!
Once you are in the area, we recommend the "RockyPop Hotel"! The hotel treats its guests in an exemplary fashion. It provides them with excellent amenities, such as rooms with air-conditioning, a children's playground, and restaurants serving local cuisine! In addition, the ski paradise showcases a modern shuttle service to the top of the slopes. Book your reservation now!
Only the brave discover new & low-cost ski paradises
There are outstanding and reasonably-priced winter resorts all over the world! They, however, do not always share the same amount of publicity as the luxury ones. Low hype does not mean that they are of inferior quality. Be brave and experiment with new national and international ski resorts! You might discover a ski paradise worth your investment! And, if you do so, write to us about your discovery too!