Ah, Florida. Land of beaches, swamps, luxury resorts and everything in between. For years it's been the destination of choice among retirees, sportsmen and vacation goers alike, providing any and every visitor with a warm, sunny and pleasant experience while they're in town. From the humid swamps of the Everglades to the breezy beaches of the Keys, every square inch of this beautiful state is packed with incredible things to see and do. 
For native Floridians, however, this is not exactly news. If you count yourselves among those fortunate to live here, you're already well aware of many of the things that Florida has to offer from a recreational point of view. You need something more, something that will catch your interest and keep it. Surely there has to be some way in which you can enjoy yourself that won't wear out over time!
If you've found yourself in this situation, we've got some good news for you: there are a number of things you might not have tried yet, that are sure to show you a roaring good time! What's more, you can easily get the hang of these activities, enabling you to start truly discovering all that your state has to offer! Whether you're kayaking across the pristine azure waters of one of Florida's natural springs or taking a hike through its scenic wilderness, you're sure to have fun!
Surfing
Of all the many pastimes Floridians have at their disposal, perhaps the most visceral, pulse pounding and enjoyable is that of surfing. There aren't many cities in Florida that are more than an hour or two from a beautiful beach, which means that where you live doesn't matter; if you're a Floridian living in Florida, you can easily take up surfing!
To someone who's never surfed before, the idea of haphazardly standing upright on a foam board as you're propelled forward by towering waves is understandably intimidating. Even for experienced swimmers, the prospect of being violently thrown off of your board and into the water is a frightening one.
The good news is that surfing doesn't have to be scary! While Florida is home to its fair share of beaches that will challenge even the most experienced surfer, amateurs will be happy to learn that there are also plenty of beginner-friendly beaches here. It may take you a while to get the hang of surfing, but once you do, you may never get off your board again!
Kayaking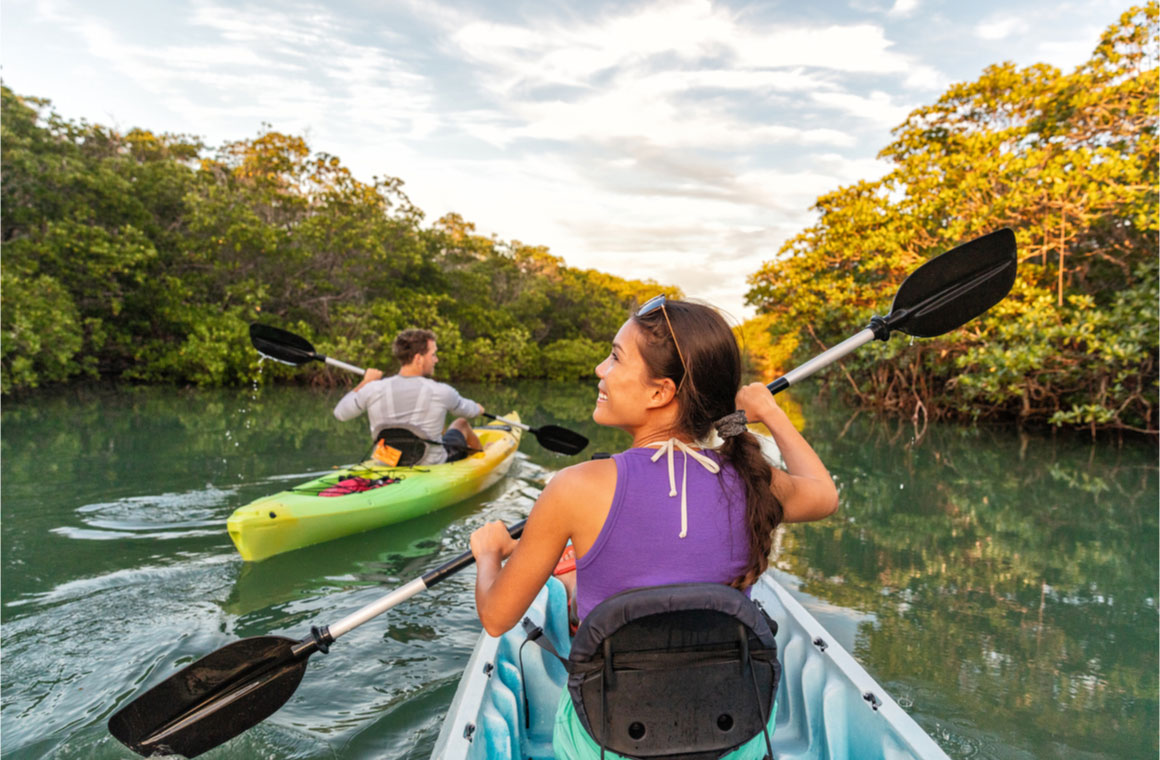 If adrenaline-pumping thrills aren't really your thing but you still want to get a good workout, we might have just the thing for you: kayaking! This healthy and wholesome pastime is a great way to stay fit while also taking advantage of the opportunity to immerse yourself in Florida's beautiful natural scenery.
Once you're in your kayak, there's no end to all the incredible things you can do. Do you enjoy fishing? Hop in the boat, paddle out to deeper water and sink your line! Want to explore the rivers and swamps dotted across the state? The kayak is the perfect vessel!
The best thing about kayaking is that it's virtually impossible to fail. As long as you wear a life jacket and exercise common-sense safety measures, you'll find that kayaking is one of the most enjoyable relaxing activities you can participate in, and the skill requirement is virtually nonexistent. If you live in Florida and you're not kayaking on a regular basis, you're missing out on a world of fun!
Trail riding
Another easy, fun and inexpensive way to get out into nature and start enjoying yourself is trail riding. While there aren't many extremely challenging or dangerous biking trails in Florida, those who enjoy sedated, peaceful bike rides under canopies of greenery are sure to be hooked on their first day. Honestly, who doesn't love a relaxing bike ride?
This isn't to say that there are no thrilling bike trails in this state; that couldn't be further from the truth! While Florida's natural landscapes may not be quite as conducive to adrenaline-pumping mountain biking courses as those you'd find in more mountainous areas, there are plenty of man-made courses that do an excellent job of replicating those thrills!
If you crave speed a little more than you crave danger, then one of Florida's many cycling courses might be just the thing to get you going. These courses allow riders to reach the maximum achievable speed on a bicycle, while still providing those rides with a challenge that is nothing to scoff at. All things considered, Florida is a great place to take up cycling!
SCUBA diving
So far, we've looked at activities you can enjoy on land and on the water. But what if you want to go underwater? Then Florida has just the thing for you! Home to hundreds of miles of underwater reefs and thousands of species of ecstatically beautiful flora and fauna, Florida has just as much to offer below the surface as it does above it!
Unlike the other entries on this list, SCUBA diving is not exactly the most accessible passtime. In order to safely and responsibly engage in this hobby, you'll need to take a SCUBA diving course and receive a certificate of completion from the state of Florida. Once you do, however, the things you can do are incredible!
If you thought Florida had a lot to explore on land, wait until you see what's lying just below the water's surface! From the subterranean caves of Florida's natural springs to the murky waters of its rivers to its crystalline blue gulf vistas, the range and variety of natural beauty on display will undoubtedly take your breath away.
Hiking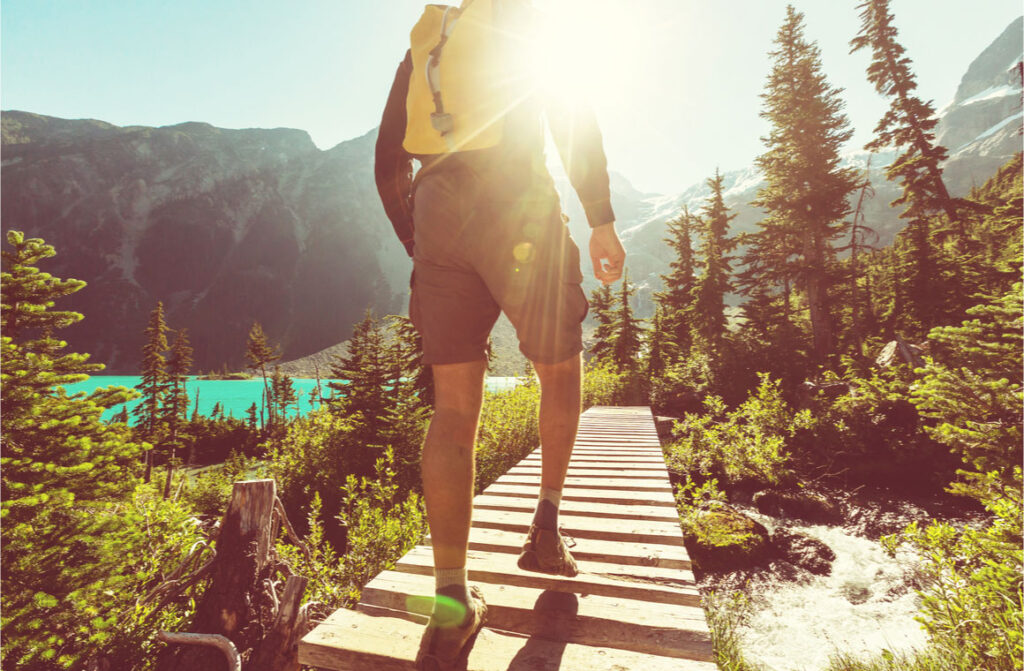 The entries on this list vary somewhat in terms of price. A used surfboard can easily be purchased for under $150, while a set of decent SCUBA equipment is likely to set you back upwards of $1,000. If you're not exactly flush on cash, some of these activities might seem a bit out of your price range. If that's the case, we've got the perfect pastime for you!
For this one, you won't need any special equipment. It doesn't take much more than a water bottle, a pair of sturdy shoes and a good attitude to get into recreational hiking, and we think you'll quickly realize that Florida is the perfect place to pursue that hobby! With thousands of miles of trails that vary widely in difficulty and scenery, this state is practically made for hikers.
If you've never gone hiking before, then allow us to be the first to tell you: it's absolutely amazing! Between Florida's luscious scenery, the gratifying feeling of stretching your legs and letting them carry you to exciting new places and the pure joy that comes with knowing you're using your time productively, you're sure to have a blast.
Conclusion
Whether you're a bright eyed new arrival to the state or you've spent your entire life in Florida and are just looking for something new to do, we hope this list has given you some exciting places to start. Truthfully, this list hardly does the state justice; once you've given these entries a try, be sure to strike out on your own and make some new additions to it!
If you find yourself in Florida visiting and simply can't seem to tear yourself away, why not consider moving? With many thriving yet affordable local real estate markets, you might just be able to snag a great deal for yourself, once you find a real estate agent in the city you want to move to. Who knows? Before you know it, you might just be Florida's newest resident!