Summer evenings spent around a fire, cooking marshmallows, playing some acoustic music, and enjoying some quality time with your loved ones are moments we all long for as a simple escape from our daily routine. So why not make a fire pit in your backyard? Creating the environment for these moments isn't tricky, and the rewards are self-explanatory.
An outdoor fire feature is a great way to enhance your home's outdoor space as well as your family's quality time. Whether you all sit around the fire cooking marshmallows or lounge with your feet up on the table surrounding the fire with drinks in your hands, stories are shared, moments are created, and life seems a tad more beautiful while reminiscing in the flickering light of the fire. There are many options available, and choosing the right one for you and your home may not always be the easiest choice. This is why we came up with a list of different types of fire features so that you can make the correct choice based on your home style and the kinds of activities you want to enjoy.
Fire Pits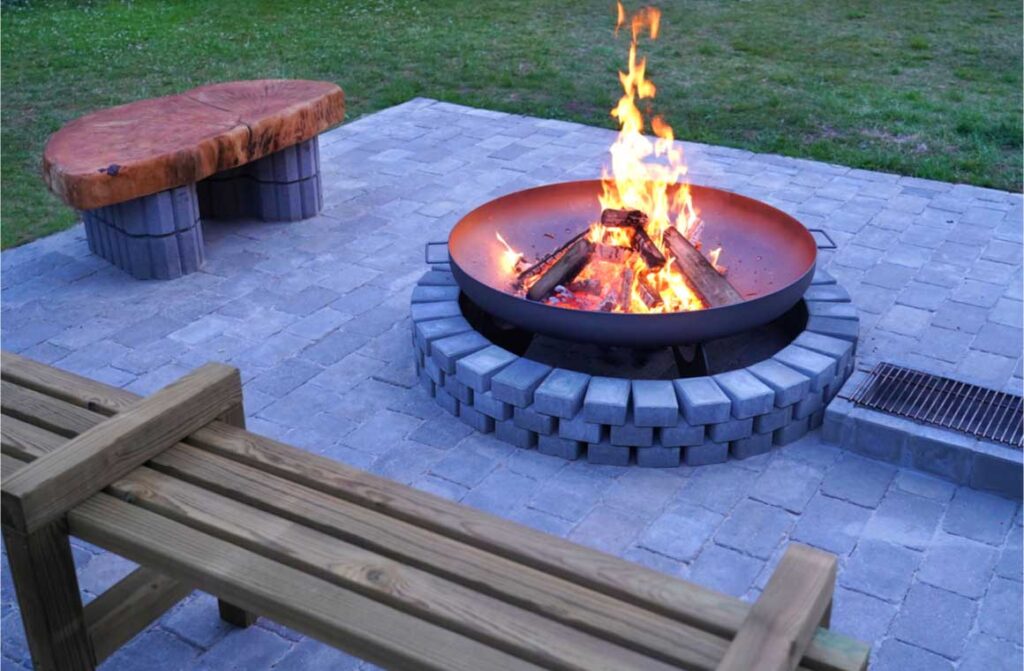 The backyard fire pit is the most common option for backyard fire features. They offer a wide variety of activities and come in various shapes, sizes and styles. You can even DIY one that brings an extra layer of personality to your backyard with a bit of construction knowledge in your back pocket.
Fire pits are usually built above the ground, but the material chosen can vary from stone (the most common) to metal or copper. They can also be built in-ground, let's say in the middle of a patio or on your lawn. Either way, you will be able to roast your perfect marshmallow, and it won't be challenging to match the fire pit to your home style based on the selections available. They can take virtually any shape. Even more options can be DIY'ed, so you only have to worry about the safe distance around the fire pit so that it doesn't become a fire hazard.
Fire Bowls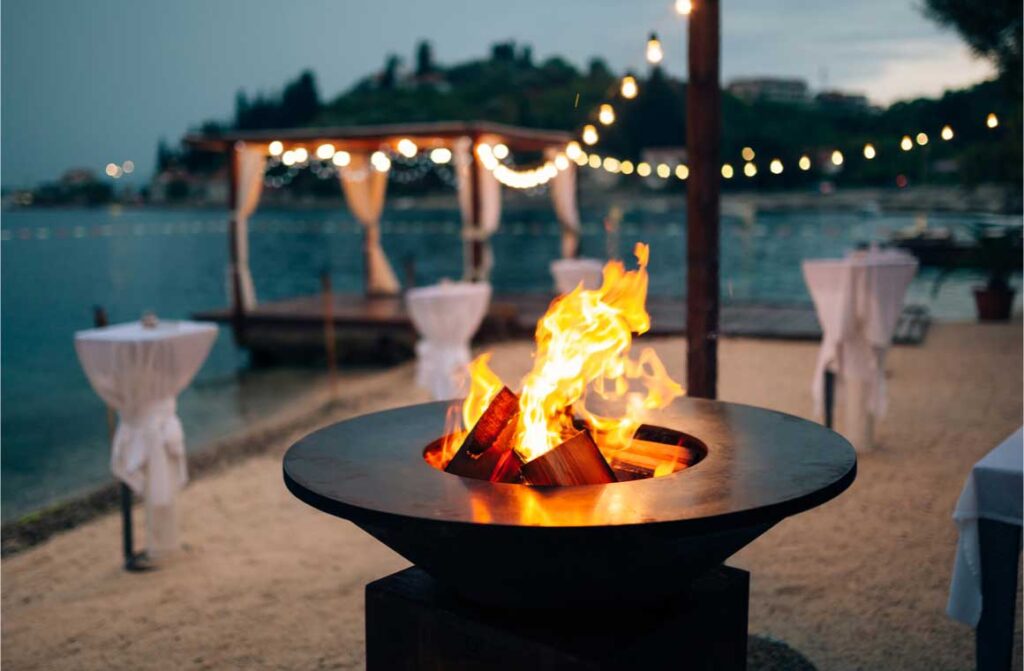 There aren't many differences between fire pits and fire bowls, but the main one is that this fire feature is not built-in or on the ground. A fire bowl is, well, a bowl, portable in nature, with legs to maintain its upright position. The fire is built inside of that bowl, and its portability tends to limit the size of the bowl. Because of that, they are smaller and lighter in size and weight than fire pits.
The style of fire bowls varies from rustic to modern or contemporary, and the fuel options offer a range as wide as fire pits. The additional benefit of fire bowls is that you can use them even in areas with restrictions against fire pits because they are self-contained.
Fire Tables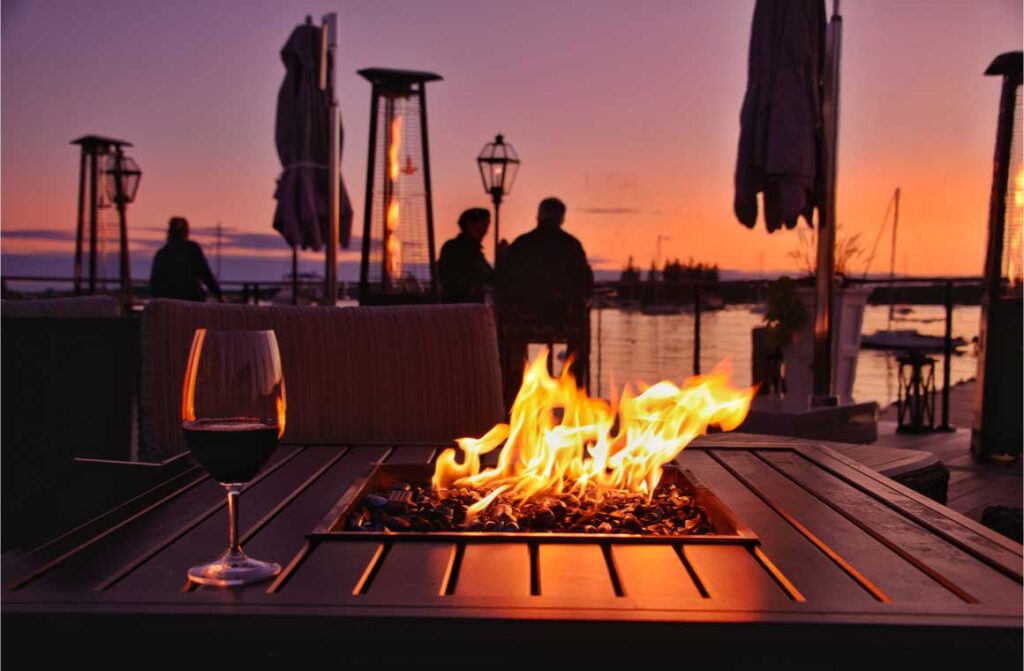 The most interesting and comfortable option for fire features has to be the fire table. Very rarely will you be able to find a fire table that burns wood as they are usually coals or electricity powered. The best thing about them is that they have a dual purpose: heat/fire and table or storage for food and drinks.
The fire feature of fire tables is a relatively smaller fire in the center of the table, sometimes surrounded by a blockade so that the fire can not escape and cause damage to the surrounding area, and the table which can be made out of any heat resistant material. Wood can also be used, but it should be treated thoroughly not to ignite if the heat protection element isn't part of the design. The safest option would be stone. The sizes of fire tables can vary from small coffee tables to sizable dining room tables. The bigger the table is, the larger the fire feature can be. For example, for a table similar in size to a dining room, you could have a 5-inch fire feature that almost splits the table in two so that everyone sitting around it can enjoy the flickering lights.
Outdoor Fireplaces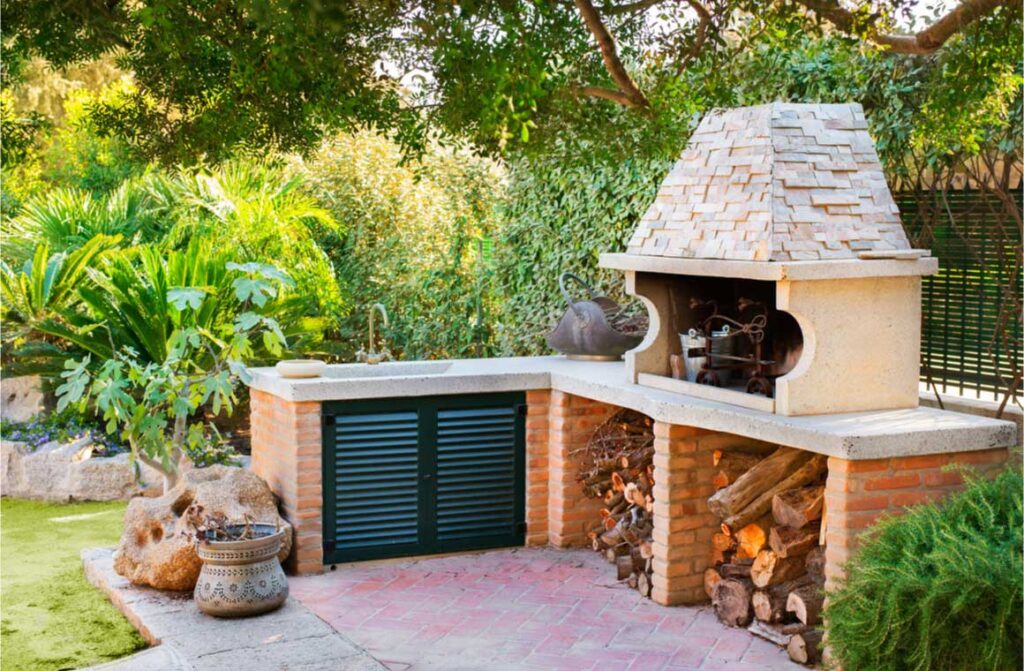 For those that want to combine several functions of more than one fire feature, the outdoor fireplace is the option you need. While it provides the utmost safety because of the bricks surrounding the fire, you will get the heat output familiar to a chiminea, the open flame from a fire pit, and a large variety of options when it comes to cooking. Depending on the style, you can even cook three-course meals in them. Think of them as permanent grills that are sure to enhance your property's value.
Styles of outdoor fireplaces are only limited to the designer's imagination. If you make yours from scratch, we advise working with a professional, and you can make it to your specifications. However, even pre-built outdoor fireplaces range in style from sleek to ornate, modern or traditional and simple. There are even options that include a table. Still, unlike fire tables, here the table is set to the side, can be part of the fireplace or an addition, and can store virtually anything as it doesn't get affected by heat coming from the fireplace due to the structure surrounding the fire.
Fire/Water Features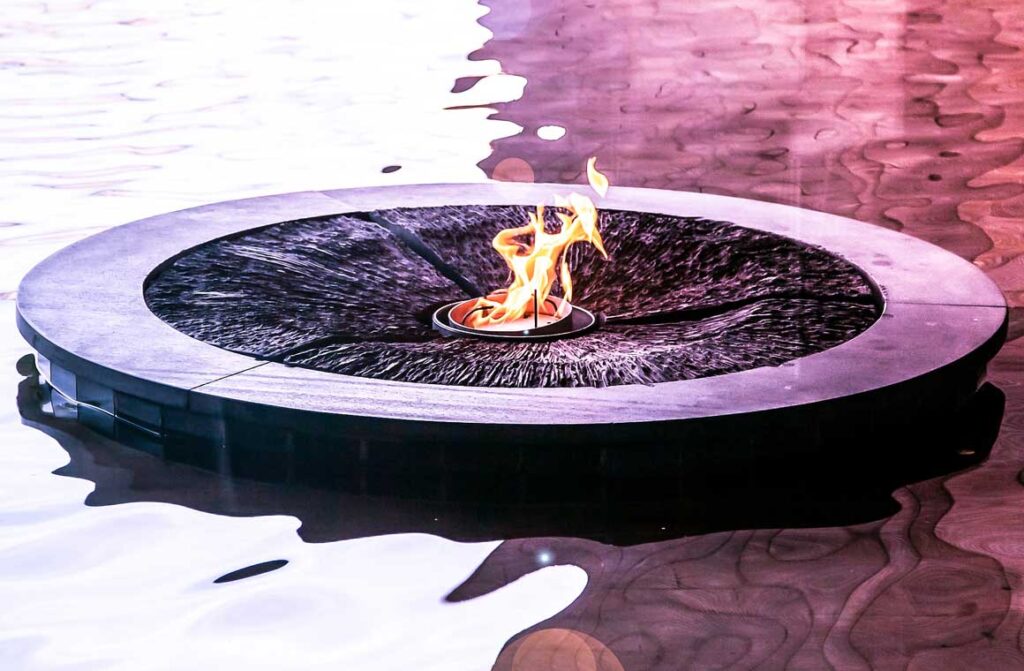 If you want to have both a fire feature and a water feature but are relatively limited in space, why not get a two-in-one option that will check both boxes. Not many people go for these options because of their less than traditional aspect, but they can fit your home style just as well as any of the other options listed here. However, because of their contradicting aesthetic, they work best with modern-styled homes due to their high-class style.
These fire and water features include a central fire that is surrounded by a fountain of water. While your family won't use the water, it works as a bird feeder if you want to sustain the fauna in your region. This feature will be a focal point in your backyard and will be a guest favorite at an evening get-together with friends and family. If you already have a fireplace or fire pit, there are kits available for converting them into fire/water features, so look into that if this element caught your interest.
Campfire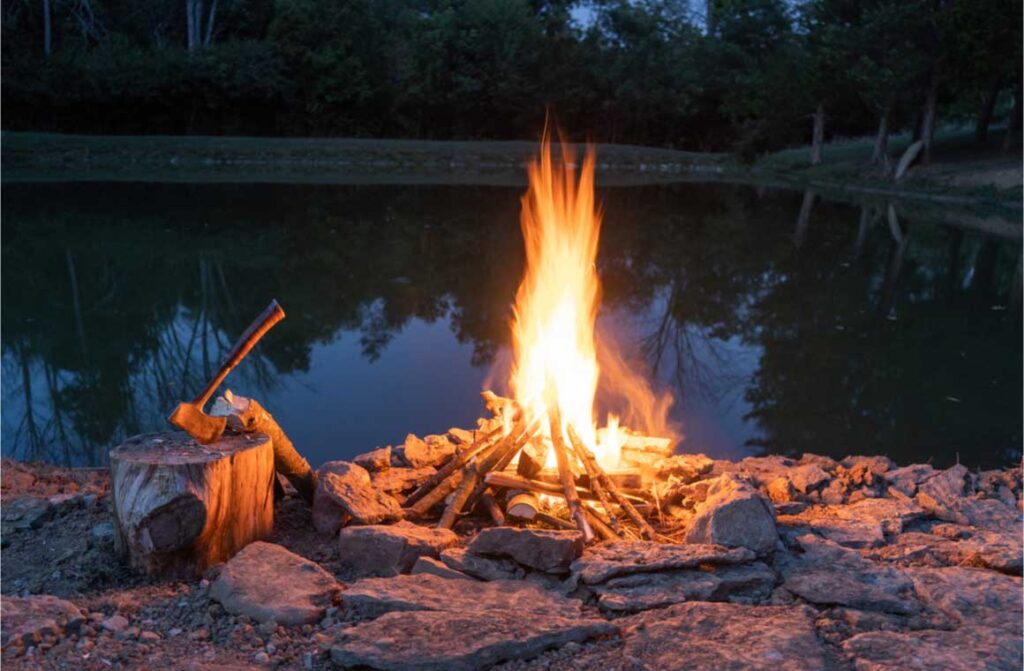 By far, the most affordable option for a fire feature during your backyard update is the campfire. All you need to do is dig a small hole in the ground, surround it with bricks or stones that can be fixed in cement, and add the fire. It is the most rustic option, and, in regards to your home's style, it probably won't fit with many, but if your backyard allows for a secluded area that is not visible from the inside as much, the aesthetics won't be bothered by a campfire. Make it an element on its own and create a campfire oasis while you're at it. You might wind up feeling like you're on a camping trip in Gatlinburg, TN whenever you want to. It won't be expensive, and it will give you a feeling of nature and wilderness.
Conclusion
The style of your home might be important, and trying to find a fire pit that fits best with the overall aesthetics of your home can be a focus, but when it comes to fire, there is something that is much more important than that. Fire safety should not be overlooked at any stage of the planning, implementation, or during usage of the new fire feature. Regardless of the style, size, or type of fire feature implemented in your backyard, you should always treat it with caution. Always check with your local authorities to ensure that you are allowed to install an outdoor fire feature and respect all the fire department's guidelines.
The basic rule of any outdoor fire is that it's located between 10 to 25 feet away from any structure. Also, try not to leave any objects that might burn close to the fire and use common sense at all times. Be alert when a fire is burning, and don't let small children or animals get near it.