Of all the activities that have become commonplace in the 21st century, few are as simple yet inexplicably enjoyable as sitting around a campfire with your friends and family. This pastime requires no high-tech gadgets and costs nothing, yet time and time again without fail it leaves us with warm memories and stronger bonds between us and our loved ones. 
There is no end to the things you can do around a campfire. Folk music often makes an appearance at these gatherings, as everyone joins in singing classic campfire songs together. You're also likely to hear frightening stories about ghosts and spectres, with each successive yarn scarier than the last.
One of the traditions that's inextricably linked to campfires and their accompanying festivities is food. As one of the primary reasons campfires became so widely popular, the preparation of simple but delicious and nutritious food around these gathering places is a tradition that isn't likely to die anytime soon.
This brings us to the topic of our article: delicious food that can be cooked at a campfire! These recipes are as simple as simple can be, so you don't exactly have to be Gordon Ramsey to pull them off. In spite of this, they'll still serve their purpose by providing you with sustenance and some good memories with your family and friends. Let's take a look at some now!
Packing for the occasion
Before we go any further, we've got to mention the importance of packing before you set out on your camping adventure. Cooking utensils, pots and other essential equipment will need to be brought along from home, as well as ingredients for all the dishes involved. Additionally, if you're camping in the wilds, you'll also want to bring a bag and some rope so you can hang your food well out of reach of wild animals!
Tin foil baked potatoes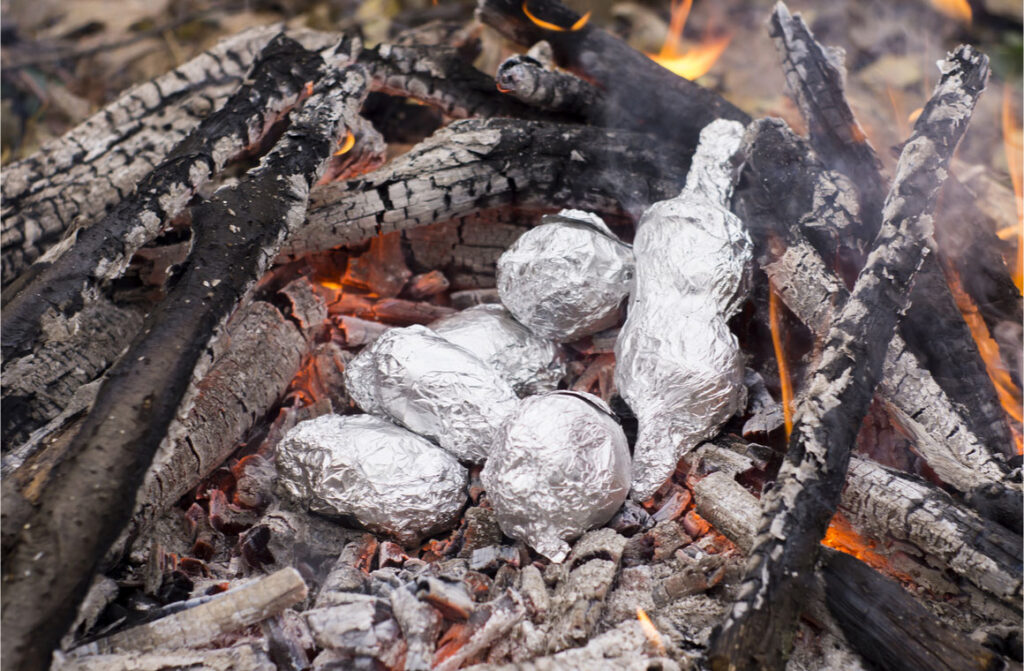 As a classic that has been a favorite of hikers and summer campers alike for years, the tin foil baked potato is anything but an uncommon sight around campfires. Although it's incredibly easy to prepare with ingredients that you can get from a store or your own garden, this recipe packs quite a nutritious punch. The ingredients are cheap and preparation is straightforward, which makes it a perfect fit for a campfire!
The ingredients for this recipe are simple and inexpensive. In order to prepare these savoury treats, you'll need the following:
Red potatoes (at least one per person)
Seasoning (salt, pepper, garlic powder)
Butter
Sour cream
Chives (chopped)
Tin or aluminum foil
If you're preparing this recipe, you're going to want to bring a small cooler to keep the perishables cool, in addition to storing any leftovers. A cooler will also help keep wild animals from investigating the tantalizing smells emanating from your campsite!
After you've started your campfire, you're going to want to let it burn down to embers, so wait until there are no longer any open flames. Once that's done, poke holes in the potatoes and season them well. Then, wrap the potatoes in foil and bury them in the coals. Every once in a while, check up on them by poking them with a fork. Once the fork goes in and comes out easily, it's time to slather on the sour cream and go to town!
Campfire bograci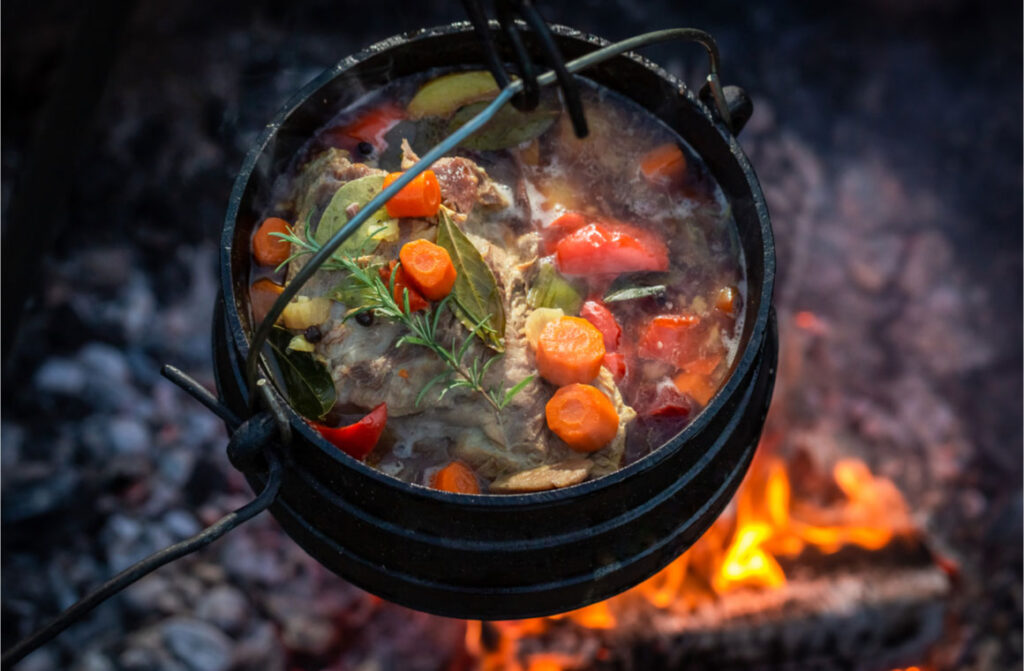 While just about everyone has heard of campfire baked potatoes, this one is a bit less notorious. In spite of this, it's no less delicious! This is a simple dish to prepare, with the only caveat being the cooking vessel you'll need to prepare it. If you want to cook bograci, you'll need a medium sized cast-iron cauldron and a cook stand. Once you've got this, you're ready to set to work preparing this eastern European delicacy!
This meal originated in Hungary as a way to feed poor but hard working peasants, but it's a perfect fit for a campfire! In order to prepare it, you'll need the following ingredients:
4 pounds pork loin, cubed
15 red potatoes, peeled and cubed
2 large onions, finely chopped
2 large tomatoes, cubed
2 large bell peppers, sliced
3 large carrots, peeled and chopped
5 cloves garlic, peeled and minced
½ cup cooking oil
Seasonings (parsley, carraway basil, salt, pepper)
Fresh bread
To start off, put the carraway and oil into the cauldron to heat. Once it has heated, add onions, then after five minutes the peppers, then the carrots, garlic and tomatoes. Finally, add the meat and roughly a pint of water. Let this simmer for a while, adding enough water to keep the ingredients barely submerged. As it cooks, the stew should get thicker. It will take between an hour and a half for the meat to cook fully.
Once the meat is tender and well cooked, you'll need to add the potatoes and the rest of the seasonings. It should take roughly 15-20 minutes for the potatoes to cook, after which your bograci is ready to eat! Garnish with the last of the parsley, and serve with fresh bread. You'll never eat a better stew for the rest of your life!
Dutch oven Mac-n-Cheese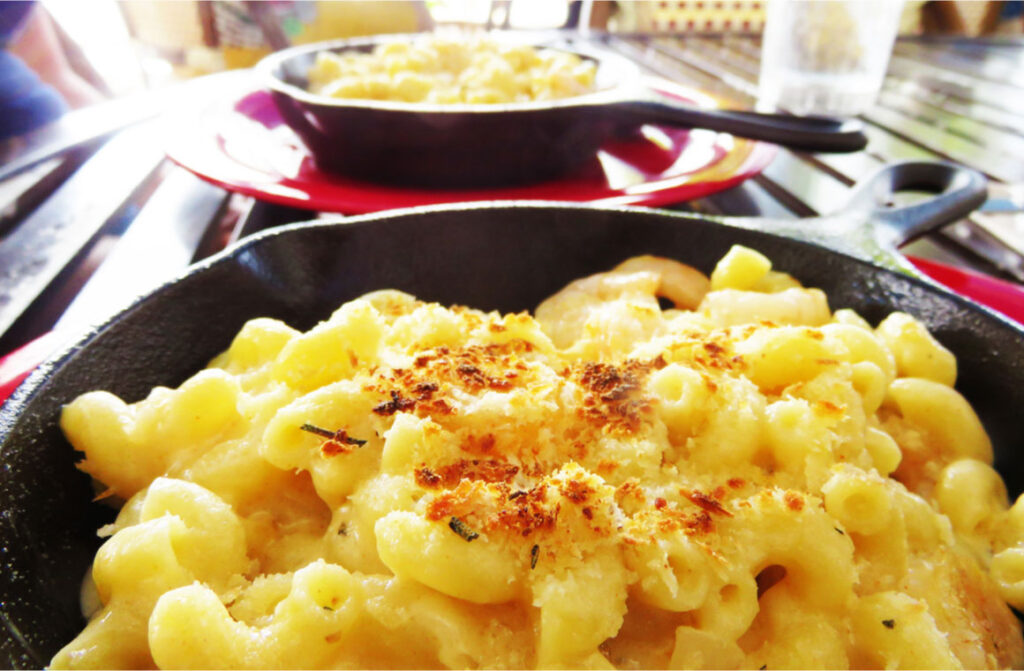 Have you ever seen a dutch oven? This unique invention was purposely created as a way to cook things much like you would in an oven (hence the name) but without all the unnecessary trappings of a modern kitchen. They're easy to use, and their cast-iron construction means they're resilient enough to stay in the family for generations!
Once you've got your hands on a dutch oven of your own, you can cook all kinds of things in it. Today, we're going to be sharing our recipe for Mac-n-Cheese, which is undeniably an all time American classic. The twist is you'll be making it in your dutch oven, over a campfire! To prepare this recipe, you'll need the following ingredients:
4 cups uncooked macaroni
1 stick of butter
1 quart of water
6 cups cheddar cheese, shredded
½ teaspoon salt
½ teaspoon garlic powder
To start with, you're going to need to once again let your fire burn down to embers, so there are no open flames present. Now, pour the water and pasta into the dutch oven and cover it with the lid. Place the dutch oven on the fire, then pour the water and pasta in. Pile some coals on top and wait for the pasta to cook.
Once this is done, remove the lid of the dutch oven and pour out the majority of the excess water. Now, add the butter, cheddar cheese and garlic powder to the pasta, and stir everything together thoroughly. Finally, put the dutch oven back on the fire to cook for another 2-3 minutes. After that, you're free to serve your hungry compatriots!
Conclusion
Camping is one of America's favorite pastimes, and there are a lot of great reasons for that! With these recipes, we hope your next camping trip is greatly improved, giving you plenty of ideas for your next gathering of this type. When you're preparing them with your loved ones around the campfire, they're sure to fill your stomachs and warm your hearts with their hearty goodness. We wish you the most enjoyable camping trip of all camping trips!