In a world where culinary extravagance often comes with a hefty price tag, it's time to unravel the secrets of creating budget-friendly recipes that taste like they were plucked from the menu of a Michelin-starred restaurant. Prepare to embark on a culinary adventure where your taste buds will dance with delight without leaving your wallet feeling lighter than the air.
In this delightful culinary realm, frugality and fine dining collide, creating a harmonious symphony of flavors that belies their affordable nature. We're here to prove you don't need to break the bank to indulge in gourmet goodness. Say goodbye to culinary monotony and hello to recipes that will tantalize your taste buds and leave your guests wondering how you managed to conjure up such magic in the kitchen.
From sizzling shrimps to tantalizing croquettes, we'll guide you through a treasure trove of inexpensive ingredients that can be transformed into culinary masterpieces for a king or queen. With a dash of ingenuity, a sprinkle of creativity, and a pinch of resourcefulness, you'll discover how to make every penny count without sacrificing flavor.
So, brace yourselves for a gastronomic revolution where humble ingredients transcend their origins, transforming into gastronomic delights that will make you feel like you're dining in the most exclusive restaurants in town. Get ready to unleash your inner chef, impress your guests, and prove that budget-friendly recipes can taste as expensive as the most abundant feasts.
Affordable yet tasty recipes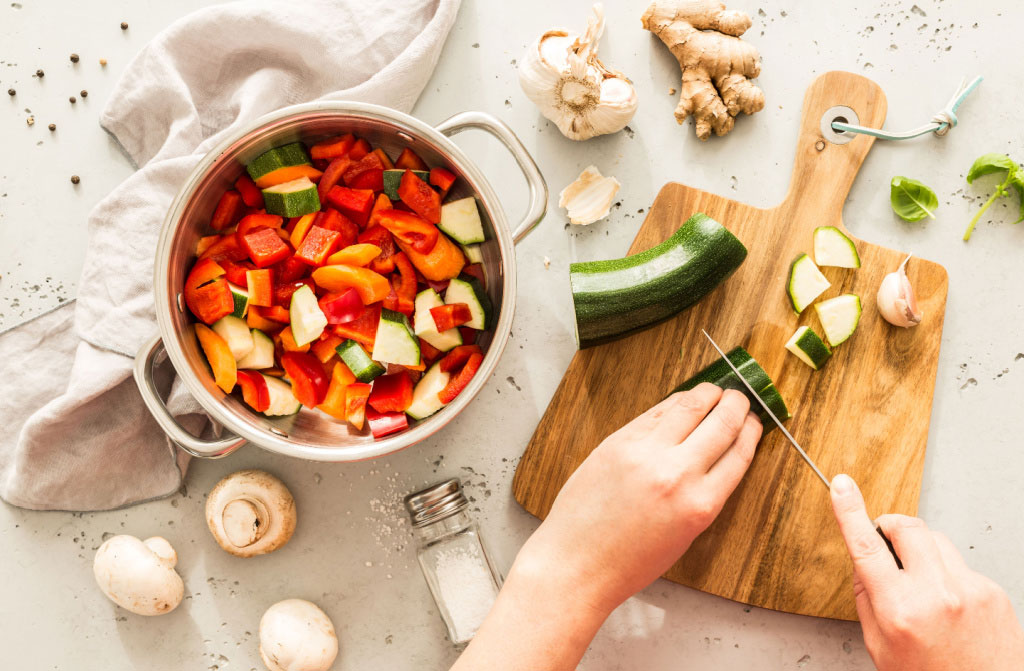 Picture this: you're craving a fancy, luxurious meal, but your bank account looks more like a piggy bank than a Swiss bank. Fear not, culinary adventures! We've got you covered with our budget-friendly recipes that taste so exquisite you'll be convinced you're dining at a Michelin-starred restaurant.
Grilled coconut shrimp with shishito peppers
Ah, the mere mention of coconut shrimp conjures up images of palm trees swaying in the breeze, sandy beaches, and a vibrant sunset painting the sky with colors that would put Picasso to shame. This recipe is worthy of the best culinary schools in America.
Ingredients:
A bunch of fresh, plump shrimp (peeled and deveined, of course; nobody likes a prudish shrimp!)
A handful of shishito peppers (these babies bring the heat – not too much, just enough to keep things interesting!)
Coconut milk (the superstar of our dish)
Lime juice (to give that tangy zing, like a salsa dancer twirling on your taste buds!)
Garlic (because every great dish starts with garlic)
Fresh cilantro (for that burst of freshness that's cooler than a cucumber at a spa!)
Salt and pepper (the dynamic duo of seasoning, always ready to add a punch to any dish!)
Instructions:
Marinate the Shrimp: In a bowl, mix coconut milk, lime juice, minced garlic, and a sprinkling of salt and pepper. Take your plump shrimp and let them bathe in this creamy, tangy, and garlicky goodness for at least 30 minutes. Trust us; it'll be like a spa day for your seafood!
Prepare the Peppers: While your shrimp enjoy their tropical soak, remember the shishito peppers. These little green wonders might look innocent, but they pack a mild smoky heat that'll have your taste buds doing the cha-cha! Simply drizzle them with olive oil, sprinkle salt and pepper, and let them chill on a hot grill until they're nicely charred.
Grill it up! Time to turn up the heat and get your grill sizzling! Thread those marinated shrimp onto skewers (if you're feeling fancy), or lay them directly on the grill grates (if you're a more laid-back beach bum). Grill those little sea critters on each side for a couple of minutes until they turn pink and get those grill marks like they're competing in a beauty pageant.
Bring it all together: Once your shrimp are perfectly grilled, and the shishito peppers have their sassy char on, it's time to assemble this tropical tango on a plate. Lay your coconut shrimp alongside those vibrant green shishito peppers, and don't forget to sprinkle some chopped fresh cilantro on top. It's like adding a lei to your dish – an edible accessory that brings that final touch of freshness! Not to mention it is an affordable, easy to prepare dish.
Grilling cheese with sweet peppers and black lentils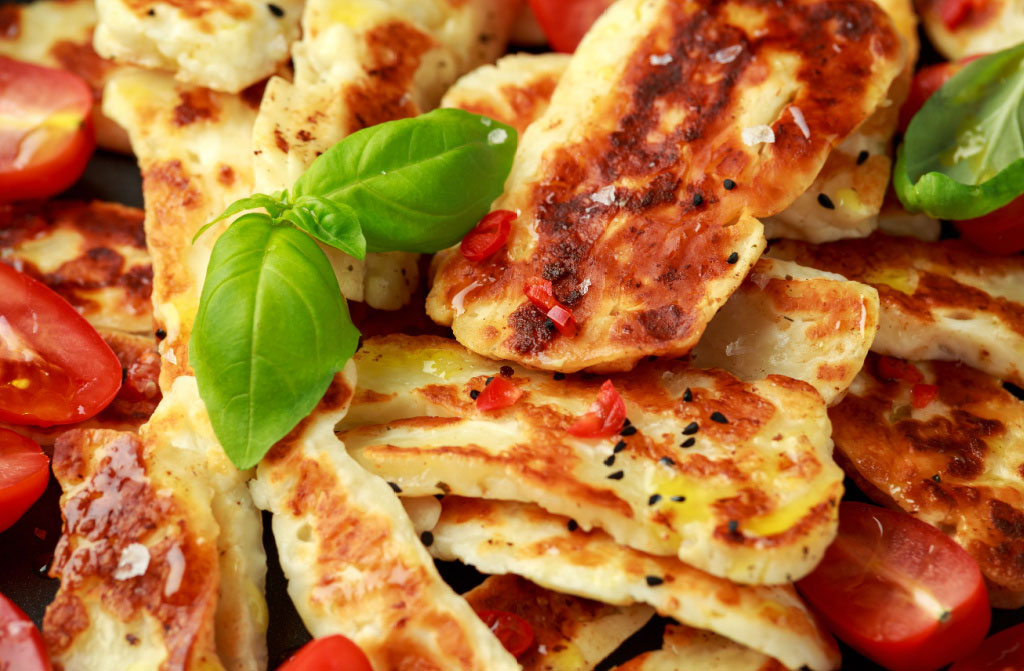 Fire up your taste buds and prepare for a culinary adventure combining the smoky goodness of grilled cheese with the delightful sweetness of peppers and the hearty earthiness of black lentils. This recipe is a true masterpiece that will leave your palate in awe and your guests begging for more.
Ingredients:
Eight slices of halloumi cheese (or any other grilling cheese of your choice)
Two large sweet peppers (red, yellow, or orange)
1 cup of black lentils, cooked
Two tablespoons of olive oil
Two cloves of garlic, minced
One teaspoon of smoked paprika
1/2 teaspoon of cumin powder
1/2 teaspoon of chili flakes (adjust according to your spice tolerance)
Salt and black pepper to taste
Fresh basil leaves for garnish
Lemon wedges for serving
Preparing the Cheese and Peppers: Preheat your grill to medium-high heat. Slice the sweet peppers into thick strips, discarding seeds and piths. Brush the pepper strips lightly with olive oil and set them aside. Next, cut the halloumi cheese into thick slices.
Sizzling the Cheese and Peppers: Place the pepper strips on the grill for 3-4 minutes per side until they become slightly charred and tender. Remove the peppers from the grill and set them aside.
Now, it's time for the star of the show – the cheese! Lay the halloumi slices on the grill and let them cook for approximately 2-3 minutes per side until they acquire beautiful grill marks and turn golden brown. Remember, you want the cheese to be slightly crispy on the outside while maintaining its gooeyness on the inside.
Black Lentil Magic: Let's prepare the black lentils while the cheese grills. Heat the olive oil over medium heat in a pan and add the minced garlic. Saute for a minute until the garlic becomes fragrant. Then, add the cooked black lentils, smoked paprika, cumin powder, chili flakes, salt, and black pepper. Stir everything together and cook for another 2-3 minutes, allowing the flavors to meld.
Bringing it All Together: Arrange the grilled cheese slices on a platter, and on top of each piece, place a generous spoonful of the flavorful black lentils. To add a pop of freshness, sprinkle some torn basil leaves over the lentils. Finally, crown your creation with sweet and smoky grilled pepper strips.
Taste the Magic: Serve your grilled cheese with sweet peppers and black lentils while it's still warm. Squeeze a zesty lemon wedge over the top for a tangy kick. Each bite will be an explosion of flavors, with the creamy, slightly salty cheese, the vibrant sweetness of the peppers, and the earthy depth of the black lentils.
Salmon croquettes with dill sauce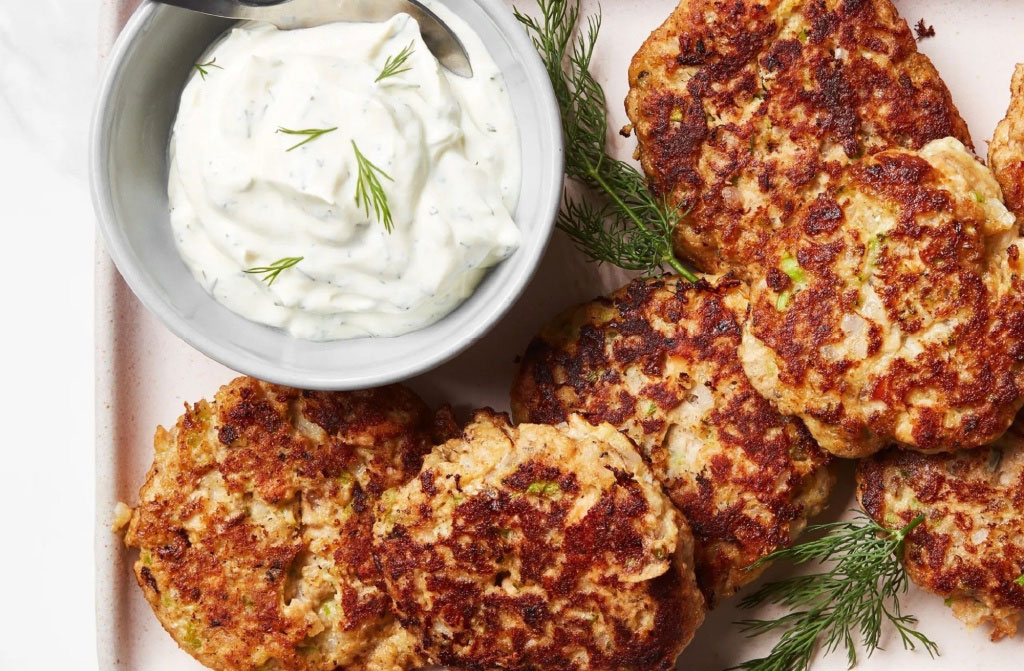 These bite-sized balls of bliss are the perfect blend of sophistication and scrumptiousness. So, without further ado, let's dive into the deep end of this delectable recipe and savor the adventure of making Salmon Croquettes with Dill Sauce, one of the best American foods out there. Trust us there won't be any leftovers when you prepare this dish.
Ingredients:
For the Croquettes:
1 lb Fresh Salmon Fillet (Grilled, Baked, or Pan-Seared – the choice is yours, just keep it cooked and flaky).
1 Cup Cooked Mashed Potatoes (Leftover mashed potatoes? This is their moment to shine!)
1/4 Cup Finely Chopped Red Onion (For a little bit of sass)
1/4 Cup Finely Chopped Red Bell Pepper (Adds a pop of color to the ensemble)
2 Cloves of Garlic, Minced (Who needs a vampire visiting during dinner?)
2 Tablespoons Chopped Fresh Dill (Salmon's BFF)
1 Teaspoon Dijon Mustard (For a tangy twist)
1 Teaspoon Lemon Zest (To tickle your taste buds)
1/2 Cup Panko Breadcrumbs (For that crispy crunch)
2 Large Eggs (To keep everything together, like culinary glue)
Salt and Pepper (For seasoning, we like to be salty with a dash of wit)
Olive Oil (For frying; swim like a salmon, cook like a pro)
For the Dill Sauce:
1/2 Cup Greek Yogurt (To keep it creamy and dreamy)
1/4 Cup Mayonnaise (A little indulgence never hurt anyone)
1 Tablespoon Fresh Lemon Juice (For that zesty zing)
2 Tablespoons Chopped Fresh Dill (Because, duh, it's the dill sauce)
Salt and Pepper (To keep it cool and seasoned)
Now that we've gathered our culinary squad, it's time to unleash our inner chef and work some kitchen magic.
Directions:
In a large bowl, flake the cooked salmon with a fork, like untangling a shoelace in slow-mo. Add the mashed potatoes, red onion, bell pepper, minced garlic, fresh dill, Dijon mustard, and lemon zest. Mix everything like an orchestra conductor leading a symphony.
Season the mixture with salt and pepper to add some sass without overwhelming the party.
In a separate shallow bowl, beat the eggs like you're in a battle of culinary wits with a whisk. Pour the Panko breadcrumbs into another plate because it deserves its spotlight.
Shape the salmon mixture into sweet little croquettes like sculpting mini masterpieces. Dip each croquette in the beaten eggs, ensuring they're well-coated, and then give them a Panko breadcrumb blanket. Press gently to ensure they're snug and ready for their hot oil plunge.
Heat a generous drizzle of olive oil over medium heat in a large skillet. Fry the croquettes for about 2-3 minutes.
Conclusion
In conclusion, budget-friendly recipes that taste expensive are a culinary delight for anyone looking to elevate their dining without breaking the bank. By skillfully combining inexpensive ingredients and incorporating creative cooking techniques, these recipes prove that luxury in taste can be achieved on a modest budget.