If you've ever been wondering how you could make your backyard a place where you can entertain guests, you've come to the right place. Living in a single-family home gives homeowners plenty of space to play around with. Both the front and the back of your property are areas where you can add permanent or movable structures. While the front part of your home may not provide enough privacy, your backyard is another story. There you get to enjoy the outdoors away from prying eyes or nosey neighbors.
You moved into a new house or have been busy with life in the fast lane to get around to it. Still, your backyard can be more than a well-kept lawn with a few chairs and a basic patio. Turning your backyard into an oasis isn't as difficult as it may seem. What will be difficult is spending time anywhere else once you have that. You'll soon find out that installing a permanent structure into your backyard will make it so much more inviting. From then on every party will move into your backyard.
This article will cover some of the most popular permanent structures that will increase the Hygge factor from your backyard. Like this, you'll be able to choose which of these fit best with your home and your needs. Your personal style is essential, and your lifestyle will dictate which type of permanent structure works best for you. There's no need to install a greenhouse if you don't like plants, as there is no need to install a patio cover if you don't have a patio. So, without further ado, let's jump into it.
Gazebo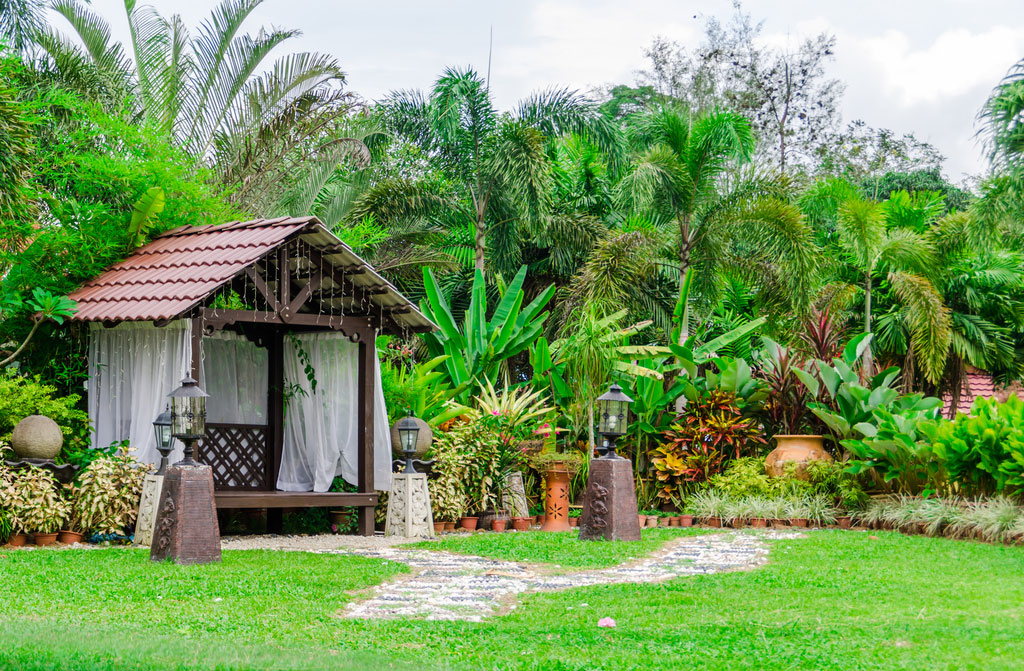 Gazebos are the most popular permanent structures across America. People used them since the Colonial era, and you can find them in many town squares all around the country. The shape, size, and height of a gazebo can vary depending on the style of your home and your needs. The traditional gazebo is octagonally shaped, made out of wood, and with intricate designs. They remind homeowners of the Victorian era. Whether they have scrolled braces and turned posts, there is a wide variety of options available on the market. This style fits best in a romantic garden design with flowers, pathways, and string lights for the special evenings spent outdoors. Modern gazebos are not limited to a particular shape or size and homeowners use them for outdoor dining and intimate gathering spaces.
Because of their aspect and use, people don't place gazebos close to the main house. Their shape creates a welcoming, inviting, and intimate setting. At the same time, they provide a relaxing space where people can talk in private if they want. Usually, gazebos are open structures that allow air circulation. Still, they provide cover from the rain, and you can screen them in to keep pesky bugs out. Screened-in gazebos are a perfect choice if you want to create an outdoor dining area. You won't have to worry about insects bugging your guests or rain ruining the evening.
Pergola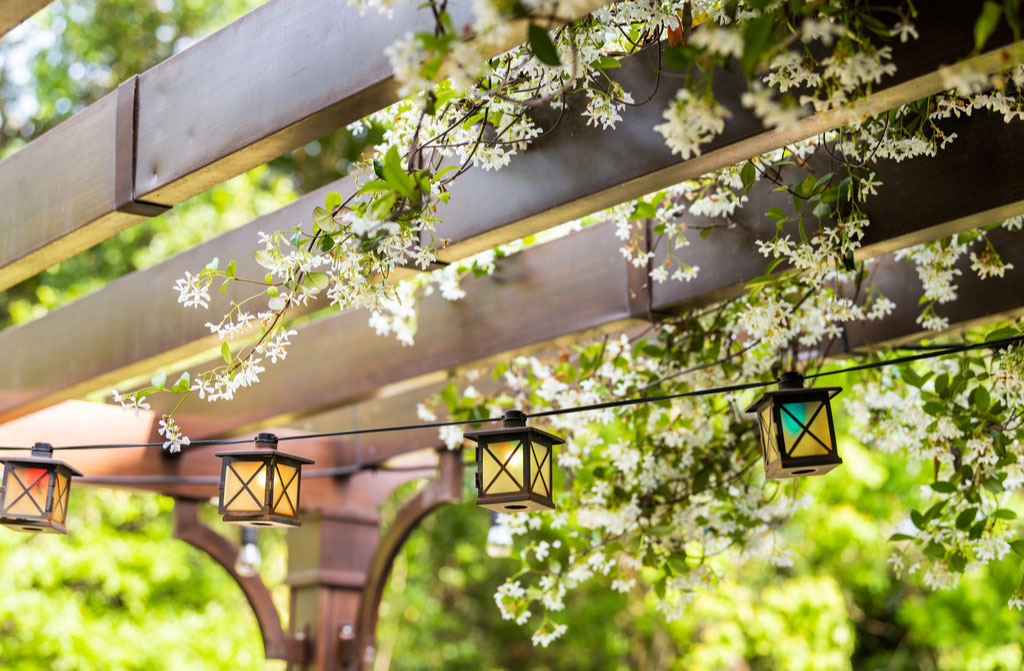 Considering the natural landscape around your backyard, you may not need to shade the area. You have some trees that do that, and you don't want to overcrowd your backyard. Pergolas might be exactly what you need. While most often used in desert areas where rain isn't a real concern, pergolas have become more and more popular across the US. Their stylish aspect provides enough shade without taking up too much visual space. This makes them ideal for the most popular architectural styles. They are a hybrid between pavilions and arbors giving any vining plants the space to grow and increase the amount of greenery in your backyard.
Decks and patios are great places to install pergolas. As they don't offer a complete cover from the elements, they work beside the pool or over a designated dining area in your backyard. They aren't screened in, with curtains, privacy walls, or shade canopies. Still, you can ensure that you have plenty of protection from natural elements like rain or snow, depending on where you live.
Pavillion
A pavilion is often compared to a gazebo as it is a much more simplified option for permanent backyard structures. They have a hardtop roof, like a gazebo, but are much more open to the elements, making them ideal for mild climates. As they are generally not screened in, you can build these structures next to another structure or wall to increase the amount of protection they can provide. Install a fire feature, and you won't even have to worry about the temperature dropping. You'll be able to enjoy your backyard regardless of the weather. The sturdy and hearty top protection makes them ideal for outdoor kitchens. They can ensure no water or weather damage gets to the outdoor kitchen appliances.
Another good use for pavilions is outdoor recreational areas. Dining areas, relaxation spots near the pool, or places to relax in the shade will allow you to enjoy some quality time with friends and family. If you install a spa-like area in your backyard, a pavilion will be the best fit. They provide protection from the weather but are otherwise open and allow a great outdoor experience. They don't block the view to the rest of the backyard, and pavilions tend to blend in with the surrounding environment better than gazebos.
Greenhouse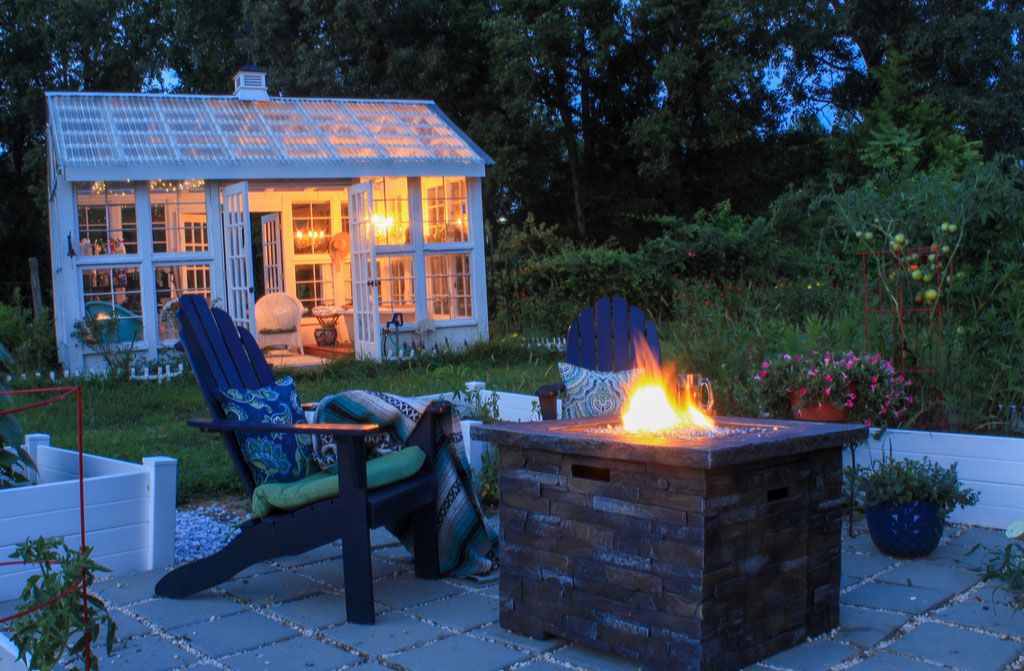 Your dream year-round backyard garden can become a reality with a greenhouse. You can place these freestanding permanent structures anywhere in your backyard. Greenhouses do not need to be connected to other structures, and they have one simple purpose. Providing your plants and flowers with the necessary protection from the elements. They also allow sun rays to shine through to the greenery. Their glass walls and roof allow plants to enjoy the sun regardless of the season or your location. It ensures that you'll have vegetables for your homecooked meals in your garden. Trips to the grocery store or local farmer's market may be the second option from then on. Some outdoor plants need protection over the winter. Place them in your greenhouse, and they will thrive in the controlled environment these structures provide. The ideal microclimate for your vegetables, flowers, and any other plants will ensure a thriving and dependable supply year-round.
Patio Covers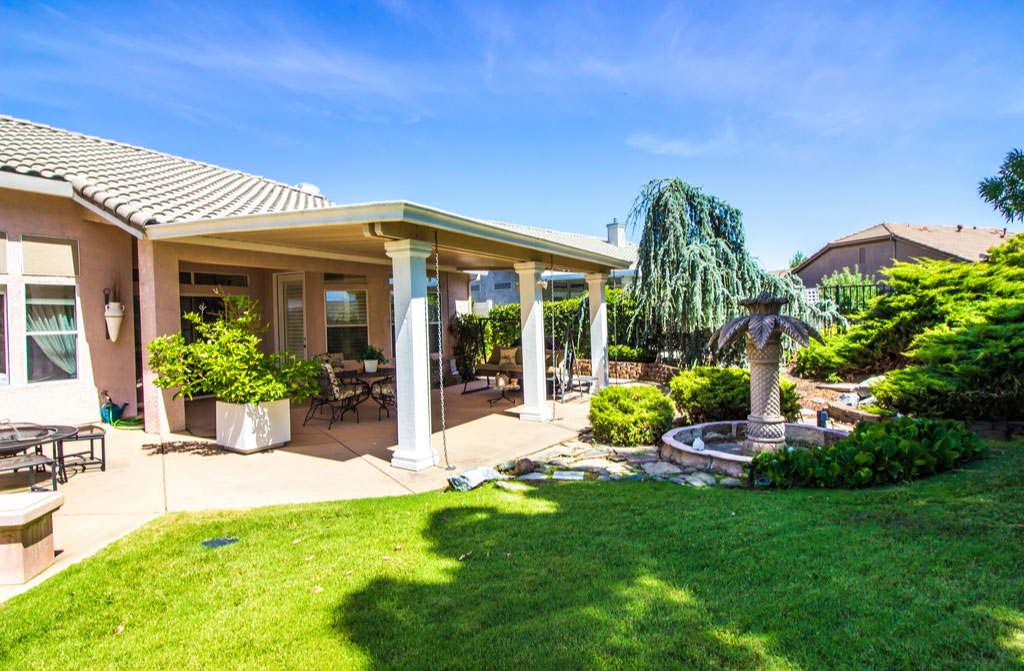 While many homes with patios come with a patio cover, these are still one of the most common permanent outdoor structures in the US. Unlike all the other permanent structures we covered, these are not freestanding but attached to the house, as is the patio. They work either as roof extension or a separate addition usually made of solid roof, but they can also work as partial coverage. The shape, size, and style of a patio cover can vary, but they usually ensure enough coverage for the patio. If your homestyle demands something out of the norm, patio covers are flexible and customizable.
Because they are customizable, the roof can resemble that of a pergola and has columns or pillars sustaining the whole structure. Like gazebos, you can fill the spaces between the pillars, columns, and walls with lattice to work as a trellis for vining plants. Those will grow and increase the amount of greenery in your backyard.
Conclusion
Regardless of which type of permanent structure you choose, they will all add value to your backyard. These inviting and comfortable spaces in your backyard will make your outdoor entertainment options more welcoming. We all know that whenever the sun is out, and the weather is nice, we want to spend as much time outdoors as possible. Transform your backyard into one of the best areas of your home, ideal for entertaining guests and perfect for those warm summer evenings.