Moviegoers are fascinated with filming locations and homes of the rich presented in films. Often, we find ourselves asking the question: do they exist in reality, or were they built as a one-time set? As a result, zealous film buffs will embark on a genuine adventure to discover the exact site where their favorite film was shot. Then, they will compare the real estate found with the one shown on the big screen. So why don't you join us to uncover the most famous and trendiest real-life filming locations?
Amazing-looking houses for the rich are closer than you think!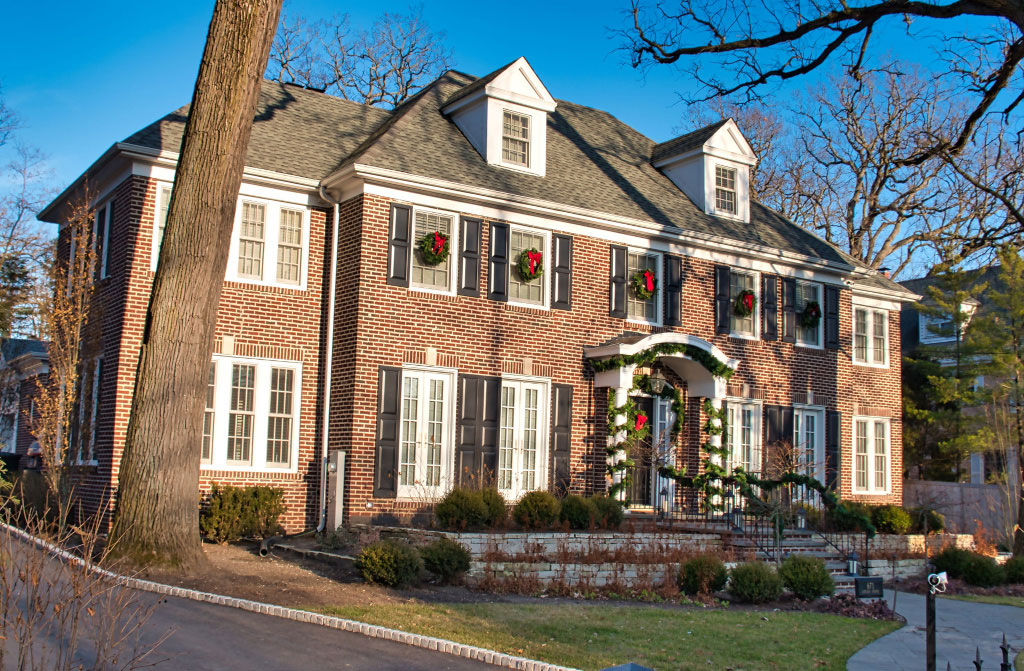 Doesn't buying one of these fancy homes in the area sound good? Hollywood investment properties are at arm's reach with the top local real estate agents in Los Angeles, California. You can also contact top-tier local realtors in Hollywood, CA, to learn more about luxury real estate for sale!
Are you searching for a home to purchase in a slightly more peaceful location that retains Tinseltown's glamour and vibe? There are homes of the rich and famous all over the United States that you can visit and even buy! Why don't you give your professional local realtor a shout-out to hook you up with a luxury property?
Which are the most famous homes appearing on the big screen?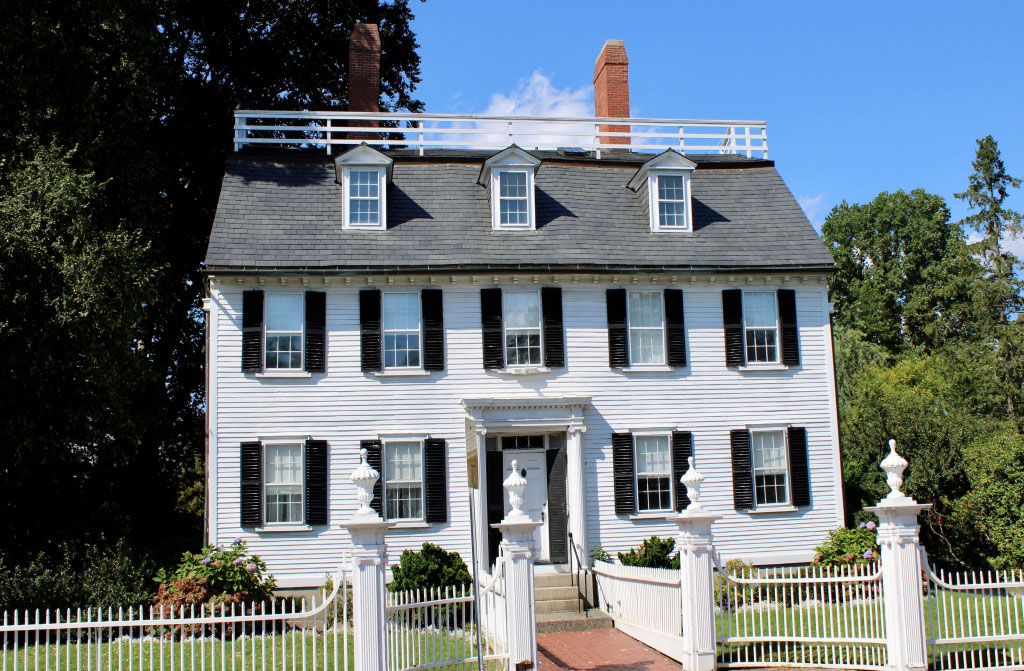 Hollywood films surprise us with lots of adrenaline-filled excitement. Murder mysteries, ghost stories, burglars' attacks, and heroes retreat. But everybody seems to forget one crucial thing. Without an expertly picked filming location and captivating real estate of the rich and famous hosting the film's events, we wouldn't be talking about that wow factor. So, let's see our five favorite properties, actual or fictitious, appearing in blockbusters!
Are you up to visiting the Murder House?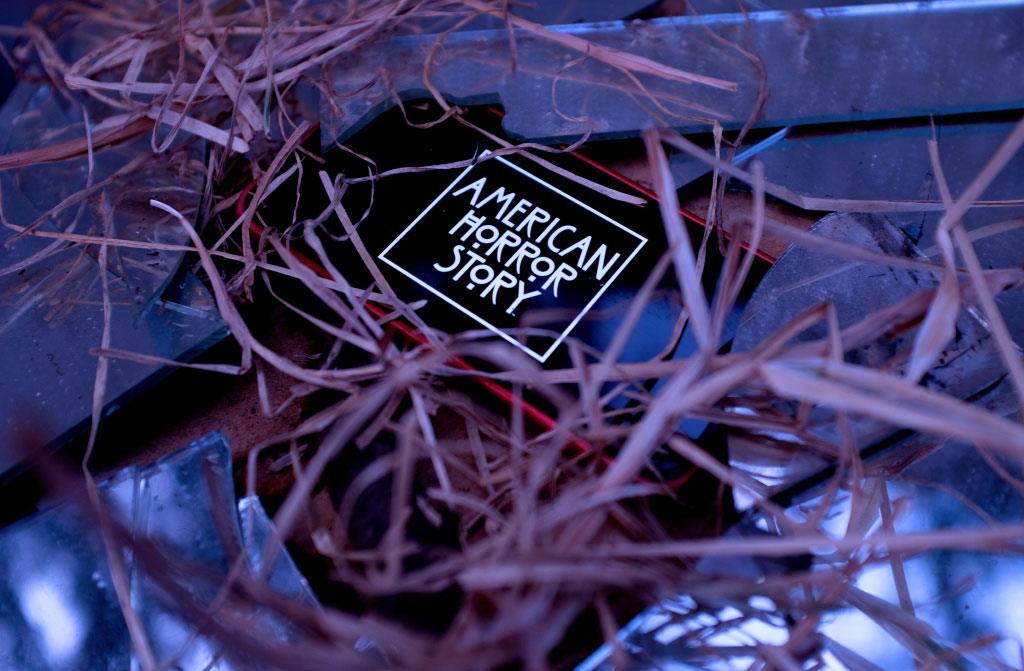 In the first season of the popular horror series entitled American Horror Story, a genuinely spooky home, the "Murder House" makes a lasting impression on the viewer. Meet a classic Victorian manor, offering a chilling sight from the beginning! In real life, it's called The Rosenheim Mansion, which you can see in Los Angeles, CA, at 1120 Westchester Place. The amazing-looking house was built in 1908 and registers as one of Los Angeles's landmark real estate. Plus, it's one of the fanciest homes in the whole world.
The property features a cathedral dance hall, six bathrooms, six bedrooms, and a recording studio. Throughout its existence, the mansion frequently changed its proprietors. In 2015, it sold for approximately $3.2 million. Did you know that several other trendy TV series and blockbusters were also partially shot here? We should mention Spider-Man, the X-Files, Six Feet Under, and Dexter, among the most popular ones.
As a matter of fact, the current owners decided to sue their real estate agent in 2018. In their opinion, the broker failed to inform them that tourists tended to virtually "raid" their property, considering it their twisted religious sanctuary. However, the homeowners realized its potential and occasionally charged tourists an entrance fee for participating in online seances via live streams. Later, the property appeared on Airbnb for a one-night rent. Consequently, it pays to own one of the most remarkable Hollywood investment properties because it provides a substantial secondary income.
2. Discover the villa from Once Upon a Time in Hollywood filming locations!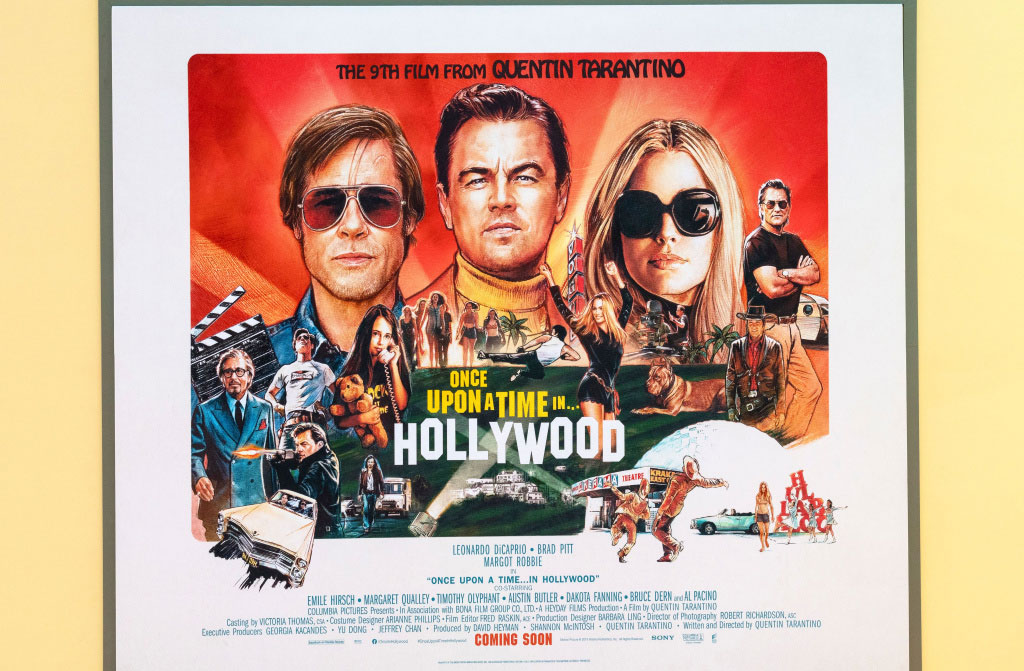 Quentin Tarantino's Once Upon a Time in Hollywood is a love letter dedicated to 1960s Hollywood. The director presents a larger-than-life image of the era in vivid colors, featuring a sense of innocence that's about to be crashed by the Manson Family's violent killing spree. Fast cars and lavish celebrity parties capture the 60's authenticity. Secondly, showcasing the world's fanciest homes certainly helps take us back in time. Unquestionably, the Once Upon a Time filming locations provide a unique glimpse into Tinseltown's luxury real estate and homes for the rich.
The film's protagonist, Rick Dalton, an actor who's gained his notoriety with Western movies and series, owned an amazing-looking Playboy Mansion, a genuine home for the rich and famous. His small 'palace' is the location where the showdown takes place between Rick Dalton, Cliff Booth, Dalton's stuntman, and the members of the Mansion Family. By all means, the fight never happened in reality, so the film rewrites history.
Suppose you wish to take the Hollywood homes for the rich and famous tour. In that case, you'll find his estate on 10969 Alta View Drive in Studio City. They built the 2,630 square-foot property in 1964. It currently has a spacious layout, patio with a pool, three bedrooms, and three bathrooms. Unfortunately, it isn't for sale for the time being. Zillow values the property at around two million dollars.
Contrary to reality, filmmakers "relocated" the nice-looking house to Cielo Drive, Beverly Hills, for the movie. Thus, it moved closer to the actual location of the Manson Family rampage (10050 Cielo Dr.) We have bad news for history-buffs, though. You won't find the actual murder scene because they demolished the French Normandy-style home in 1994.
3. Explore Avengers' real estate!
Are you a Marvel's Avengers fan? Then, you must admire the astonishing Tony Stark's, aka Iron Man, futuristic Malibu Mansion! In the Iron Man trilogy, the luxury real estate is located along the coast of Malibu on a seaside cliff. Is the mansion destroyed by the tinman's foes real? Unfortunately, the property at 10880 Malibu Point in the Point Dume area does not exist.
Yet, nothing can stop us from admiring the high-tech Stark residence presented in detail and equipped with ultra-modern devices. Who doesn't enjoy watching Iron Man's artificial intelligence system at work, including security cameras and entry detection devices and large-screen innovative TVs? We wouldn't be surprised if you consider updating your home with high-tech innovations.
In short, Tony Stark's mansion might be fictitious; its gadgets, however, are of top-notch technology worthy of implementing in your home! The film has a penchant for showcasing the latest home design trends that stands their ground even in 2022! Be inspired and follow Tony Stark's path of building and maintaining your residence. However, don't divulge your home address to the bad guys!
4. Rent Avengers: Endgame cabin!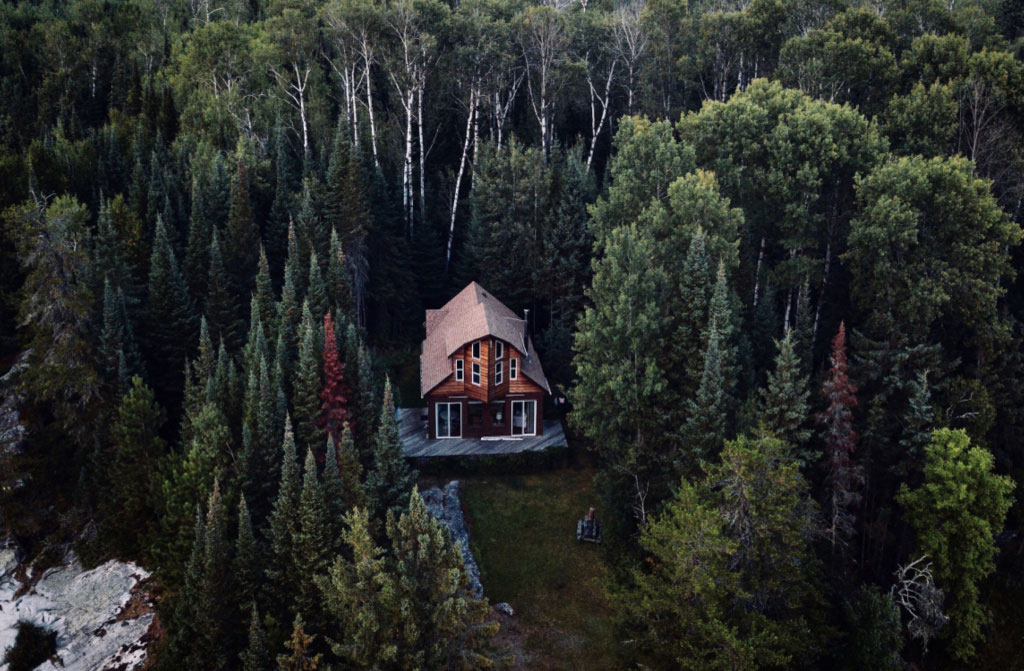 Unlike Tony Stark's home for the rich and famous featured and destroyed in Iron Man 3, Avengers: Endgame's legendary cabin is 100 percent real. Did you know that the place picked up on its notoriety by featuring in Godzilla: King of Monsters (2019)? You could find and rent the cabin on the lakeside on Airbnb back in 2019. The fantastic lodge is located in Chattahoochee Hills in Fulton County, GA. Suppose you're up to moving to Georgia. Then we most definitely recommend visiting the charming Hills community counting about 2,500 locals!
Though nobody could reveal the owner's identity, they must have realized the immense potential of buying a second home and renting it out to avid film fanatics. Consequently, filmgoers in love with the Marvel universe could spend a night in Tony Stark's lodge for $1,000 a night. Who would argue that traditional renting is worse than Airbnb, considering its hefty price tag? By renting the cabin with four beds and three bedrooms, you can enjoy the same peaceful retreat from modern-day toil as the famous Avenger did with his family. In addition, the lodge can accommodate a max of six people.
5. Don't you want to be Home Alone in this house?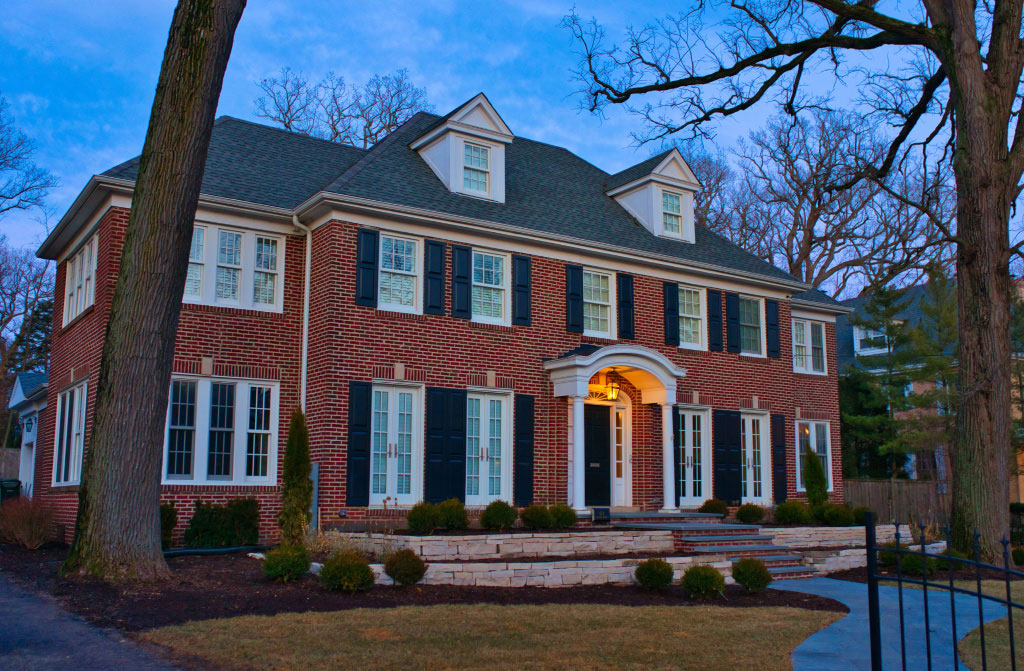 There's no genuine Christmas without Home Alone on TV! You might have enjoyed little Kevin's Tom and Jerry shenanigans with the invading burglars as a kid. However, as an adult, your attention could have shifted to the nice-looking home of the rich, hosting all the film's wild action scenes. Filmmakers shot the bulk of the interior scenes in the studio. Yet, visitors can still find a large chunk of the home's interior in the existing house, for instance, the foyer's staircase and the exquisite living room.
Find the McCallister house on the map at 671 Lincoln Avenue in Winnetka, a great little suburb in Chicago, IL. The 4,200 square foot Georgian estate was built entirely using red brick in 1920. Furthermore, the luxury real estate and home of the rich features three bathrooms and six bedrooms, enabling plenty of space for a family of seven. Nevertheless, times have changed. Geeks won't recognize their beloved film's once trendy interior design elements anymore, such as the lighthearted red and green wallpapers on the stairs. Plus, the present owners redecorated the kitchen according to the latest trends.
In 2012, the owners sold the gorgeous property for a substantial $1.5 million. Note that visitors are not allowed in the house! Still, you can take selfies outside the property.
Why don't you rediscover Christmas traditions this year by watching Home Alone and admiring that amazing-looking house again?
Conclusion
The big screen dazzles us with movie magic and countless breathtaking real estate. Hollywood indeed has an eye for showcasing unique properties built in various trendy styles, such as Gothic, Neoclassical, Bauhaus, Victorian Architecture, etc. In most cases, movie fans can visit or even purchase real estate that plays a significant part in the plot. The most straightforward way is booking a ticket to the Hollywood homes of the rich and famous tour.
The fanciest homes in the world can serve as an inspiration for all of us! Watching the gorgeous homes of the rich, we can most certainly be moved and inspired by their carefully planned and masterfully accomplished exterior and interior designs. However, don't let budget-issues rain on your parade! You can try cost-effective, eco-friendly, and spectacular design elements and combine them with DIY home improvement ideas to create a bewilderingly similar look to the homes of the rich!