When you think of Chicago, what's the first thing that comes to mind? Is it the Chicago Bulls? Or maybe you know it as the Windy City, which it is, but with over 50 million visitors in 2017, there must be something that makes people face the wind and come for a trip here.
As the third-largest city in the US, the city of Chicago, Illinois, can safely be called a tourist city. This reputation comes from its incredible museums, limitless shopping opportunities, world-class dining experiences, and limitless other entertainment options for any age or interest. Tourists definitely have things to do in Chicago and they should take advantage of all the opportunities that this Windy City has to offer. While originally called "the windy city" in 1876 due to a tornado, the term always had a double meaning also hinting at politicians that came to the city's political conventions who were "full of hot air." However, many only stop by the best-known tourist attractions in Chicago and that leaves plenty of stones unturned.
Now. We don't want you only to experience Chicago as a tourist because some of the best things to do in Chicago are off-the-beaten-path. Those attractions can be easily found on sites like TripAdvisor, but we're not here to give you the same list. What we aim to do is introduce you to the non-touristy parts of Chicago, those hidden gems that are only known by long-time residents of Chicago, meaning those people that had the chance to discover their city as their hometown and not a tourist destination. Like this, you won't only get to know Chicago as a visitor, but you'll have a much richer and more intimate experience in the largest city in America's Mid-West.
Hidden gems in Chicago that residents don't mind sharing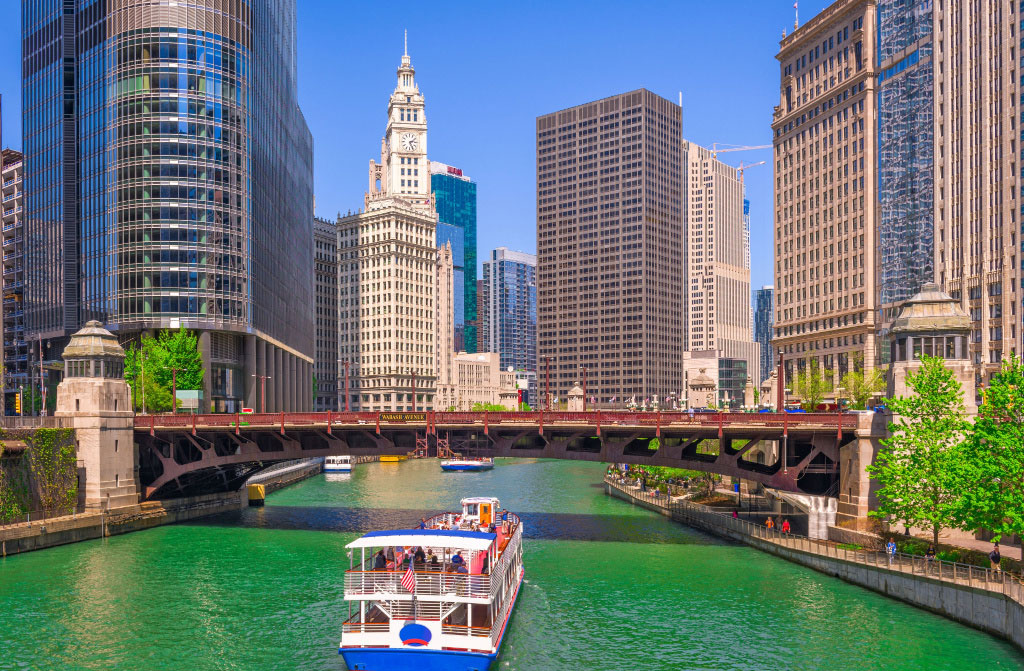 While we usually tend to go to the most visited destinations in a city that we're visiting, those are usually crowded, and noisy, which takes the fun out of the experience. We won't tell you not to visit Willis Tower or Cloud Gate, but if you plan on seeing those, plan to stop by during the workweek to avoid the crowds of people.
At the same time, it will be best to plan your trip during spring or autumn as everyone goes there during summer and that kind of street traffic will take the fun out of your entire visit. On the other hand, Chicago's winters tend to be quite chilly, and, just like bears, the city turns in for the winter. If you don't like to look like a tourist, try to dress in a stylish manner in order to better blend in with the locals. It'll be easier to experience the city like a local if you dress like one and you can contact real estate agents in Chicago IL to make this transition more long-lasting.
Biking through the City
Depending on your car in the third-largest city in the US might make sightseeing rather dull as you wait around for traffic to move. However, if you rent a bike, the city will be your canvas and the bike your brush. For instance, the Segway tour in Millennium Park allows you to enjoy the city like a local as most residents bike or walk to get from point A to point B. It's also very healthy and a great way to discover the city as you can stop whenever you want.
You'll find Dibby rental bikes all over the place and with the Divvy app, you'll always know where the nearest rental stop is, so you take one bike around, explore the city, then take it to the closest place to you. Divvy also has electric bikes for those that don't want to be too tired at the end of the day. With over 606 trails at your disposal, you'll see some of the best views of the city while at the same time you actually see the city's lifestyle, its pulse, and feel what the locals feel.
The Chicago Skyline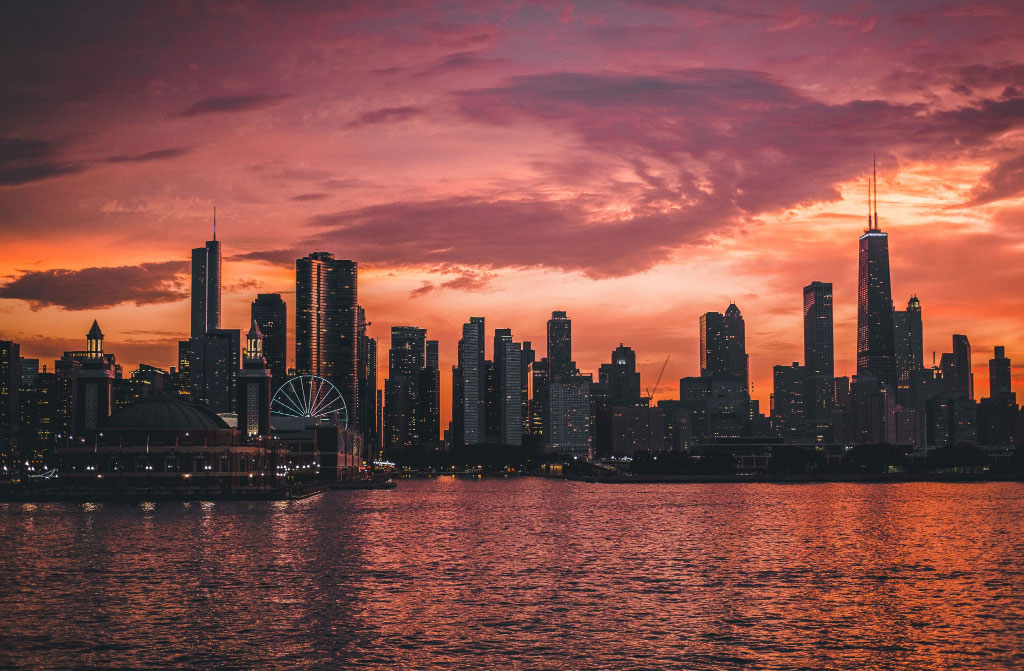 The one thing you don't want to miss when you're visiting Chicago, Illinois, is the unforgettable skyline of the windy city. The city's unique architecture is world-famous with over 1,300 high rises that break through the line of the horizon, creating a truly phenomenal skyline.
While the aforementioned Willis Tower, together with the Hancock Tower are the go-to destinations for the best view of this amazing skyline, locals know best.
The Navy Pier makes it possible for anyone to be able to enjoy one of the best views of the Chicago skyline for free. Many tourists completely miss this location as it's not widely promoted, but if you take the elevator to the Navy Pier's parking garage all the way to the top floor, you'll understand why this is the place we're promoting for that breathtaking panoramic view of Chicago.
Another parking garage in the Lincoln Park neighborhood is another excellent and free location to witness the Chicago skyline. This one is located on the Children's memorial Parking Garage, named after the hospital that used to be across the street from the parking garage, but if you struggle to find it, just Google Philz Coffee as the parking garage is right across the street from it.
Art found in the Most Unexpected Places
One of the best things about discovering Chicago as a local is that you'll find some of the best art in the most unexpected places. Yes, the Art Institute of Chicago is the go-to place for all tourists visiting the city. However, while this famous museum is visited by over a million people every year as one of the oldest and largest art institutions in the US, let's look elsewhere.
You probably never heard of the Wabash Arts Corridor. This urban outdoor exhibition features over 40 world-class murals of art that are always on the largest scale. You can take an organized tour or just go for a walk and take your time. This urban canvas in the South Loop neighborhood was founded by Columbia College Chicago in 2013 and developed into one of the most diverse, expansive, and accessible public art displays in the US. Unlike any other museum, the Wabash Art Corridor is a community-driven project that combines the visual arts with performances and media arts from Chicago's daily life. It starts from the Harold Washington Library and lasts for about a five-minute walk.
Adventure on the Chicago River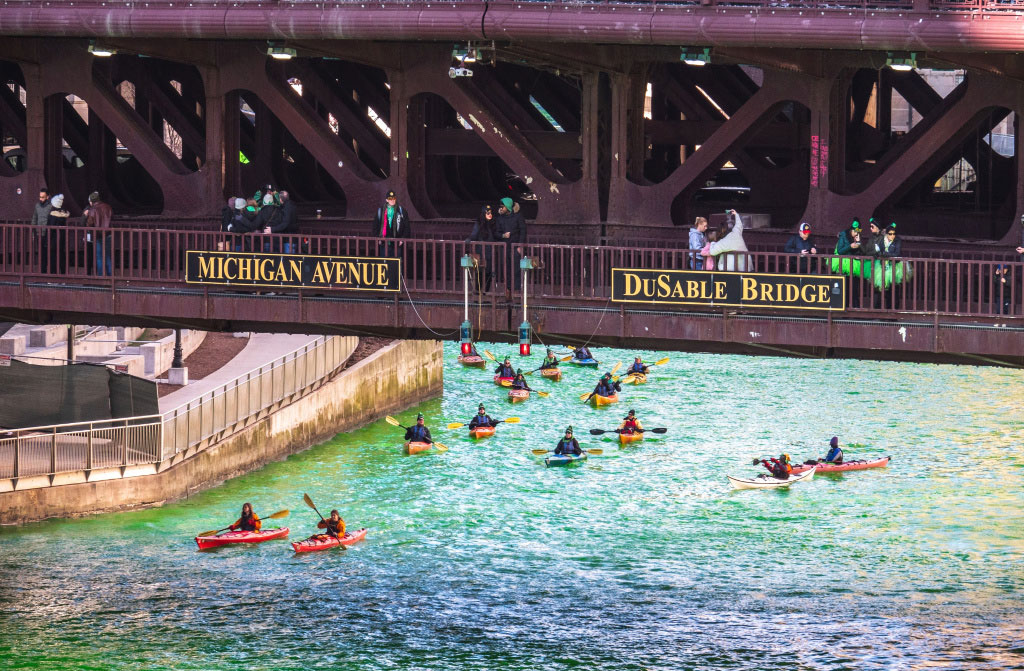 The Chicago River is a well-known tourist destination that most tourists visit as they discover the windy city. The Chicago Riverwalk makes it an excellent location for casual strolls where you can stop at restaurants that offer a great view of the city's river as it winds through some of the busiest parts of Chicago. Either through the DuSable Bridge or the William P Fahey Bridge, you can start your stroll down by the river and forget you're actually in the third-largest city in the US.
However, while this is one of the most iconic places in Chicago, you can have even more fun as you experience the river that splits the city's downtown area in two. There are several cruises you can take up and down the river, but locals know that the best way to experience the Chicago River is from the comfort of a kayak. Depending on the level of physical exercise you want to do, you can choose either to take things into your own hands and the power of your own paddles, or you can take a cruise and just sit back and enjoy the ride. While on a kayak, you can decide the speed, the direction and are in complete control of the ride; cruises can also offer historic tours along the Chicago River. Experience the ghosts, architecture, and history of the city however you want because there are plenty of options to choose from. Or you could just enjoy a lovely brunch at one of the restaurants on the river bank.
Chicago Pit Stops for Excited Visitors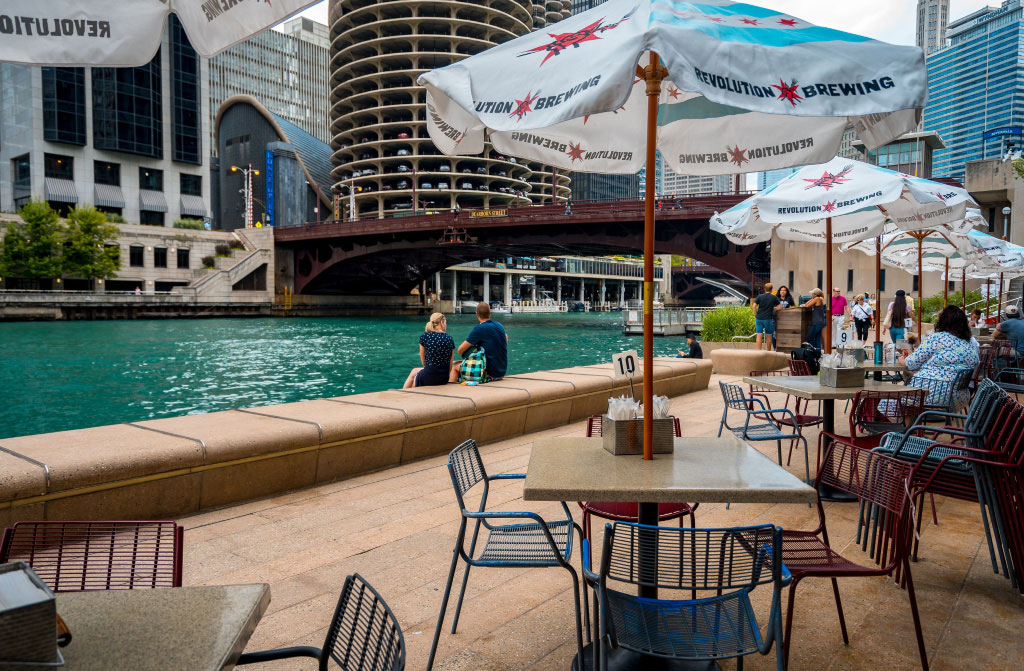 After you are done walking or biking around the beautiful city of Chicago, you'll be thirsty and hungry or may simply need to do some shopping before you go back to your hotel or Airbnb. Well, we didn't forget about that. The last thing we want for you is to be hangry in Chicago. To partially quote a famous commercial, "you're not yourself when you're" hangry.
How could you enjoy everything the city of Chicago has to offer you if you're not yourself? That doesn't seem like a good idea. So, here we'll go into some of the greatest places to maintain a well-nourished body while also continuing to enjoy hidden gems in Chicago, Illinois. Don't worry, we won't take you to the most expensive places as the only thing we aim to do is ensure that your trip will be the best it can be. It won't be difficult to find some great places throughout Chicago, but if you're tired of Googling every location you find yourself at and don't mind a bike ride to the following places, we can assure you that the ride there will be worth it.
The rooftop bar that's off-the-beaten … roof?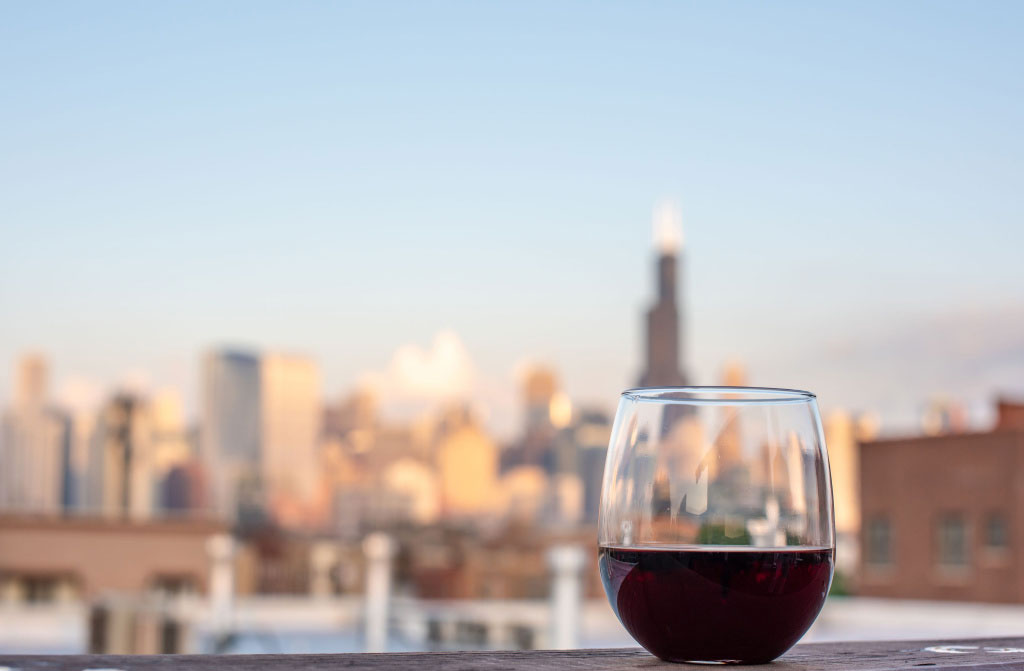 If you're looking for the most popular rooftop locations in Chicago, every itinerary will direct you to Cindy's Rooftop Restaurant. It has a 4.5 rating on Google and is highly recommended for its delicious food and amazing atmosphere. However, it might be on the expensive side, but the view is quite unforgettable, so if you don't mind the extra cost, feel free to stop by. For tourists looking for the best nightlife experience, the Signature Room is also at the top with 4.4 Google ratings providing views of the Navy Pier and frequent celebrity patrons. However, it is also on the more expensive side so if that doesn't fit your budget, let's see what the locals enjoy more.
You won't have a hard time finding rooftop locations in Chicago as everyone wants to give people access to that amazing Chicago skyline. The J Parker lounge is much more affordable while still highly appreciated with a 4.4 Google rating. This cocktail lounge will not only guarantee that you'll enjoy a meal and drinks at an accessible price, but it's much less crowded so you won't have to wait for an hour to get a table. The skyline is just as breathtaking by combining the park view and the lake for an amazing view.
Don't forget the Famous Chicago Pizza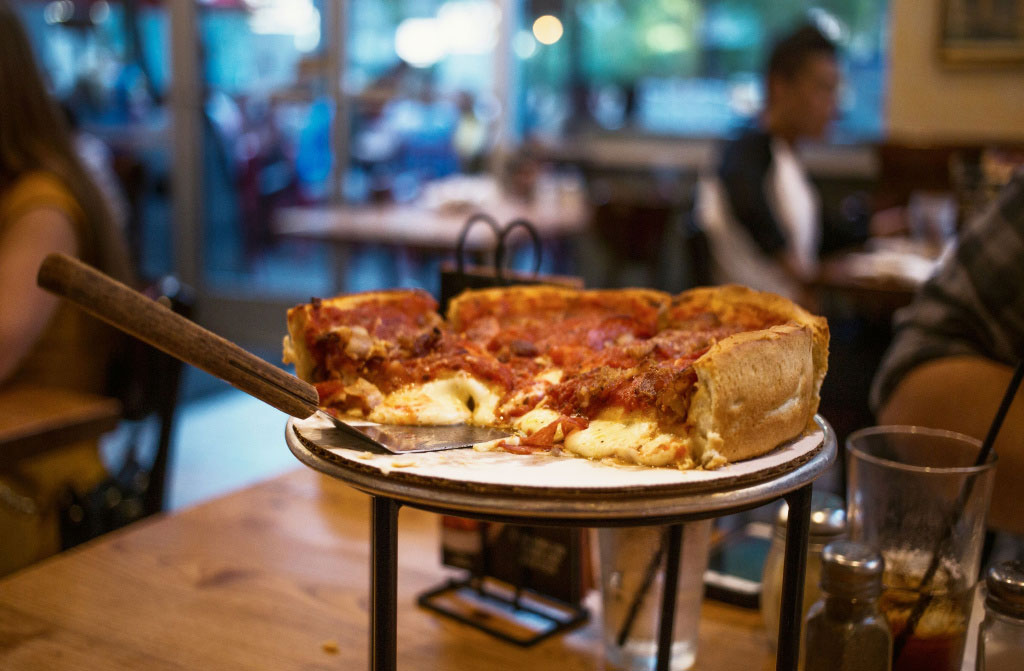 The famous Chicago deep-dish pizza could very well be the reason why you planned this trip, and Lou Malnati's or Gino's East is the most sought-after location for tourists. But you don't have to limit yourself to deep-dish pizza. At Bonci Pizza, you'll have the possibility to try every kind and type of pizza invented, more or less. These traditional Roman-style pies are the real deal as the restaurant, without actually being a chain restaurant, they have one more location … in Rome. If there's any place in the world that should have a say in what a pizza is actually meant to look, taste, and feel like, that's Rome and these guys brought the pizza from Rome and respected every aspect of this traditional Italian food. This is as authentic as it can get without actually going to Rome.
Morning, lunch, or evening Coffee, anyone?
For everyone that starts off their day at a Starbucks, for this trip, I suggest you keep away from this international brand. We won't say that it's not good, tasty, and full of flavor or whatever, but if you want a nice cup of brewed coffee, try the Windy Kitty. Chicago's most interesting cafe is also the city's premier cat cafe, especially if you're a cat person. Sip by sip, your coffee will make your body purr as Chicago kittens purr all around you. What better place to enjoy some well-deserved caffeine that with kittens walking past your ankles as they enjoy their best lives?
Conclusion
So there you have it. The most notable, unique, and exciting hidden gems in Chicago, Illinois. It doesn't matter whether you're into adrenaline-fueled activities or would rather sit back and enjoy the ride, the city of Chicago has plenty of options to choose from and go around experiencing. You only need to know where to look for them. For instance, while going to London, UK, you will definitely want to see Big Ben, some of the most Instagram-able places are entirely unknown and you wouldn't be able to find them by searching the largest traveling platforms. With the list we provided, you can say that while you can go to the most popular tourist attractions in Chicago, you will also have the chance to experience those hidden spots that only the locals know of. In order to truly be immersed in the city you're visiting, do go off the beaten path because some of the best things are hidden, sometimes in plain sight.
Let us know in the comments below if you know of any hidden gems in Chicago, Illinois that people are generally unfamiliar with. It doesn't have to be a museum or a monument. Sometimes the simplest places can be the most interesting things for a variety of reasons. Like & Share this article to let other people know about these Chicago hidden gems. Why should only the residents enjoy them?