You found the perfect dress for that date night you've been looking forward to for all week. To make matters even better, it's at half price. It is also in your budget and when you try it on it fits in the places that matter. You buy it because you deserve a dress and $80 isn't that much.
But wait! Have you ever wondered why are clothes so cheap. I mean, I know they could be cheaper, but if you try to buy the material needed for that dress and have it tailor-made you'll see how much a dress actually costs. I guarantee you that it will go well above the retail price you pay. The difference between the two dresses will be as follows:
It will fit you like a glove – no more creases where they shouldn't be and weird folds;
It will look pristine – tailor-made clothing is made with your exact measurements;
It can be one of a kind – they are only making the one for you;
Quality material – you can choose the best option for the design you want;
It's hand-made – but not through slave labor
It pollutes less;
It will last longer.
The list could go on, but we don't have a habit of going to the tailor and getting our clothes made. We get them from retail shops, international brands, and fashion industry trendsetters. They are cheap because they are made to provide the biggest profit from the smallest investment. However, you can't expect to get a lot of use from a small investment. After a few washes you'll see the material is losing its integrity, the color fades, the tread is fraying and soon enough you'll stop thinking it's appropriate for date night. But what happens then? Well, we also donate them to those that would still get some use from the ones we no longer need, but mostly, we throw them away.
Summary:
We have to understand that while the fashion industry invests a small amount of money in each clothing article, the environment pays a much bigger price for something that becomes waste in about 2 to 3 years if you're lucky. Actually, around a fifth of the wastewater generated globally comes from the fashion industry, and that's before the item even left the manufacturing factory. The same industry is responsible for more energy consumption than the aviation and shipping industries combined. Still, we continue to demand more, buy more and throw away more.
The Personal Impact of Fashion Trends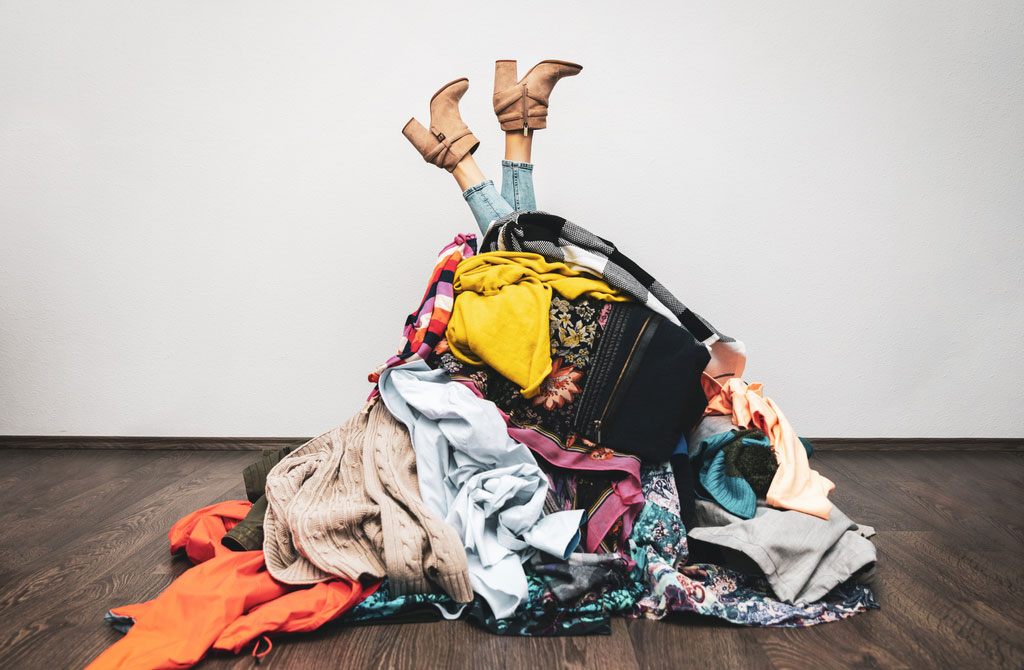 The biggest names in the fashion industry provide you with so many options that you spend hours of life trying on dress after dress in order to find the one that works best. However, when you get home, you still don't have anything to wear. The dress doesn't fit with the shoes, or the shoes don't fit with the purse, and so you get another purse or another pair of shoes that you will only wear once because they aren't comfortable and they don't work with other dresses.
Haven't you realized that the more clothes you have the more time it takes you to get dressed? You could try adding an eco-friendly flair to your wardrobe and see how your life can change. If you have fewer choices, you'll struggle less with finding the right outfit. Also, if you focus on neutral colors that always work great together you are less likely to mismatch nuances.
But fashion always changes and there's always something new that comes along. Another style, another color, another trend, and if you wind up dating the same person again and again you need another outfit so you go shopping again because there's always something new that catches your eye. While this is reaching the edge of a shopaholic, it's how the industry ensures that they make a profit with every new line launched on the market. It's a vicious circle that will keep you unsatisfied and their pockets overflowing. That is the price of fast fashion, but you won't find it on the price tag. The price of fast fashion is paid by the environment.
The Environmental Impact of Fashion Trends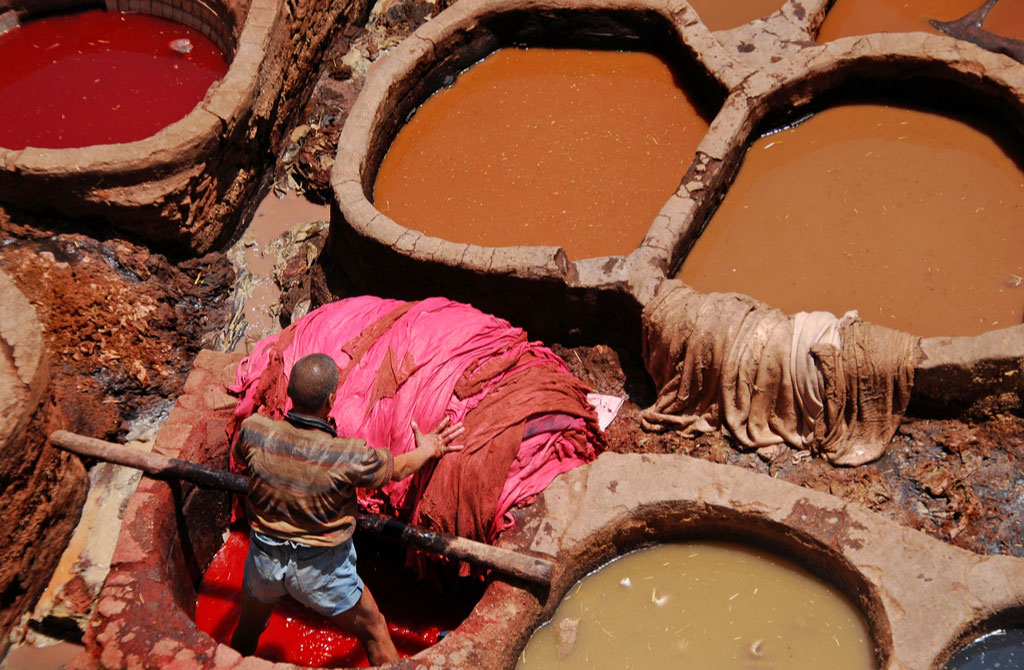 You only need to look at your own closet to better understand the environmental impact of fashion trends. They are always changing and even if they weren't, clothes nowadays aren't made to last. The material is low quality because you're not meant to use it for a long time. You are meant to buy clothing articles from the next line of production and keep up with the ever-changing trends. So, you don't have much choice but to keep up with the trends because the materials aren't meant to last forever.
That's where the problem begins. We, as consumers, don't have a choice but to buy more, consume more, and, eventually throw away more because the cheapest options are cheap for a reason. Not everyone affords to pay $200 for a dress even if that dress will last a lot longer than a store-bought one because our financial situation make saving difficult so when you need a dress for tomorrow you don't have time to save $200 to buy one of a higher quality. And it might take a while for a tailor to make the dress. So you go to the retail shop and buy the first one that fits. Similarly, we buy clothes for our growing children. As the clothes won't be used for more than a few months because children outgrow clothes very fast, there's no reason to buy expensive long-lasting clothes. Well, that is one way of looking at it. Another would be to buy a pair of sneakers for a higher price for your child. Then, your son outgrows them and gives them over to his sister. Then she outgrows them and gives them to her best friend, who then gives them to her sister. The problem with this scenario is that only the original buyer pays and the others just reap the benefits. A circular economy or kindness can fix this.
But those materials don't disappear when we are done with the dress. Did you know that 69% of all clothing materials worldwide are made from some kind of plastic? Materials such as polyester, acrylic, nylon, elastane, spandex, and rayon are all made out of plastic and are the reason why the fashion industry is one of the most polluting industries in modern life. You'll have a hard time finding clothes that don't use at least one of these materials. Still, there's cotton, hemp, and linen, from which we used to make clothes for hundreds if not thousands of years, along with wool and silk that comes from animals for those that don't have a problem with using animal products. Notice that we didn't list leather and fur there as in order to obtain those materials, animals are killed.
All these materials don't contain plastics, yet they are less commonly used. However, the pollution resulting from the manufacturing processes of eco-friendly clothes is incredibly low when compared to the ones that include plastic fibers. So let's see what those materials actually mean.
Acrylic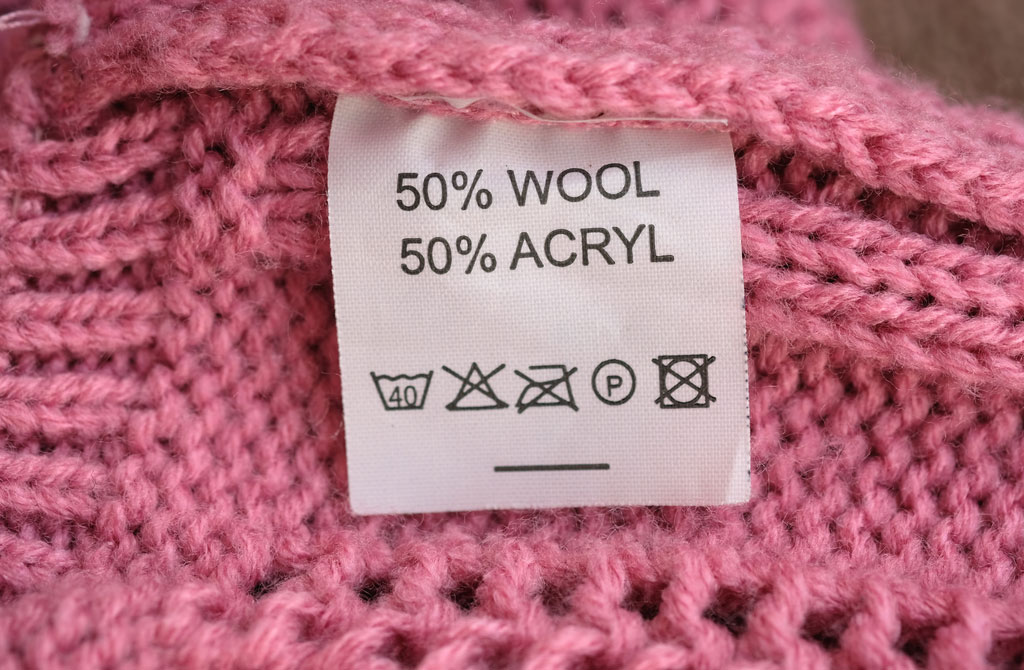 Made from plastic polymer threads that are created from fossil fuels, this material is 100% non-biodegradable. To make matters worse, the acrylic fabric releases countless plastic microfibers into the environment that can make their way into living organisms including us.
While the material is meant to replace other more expensive materials like wool and cashmere, it invites bacteria and does not maintain its form for a long time. It will become waste in a short period of time and remain in landfills for up to 200 years before it manages to break down in the environment. Throughout this time toxic chemicals are released into the environment from acrylic as manufacturing the material also includes chemicals that also harm textile factory workers.
Nylon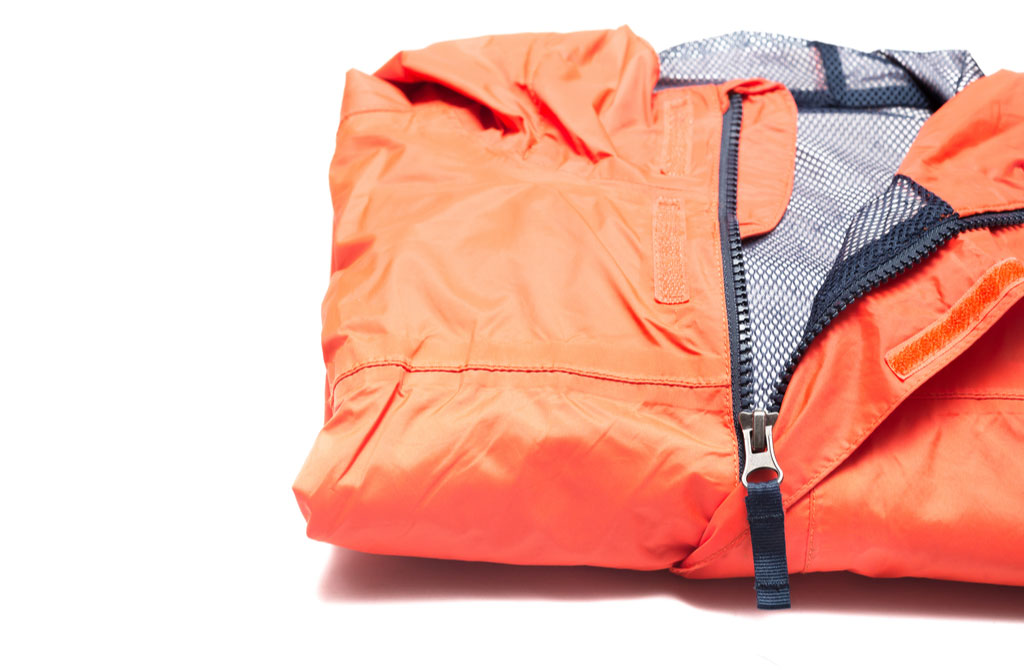 In order to create nylon, the manufacturing process uses plastic that comes from crude oil. This material also fails to biodegrade through natural processes causing pollution. As the first synthetic fabric ever, since 1938 it paved the way for the most common plastic textile, the polymer. Because of its strength and stretchiness, nylon is used in stockings or clothing exposed to harsh conditions.
In order to create nylon, a large quantity of water is used and polluted, but the manufacturing processes also use a lot of energy. Furthermore, the creation of nylon results in harmful nitrous oxide. Still, while brands use recycled plastics in order to create a more sustainable version of nylon, the chemical treatments of the recycling processes are also harmful and only reintroduce plastic into the economy and into the environment.
Elastane
Polyethylene and polyurethane are used to crease plastic threads that are then modified in order to make elastane. As a result this material as well is not biodegradable. Just like the other two materials listed above, elastane releases plastic microfibers into the environment making it a very polluting material. This material is also known as lycra as it is incredibly stretchy and its durability and lightweight properties make it comfortable for our skin.
Still, the production process of elastane requires a wide variety of toxic chemical compounds. The fact that it releases fewer microplastics into the environment than other synthetic materials does not make it eco-friendly. It just makes it the lesser of two evils. If you can't avoid elastane entirely, you could use cold water to wash it and air dry it in order to reduce the negative impact it has on the environment.
Polyester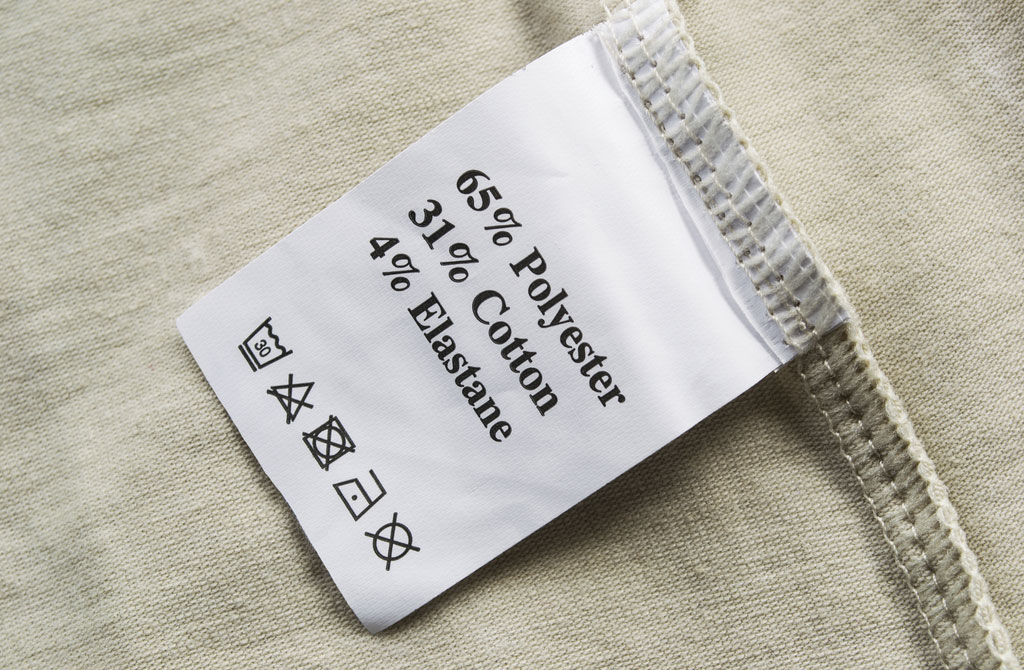 As the most commonly used synthetic material, polyester is made out of a plastic polymer that is derived from petroleum and terephthalic acid. While it is durable, wrinkle-resistant, and lightweight its manufacturing requires large amounts of chemicals, water, and energy. Just like the other materials that are made out of plastics, polyester also releases large quantities of plastic microfibers with every wash. You can choose recycled polyester or buy second-hand clothing in order to decrease your shopping habit's impact on the environment. Polyester as well does not biodegrade and is very harmful to the environment.
How to Decrease Waste from the Fashion Industry?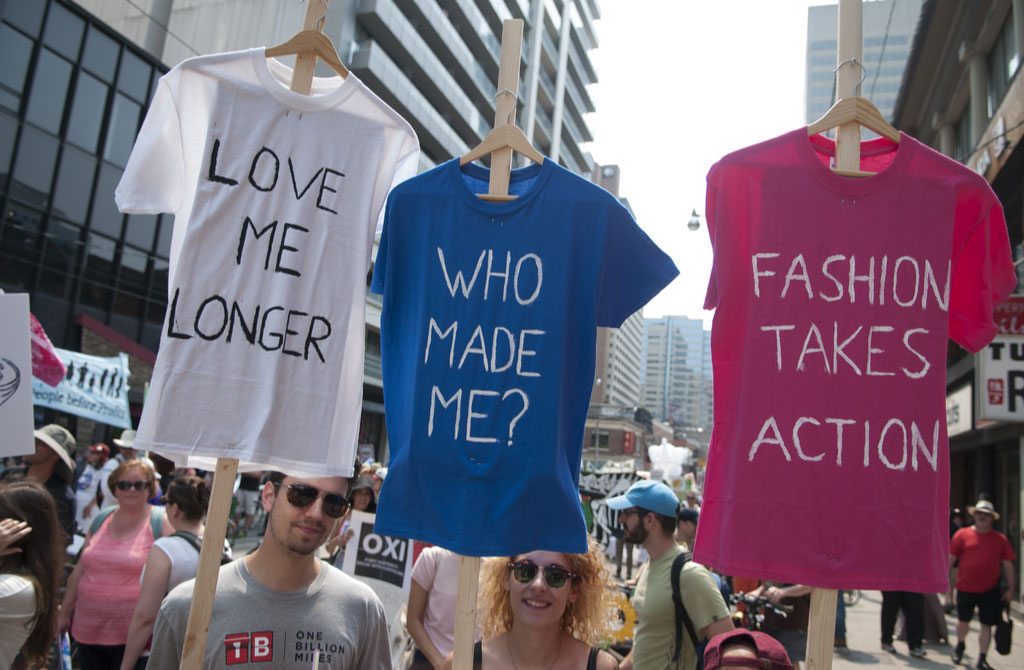 The fashion industry needs to decrease the amount of waste it produces, stop fast fashion in its roots and increase textile recyclability. Still, if we continue to produce clothing with the above-mentioned plastic materials and others, we will never manage. Around 350 million barrels of oil are used every year for fast fashion production at the expense of our environment.
Whether you look at the manufacturing process, the life cycle of each garment, or how many clothes we buy, the result is the same. Pollution and waste are the only long-lasting products of fast fashion. The clothes don't last, only the toxins from them, but still, we consume fast fashion because it is a money-making commodity. Clothes are used to establish status through marketing campaigns pushed by every major clothing brand. They make us think that one type of shirt is better than another, one style more valuable than another and we spend money on things we don't actually need. We want them because they say something about us. That is a scheme that manufacturers use to make us spend more money on the same quality of clothes.
Hold the Fashion Industry Responsible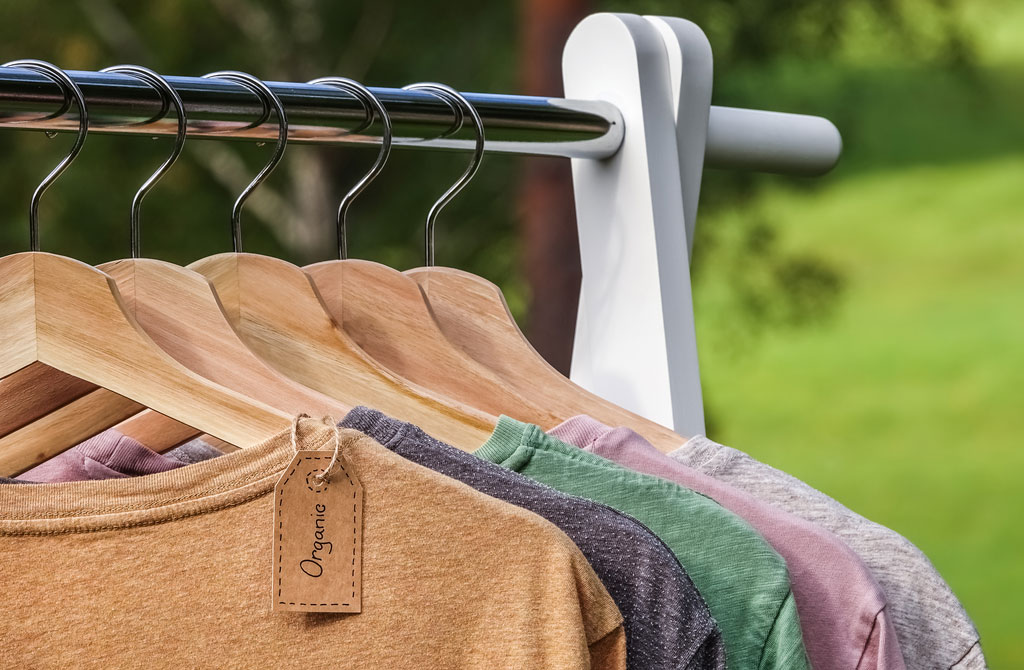 The fashion industry needs to stop relying on fossil fuels and go back to the eco-friendly alternatives our ancestors used. By breaking this cycle of waste manufacturing, we could stop this ecological disaster that's reaching every inch of the planet. It doesn't matter if you live in the US or in Bangladesh, water and air don't respect boundaries. Also, the fashion industry shares the blame for:
Soil pollution from unresponsible wastewater management;
Deforestation for the cotton industry;
Slave labor as many textile factories disregard human rights;
Endangering animal species for furs and leather;
Disrupting fragile ecosystems through pollution.
Ever since polyester was invented, the fast fashion industry began its revolutionary and incredibly harmful practices because we no longer needed to spend time in order to grow cotton for clothes. We could just make the material needed. When clothing manufacturing became so easy, cheap, low-quality clothing was the result. However, the amount of waste the fashion industry generates through these cheap, low-quality clothes and ever-changing trends is astronomical.
Radical Slowdown of Fast Fashion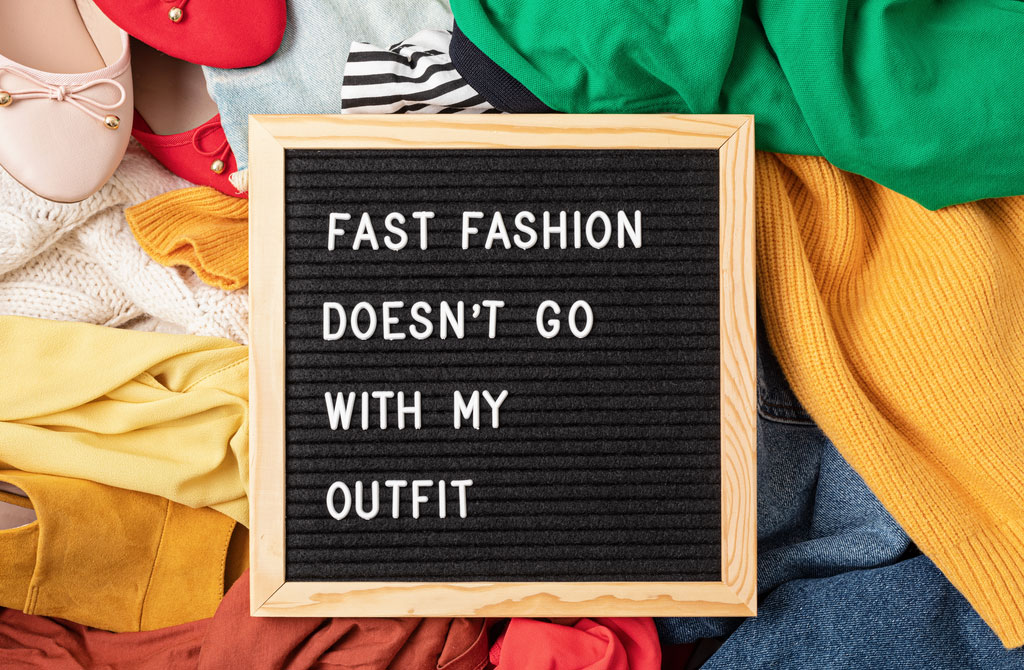 If in 2000, around 50 billion new garments are created. By 2020 that number almost doubled as we buy 60% more clothes than we bought back then. Less than 1% of all clothes are recycled while the average American throws away 80 pounds of clothes every year. The value drops in Europe to 24 but even that is a lot.
Based on the information from the section above, however, simply switching towards more sustainable and eco-friendly fibers won't solve the problem. We also need to radically slow down the amount of clothing we produce and use. I don't know about you, but my closet is limited to two large shelves, a coat hanger, and three small drawers. I didn't count the articles of clothing that I own, but I did expose my closet to the KonMari method of decluttering.
Fast fashion created overconsumption but with the help of synthetic fibers, it is also responsible for the release of half a million tonnes of microfibers into the environment annually, or 50 billion plastic bottles. Around 87% of all manufactured is either burnt or sent to the landfill and approximately 3% of the clothes from H&M, Nike, and Louis Vuitton don't even get sold, but send directly to be incinerated or wind up in landfills. From the percentage of clothes that are recycled (13% in the US) only between 0.1 and 1% are recycled back into fiber for clothing. The system that relies on fossil fuels for clothes needs to be changed and while that may result in fewer clothes that cost more, you won't need as many as you do today.
Circular Economy for Textiles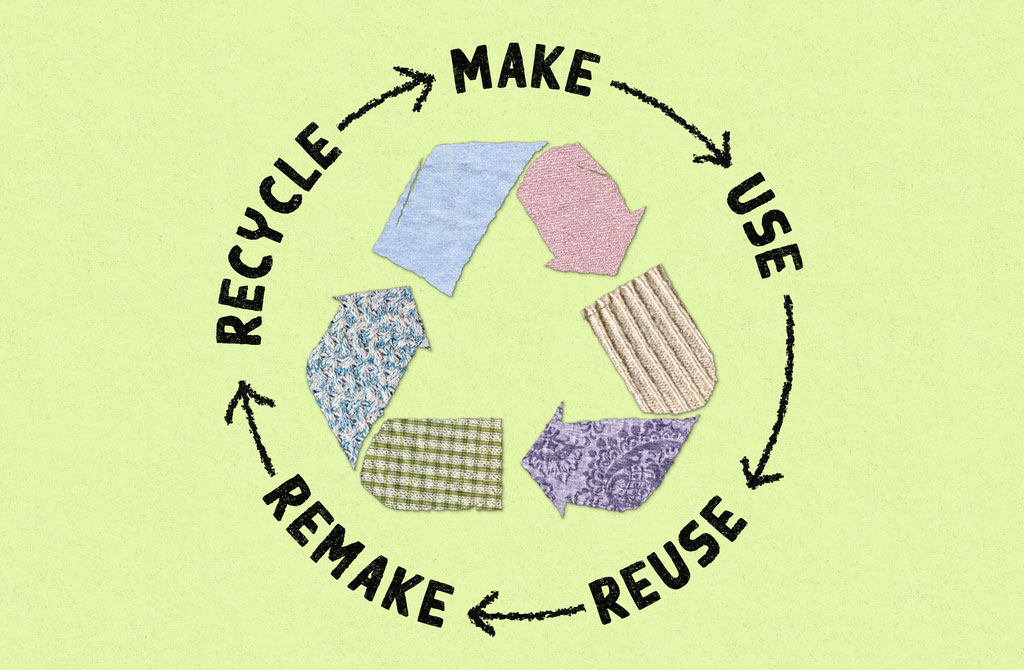 Concrete legislation is necessary to fix the amount of waste resulting from the fashion industry. The European Union, in its plan to switch toward a circular economy model, aims to decrease the amount of waste resulting from the textile industry and increase the percentage of reusability in clothes. Their plan is to promote and incentivize businesses to develop ways to keep clothes in use longer and more sustainably and stimulate high-quality production of clothing that will be more durable, easier to recycle, and less polluting.
Initiatives like these will result in actions towards a more sustainable textile ecosystem that will work within a circular economy. They will address problems related to the substances used in textile production, the sustainability of the production processes, and improve the collection of textile waste and recycling practices. By promoting a more sustainable lifestyle we can all have a say in this by how we spend our money. So, whenever possible, choose to invest in clothes that won't become that year's waste.
We should aim to reduce the rate of consumption which is inherently unsustainable and adopt slow fashion practices, while at the same time we should increase the quality of clothing so they maintain their aspect longer through eco-design. The fashion industry is widely under-regulated and its greenwashing practices make consumers believe that they aren't wasting as much. Things like plastic hangers and so-called recycling practices from fashion brands like H&M that claim they recycle your clothes if you return them to the store need to stop, but if no one verifies these claims, the responsibility is passed to the consumer, and the problem is not solved.
Consumers, on the other hand, could look into reselling, swapping, or donating clothes that they no longer need if they are still in good condition. Once you outgrow something or no longer use it for other reasons, there's no point for it to stay in your closet or be thrown away.
Conclusion
The path towards a more sustainable fashion won't be easy and many stakeholders will be affected by such a change including regular consumers. However, we are long past the moment when we need to reconsider how fashion works. What we need to do is act and act now. Ever since plastic became widely used for textiles, fast fashion took over the industry and the planet as the fashion industry became one of the biggest polluters worldwide. To make matters worse, waste isn't the only side-effect of the everchanging fashion trends. We also struggle due to air, soil, and water pollution that results from the manufacturing processes of fast fashion.
Take a second to think about how many clothing articles you actually need and think twice before taking out your credit card for yet another shirt, dress, jacket, or pair of pants. For instance, the textile resulting from hemp can last for centuries and maintain its properties longer, hemp consumes fewer resources, is easier to work with, and grows way faster than cotton, yet it isn't widely used for clothing.
If you have anything to say related to this subject don't hesitate to share your thoughts in the comments section below. Similarly, if you found the information from this article useful and relevant for our modern life, Like and Share it among your group of friends. There's no need for fashion to become waste and if we change the way we look at clothes, it won't.