Irresponsible speculation, fraud, hedonism! Though there's virtually no one on this planet who doesn't take the shady financial maneuvers with a pinch of salt, people are still fascinated with the money world. So they say that money never stops rolling in a city that doesn't sleep. Meet the New York Stock Exchange presented a la Hollywood in films about Wall Street!
Summary:
Explore Wall Street film locations!
How does Wall Street work exactly? Can you find a grain of authenticity in how Hollywood presents Wall Street, one of the trendiest tourist destinations in New York State? Join along and discover the love and hate relationship between the show biz capital and the infamous New York City bad boy! We'll discuss two of the most famous Wall Street movies in depth.
We wouldn't be too surprised if the idea of moving to New York City close to the location of Wall Street films intrigues you. Give the best local real estate agents in New York City a shout-out to get affordable housing options!
Sink your teeth into Wall Street!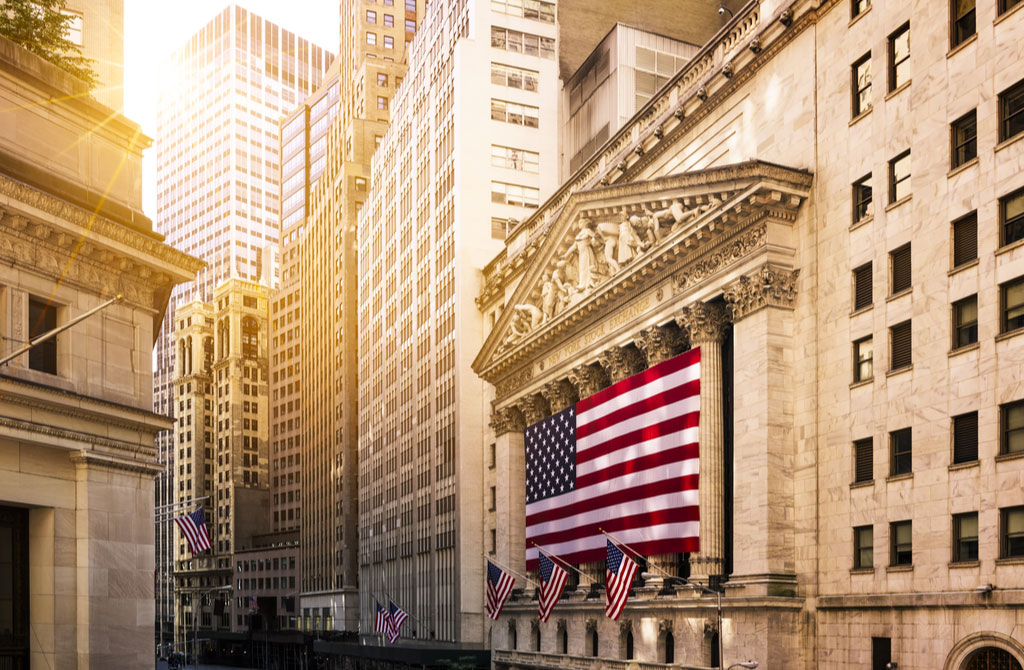 Wall Street, the disputable capital of the national financial world, is an eight-block street located in Manhattan's Financial District. Initially, it started as a slave-trading marketplace in 1711. Stock trading began in 1817 after financial traders signed the so-called Buttonwood Agreement. Then, they opened the New York Stock and Exchange Board, the very foundations of the New York Stock Exchange.
Today, it also hosts NASDAQ and the Federal Reserve Bank of New York. Besides, you'll find countless headquarters of insurance companies and commercial banks.
Wall Street had its fair share of scandals, most notably, the Stock Market Crash of 1929. Then, it saw the rise and fall of Jordan Belfort, the infamous Wolf of Wall Street (see more about him later.) Another example of a dramatic plunge was the indictment of Martha Stewart in 2003 (found guilty on account of insider trading.)
Hollywood has been fascinated with bad guys since its inception.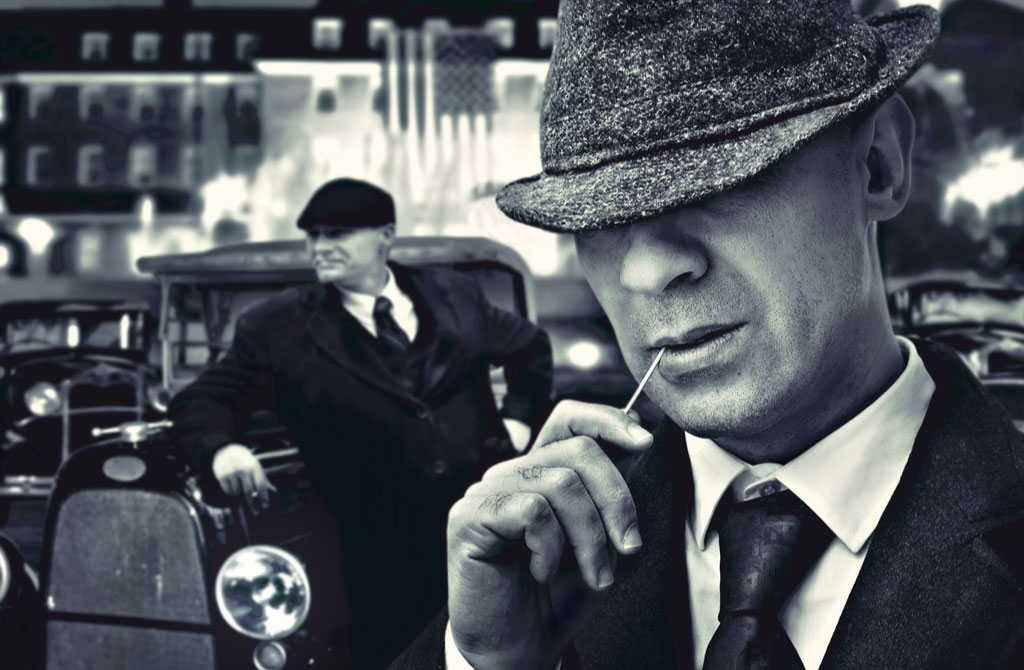 Throughout its history, the movie industry has shown a great appetite for revealing behind-the-scenes stories, starting from the 1920s and the 30s. The most well-known films of the era with toxic baddies include The Public Enemy (1931), Angels with Dirty Faces (1938), Little Caesar (1931), and Scarface (1932.)
The ordinary people's rise from rags to riches intrigued filmmakers. It didn't matter that often dead bodies, blackmail, cheating, and the prohibition violation paved their success story. Undoubtedly, Hollywood tapped on the pulse of the era. The audience could genuinely identify with movie villains despite their erroneous drives. In an age heavily marked by the Great Depression, gangsters found inventive methods to gain power, control, and wealth. Thus, they embodied every man's dreams struck by economic hardships.
Gangsters were considered unlikely heroes.
Wall Street movies let the genie out of the bottle and enabled viewers, even subconsciously, to walk in an outlaw's shoes at the expense of breaking the law. In other words, this phenomenon is pure dream fulfillment. The age of villains seen as heroes has never disappeared, but it significantly subsided after WWII. However, the film industry's fascination with power and money represented by crooks and bandits kept on rolling. The question popped up: who would become the next distorted Robin Hood?
After Bonnie and Clyde (1967), The Godfather (1972), Godfather Part II (1974), Taxi Driver (1976), etc. Hollywood found an unlikely villain prototype in mischievous Wall Street brokers. Thus, money and stockbrokers turned into "heroes' on the movie screen. They knew no or at least didn't accept any moral boundaries. Also, they were willing to break the law to accomplish their success. Let's explore two excellent movies that deal with modern-day gangsters in suits!
Wall Street (1987)
Hollywood's enthusiasm for the subject doesn't get any better than this! Directed by Oliver Stone, the film revolves around Gordon Gekko (in Michael Douglas's Oscar-worthy performance), the "unsung titan" and "man of the hour" of the Wall Street Stock Market. Driven by his insatiable hunger for power, the "player" manipulates people around him.
Gekko indeed knows how to break the bank and the ins and outs of the financial markets. His know-how of the world around him is unquestionable, yet, he turns all new information he gains access to his own advantage. Moreover, he doesn't shy away from illegal means.
A harsh lesson for the youth
Newcomers, such as Bud Fox, a rookie stockbroker (played by the budding Charlie Sheen), can't help but look up to him with awe. Desperate to get Gekko's attention, Bud resorts to divulging inside information on Bluestar Airlines, a company in which Bud's father is interested. Since the company experienced a surge in its stock market value, Gekko decided to buy the company and sell it later to have access to the employers' pension funds. Soon Bud realizes Gekko's wrongful doings and chooses to go against the ruthless corporate raider.
After presenting the broker's hedonistic lifestyle achieved by financial speculations, the filmmakers pull the emergency brake: guilt and common sense triumph over unscrupulous Wall Street dealings. The protagonist's consciousness gains a breath of fresh air, yet he still has to face jail time. The party is over, and the bitter hangover will last for a while.
The slightly tamed shark of Wall Street is back!
The sequel to Wall Street, entitled Wall Street: Money Never Sleeps (2010), intends to investigate the Financial Crisis of 2007-2008, its reasons, and the aftermath. The former film's villain, Gekko, is released from prison and wishes to reconnect with his estranged daughter. The film received lukewarm reviews for trying to humanize its bad guy. This time, Gekko lost his edge and didn't understand how the post 9/11 economic world worked. Instead of Wall Street: Money Never Sleeps, we recommend watching The Big Short (2015.)
The Wolf of Wall Street (2013)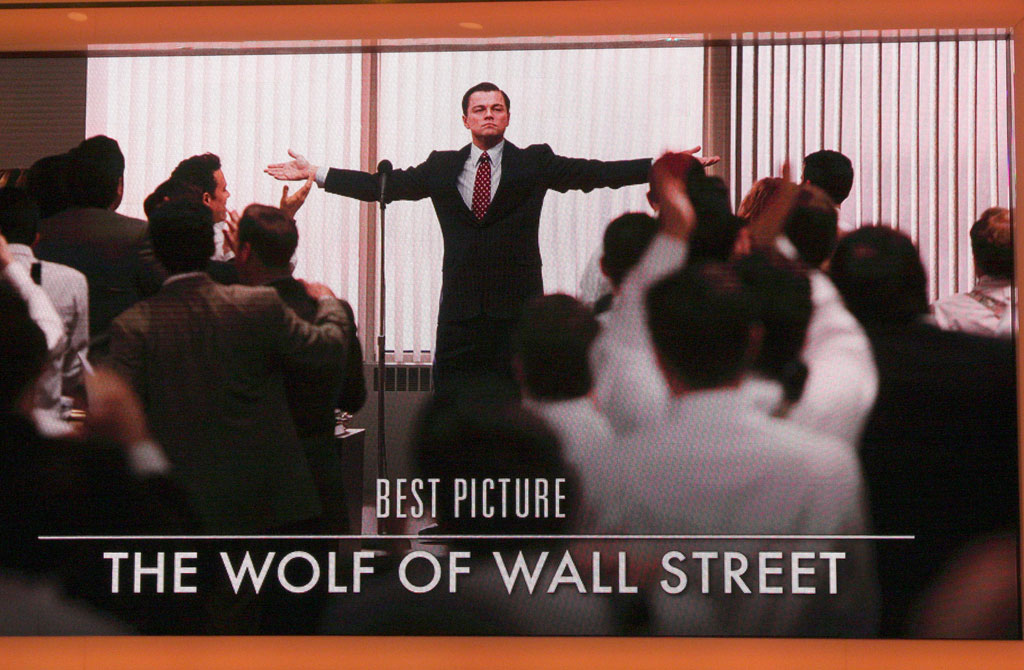 Meet Jordan Belfort (played by the exceptional Leonardo DiCaprio), the protagonist of the Wolf of Wall Street! He started his career as a young and aspiring stock trader and highly talented salesman with a self-confident appearance in the 1980s.
Soon, however, he discovered sally-ports in the financial legislation and made tens of millions of dollars in frauds. As a result, he pursued an extravagant lifestyle until the FBI exposed and sent Belfort to prison. Based on real-life events, the film offers an in-depth look into Belfort's exuberant life and how he made his questionable fortune.
Gambling with penny stocks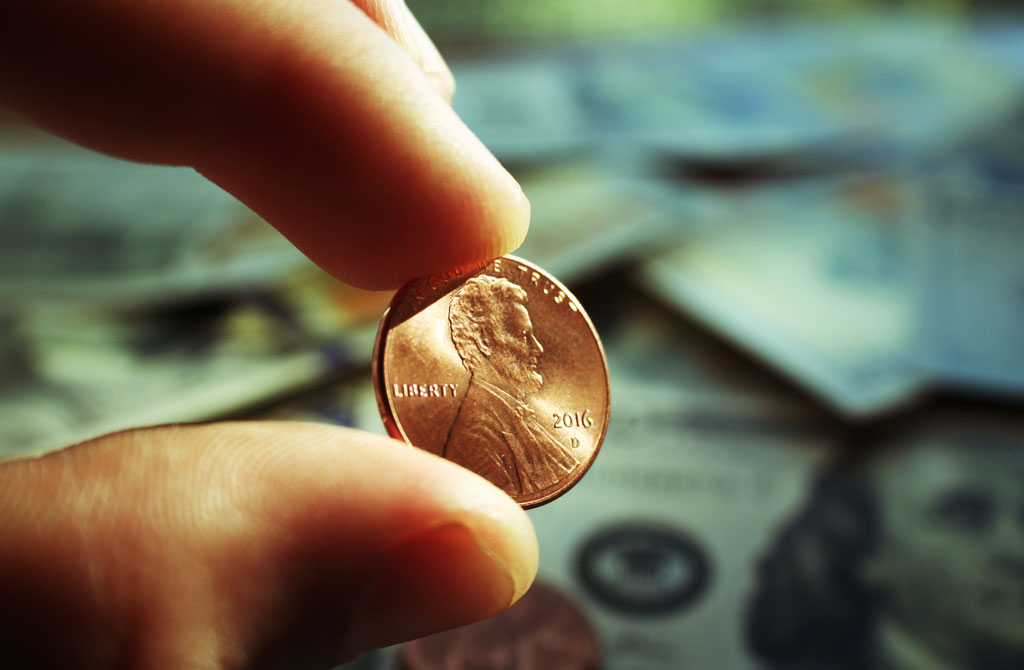 The charges against him were securities fraud (how he accumulated his wealth) and money laundering (how he made money usable for everyday use.) The FBI discovered that Belfort had used penny stocks (or shares of low market value) for his advantage. The sleek trader began marketing stocks of such companies worth less than $100,000 to inexperienced investors and tricked them into buying them.
As a matter of fact, he sold them the dream of becoming successful investors. Investors could make a genuine fortune if the stock rises just a few cents. Yet, most of these stocks were pretty useless. In layman's terms, the process meant gambling on the stock market. In addition, Belfort's company charged buyers and sellers a substantial commission.
Nonetheless, the bubble soon exploded. The artificially bloated penny stocks burst wide open and cost his clients millions. Using this investing strategy, Belfort made approximately $50 million yearly.
Belfort embodies our fascination with money.
We see events unfolding from Belfort's perspective. Therefore, we get a first-hand and ironic experience of his irresistible personality and charm. It shows that the filmmakers were captivated by Belfort's knack for convincing people to join his "army" of robbers and persuading naive investors to purchase worthless stock from him.
Belfort sweeps everyone around him off their feet at first because he speaks their language: money. This approach isn't only Belfort's criticism but ours as well. Shortly, the hedonistic lifestyle comes to an abrupt end when the FBI knocks on his door. We witness how his intimate relationships are affected by his irresponsible conduct. Belfort goes entirely morally bankrupt and becomes a shell of a man until he's released from prison, at least. Then, we learn that he wishes to return to be a thriving salesperson.
Hollywood peeks behind the curtains of its fallen heroes.
Beyond its obsession with success stories, Hollywood never failed to present the human agent's psychology. In the outstanding masterpieces mentioned earlier, filmmakers can see beyond the facade of their fallen heroes and try to find an explanation for their hubris. Their protagonists are fragile and fallible individuals who reach for the stars and fall from grace to pursue the American Dream. The means don't matter to them anymore, only the result. Still, these "villains" have redeemable qualities, making them flesh-and-blood three-dimensional characters.
Hollywood brings our deepest desires for wealth to the surface. By all means, the glamour provided by money is attractive. Yet, Hollywood never failed to highlight the dark side of the aftermath. Tinseltown also shows us that the quickest way to success has its formidable price. Frequently, it goes hand-in-hand with breaking the law and giving up a part of our soul. The love between Hollywood and Wall Street wolves burns bright at the beginning, but sooner or later, it's destined to end in a heart-wrenching breakup.
Conclusion
The film industry is enamored with imperfect people, villains, and Hollywood finance. And so are we, the great audience. In their shortcomings, we recognize our own frailties. Maybe, this is the reason we keep returning to see them in Wall Street films. After all, who hasn't imagined themselves as a well-off gangster or broker? Still, we will never resort to such outlawed and immoral means. As a result, we can only imagine how it would feel like to become the kings of Wall Street.