When you think about germaphobia, the general understanding is someone who is obsessive about cleanliness and ridding their surroundings of germs. While that is true to some extent, not everyone who lived through the past few years pandemic is a germaphobe.
Before the coronavirus pandemic, living with germaphobia wasn't easy. However, the past two years only exacerbated their fear of dirty things. Having to constantly deal with the terrifying threat of being infected by some sort of pathogen was the only reality germaphobes were aware of. At least they didn't worry too much about the real estate market during the pandemic.
It might not have been easy to understand those struggles before the pandemic, but nowadays, we all know what it means to be aware of every surface you come into contact with, at least to some extent. Those of us who didn't have to deal with germaphobia wound up learning a thing or two from experienced germaphobes when the pandemic hit.
Article Summary:
Germaphobia vs. the Pandemic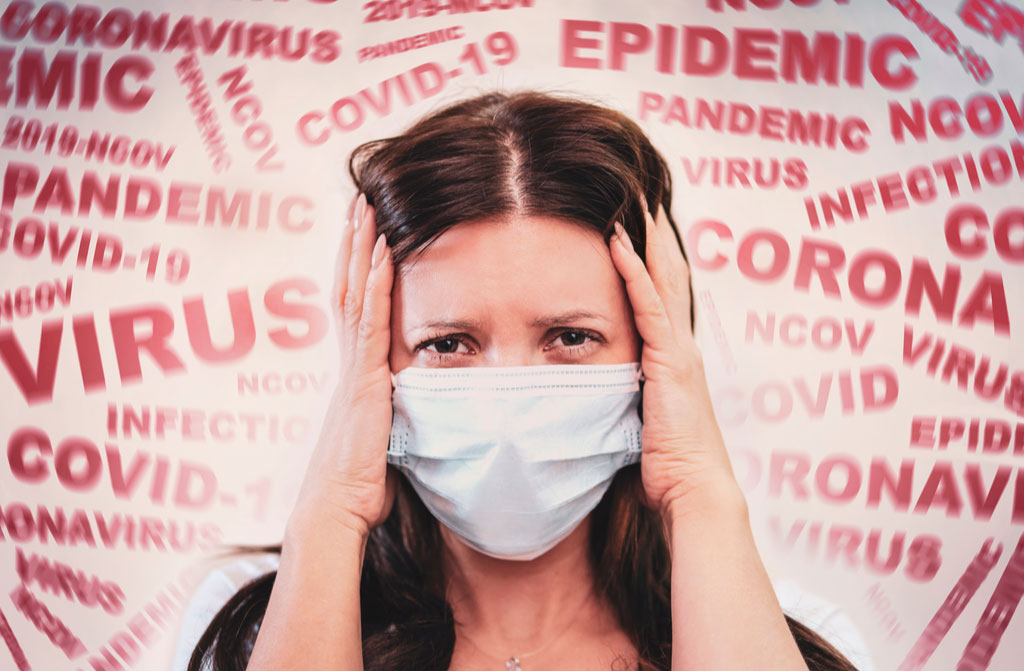 Living during a pandemic changed the way we interact not only with others but also with our surroundings. To some extent, those without germaphobia began to experience germaphobia symptoms, but they were necessary. This, however, barely scratched the surface of what germaphobia entails. Germaphobes know every inch of said surface and have studied it for ages. They have their Ph.D. while we just started kindergarten.
The pandemic, however, severely affected people who are dealing with germaphobia simply by feeding into their fears. When the outbreak began, their pre-existing phobia of germs was exacerbated as the Centers for Disease Control (CDC) and World Health Organization (WHO) confirmed their worst fears. Germs, viruses, microbes, and bacteria became the world's villains, and excessively washing our hands was almost mandatory. I don't know about you, but I did not let people touch anything in my home before washing their hands.
Most of the world's population started to be obsessive about cleanliness and health while avoiding contact with common surfaces and other people. We avoided doorknobs, rails, parking meters, and even public transportation, and Purell was on-hand day and night. Still, avoiding surfaces that others have touched isn't a precautionary measure for someone dealing with germaphobia. For them, it's an obsession.
What is Germaphobia?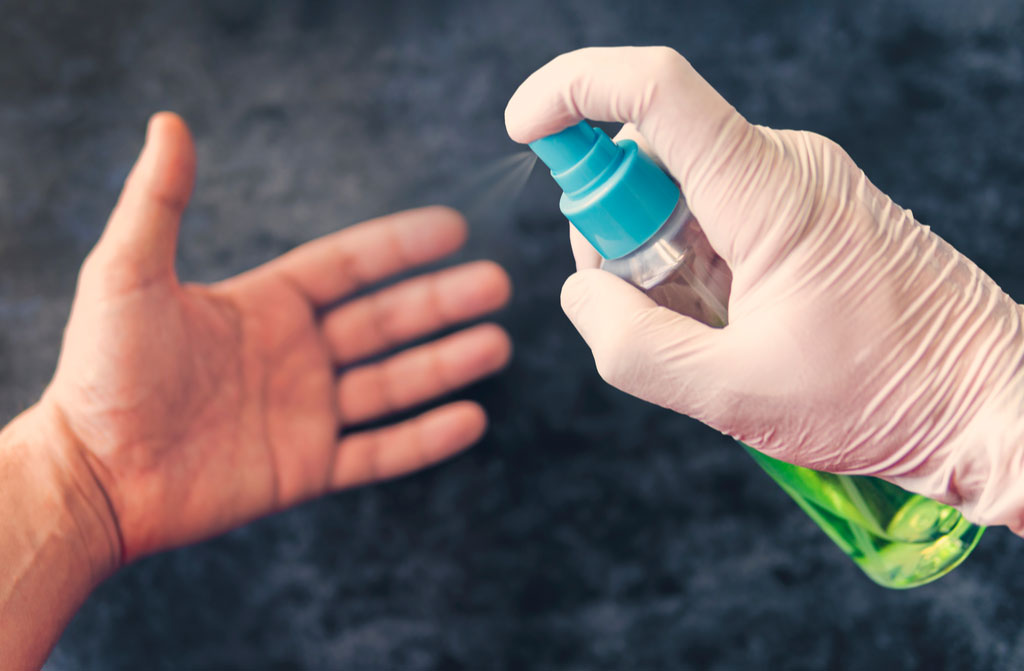 The first thing you should understand about germaphobia is that it is not recognized as a distinct condition and is often linked to Obsessive-Compulsive Disorder (OCD). However, people without OCD can still develop germaphobia.
While the term that is most commonly used to describe the pathological fear of dirty things like germs is germaphobia, it is also referred to as mysophobia. People dealing with germaphobia are experiencing stress related to contracting germs, microbes, bacteria, viruses, and being infected by transmissible pathogens. They often exhibit a hypervigilant stance towards their surroundings and can develop compulsive behaviors like washing their hands and cleaning their homes.
According to the CDC, the definition of mysophobia is a type of phobia dealing with the extreme and irrational fear of dirty things, germs, and contamination. A certain level of concern surrounding germs and filth is common, but in individuals with mysophobia, this concern can become disproportionate and restrict everyday life activities. While germaphobia and mysophobia are the most common terms used for it, others are bacillophobia, bacteriophobia, and verminophobia.
Germaphobia Symptoms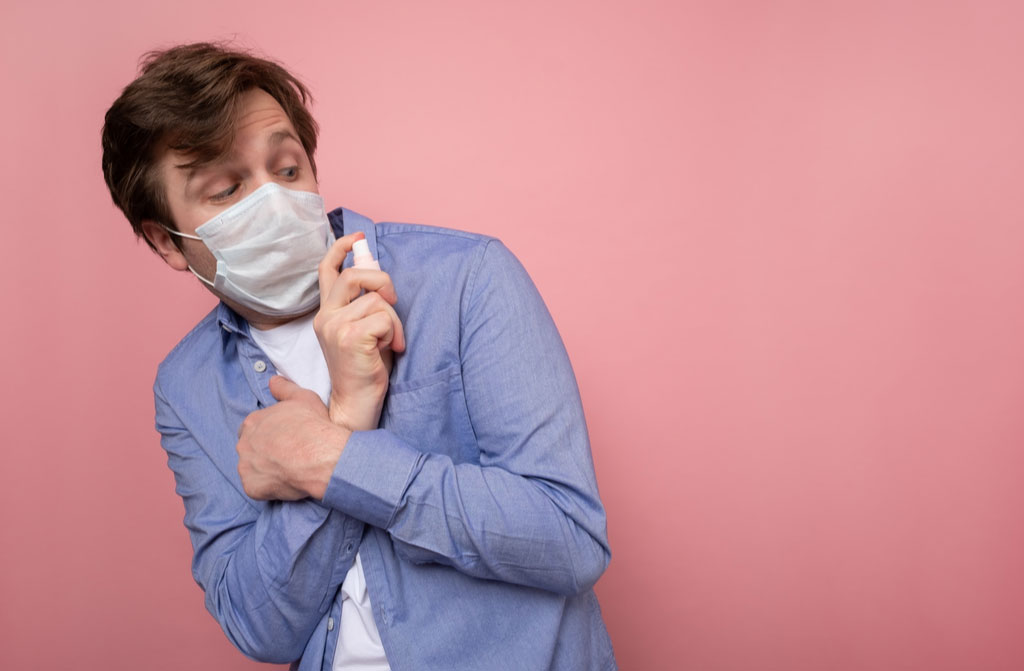 As part of the OCD spectrum, germaphobia symptoms can present both through obsessive thoughts and compulsive behaviors. Some of the most common mysophobia symptoms revolve around cleanliness and avoiding any exposure to germs or other contaminants.
Obsessive emotional symptoms:
Extreme fear of germs;
Nervousness, worries, and anxiety related to germ exposure;
Illness or other adverse physical effects resulted from the mere thought of germ exposure;
Anxiety from being overcome by the fear of exposure to germs;
Trying to take your mind off of germs;
Being aware that your fear of dirty things isn't reasonable, but you're unable to control it.
Compulsive behavior symptoms:
The perceived risk of germ exposure results in avoiding or leaving situations;
Excessive time spent thinking about, preparing for, putting off, or avoiding situations that expose you to germs;
Needing help to cope with the anxiety or the anxiety-causing situation;
Struggling with daily tasks due to the fear of germs.
How Does Germaphobia Impact Your Life?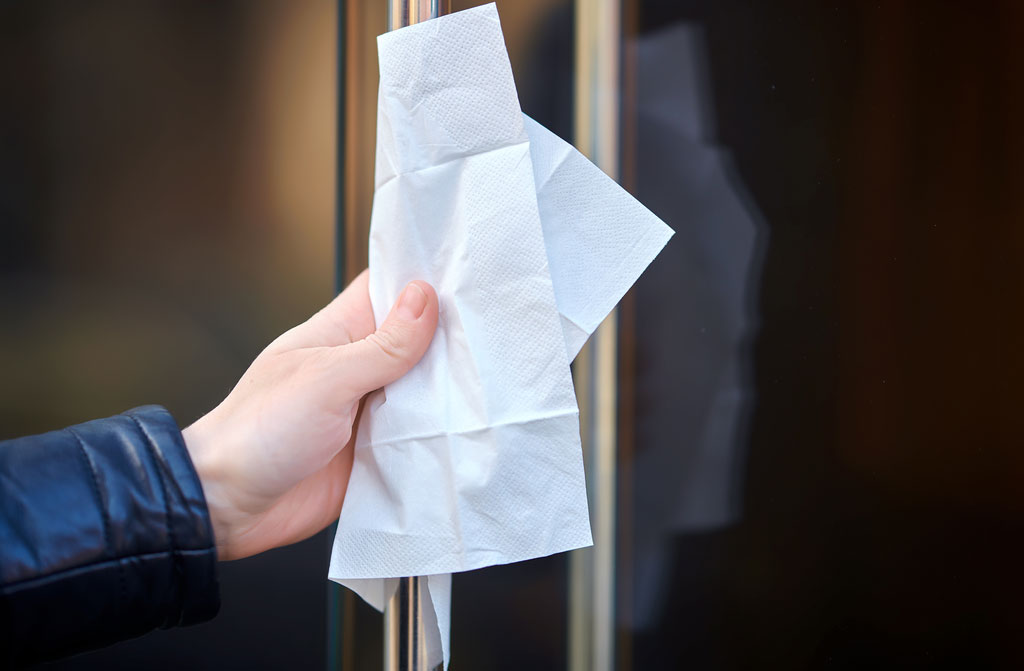 As mentioned before, the fear of dirty things, or germaphobia, is powerful enough to disrupt daily life. Germaphobes tend to go to great lengths to avoid getting in contact with germs or anything that can result in contamination. They can even avoid going out, for example, during flu season, or altogether avoid any forms of public transportation, even if they live in one of the best US cities for public transport. Their ideal jobs can be done from home, so remote work fits perfectly. Going out to restaurants or bars is avoided, and some go as far as avoiding sexual activities that involve someone else.
People dealing with mysophobia symptoms limit their exposure to germs through any means necessary. If avoiding going out altogether isn't an option, they avoid places where germ exposure is higher, like public bathrooms, buses, and even simply interacting with children as they see them as highly contagious.
However, not all places can be avoided, and going to work, or school raises difficulties for them. In those situations, they try to avoid touching what doesn't need to be touched and when they have to touch a doorknob or shake someone's hand, anxiety levels rise. This anxiety leads to some compulsive behaviors like frequent hand washing, showering, or wiping exposed surfaces with antibacterial solutions.
These types of repetitive behaviors can be overwhelming and distracting, making it hard to focus on the task at hand. However, following those steps is where germaphobia relates to OCD the most.
The connection between Germaphobia and OC(P)D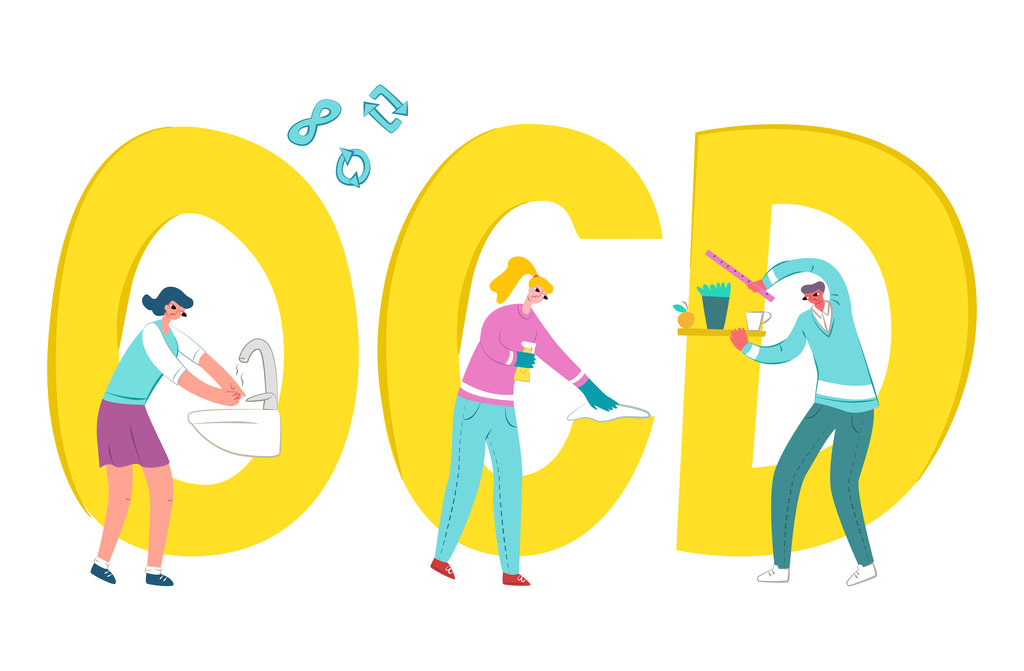 The field of psychology is constantly developing. Germaphobia is considered an anxiety disorder, which makes it connected to obsessive compulsiveness. However, the debate becomes unclear over whether it's a sign of OCD or just a trait for people with an obsessive-compulsive personality disorder (OCPD).
The difference between the two is simple. OCD is a mental and behavioral disorder that causes unwanted and involuntary behaviors. At the same time, OCPD is a personality disorder (not a mental illness as everyone falls into one type of personality disorder), resulting in an excessive need for neatness and order through rational compulsions.
Germaphobia is related more to OCPD than OCD, but the two do not push each other off the table. Cleaning is a behavioral trait of both OCD and OCPD, but it can be solely a result of germaphobia when the other two disorders are absent. The way to tell whether you have germaphobia alone or if it's combined with OCD or OCPD is the reason behind the cleaning, we suggest you get a medical examination. If you are cleaning to reduce germ exposure, you are a germaphobe. If you clean to reduce anxiety, you might have OCD or OCPD. Again, OCPD is one of 10 personality disorders that everyone has. These are not mental, behavioral, or anxiety disorders. They are types of personalities or personality disorders.
Common Causes of Germaphobia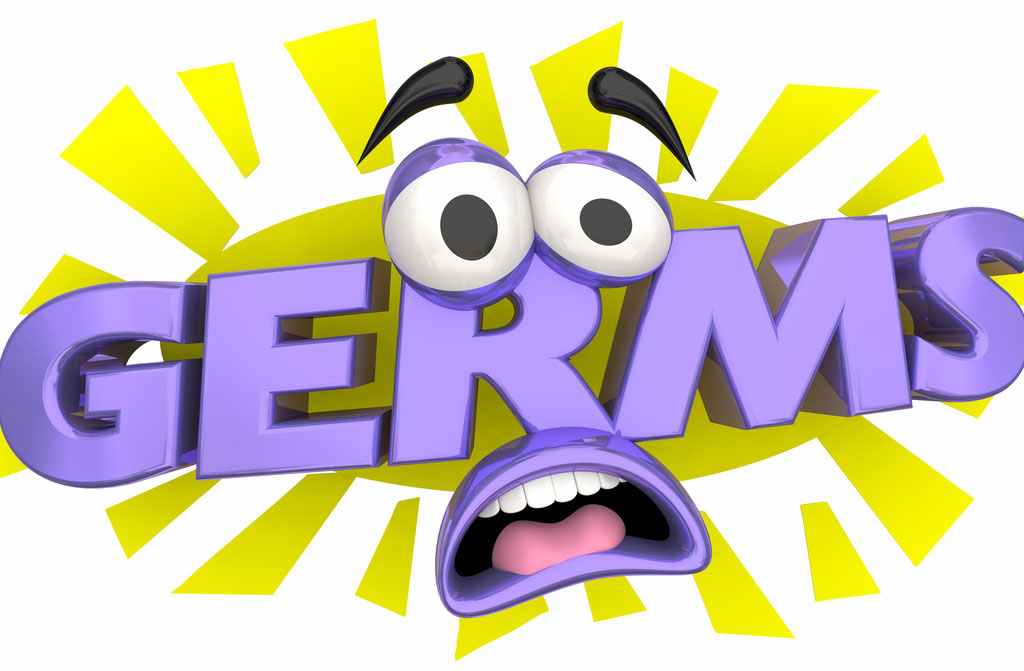 Phobias, in general, start from an early age, when individuals are most exposed to elements that can generate them. This is between childhood and young adulthood. In the case of germaphobia, several factors are believed to contribute to its development, such as:
Childhood experiences – certain adverse events or traumatic experiences can generate fear of dirty things;
Genetics – when someone in the family has experience with anxiety disorders, you have a higher chance of developing one. However, you might not share the same phobia;
Influences – being exposed as a child to practices or beliefs regarding cleanliness or hygiene can lead to germaphobia;
Neurological – changes taking place in the brain's chemistry and function can increase the risk of germaphobia.
Once germaphobia is developed, a germaphobe will be affected by certain triggers. These triggers are the stress factors that cause the body's response. While germaphobes can avoid these triggers, this can result in a negative impact on their life. Because of this, germaphobes can try to control their environment, which leads to compulsive behaviors in their struggle to stay clean. They can also isolate themselves because of it, limit interactions with other people, and use disinfectants excessively. Some of the triggers they can grow to avoid are:
Objects or surfaces that aren't clean: keyboards, tables, doorknobs, dirty clothes;
Unhygienic practices of other people or unhygienic people;
Airplanes, buses, hospitals, or other places known to attract germs;
Bodily fluids like saliva, mucus, or semen.
How to Treat Mysophobia
The first step in the way to overcome mysophobia is getting diagnosed with it. During the pandemic, a traumatic experience overall, we all focused a lot more energy on cleaning things and washing our hands. While at certain times authorities started suggesting that we disinfect our groceries and any package, changing our clothes and washing the skin exposed to the environment, washing our hands isn't new. However, we all learned to wash our hands more times a day than we used to do before. As this type of behavior can become a more frequent occurrence, it can also become compulsive.
To diagnose germaphobia, a clinician has to conduct an interview and establish if the symptoms you are experiencing are a result of it or not. As germaphobia can cause distress, limit function, and can last for more than six months, treatments are available.
Therapy
Going to see a psychotherapist or psychologist can help decrease the fear of dirty things. The most successful treatments are exposure therapy and cognitive-behavioral therapy (CBT). The individual is exposed to triggers in a controlled way during exposure therapy, while exposure is combined with coping mechanisms through CBT.
Medication
We can use medicine to treat anxiety related to being exposed to triggers or when you are triggered and experience anxiety because of it. The first is meant to prevent anxiety, while the second is to soothe anxiety.
Self-help
The way you live can significantly impact the level of anxiety you experience due to germaphobia. This is why lifestyle changes can improve your quality of life. Relaxation techniques like yoga, meditation, deep breathing, exercises, or activity can relieve the fear of dirty things. A healthy lifestyle helps as well, so make sure you have a healthy diet and sleep cycle. Lowering the consumption of caffeine or other stimulants shows to decrease the symptom intensity while confronting anxiety-inducing situations can work like exposure therapy to some extent. Support groups or psychological assistance help mediate the symptoms as well.
How to deal with Germaphobia during a Pandemic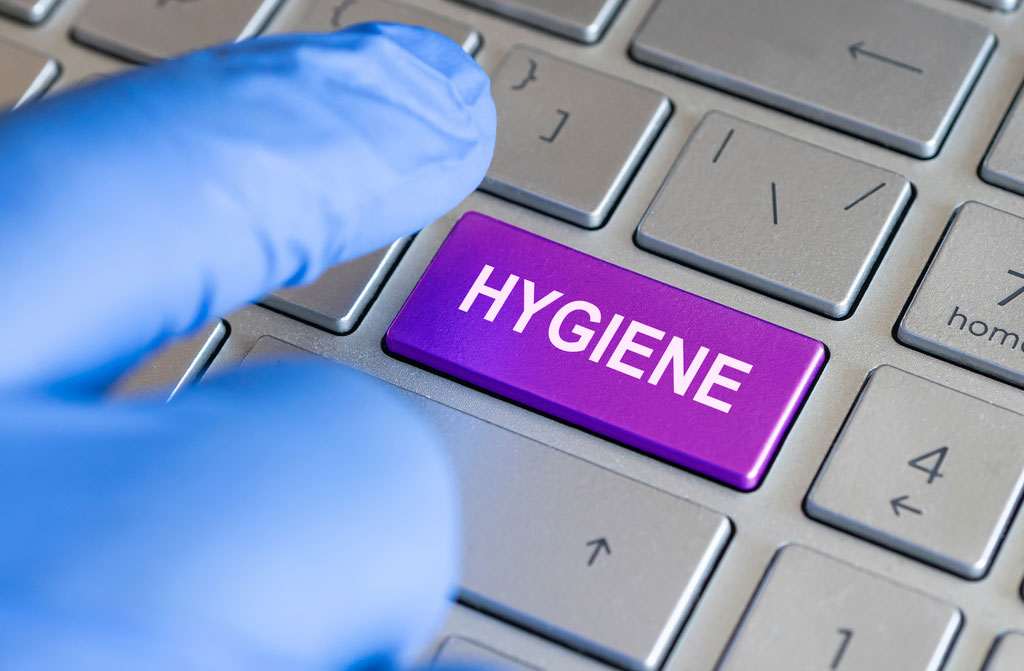 While the pandemic affected the way everyone reacted to things and the people they came in contact with, germaphobes can be placed on a spectrum based on the intensity of their phobia. Some germaphobes can take cleaning to a whole other level than a typical person. In contrast, others are so obsessed with cleanliness that they can't consume raw meat or eggs in fear of salmonella, won't use public restrooms, and wash their hands constantly.
Some of these fears have been amplified in the general public due to the coronavirus pandemic. While these fears are justified by a pandemic that seems to confirm germaphobe's biggest fear, we can manage compulsive behaviors from germaphobia.
Limit information exposure – easy access to information doesn't mean we have to read, listen to and digest every bit of information out there. Set a timeframe when you are allowed to check the news and stick to it;
Mitigate anxiety – relaxation techniques, activities, exercises, and controlled exposure can help decrease anxiety levels;
Distraction – keep your mind busy with a book, a movie, a puzzle, or a board game as they will take your mind away from the pandemic;
Routine – during remote work, daily regiments went out the window but imposing a routine and sticking to it can give you a semblance of control and will mitigate anxiety;
Alcohol intake – a glass of Chardonnay will help you relax, but your anxiety levels will surge the following day;
Seek counseling – we can treat stress and anxiety with either psychotherapy, psychiatry, or psychology as they all provide professional support while you learn how to cope with your phobia.
Conclusion
Living through the coronavirus pandemic led to increased anxiety and depression among the population. Germafobia or the fear of germs can come with similar results and can also be caused by experiencing the past couple of years. While professional help can be the best course of action, more affordable options exist and can be applied by those dealing with this anxiety disorder. Taking no action can lead to isolation, depression, and avoidance.
Germaphobes can end up avoiding people, situations, and life experiences due to their pathological fear of germs. The quality of life can decrease, and depression intensifies. Untreated or unmanaged, mysophobia can make someone's life impossible. Concerns related to germs should be investigated when they interfere with their ability to socialize, study, or work. Seek a professional if your anxieties related to germs take away from your quality of life. The therapies and methods described above can be applied to alleviate mysophobia symptoms but should not be taken as medical advice. Contact a professional for help treating severe germaphobia!