Every day we hear more and more things about how we can live a more environmentally friendly way of life. This mentality can come from each individual as each person can choose to improve themselves in their relationship with the environment in which they live.
When you take a walk outside of your comfort zone, you become aware of what is happening in the world. You get to understand how humankind affects the world that provides it with everything they need. Our planet gives us the air we need to breathe, the water we need to satiate our thirst, the food we need to eat, and the materials we need to build our homes. However, humankind decided at one point that that wasn't enough. This was around the time fossil fuels were discovered.
Suddenly, we have plastics, chemicals, and toxins in everything surrounding us. From the food we eat to the clothes that we wear, plastic, chemicals, and toxins are present in all of the things we own or get in contact with. But why? Why not go back to the natural elements provided to us by nature and use them instead. The answer to that question is simple, but it irritates entire industries that depend on one main resource, its derivates, and the few people that control it are reaping the benefits. Still, those benefits come at the expense of our health, our lives, our financial stability, and our environment. There are better ways to go about life than this.
Summary:
How to be Environmentally Friendly at Home?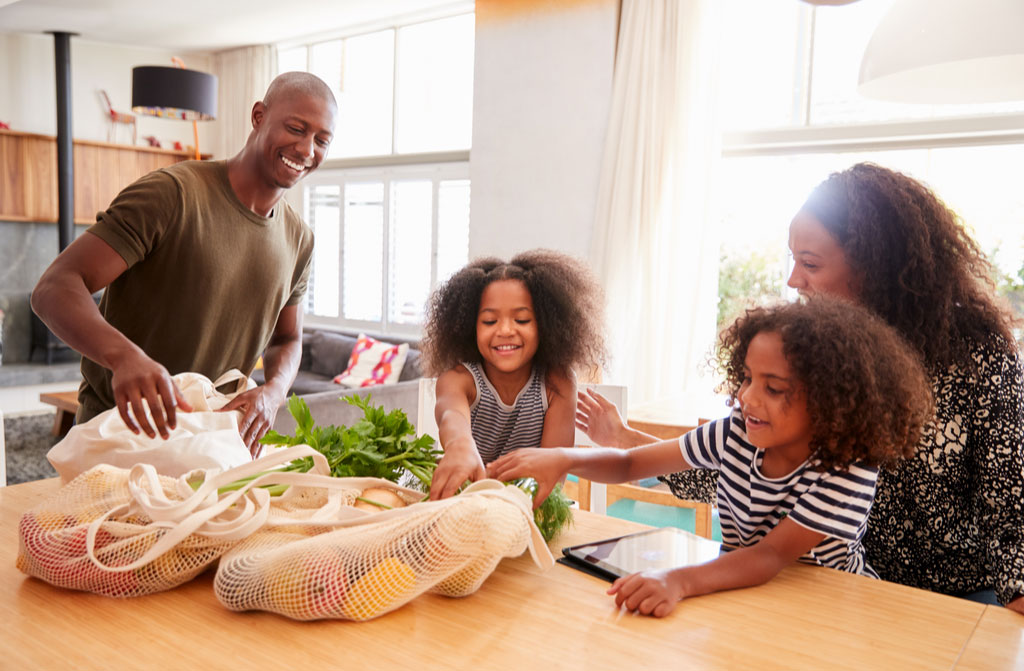 There are so many things that are wrong with the world. All anyone can do is to change themself and their way of life and teach their children how to live in a world without destroying it. We should all try to do our best with our lives, live our dreams, do the things we want to that cause no harm to the world around us. We should all start doing that right now.
There is a growing interest in everything green, so why shouldn't we look at how to clean our homes in a healthy and eco-friendly way? But is there such a thing? Can we actually clean our homes in an environmentally friendly way? The simple answer is, yes, we can. And should we? Let's just see what traditional cleaning products do to our health and the environment's health.
Risks Associated with Traditional Cleaning Products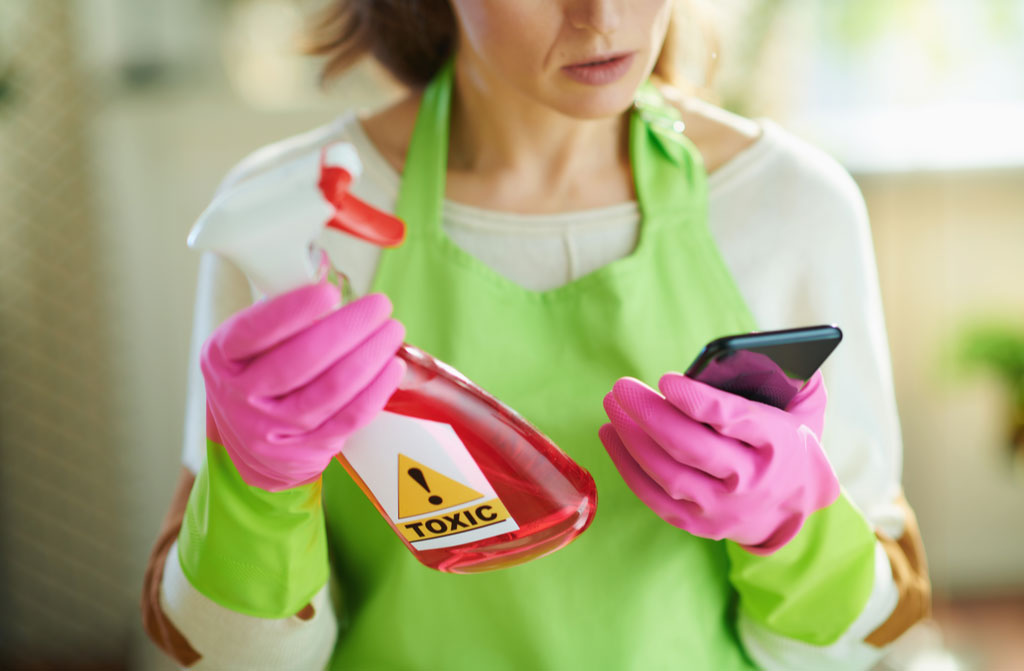 The Environmental Protection Agency (EPA) compiled a list of environmental and health risks associated with compounds contained in traditional cleaning products. While this list is extensive and we will get into more detail, there is one thing that you should understand how the EPA works.
When a company creates a product that is toxic for whatever reason, they are responsible for getting that information to the EPA. However, they don't always do that. For a more concrete example, you can look into the PFAS history and how unregulated they actually are.
Some of the risks stipulated by the EPA in association with these cleaning products are:
Volatile Organic Compounds (VOC) can be found in regular cleaning products that harm the quality of indoor and outdoor air;
Some ingredients that you can find in traditional cleaning products can cause skin and eye irritation;
Employees working in cleaning jobs can suffer from overexposure to dangerous chemicals;
Waterways like rivers, lakes, or oceans can be polluted from improper disposal of unused chemicals.
When it comes to health risks and side effects of continuous use of nongreen cleaning supplies, we can see the following health problems:
Asthma;
Eye and throat irritation from low or high levels of chemicals burns;
Headaches;
Increased risk of congenital disabilities to children of exposed women;
Poisoning.
Something to keep in mind, most cleaning products don't list all their ingredients. This means that while you might want to ensure you stay away from dangerous chemicals, you might be unaware of what you purchase. This is the case because the manufacturers aren't required to list all the ingredients in their products. The same happens with every other product, food, or material.
What are the Benefits of Environmentally Friendly Cleaning?
In order for cleaning products to pass as environmentally friendly, they must not contain hazardous chemicals. This makes them less likely to cause any health issues to those who use them. Because of this, people with a weakened immune system or other health problems are at a much lower risk when using them.
The added benefit of natural cleaning products is that they are far less harmful to the environment. If the ingredients of these all-natural cleaning products get into the waterways or air, they do not cause significant pollution. On top of that, most often than not, either their packaging or their entire presentation is far less polluting. The packaging can be recycled or is biodegradable, and its formula is concentrated, allowing the user to dilute it with water for more product.
Best Commercial Cleaning Products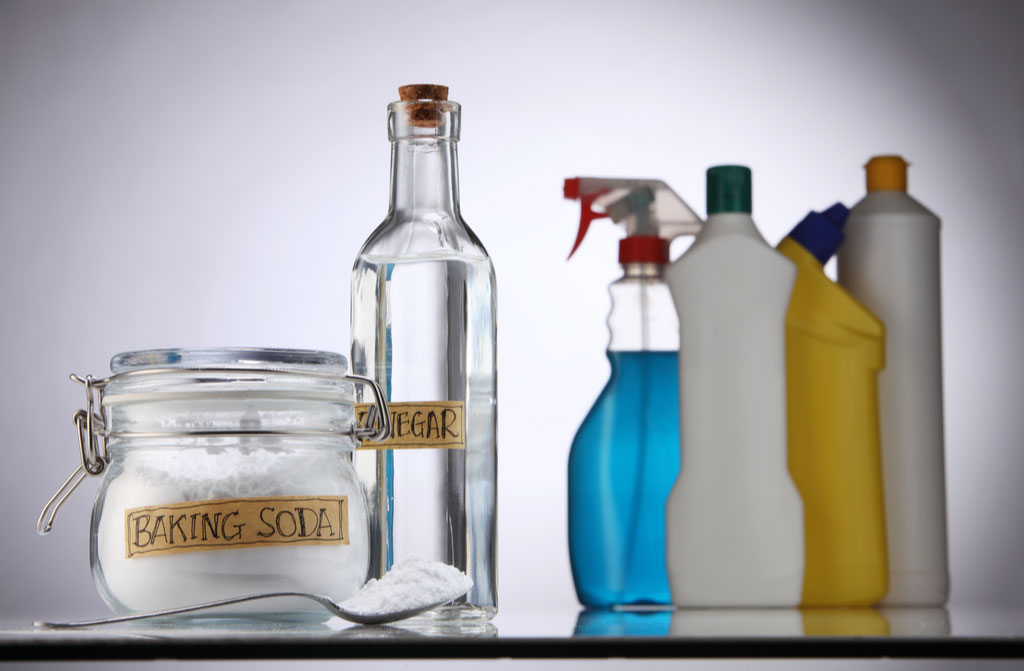 With a growing demand for safer and less toxic cleaning products, manufacturers provide a growing array of green cleaning products. While the manufacturers claim the products are eco-friendly and healthier, consumers should know that that might not always be true. The Clean Water Action offers a community guide to environmental health for natural cleaning products.
Non-toxic
Biodegradable
Recyclable packaging or recycled packaging
Bulk packaging
Phosphate-free
Full disclosure ingredients label
No dyes, chlorine, and hypochlorite
All-natural fragrances
If you want to be 100% sure that the cleaning products that you purchase are, in fact, green cleaning products, the Environmental Working Group (EWG) made a list of green cleaning products to trust. These will be organized by purpose and type in the next section.
General Natural Cleaning Products
Earth Friendly Products ECOS Cream Cleanser – Lemon
Poofy Home All-Purpose Cleaner Refill – Medieval Blend
Aunt Fannie's Floor Cleaner Vinegar Wash COncentrate – Eucalyptus.
Bathroom Natural Cleaning Products
Mrs. Meyer's Clean Day Tub and Tile – Lemon Verbena or Lavender
Seventh Generation Tub & Tile Natural Cleaner – Emerald Cypress & Fir
Dishwashing Soaps
AspenClean Dish Soap – Eucalyptus Rosemary
Attitude Dishwasher Eco-Pouches
Biokleen Natural Dish Liquid – Lemon Thyme
Air Fresheners
Aussan Natural room odor eliminator
Aura Cacia Aromatherapy Mist – Lavender Harvest
Arm & Hammer Fridge & Freezer Baking Soda
While these products are green, people shouldn't consider them 100% safe. While a green cleaning product doesn't carry such a heavy carbon footprint, storing them should include reasonable precautions. Make sure that they are stored in a safe and secure location, not in a place where small children or animals could get to them. While Tide pods are toxic for obvious reasons, people should be drinking vinegar or the natural oven cleaner. They can be acidic and dangerous if ingested.
Best Natural Alternatives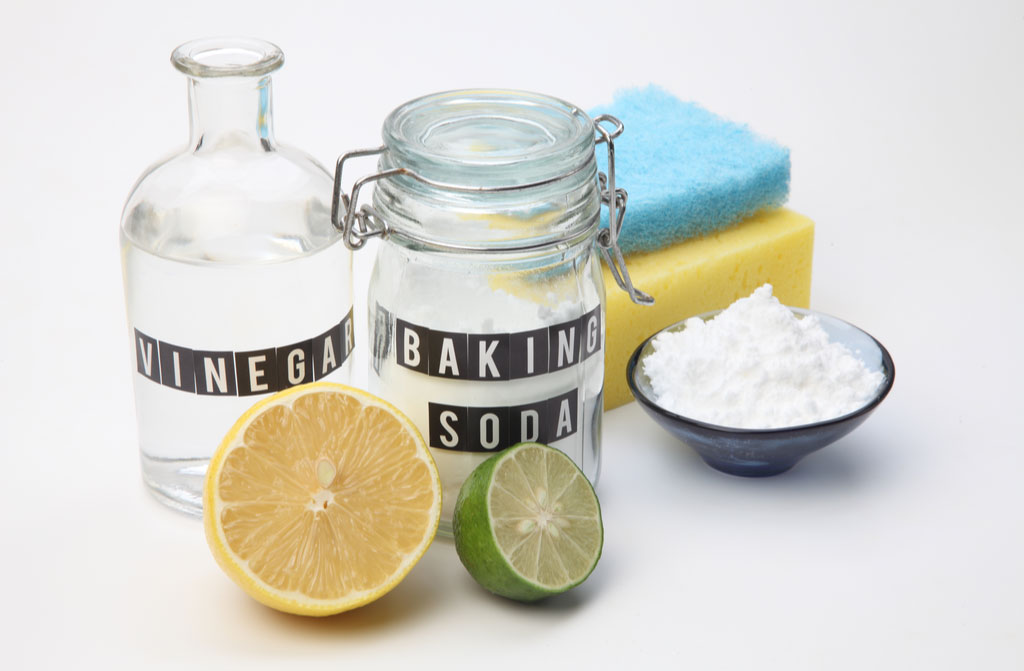 The products listed above are great alternatives for environmentally friendly and sustainable homes, but you can also make homemade cleaning products. If you're wondering how to be environmentally friendly at home, some homemade natural cleaning products will come in handy. They don't require any complicated ingredients, and making them is as easy as cooking in some cases. Some require heat while others don't, and many work as multipurpose cleaners.
What is Green Cleaning?
Many of these green cleaner recipes are inexpensive, versatile, and simple to make. With all-natural ingredients, your cleaning process will pose no threat to the environment or your health. As we try to minimize the amount of indoor air pollution, keeping away from unknown substances that they might hide in your usual cleaning products will go a long way.
The most common natural ingredients for green cleaning products are:
Vinegar
Citric Acid
Baking Soda
Lemon Juice
Wash Soda
Sea Salt
Corn Starch
Alcohol
Tea Tree or other essential oils
Castile Soap
The public's growing environmental awareness motivates companies to invest in the search for eco-friendly cleaning solutions. It's about time we are provided with commercial alternatives for healthy cleaning at home. Still, if you're interested in green cleaning products you can make at home with ingredients you already have in your kitchen, you're in for a treat.
Homemade Natural Cleaning Products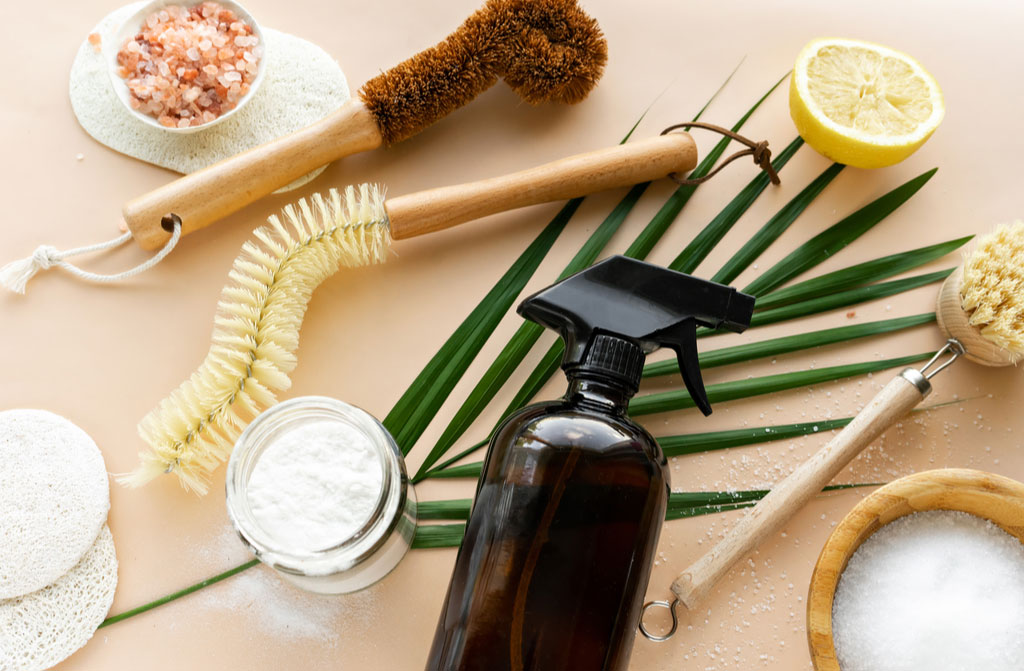 The following are some of the simplest and most effective homemade natural cleaning products. These recipes are not patented, big chemical brands do not own them, and they are as cheap as the ingredients necessary to make them.
Natural Oven Cleaner is something that works incredibly on stubborn stains from the inevitable splatter from your oven. All those overbaked drippings need something extra powerful to clean, and most non-natural products use highly corrosive chemicals that aren't only toxic but bad for your oven. Mix the following ingredients for a much better result.
1 ½ cup of baking soda, ½ cup of sea salt, and ½ cup of washing soda are mixed in a bowl;
½ cup of vinegar and 20 drops of your favorite essential oils are mixed separately, then added to the other ingredients, resulting in a bit of a fizz;
Add water bit by bit until you get a thin paste;
Spread evenly on your oven's walls and layers, avoiding any electrical heating elements;
Let it sit overnight and wipe with water in the morning.
For your natural drain cleaner, you should simply pour ½ cup of baking soda in the clogged drain, followed by 1 cup of vinegar. Do not use water and let the mixture sit for 15 minutes. After those 15 minutes, you pour boiling hot water down the drain.
If you're on the market for a simple green cleaner that serves as an all-purpose cleaner, look no more. The natural alternative to the all-purpose cleaner contains just two ingredients—water and vinegar, combined in equal parts in a spray bottle. Now you can clean any hard surface in your home without having to switch between ten different chemically-packed cleaning solutions. And just think about it. With this simple green cleaner on hand, you only need to buy vinegar. Talk about cheap?!
Seeing as the bathroom is exposed to mildew, humidity, and intimidating germs, we were curious to find out which are the best homemade natural cleaning products. Simple green cleaner recipes that don't only clean but also disinfect and leave the space feeling fresh are easy to find. The following bathroom cleaner can be done at home with just a few common household ingredients.
Pour two cups of distilled water, 1 tablespoon of baking soda, 3 tablespoons of liquid castile soap, and 60 drops of essential oil in a spray bottle;
Put the cap on and shake vigorously until the ingredients are mixed and dissolved;
Spray on the toilet bowl, sink, tub, floor, and shower walls.
It can also be used as a carpet cleaner.
There are many options for furniture polish, and bigger brands are coming out with eco-friendly products left, right, and center. However, brand names are obsolete if you want homemade natural cleaning products.
Simply mix ¾ cup of olive oil, ¼ cup of distilled vinegar, and 30-40 drops of essential oil in a spray bottle;
Shaken, not stirred, until ingredients are mixed together;
Spray on wood furniture and polish with a dry cloth.
Conclusion
This article can serve as a community guide to environmental health around your home. Having a clean home doesn't absolutely require toxic chemicals that linger in the environment and can result in health problems. No one should poison themselves in order to have a clean home, and natural cleaning products cover a wide array of household needs. Instead of having 20 cleaning products beneath your bathroom sink, you'll probably only have three or four, depending on how particular you want to be with scents and cleaning purposes.
Homemade natural cleaning products are effective, simple to use, and pose little to no risk to your health or the environment. Feel free to use to recipes listed above or head for the commercial cleaning products available on the market.
Pro sustainability tip: if you go for homemade natural green products, you need to make only as much as you use at any time. There is no need to store it in containers and crowd the storage space you have in your home.
In the comments section below, let us know if any of the options presented above work for you? We'd be happy if you shared your stories or original recipes that you discovered through trial and error. Help your family and friends find a healthier way to clean their homes by sharing this content.