Each year, the color experts from all the leading paint brands worldwide choose their Color of the Year and publish the Color Forecast. While the colors of 2022 reflected a return to nature style, incorporating shades of green, the color trends for 2023 are all about self-expression.
The colors we use inside our homes mirror our personalities and personal style. While some lean toward classic and timeless shades, others choose to be daring with their color choice by adding vibrant colors to their homes.
The colors of the year for 2023 include neutrals, soothing blues, and warm earth tones. They use richer color tones compared to the previous year's color trends, but we can still see the color inspiration from nature. The color trends for 2023 are all about creating a comfortable and cozy home. The palette gravitates around rich and restorative colors flushed with natural warmth.
Interior paint colors for 2023
Deciding on a paint color can be a daunting task. But the decisions are much easier thanks to color experts who do thorough research before launching the color trends.
Not surprisingly, the pandemic significantly influenced the color trends of the past few years. Many of the color schemes seemed to focus on relaxation and tranquility. But now it's the time to be bolder. The era of vibrancy is upon us.
Bold, playful tones leaning on the warmer side of the color wheel are expected to skyrocket in popularity in 2023. One of the reasons is that people are becoming more adventurous in expressing themselves after a few challenging years when they lean conservatory with their color choices.
Let's see the experts' top picks for interior paint colors for 2023.
Viva Magenta by Pantone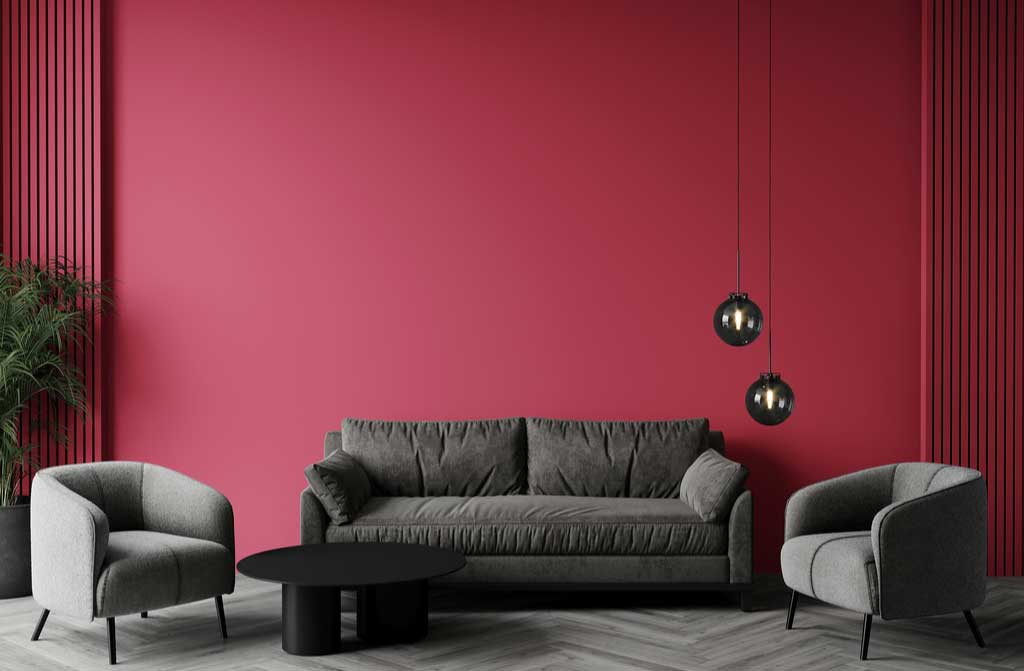 Recognized globally as a leading source of color expertise, Pantone selected Viva Magenta 18-1750, a bold pinkish red, as the year's color for 2023. The brand describes it as "an unconventional shade for an unconventional time." It is among the bold color trends for 2023. The color is empowering and expressive. It is a shade rooted in nature and is inspired by the red of cochineal, a dye consisting of the dried bodies of female cochineal insects.
As the leading shade for interior paint colors for 2023, Viva Magenta can elevate the room's energy level by stimulating love, passion, and power.
For maximum effect, pair it with different pinks and reds to create a rich and beautiful aesthetic, or match it with crisp whites or soothing neutrals. If you're bold enough, you could pair it with complementary colors, such as green or with a hint of neon colors. Viva Magenta will stand out in any room while adding warmth and richness.
Spanish Moss by Krylon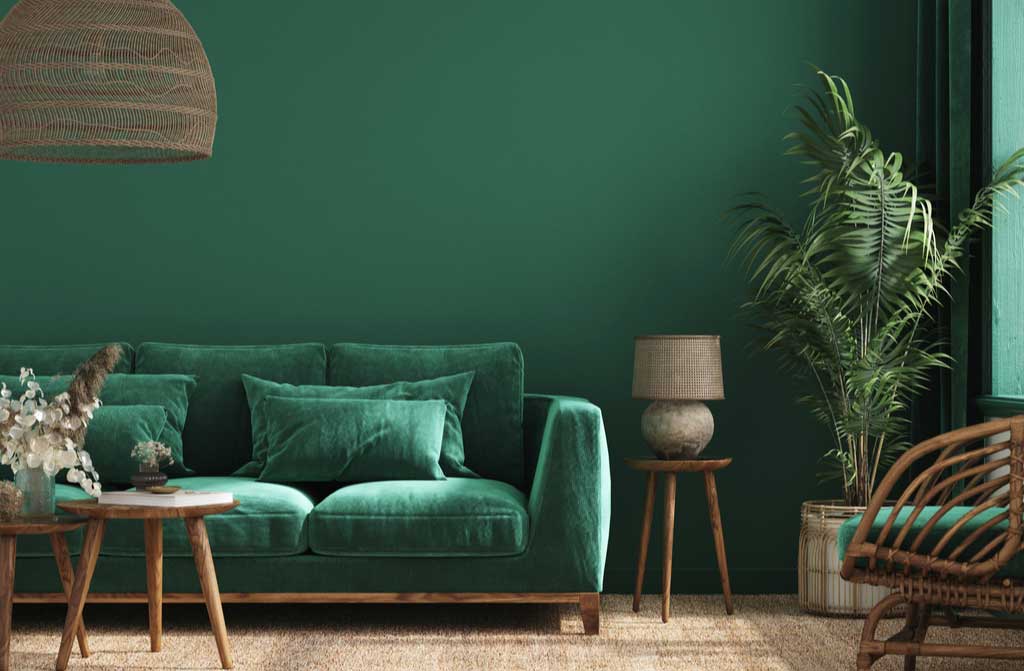 Green has become the new neutral color as many homeowners choose more dynamic and vivid colors instead of the crisp, bright whites of the last decade. One of the color trends for 2023 is Spanish Moss, a deep forest green that is also rooted in nature. Green is the color of life, renewal, nature, and energy, and it's associated with growth, harmony, freshness, safety, and fertility. Green has healing power and is recognized to be the most restful and relaxing color for the human eye to view. It affects us both physically and mentally in several ways. Green is soothing, comfortable, and youthful. It is a color that can reduce anxiety, depression, and nervousness.
With a subdued hue, Spanish Moss can turn a dull interior into a serene, casual retreat. Pair it with complementary colors like gold, sandstone, and copper to make it pop.
Raspberry blush by Benjamin Moore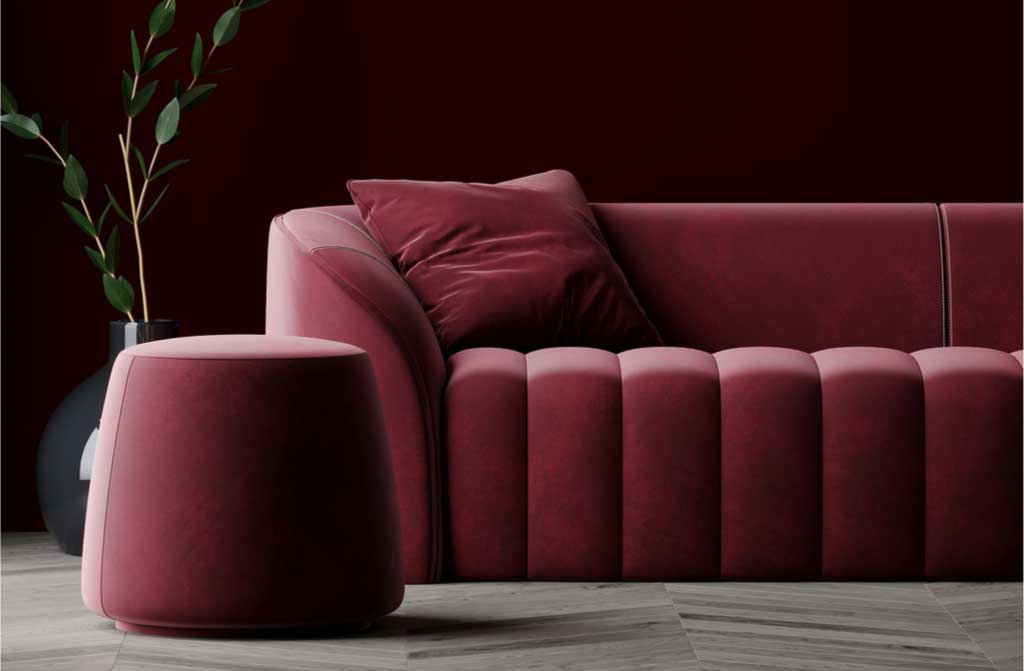 When choosing interior paint colors for 2023, Raspberry blush is a saturated shade that will make every room lively and joyous. Step out of your comfort zone with this empowering hue that will make any interior stand out. For a maximalist approach, splash Raspberry blush on walls, trim, and the ceiling to warmly cover the room. If you're not willing to paint an entire room in this warm, bold color, you can use it only on the accent wall and make it the focal point of the room—soft shades of white and beige balance the bright, rosy hue. It is a striking but not too offputting color that will make any interior feel warm and cozy.
Canyon Ridge by Better Homes & Gardens
Evocative of beautiful Southwestern landscapes, Canyon Ridge is a color that blends orange and pink shades, and it's almost a neutral color when applied to walls. It is a trendy spin on terra-cotta and matches well with bright blues, opposite on the color wheel. Canyon Ridge is a vibrant color that gives a modern spin to any interior.
If you're not willing to wrap the entire room in this lush, rich color, try Canyon Ridge on some artwork, built-ins, or even your ceiling for a delicate splash of desert-inspired color.
Terra Rosa by Dunn- Edwards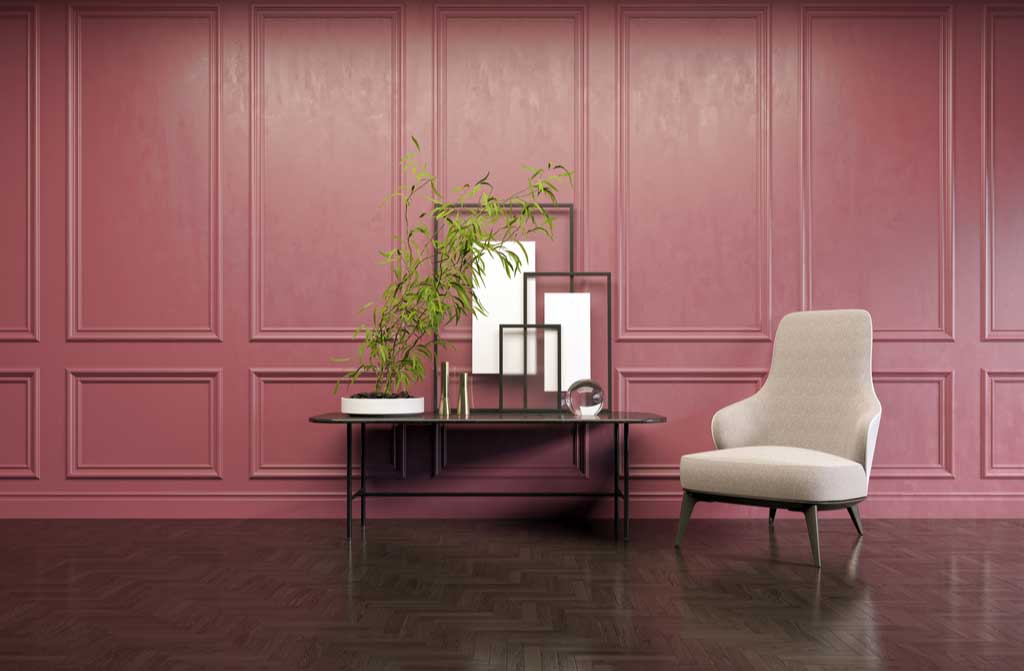 The color trends for 2023 also reflect the soft, earthy shades of pink and clay, and Terra Rosa by Dunn-Edwards it's the perfect illustration of this trend. The color blends brown and burgundy to create a rosy pink that is both an earthing neutral and a graceful accent. It will give a room a lush and sophisticated air without being too overwhelming. The warm hue also adds comfort to a bedroom or living space while creating the perfect balance between nature and technology.
Redend Point by Sherwin-Williams
A mix of blush and beige Redend Point by Sherwin-Williams incorporates delicate pink undertones to warm up your walls. The interior paint colors for 2023 feature grounding shades as homeowners turn toward earth tones to bring comfort and joy to their living areas. The reconnection with nature has been a beloved color theme throughout the last decade and will continue to dominate the interior paint colors for 2023.
Redend point gives an inviting air to your living area and will create an eye-catching focal point.
Blank Canvas by Behr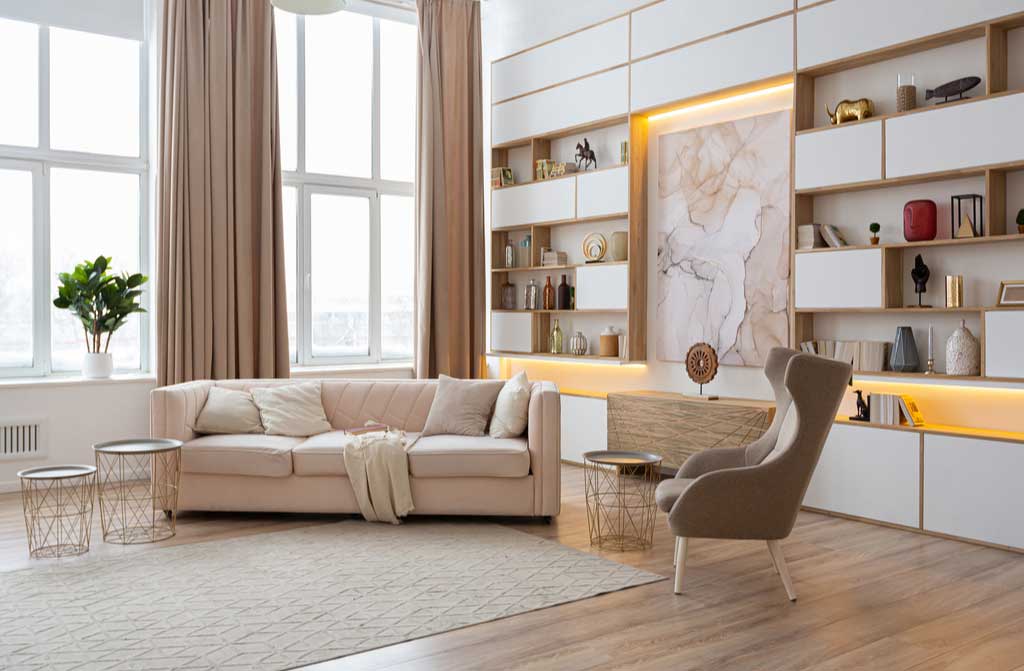 Not all color trends for 2023 need to make a statement. Blank Canvas, Behr's choice, is a buttery shade of white that can be easily paired with anything. The warm neutral stands out from the icy modern hues famous in the past. It is a color suitable for those seeking to create through their wall color paint a neutral base that will make the furnishings and interior decor stand out. This white can match many hues, including neutrals, earth tones, pastels, or even bolder colors. It will create a relaxing atmosphere that encourages creativity and concentration.
Vining Ivy by Glidden
The return to nature theme continues to be a popular pick in 2023, and Vining Ivy is a perfect blend of blue and green for a restful background. One of the color trends for 2023, Glidden's choice works perfectly with contemporary and classic styles. Vining Ivy is a versatile color and energizing at the same time.
Match the blue-green ivy tones with wood finishes, stone accents, and rich textures to create an interior sanctuary deeply entrenched in nature. It will give your living areas a serene and tranquil feel that will delight your guests.
Rustic Greige by Dutch Boy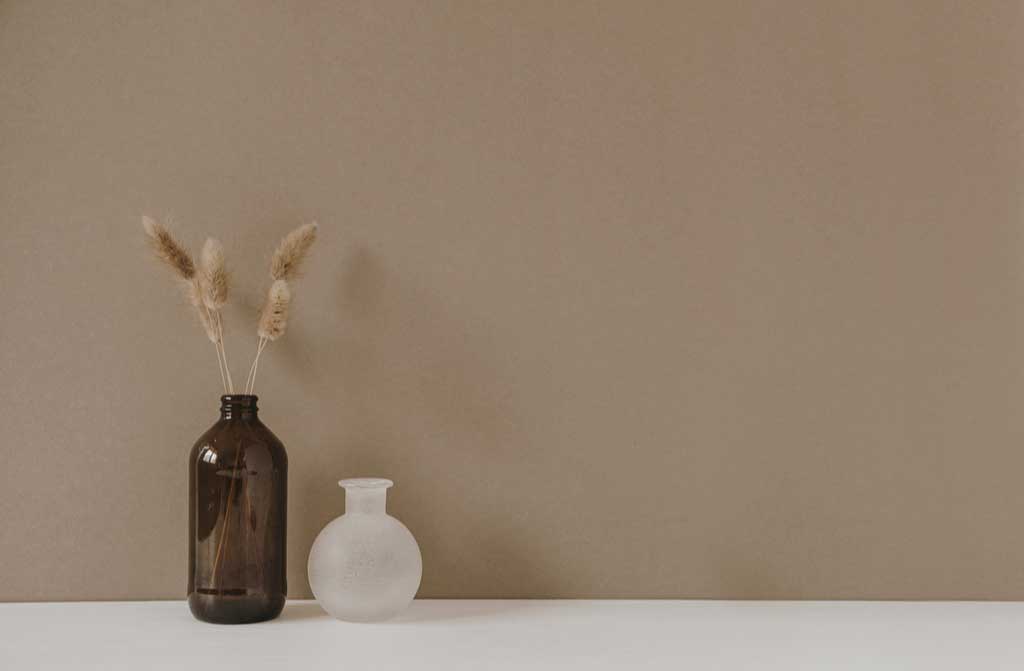 If you are searching for a cozy, easy-to-pair color, give Rustic Greige by Dutch Boy a chance. The color blends gray and beige with delicate red undertones reflecting the current earth-tone trend. Rustic Greige covers a room in warmth, making it suitable for kitchens, bedrooms, and family spaces. It will influence general well-being while creating a sophisticated, subtle atmosphere. If you're not into bolder colors like Viva Magenta or Raspberry blush, this color is ideal and will enhance the room's best features.
These are some of the primary color trends for 2023 that will give your home a new spin. If you're not willing to wrap an entire room in these colors, considering some of them are pretty bold, you can try some splashes of color in your living areas. You can add a rug or a statement piece of furniture that follows one of these color schemes, and you will be able to keep up with the trends without making significant changes. If you're willing to go all the way, you can choose one of these colors, which reflects better your personality and personal style. There are plenty of alternatives for you to choose from, no matter if you prefer the contemporary or the more classic styles. Let your creativity flow and upgrade your home with one of these beautiful colors to start the new year in style.