In every home, each room serves a different purpose. Bedrooms are a cozy, reassuring place to take a step back and unwind, a refuge from the endless barrage of nonsense most of us deal with on a daily basis. Kitchens are perfect for storing food and providing us with a place to cook delicious meals, while dining rooms give us a place to eat those meals. Then there are bathrooms, where… well, we all know what happens there!
Although you won't find one in every home, most domiciles revolve around a living room. This quintessential room is where everyone in the home gathers to enjoy group activities, bringing everyone closer together in an almost unimaginably broad variety of ways. Without a living room, it's a lot harder to bring people together.
Even if you have a living room, there's a good chance that you're not really using it to its fullest. If your living room is like most, it's probably not nearly as well decorated and cozy as it could be. We think that's a crying shame! But don't despair: there are plenty of ways that you can revitalize your living room and bring out the best in it.
In today's article, we'll be exploring some of the most creative and interesting ways that you can do exactly this. Although they vary in budget, style and purpose, these living room decor ideas all share one thing in common: they'll instantly improve the atmosphere and aesthetic of your living room! That said, let's get started. 
Article Summary:
Living room decor ideas in 2022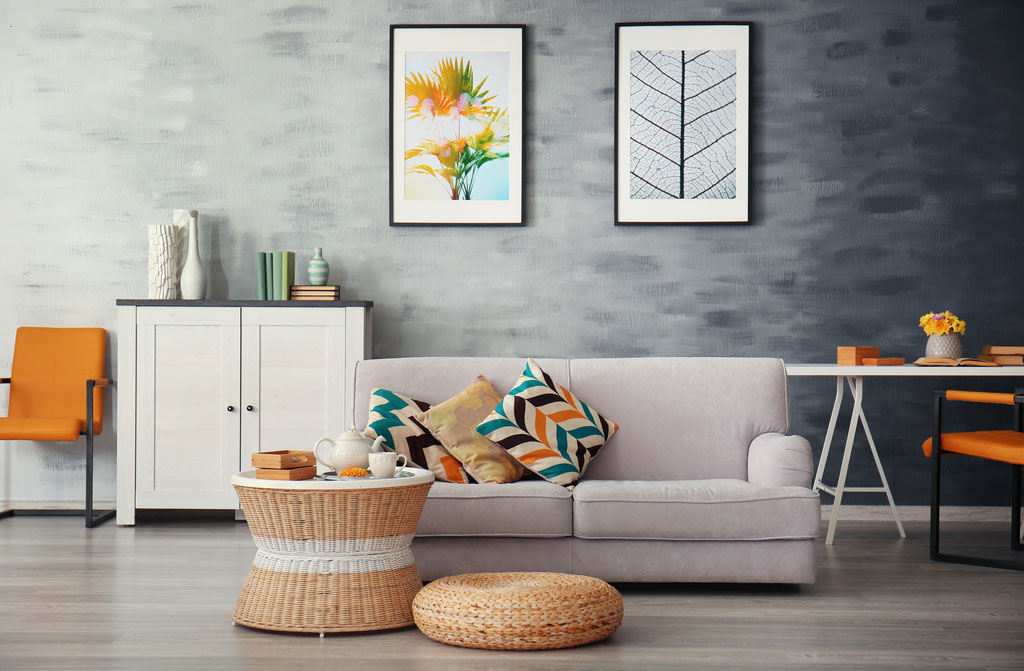 Now, before we get into the meat and potatoes of today's subject, we've got to talk a little bit more about what makes interior decor tick. Specifically, we want to provide you with some info on how to efficiently and effectively improve your living room decor without making things overly complicated or unnecessarily expensive.
The first thing you'll want to keep in mind is that decor is a part of life where price does not equal value added. Sure, there are plenty of good-looking decor pieces that cost hundreds or thousands of dollars, but these aren't guaranteed to improve your living space. In interior decoration, you can spend a lot without getting muconversation piecech, or you can spend virtually nothing and still completely overhaul the space.
In the same vein, you should always keep in mind the fact that there very much is such a thing as "too much" when it comes to interior design. Decor is all about creating an atmosphere that compliments the space and makes you feel at home; stuffing that space with pointless or unnecessary additions won't do it any favors!
At the end of the day, the most important thing to remember is that careful planning and a good eye are much more important than pricey name brands or an overwhelming amount of decor. Depending on how your living room currently looks, you might be able to overhaul it with something simple and straightforward, or possibly by simply removing unnecessary items. The best living room decor ideas are about quality, not quantity!
Traditional living room decor ideas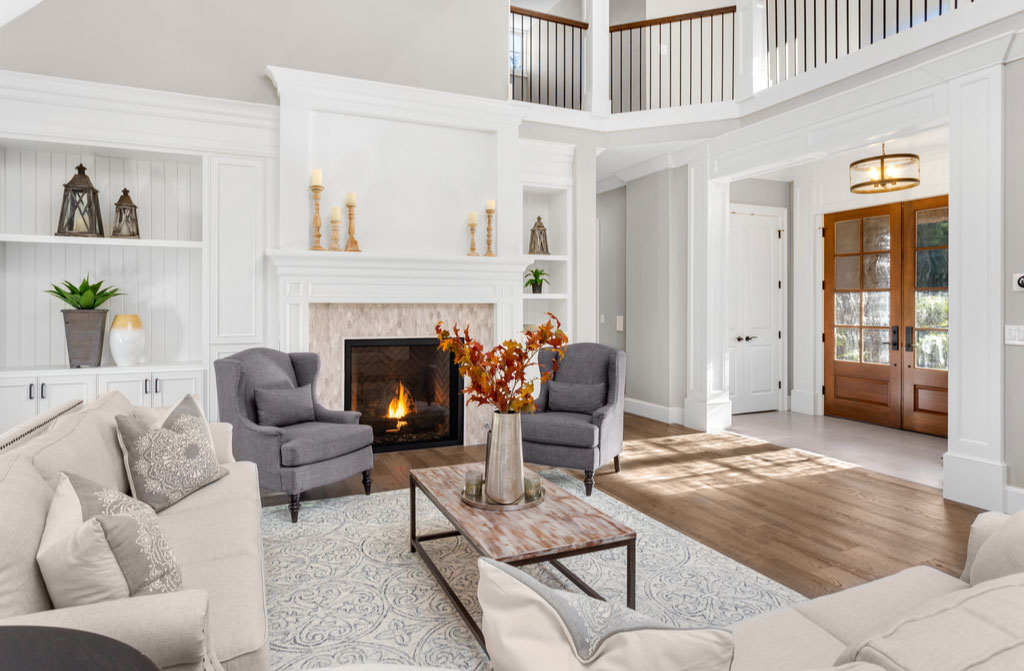 Now that we've talked a bit about the philosophy behind our living room decor ideas, it's time to get down to brass tacks and talk about our top picks for the best living room decor ideas 2022 has to offer. In the following sections we'll be going over 10 of our favorite decor ideas for living rooms small and large alike. Let's begin!
Bring the outside in
No matter who you are, there's a good chance that you like plants. These beautiful, luscious beings are all around us every day, growing everywhere from the cracks in the sidewalk to the grassy floor of your nearest park. Without them our planet would suffocate! This being the case, what could be a better living room decor idea than bringing some of nature's most beautiful plants into your living room?
While they can be a bit time-consuming to take care of, plants are almost certain to create an improvement in your living room at very little cost. They come in all different shapes and sizes, and many don't require very much care at all. From shrubs and trees that require large pots and large amounts of love to small succulents and flowers that can survive plenty of neglect, the botanical world offers enough variety for everyone.
Plants aren't just a great living room decor idea, however; they're also a great practical addition to your home! Unless you have pollen allergies (in which case plants might not be a good idea, obviously) plants will help purify the air in your home and improve the literal atmosphere of your living room. That's a great bonus if ever we saw one!
Hang up some string lights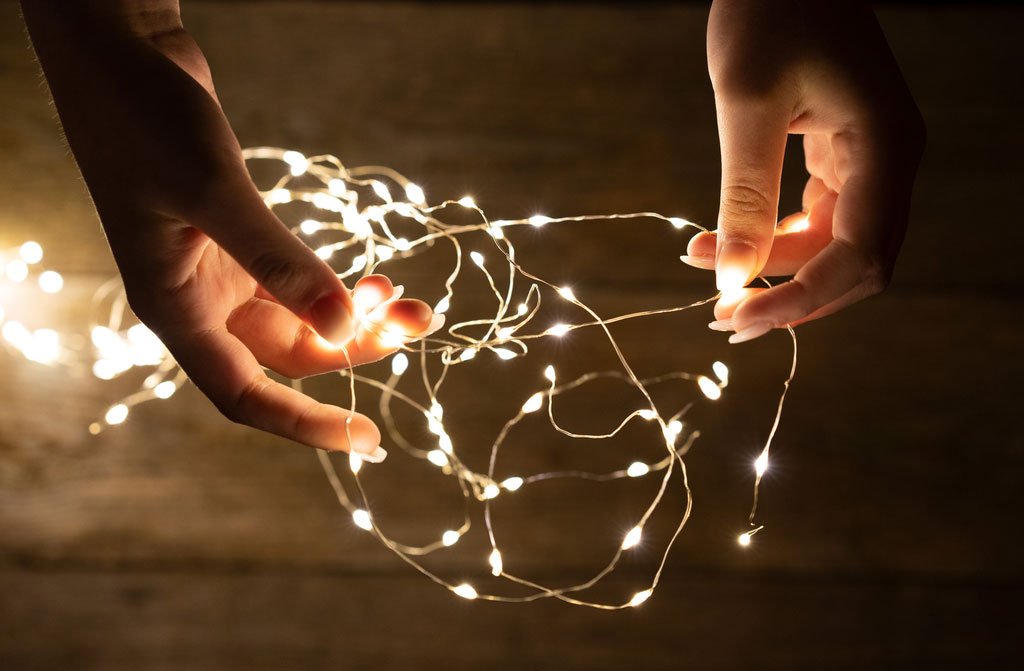 Does your living room suffer from single-light-itis? This deathly dangerous condition affects thousands of unfortunate living rooms across the country, turning otherwise cozy and cute spaces into dreary, drab and dimly-lit dungeons. If your living room suffers from this condition, we know one very effective antidote: string lights!
String lights (also known affectionately by some as fairy lights or christmas lights) come in a wide array of lengths and styles, but almost all variations on this simple concept share one commonality: they're a great way to make your living room cozier! By adding a length or two of these to your living room, you're likely to see an instant and drastic improvement to the coziness and comfort of the space.
While string lights come in many different colors, we'd recommend a soft white. This color goes with virtually every style of living room, making it a great choice for modern living room decor styles and traditional living room decor styles alike. There's almost no conceivable way that these won't look good in your living room!
Add some decor to your living room wall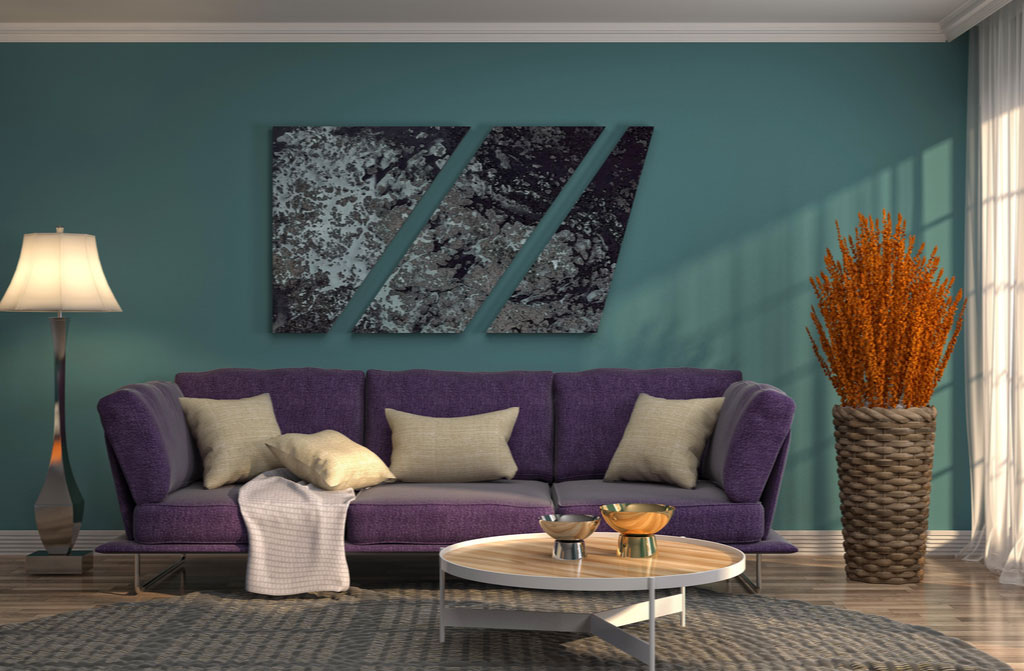 One of the best living room decor ideas has also been around for ages. We're talking about wall hangings, baby! These can be anything from a painting your son or daughter made in 2nd grade to a cool picture of a giraffe that you found on google. It doesn't have to be fancy, framed or expensive, it just has to be you!
Canvases are a great way to add some class to your wall hanging game without adding too much cost. These can be ordered at most print shops, can depict virtually anything you want, and are almost always a welcome addition to the living room aesthetic. They also come in virtually any size you can think of!
Another great way to incorporate wall hangings into your living room is to commission some work from a local artist or two. Whether you know any artists or not, there isn't a place on the face of the earth where you can't find an underappreciated artist poking around. Find your local underappreciated artist and pay them for a commission or two; you'll be helping your local art community and securing some sick wall art!
Purchase or weave a carpet or two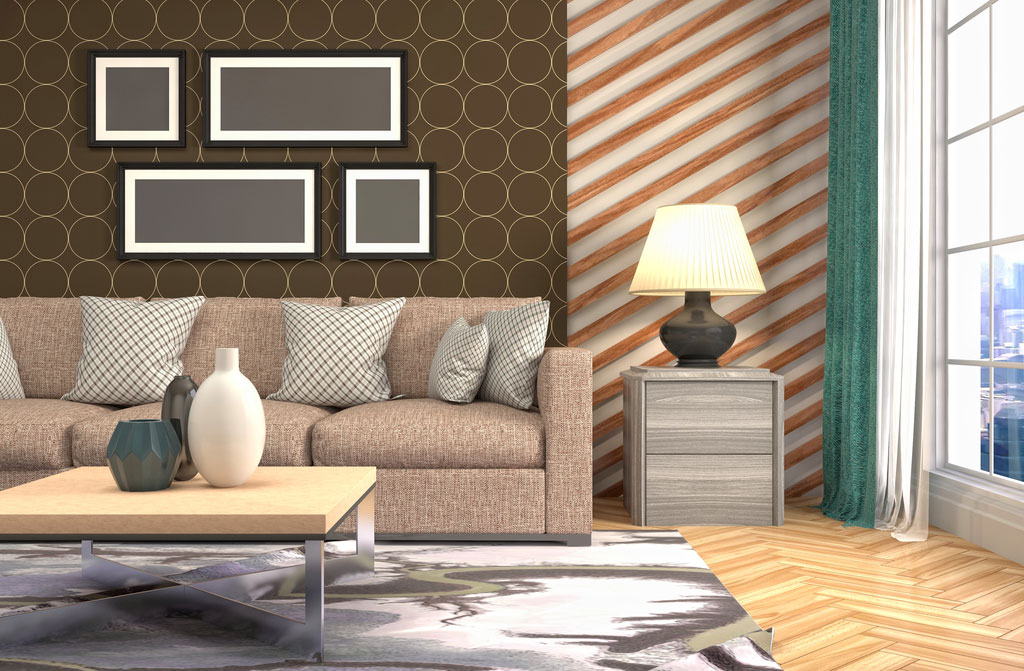 Ever had to scurry barefoot to the kitchen for a glass of water in the middle of the night? If you have, you know just how unpleasant bare wood or tile are to the unprotected soles of your feet! There are plenty of non-decorational ways to deal with this (fuzzy slippers are our top pick), but this is a list of the best living room decor ideas, gosh darn it!
Whether you have and wear slippers, you can't help but fall in love with the feeling of a thick, warm carpet underfoot. It's just so cozy! With some diligent searching, you can find these at thrift shops and garage sales for surprisingly low prices. If you're the ambitious D.I.Y. type, you can even learn to weave these by hand!
Carpets aren't just for comfort, though; they're also excellent decor! Carpets are a great way to fill up an otherwise conspicuously empty space and make it feel more homely. With a well designed and aesthetically pleasing carpet, your living room will instantly skyrocket in terms of visual appeal and underfoot excellence.
Light a candle or three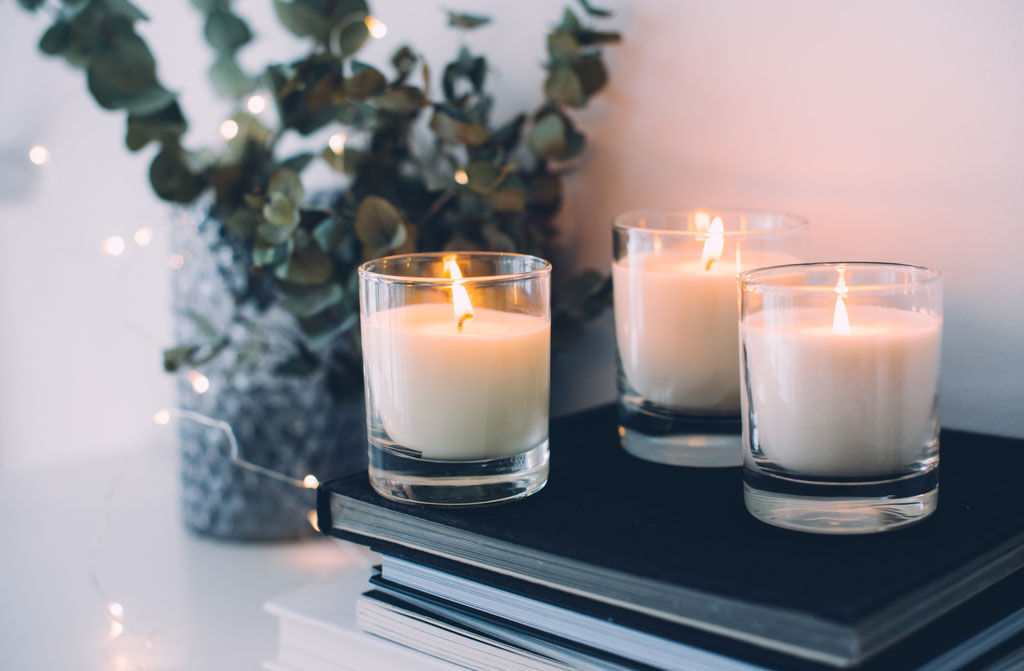 Who doesn't love candles? These deliciously scented and effortlessly elegant wax pyres are perfect for anyone who wants to add a bit of relaxing ambiance to their living room without spending a ton on expensive decor accessories or space-hogging furniture. Wait, what's that? Candles aren't a good living room decor idea? Allow us to contest!
For starters, candles are dirt cheap. For $10-15, you can add an incredible amount of atmosphere to your living room, not to mention the fact that they look great wherever you put them! With most modern candle companies manufacturing candles in a wide variety of colors, containers and styles, there's almost no chance you won't be able to find something that suits your taste in decor.
Another reason candles are so incredible for home decor is the smell factor. Most decor ideas center around visual additions that make your living room look better. While candles certainly contribute to this goal, they also add another dimension to your decor: excellent scents and aromas! When your living room smells good, chances are it will look a lot better too!
Modern living room decor ideas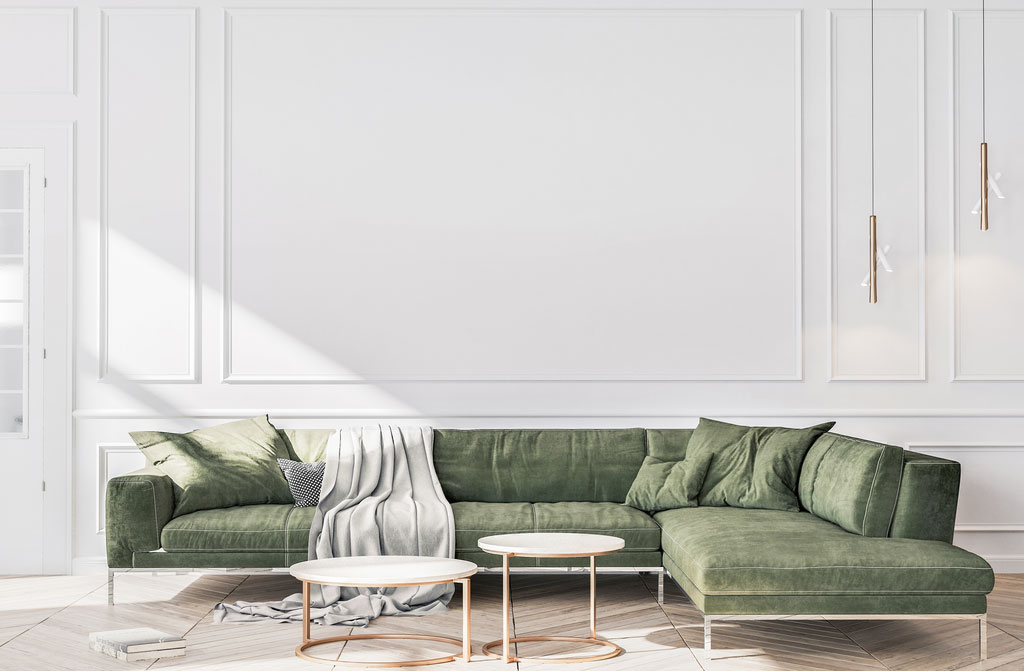 Now that we've explored five of our absolute favorite traditional living room decor ideas, it's time to look at some modern living room decor ideas. Tried and true home decor ideas that have been around for ages are all well and good, but sometimes the situation calls for a more modern touch. Keeping this in mind, here are our favorite modern living room decor ideas!
Add a bold, stylish centerpiece
While traditional living room decor ideas would dictate that muted and subtle colors and styles are the best way to decorate a living room, modern decor philosophy disagrees. According to this philosophy, the best way to decorate a space is sometimes to add a bold, attention grabbing centerpiece. If chosen poorly, this can take away from the overall coherence of the space, a well chosen centerpiece can be the crowning beauty of your living room!
Centerpieces such as these can vary widely, but the general idea is to add a theme or color palette to your living room that is adhered to by the rest of the furniture and decor in the space. A great example of a bold, modern centerpiece is a statue or sculpture; although it is somewhat unconventional as living room decor ideas are concerned, it will make your living room far more interesting than it was before!
Another great option for a centerpiece is a boldly colored and/or styled article of furniture such as a couch or table. While more conventional than an art installation, such an article of furniture will nevertheless add an undeniable element of flair to your living room space. We'd say that this makes it a suitably viable living room decor idea!
Reinvent conventional decor
With our experience in this field, we think it's safe to say that the most popular living room decor ideas in 2022 center heavily on sustainability and eco-friendliness. We couldn't be happier about this, truth be told! We only have one planet, and baby steps towards keeping it safe are better than no steps at all. One great way to do just this is to reinvent and repurpose traditional decor!
There is no end to the wide variety of ways in which you can repurpose conventional decor pieces to serve a different purpose and occupy a different niche in your living room decor scheme. Why not take an old CRT television and hook it up to a Chromecast to use as an atmospheric lo-fi music player? The only limits here are your imagination!

If you're especially bold, you can even take the theme eco-friendliness further by incorporating elements of "green decor" into your living room decor. Take an old, broken grandfather clock and turn it into an unorthodox planter box, or drape some ivy over a restored piece of antique furniture such as a bookcase or mantle. It's entirely up to you!
Make use of natural light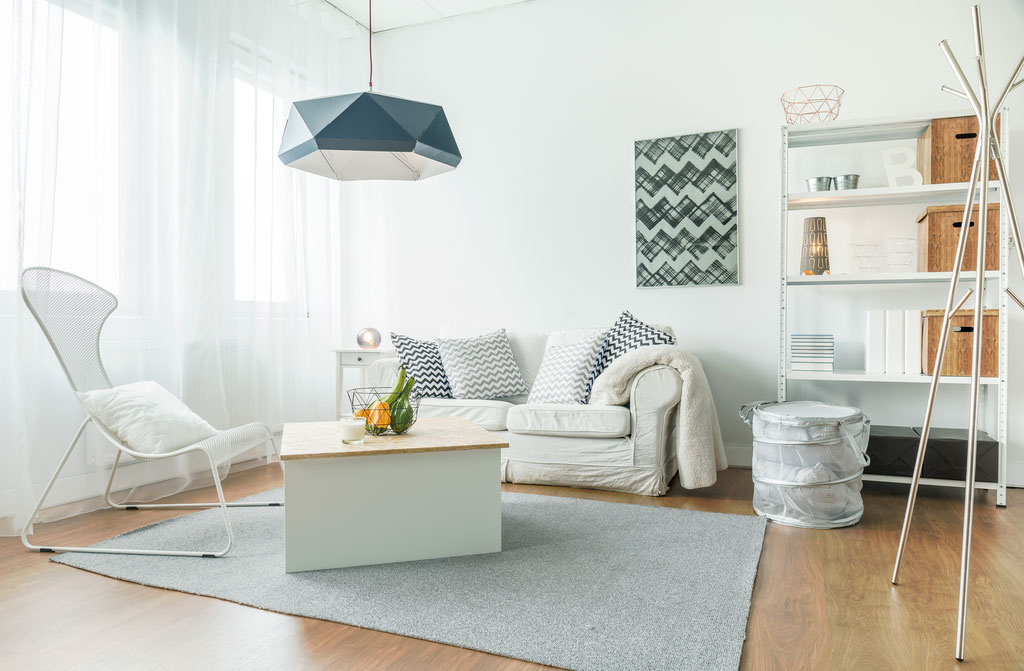 Depending on how big your budget is and how committed you are to making your dream living room a reality, you might want to look into incorporating more natural light into your living room decor. While old-fashioned living room decor ideas would have you cover your windows with heavy drapes and blinds, we say let that light in!
Natural light can be introduced to your living room in a number of ways. The best and most well proven way to illuminate your living room naturally is to install more ways for the light to get inside, such as floor-to-ceiling windows, skylights and glass doors. These are proven to let more light in, while still keeping the elements out. If you live in a geographic region where heavy storms are the norm, don't worry; you can get floor to ceiling hurricane windows too!
For those who lack the economic resources to install new windows, there are other ways to let more light in. Taking down your blinds or curtains and/or replacing them with less-opaque alternatives is a good place to start. Additionally, give your windows a thorough cleaning on the inside and out; you'd be surprised how much light is blocked by smudges and dirt!
Beanbags and throw pillows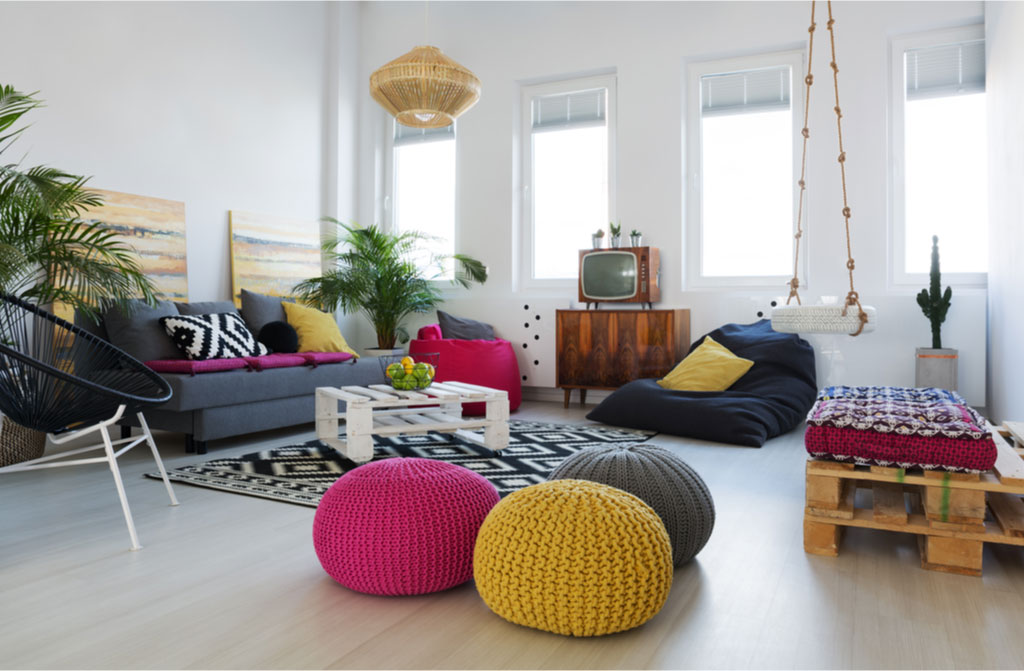 While conventional furniture has plenty of things going for it, we don't think it's at all unreasonable to say that most conventional furniture tends to blend together after a while. In addition to much of it looking very similar from piece to piece, it's often notoriously uncomfortable. With hard edges, rigid cushions and very little in the way of personality, conventional furniture is often just downright boring!
There's one excellent way that you can add some much needed comfort and personality to your living room: beanbag chairs and throw pillows! These may not seem like the most innovative living room decor idea, but trust us when we say that they'll add more than you might think to the decor scheme of your living room.
If you've ever sat in a beanbag, you know how comfortable it is. With its soft, welcoming surfaces and all-enveloping nature, you'd be forgiven for thinking you've died and gone to heaven after sitting in it once! Throw pillows can have a similar, if less impactful effect, offering an easy and aesthetically pleasing way to instantly improve your seated comfort. When combined, beanbags and throw pillows are an essential part of any modern living room!
Install a hi-fi sound system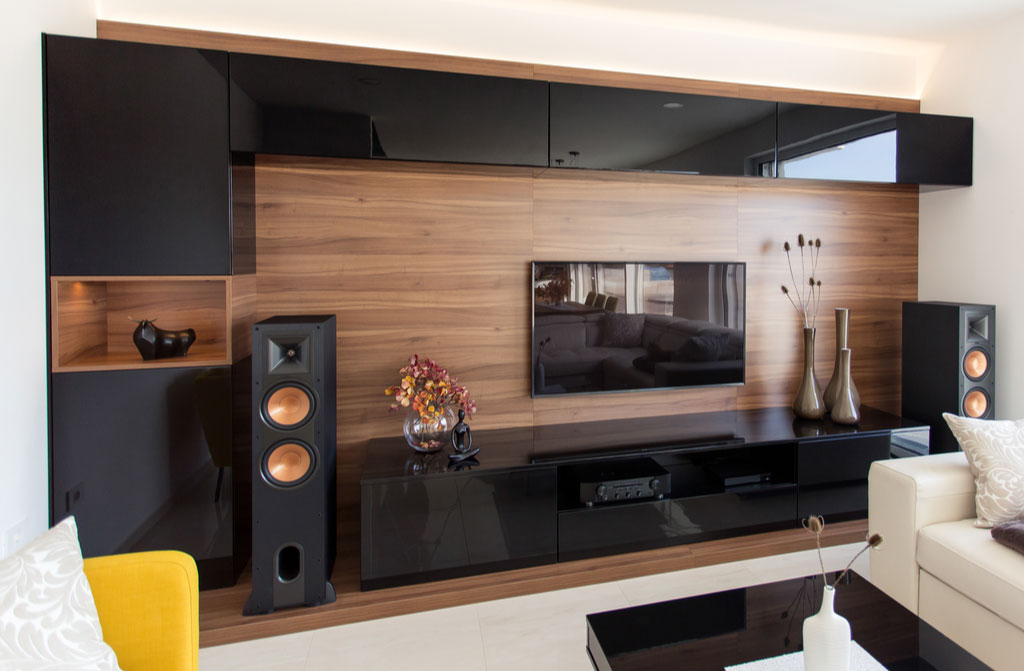 So far in this article, we've discussed a number of ways to appeal to the human senses through decor. We've covered ways to improve the ambiance of your living room using things that feel good, things that smell good and things that look good. The one sensory medium we have yet to explore is sound. Allow us to address that now!
There are plenty of ways you can bring beautiful sounds into your living room, but one of the best options at your disposal is the installation of a hi-fi (high fidelity) sound system. While this can be expensive, we guarantee that it will be worth the cost for anyone who truly loves music. Once you install one of these, you'll never listen to music the same way again!
In addition to the massive improvement in audio quality you'll experience with a hi–fi sound system, you'll also find that the hardware of such a system is quite aesthetically pleasing. Most high-end speakers and stereos are meant to look just as good as they sound, and the bold, modern design cues of a quality amplifier or turntable won't detract from the vibe of your living room on any account!
Bonus: small living room decor ideas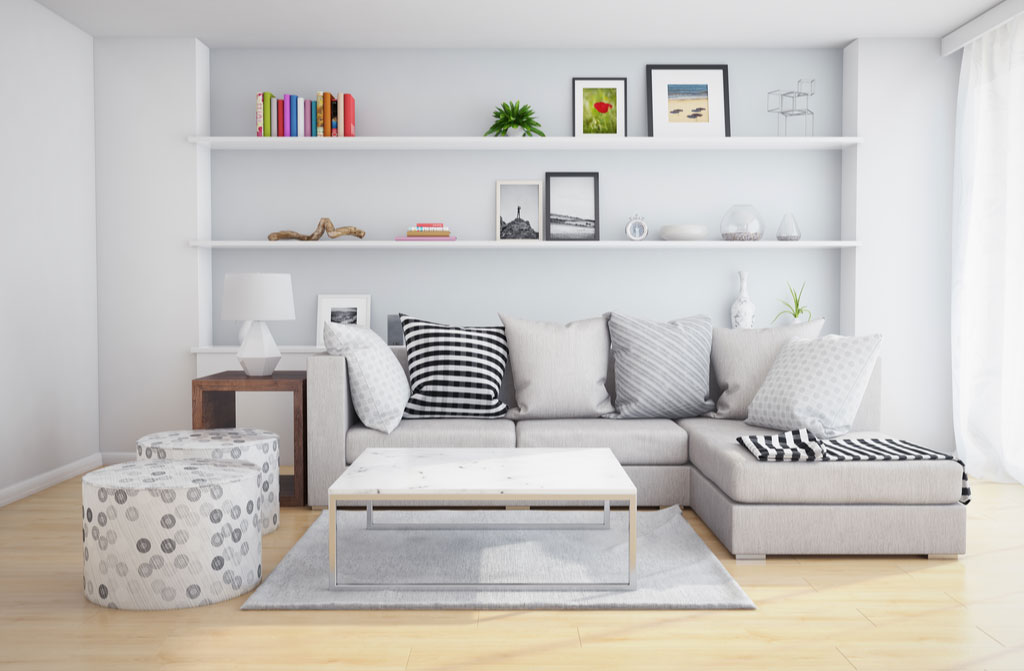 "Wait a minute!" we hear you say. "The living room decor ideas we've discussed thus far are all well and good for those who live in large, spacious homes and apartments, but what about those who live in smaller spaces?" Don't worry friends, we've got you covered. In this bonus section, we'll discuss some decor ideas for small living rooms!
When it comes to furnishing a small home or apartment, things can very quickly become overcrowded. With so little space to work with, organizing each room without filling it to the brim with dressers, closets and shelves is a challenging affair indeed. To keep this from happening in your living room, allow us to suggest some dual- or triple-purpose furniture!

There are many different types of furniture that fall into the aforementioned category. Some have hidden storage compartments that allow you to hide your belongings away with ease, while some transform to become an entirely different piece of furniture. Whatever the case may be, these multipurpose articles of furniture are often the best way to both decorate and organize a small living room!
Another great living room decor idea for those that occupy smaller spaces is the addition of a few tastefully placed wall and floor mirrors. Why mirrors, you ask? Well, for starters, you get to look at yourself more; it will boost your confidence and help you avoid any unnecessary wardrobe malfunctions or undetected bad hair days.
A far more on-topic use for mirrors, however, is to create the illusion of a bigger space. As mirrors reflect whatever they are facing, the addition of even a few modestly sized mirrors can make your living room feel a whole lot bigger. When you take into consideration the fact that mirrors are not particularly expensive, there really isn't any reason not to install a few!
Conclusion
Well folks, we hope you enjoyed reading. We really enjoy discussing interior design, so this was a particularly scintillating article to research and write. Before we sign off, we'd like to leave you with one final word of advice: don't let your budget let you limit your creativity. When it comes to interior design, money is of no importance if you aren't creative. Conversely, if you're creative enough, a lack of money is no object!
Did you enjoy this article? Want to ask a question or provide us with some feedback? Leave us a comment in the comments section below, and we'll get back to you as soon as possible! Our readers are our top priority, and making sure that you're taken care of is very important to us. We look forward to hearing from you!