Balconies are often overlooked and are underutilized spaces in our homes. But with some creativity, these outdoor areas can become a blissful retreat from the hustle and bustle of everyday life. Whether you have a small balcony or a spacious outdoor terrace, there are many possibilities to create a beautiful balcony design outside.
In this article, we will explore ten design ideas to up your outdoor space while creating a welcoming balcony design outside. From adding greenery and comfortable seating to incorporating lighting and decorative accents, we'll cover a range of ideas to help you transform your balcony into a stylish and inviting space.
We'll also discuss the importance of considering your balcony's type, climate, and personal style when creating a balcony design outside. By keeping these factors in mind, you can create a balcony design outside that is both functional and aesthetically pleasing.
So, whether you're a city dweller looking to create an outdoor oasis or a homeowner seeking to enhance your outdoor living space, this article will provide creative balcony ideas to make your balcony bliss.
What are the different types of balconies?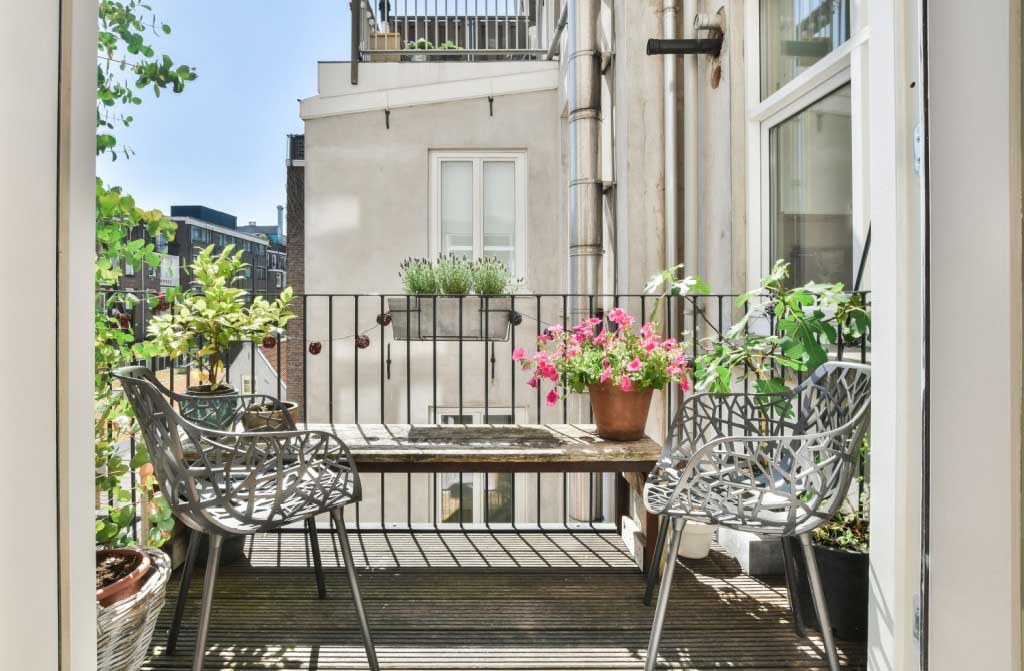 Balconies are outdoor spaces that offer a perfect relaxing spot while enjoying some fresh air. They come in different shapes, sizes, and designs and are typically attached to buildings, apartments, or houses. Balconies add aesthetic value to a building and provide residents with additional living space. When considering balcony design outside, first, you should look at what a balcony is and the different types.
Here are some of the most common types of balconies.
French Balcony
This type of balcony is also known as a false balcony or Juliet balcony. It is typically a railing or a metal grille fixed to the exterior of a building. It doesn't protrude from the wall and is not large enough to stand on. French balconies are primarily found in apartments and provide a decorative element.
Loggia Balcony
This is a covered balcony with a roof and a front wall. It is usually supported by columns or arches and is common in Italian architecture. The loggia balcony provides shade from the sun and rain and is ideal for outdoor dining or relaxing. This type of balcony is perfect for creating a relaxing balcony design outside.
Cantilever Balcony
A cantilever balcony is a type of balcony attached to the side of a building without any visible support. It appears to float in the air, giving it a modern and sleek appearance. This type of balcony is prevalent in contemporary and minimalist architectural styles. However, it requires a strong and sturdy construction.
Suspended balcony
A suspended balcony is a type of balcony attached to the building's exterior using cables or rods. This type of balcony creates a dramatic effect and is ideal for buildings with unique architectural designs. Suspended balconies are famous in hotels, resorts, and high-end residential buildings.
Wraparound balcony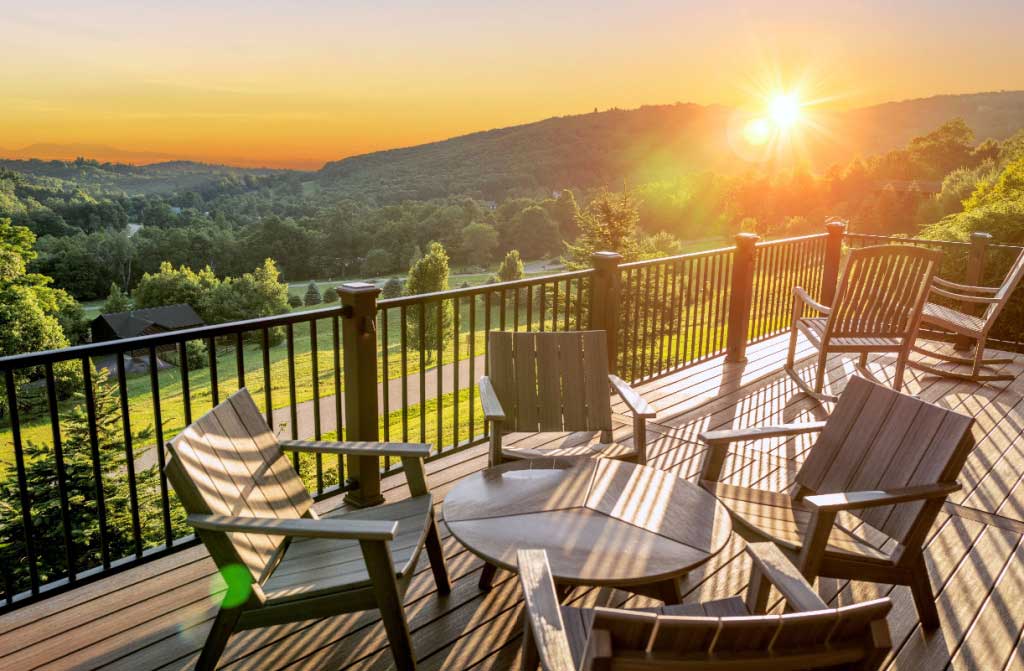 The wraparound balcony is a type of balcony that wraps around two or more sides of the building, providing outdoor space from multiple angles. This type of balcony is ideal for those who want to take advantage of the view from different sides. Wraparound balconies are commonly used in coastal and mountainous regions with breathtaking scenery.
Mezzanine balcony
A mezzanine balcony is a type of balcony or elevated platform situated partially or entirely above the ground floor level, typically in a large room or building. The term "mezzanine" refers to an intermediate level between two primary levels, and in the case of a mezzanine balcony, it is an intermediate level between the floor and ceiling.
What is a terrace vs. a balcony?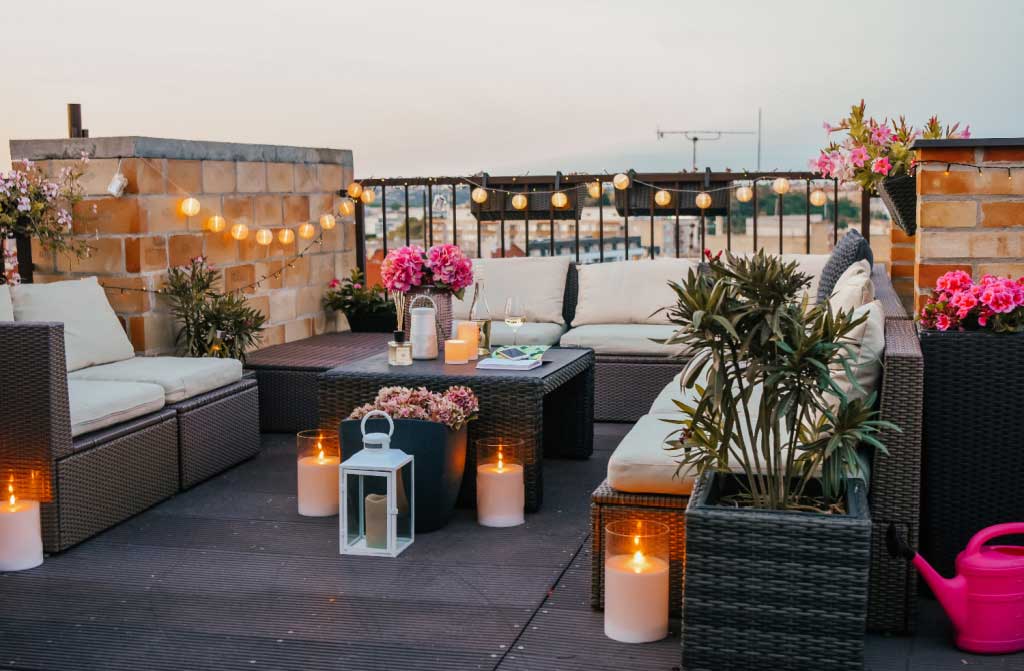 A terrace and a balcony are outdoor spaces attached to a building but differ in their characteristics and usage.
A terrace is a flat, open outdoor space typically located on the ground level or the rooftop of a building. It is often surrounded by a low wall or a barrier and may be used for outdoor activities such as dining, gardening, or lounging. Terraces can be accessed from the inside of the building through a door or from the ground level via steps or a ramp.
Conversely, a balcony is a raised platform that protrudes from the side of a building, usually on an upper floor. Balconies are typically smaller than terraces and are generally enclosed by a railing or barrier. They are primarily designed for enjoying the view or fresh air and are usually more negligible for outdoor activities.
Overall, the main difference between a terrace and a balcony is their location, size, and use. Terraces are typically more extensive, open-air ground or roof-level spaces for outdoor activities. At the same time, balconies are smaller raised platforms on upper floors, primarily for enjoying the view or fresh air.
How do you design an outdoor balcony?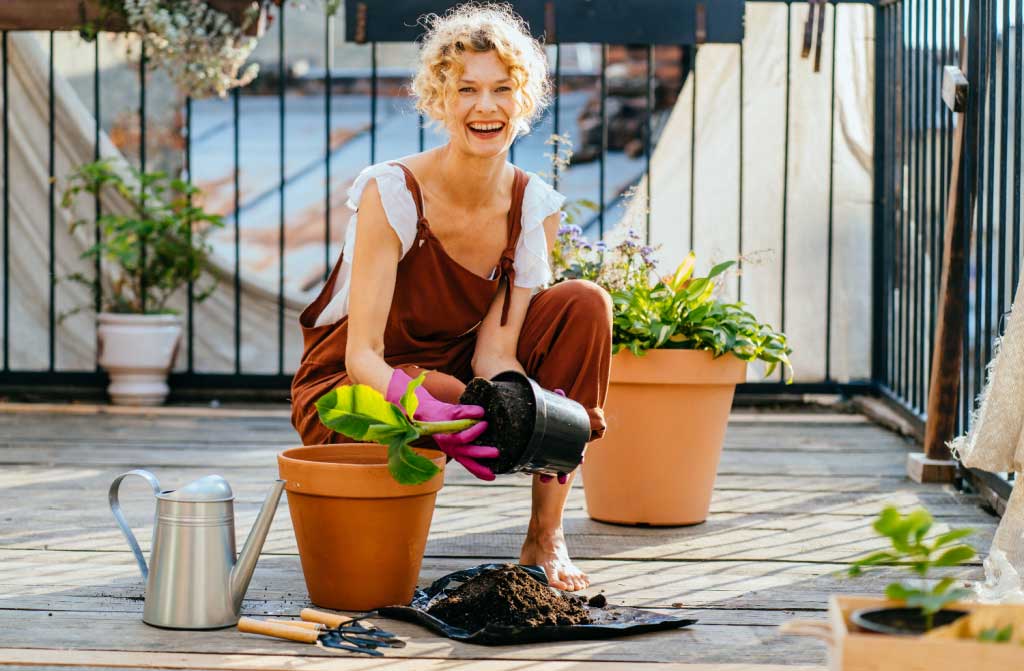 The first step in creating a balcony design outside is determining how you will use the space. Will you use it primarily for entertaining guests, relaxing, or as a personal workspace? Understanding how you use the balcony will help guide your design decisions and ensure the space meets your needs.
Next, consider the size and shape of the balcony. The dimensions of the balcony will determine how much furniture and decor you can comfortably fit into the space. Working with a small balcony design outside, you may need to be creative with space-saving solutions, such as vertical gardens or multi-functional furniture.
Consider creating separate zones for different activities if you have a large balcony.
Choosing the right furniture and decor is essential when considering the balcony design outside. Opt for pieces designed for outdoor use. Look for materials that can withstand exposure to the elements, such as metal, wood, or weather-resistant fabrics. Be sure to consider the style and color of the furniture and decor to ensure that it complements the overall aesthetic of your home.
One of the most important considerations when thinking of balcony design outside is the surrounding environment. Consider your area's climate and weather conditions and choose plants and decor that will thrive. For example, if you live in a particularly windy area, you may need to choose heavier furniture or install a windbreak.
Ten design ideas to create a balcony bliss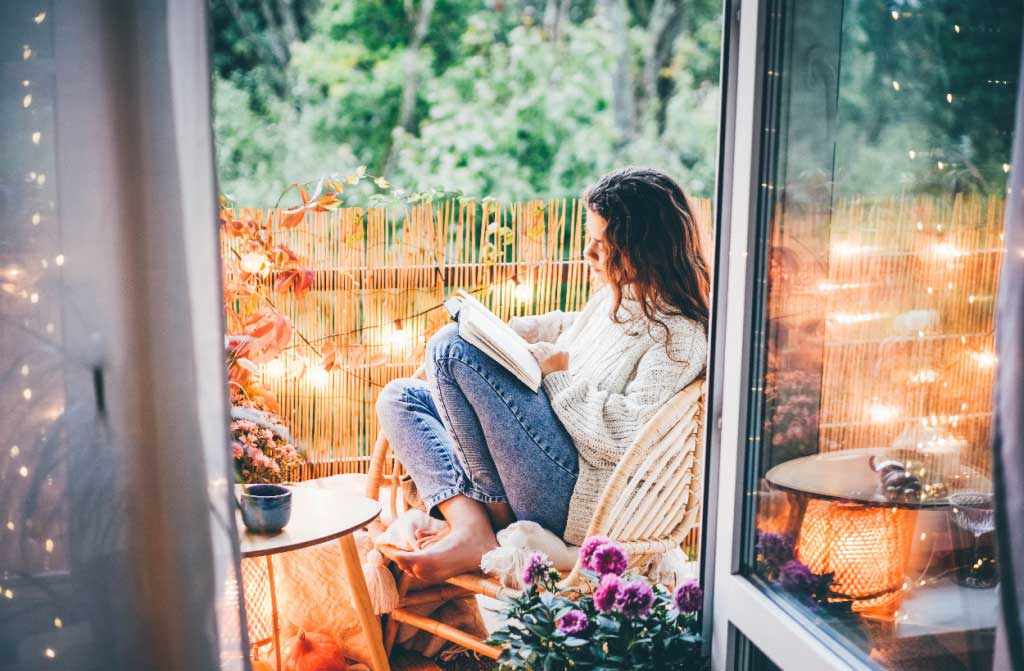 1. Add some greenery: Plants can add color and life to your balcony. Choose plants suitable for outdoor spaces, and consider adding some hanging plants or a vertical garden to save space.
2. Opt for outdoor lighting: Lighting can add a cozy ambiance to your balcony, especially during evenings. String lights, lanterns, and candles can all create a warm and inviting atmosphere.
3. Invest in outdoor rugs: Outdoor rugs can add warmth and comfort to your balcony design outside. Choose a rug that is durable and weather-resistant to withstand the elements.
4. Use space-saving solutions: Make the most of your small balcony design outside by using space-saving solutions such as foldable tables, hanging planters, and wall-mounted shelving.
5. Add some color: Bring some vibrancy to your balcony with colorful accessories, such as cushions, throw pillows, and a bright outdoor rug. Stay moderate with the accessories if working with a small balcony design outside. It might overwhelm the space and make it look cluttered.
6. Consider privacy: If your balcony is visible to your neighbors or passers-by, add some privacy screens to create a more intimate setting.
7. Create a focal point: A focal point can add visual interest to your balcony. Consider adding a piece of artwork, a statement plant, or a water feature to create a focal point.
8. Decorate the space with curtains: Outdoor curtains can add a touch of elegance and sophistication to your balcony. Choose curtains that match your furniture and create a cozy and inviting feel.
9. Declutter the space: Remove any unnecessary items, and organize the space to maximize the available space. Especially when it comes to small balcony design outside, it is vital to make the most of the available space by decluttering.
10. Enjoy aromatherapy: Adding scent to your balcony can be relaxing. Consider adding plants with fragrant leaves, burning incense, or scented candles. If you use scented candles, keep them away from flammable objects, and do not leave them unattended.
Creating a balcony bliss is an excellent way to enhance your living space and improve your quality of life. You can transform your balcony into a relaxing oasis with simple touches, such as adding greenery, outdoor lighting, or decluttering. Whether you have a small or large balcony, there are plenty of ways to make the most of this space and create a cozy and inviting atmosphere. By investing a little time and effort into creating your balcony design outside, you can reap the rewards of a beautiful and peaceful outdoor retreat that you can enjoy all year round.