All of us deserve top-notch entertainment for our buck! Unfortunately, not everyone can indulge in costly pastime activities or expensive trips all the time. However, breathtaking next-gen home theater devices can successfully replicate adventures we've been missing out on! Let's end a long and stressful day with something genuinely refreshing! So, why don't you turn on your brand-new smart TV and enjoy the latest Marvel blockbuster or PlayStation?
Hop on this fun ride and explore first-class devices granting you access to amazing video and audio content!
Table of contents
What are the astonishing benefits of switching to smart 4k TVs?
There comes a time when a general home update is required. Making your home smart has various benefits. First, you can reduce your monthly costs and adopt a more eco-conscious attitude to save the planet at the same time. Next-gen smart 4K televisions are also champions of the clean energy technology revolution.
Secondly, you will boost your home's value by upgrading it technically. Ask any experienced local real estate agent, and they will agree!
You'll have to make tough choices when installing your home theater system!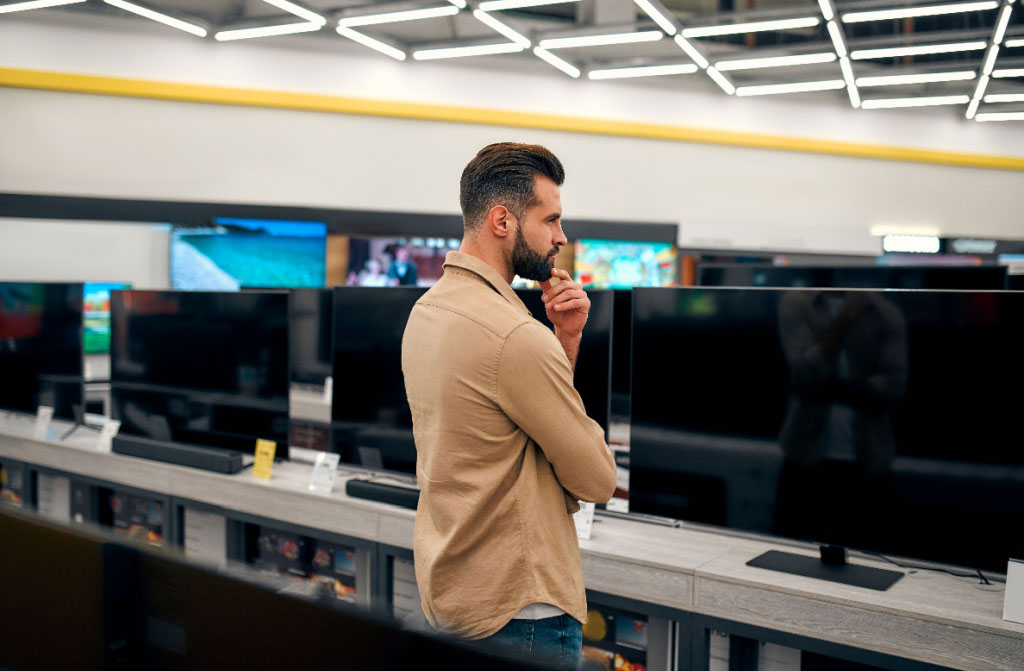 The ultimate home theater room implies owning a large-screen television set (or a projector) and a high-quality audio system. Before raising concerns about expenses, you must know you can choose from numerous budget-friendly solutions. However, rarely do cheaper devices deliver the pizzazz you're looking for. So, at a specific moment, you'll need to make concessions.
For instance, do you prefer higher SDR (Standard Dynamic Range for regular cable TV channel content) to HDR (High Dynamic Range displaying a more impressive range of colors and spectacular highlights for movies)? Do you wish to have a TV with a wide viewing angle (IPS panels have this feature) at the expense of vivid colors and contrast (VA panels)?
Suppose you wish to benefit from the best features nicely wrapped up in one single set. Then, picking up an OLED (Organic Light-Emitting Diode) or Mini LED TV would be the best course of action. Know, however, that buying them might burn a hole in your pocket.
One thing is sure; once you invest in top-notch equipment, you won't have to upgrade your eco-friendly smart TV or audio system for a while. Though, the lifecycle of these products is still under scrutiny. Nonetheless, your rush of escapism will be in safe hands.
Read these basic guidelines before choosing your home theater devices!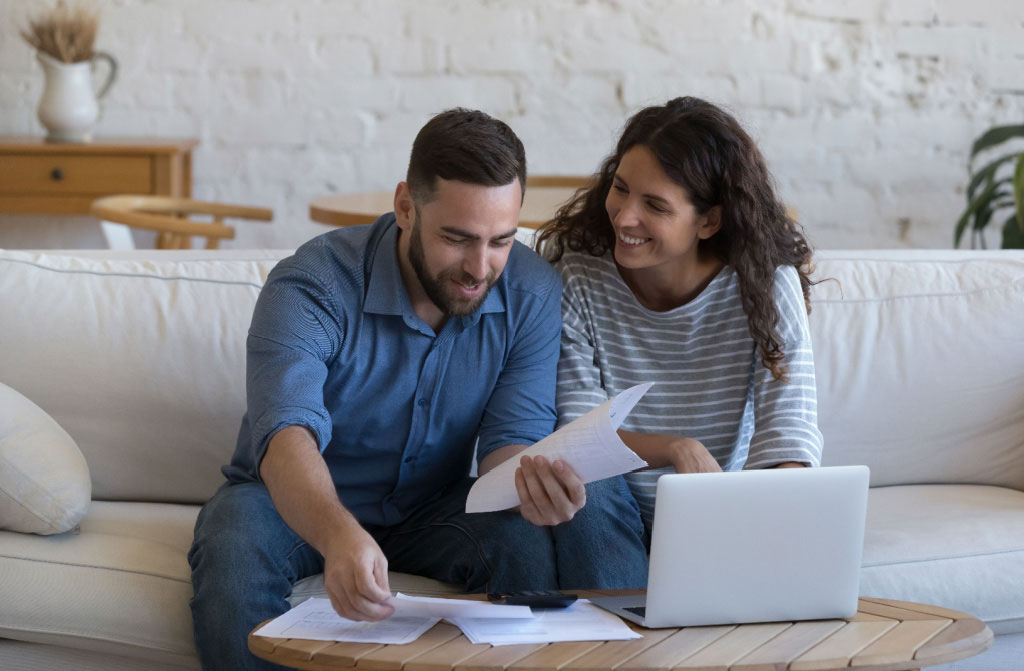 Before purchasing an innovative TV, PlayStation, or surround system, we advise you to read online reviews, critics' and users' feedback on various products. For instance, many don't know about multiple TV panels in the market. Which one is the best cut-out for your home theater system? We suggest checking TechRadar, Digital Trends, and RTINGS TV reviews. Also, join the honest tech-geek community on AVS Forum!
About the persuasive power of demo versions and clever clerks
Secondly, don't let appearances fool you! Typically, store and showroom clerks aren't technical wizards with know-how on TV specs. Instead, they are trained and skilled salespeople. They can convince anyone to buy, especially if the consumer is bombarded with a dazzling demo version in the store.
More often than not, the excellent video or audio quality of demo versions on display can't be replicated at home. They show pre-produced content that increases the "zing factor" with bedazzling colors and bombastic sounds. It's all part of the show. For this reason, we warn you about the dangers of so-called impulsive buying.
What's the ideal viewing distance and sound volume?
Consider your home theater system requirements before purchasing a smart home device! How much space does your living room enable to create a cinema-at-home experience? For example, the ideal viewing distance between a 77-inch display and the viewer should be between 250 and 400 inches. Otherwise, you can't see all the visual details correctly. Plus, you risk developing an eyesore and headache!
Let's not forget about the sound quality, either! The ideal sensitive range of a Dolby audio system lies between 85 and 91 decibels. Anything louder than that may cause discomfort for you and your (always complaining) neighbors. Plus, your sound system should be capable of transmitting forty watts of power per speaker.
Which TV will cater to your needs the best?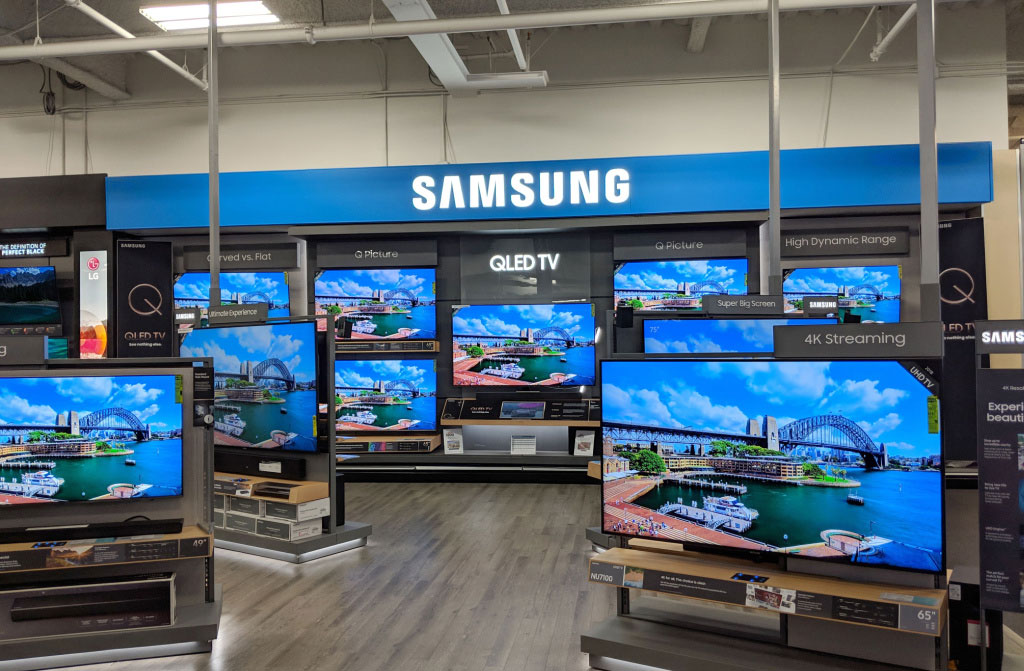 The market is flooded by next-gen TV technology. Before buying an OLED, QLED, Mini-LED, or simple LED TV, you must assess your viewing requirements!
LCD TVs are still perfect for watching daytime programs.
Long gone are the days when our grandparents watched daytime soap operas exclusively on their telly. Though undoubtedly, cable TV is still trending mostly among boomers. For them, we recommend budget-friendly LCD (liquid crystal display) TVs! These devices can display, for instance, the best real estate TV shows (Flip or Flop or Property Brothers) in the most satisfying quality without breaking the bank.
The Samsung TU-8000, Samsung N5300, Amazon Fire TV, and the Insignia F30 Series are more than capable of handling the task.
Chill at home streaming movies on your OLED or Mini LED TV!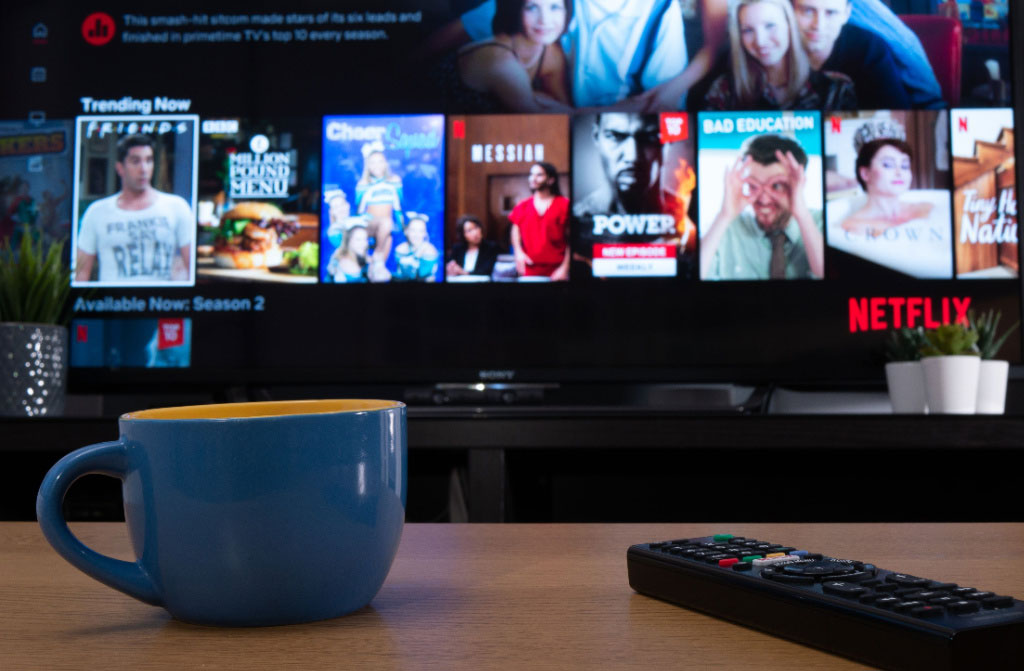 In the 21st century, a new, more sophisticated standard took over the TV market with outstanding technical achievements. Now, you can stream movies on Netflix, Amazon Prime, HBO MAX, Apple Plus, and Disney Plus. All you require is a nippy Internet connection and download speed and a great TV to download these applications. Since the pandemic and lockdown, streaming movies and binge-watching series have become a trendy national pastime activity.
Samsung's QN90A, Sony Bravia XR OLED models, Hisense L10 Series 100-inch Laser TV, and LG C2 are the cream of the crop regarding the best streaming quality. Most can effectively display the best picture (Dolby Vision) and sound quality (Dolby Atmos.) So why don't you lie back on your comfy sofa and enjoy the upcoming Stranger Things or House of the Dragon season?
Older movies get a new life on OLED and QLED sets.
Suppose you're a movie buff eager to watch genre-bending movies of the highest quality. In that case, the next-gen TVs cater to your needs and can upscale old films from your DVD, Blu-Ray, and 4K UHD disc collection. Thanks to their cutting-edge algorithm, even black-and-white films from the 1930s and 40s will look stunning on 4K smart TVs, like the Sony X900H, Hisense H8G, LG HU70LA, or Samsung QN70.
Which are the most beautiful TVs and why?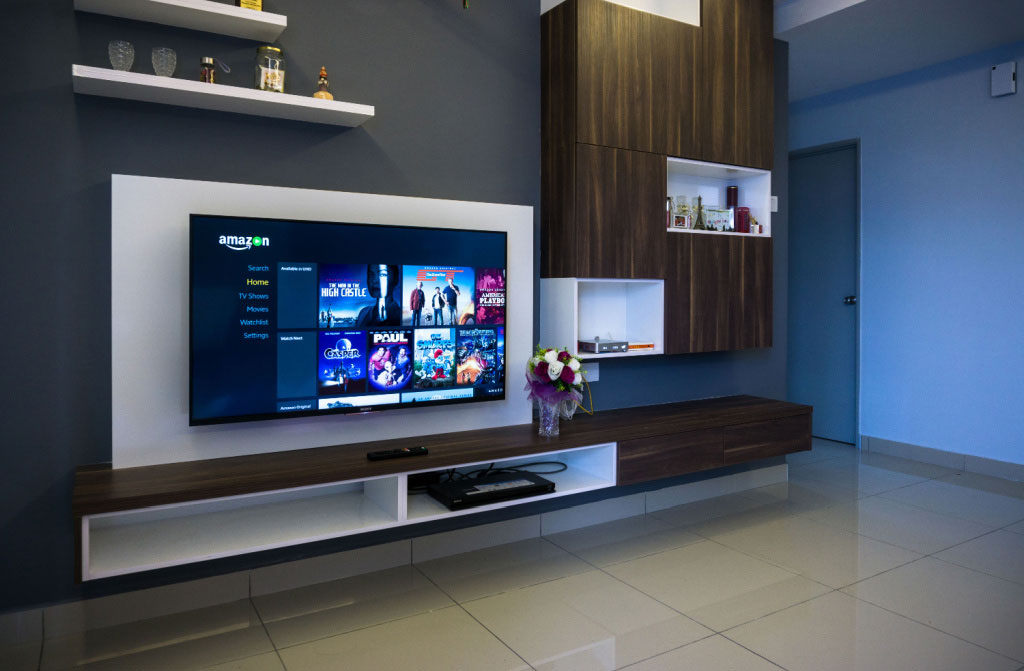 We will be honest with you, few exceptional TVs can satisfy every need. Gen-Z and millennials will look for a TV that delivers the best gaming, sports, movie, and streaming experience and can upgrade old content flawlessly. If you wish to own the whole package, you must dig deep into your pockets, as the best 65-inch TVs in the market can cost more than $3,000.
If money is no objection, we recommend you buy the following TVs: Samsung S95B, Samsung Neo QN 90A, LG G3, LG C2, and Sony X95K. On the other hand, the TCL 6 Series and Hisense U8H offer more reasonably-priced alternatives to their pricey counterparts. Yet, they fail to deliver the same OLED or QLED color accuracy, deep blacks, excellent viewing angles, HDR experience, and almost 3D contrast.
Your home cinema experience can't be complete without a bombastic sound system!
Who wouldn't want to jump straight into the action? Next-gen TVs usually have a reliable stereo audio system ideal for casual viewing. The most renowned companies, like Sony, offer first-class "Acoustic Surface Audio" features to track and emit sound on display. In other words, it can get pretty close to mimicking the surround effect.
Nevertheless, you should invest in a top-notch soundbar or another audio system with a dedicated amplifier to get that fully immersive experience!
Take center stage and immerse yourself in sharp acoustics!
A Dolby Surround System provides Dolby 5.1, DTS (short for Digital Theater Systems), and Dolby Atmos, the most progressive sound for your theater. To feel the adrenaline rush, you need to purchase a six (or eight)-speaker system including a center, two fronts, a subwoofer, and two rear speakers.
You shouldn't be worried about too many cables coming out of your TV set! Next-gen TVs have excellent Bluetooth connectivity that can pair all speakers through wireless communication. Thus, your television won't look like a porcupine.
Which speakers do we recommend to get the best home cinema acoustics in 2023?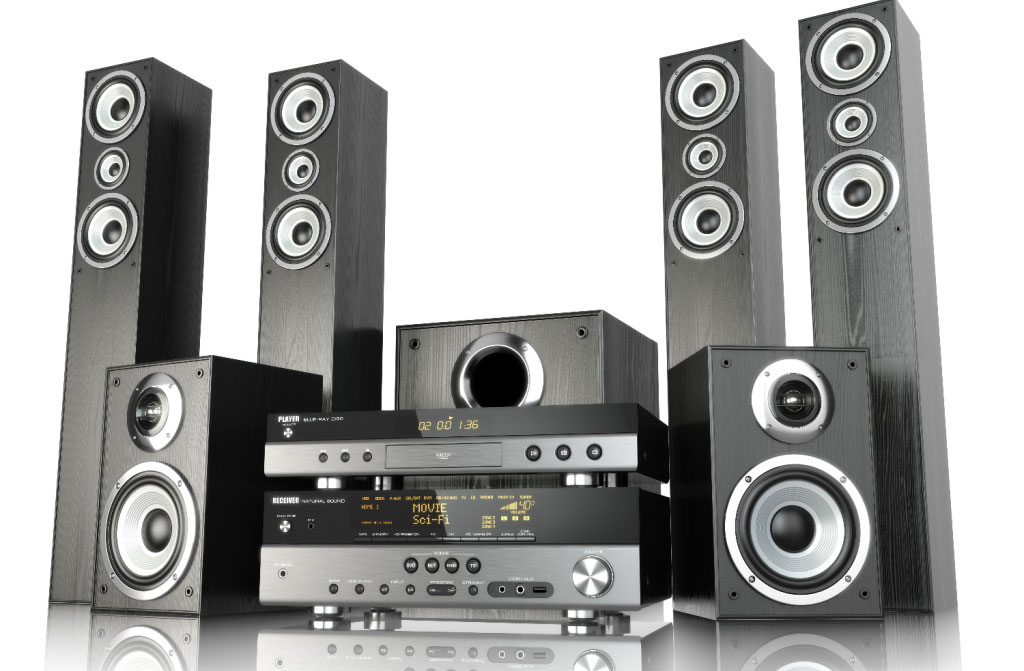 Fortunately, the market provides an extensive array of audio devices (some pricier than others) that can authentically replicate real-life sounds, voices, and music. Let's look at our top picks!
Logitech Z906 5.1 (transforms stereo into surround sound),
VIZIO M-Series 5.1 Premium Sound Bar (boasting mind-blowing DTS and Dolby Atmos support and is one of the most budget-friendly solutions)
Polk Audio 5.1 Home Theater (offers a bang for your buck in the mid-range 5.1 channel-system category with dynamic balance, ideal for enjoying concert-hall acoustics.)
Nakamichi Shockwafe Ultra 9.2.4 (the Consumer Technology Association Innovation Award winner delivers the ultimate 360° spatial surround processing tech with the help of nine channels.)
Conclusion
Specialists argue whether technology makes us smarter or dumber. Undeniably, in the home theater domain, spectacular technological breakthroughs have been invented and improved. Therefore, we can enjoy the most realistic and impressive visual and audio content. Setting up the trendiest, next-gen home cinema devices in your living room is necessary to benefit from the most enjoyable recreation.
By all means, you can improve your home theater room's all-around aspect by playing with light and color in interior design. Be warned, though! There's no going back once you sit in the middle of a professionally installed home theater! You wouldn't even want to leave your cozy chair since the riveting audio and visual experience will get you hooked for life.