When it comes to interior design, features, and amenities, everyone believes that celebrities go over the top with what they implement in their multi-million dollar homes. And while that might be the case for many A-listers and we can all think of John Travolta's two runways or Lady Gaga's bowling alley, many live in normal-looking homes.
Yes. Celebrities enjoy a glamorous lifestyle that comes with the job description in many instances. I mean, who would follow Kim Kardashian if she lived in a two-bedroom apartment in Brooklin? Probably not the millions of followers that she currently has. That lifestyle is part of what makes them so unapproachable, but it can also be a result of being constantly followed by the paparazzi. You need a place to hide where you are safe and where you have most of the things you need. That can go as far as designing celebrity homes with hidden rooms that remind us all of Richie Rich's home, the 1994 poor little rich boy classic comedy starring Macaulay Culkin. But even he is rumored to live in a modest yet expensive home as it's located in the Hollywood area.
While there are many celebrities that like to go above and beyond with their at-home amenities, we'll focus on the main celebrity demands list. Most of these are understandable and most of us would like to have these amenities in or around our homes. Some might even get to enjoy them at our discretion as not all of these are extravagant or A-list celebrity weird.
Most Wanted Celebrity Home Amenities
With so many celebrities active on social media, seeing glimpses of their home isn't as shocking anymore. Especially during the pandemic, if you follow any celebrities on social media you might have caught a glimpse of their glamorous lifestyle, especially through their Instagram pictures. From custom-made backyards to indoor pools, let's take a closer look at what amenities most celebrities want to have in their homes. Whether they live in the pinnacle of luxury, or modest two-bedroom homes, the following amenities will most likely find their way inside the private homes of A-list celebrities.
Let's go for a Swim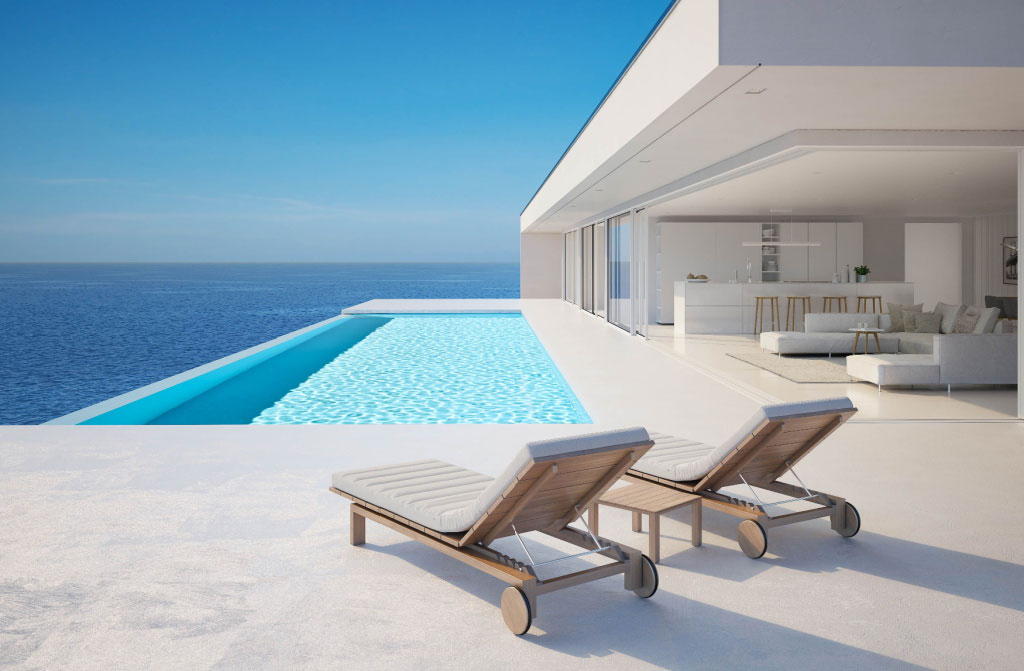 Whether it's an infinity pool or a basement pool, most celebrities want to be able to swim in privacy at their own leisure. I mean, many might cause crowds to form if they go to the local pool so having their own swimming pool makes perfect sense.
Infinity pools are still considered by many a luxury reserved for the most glamorous and expensive resorts in the world, they recently became almost standard amenities for luxury real estate developers. Many upscale residential projects and luxury homes incorporate them from the blueprint stage because people are unlikely to say no to an infinity pool if they have the money to pay for it. These infinity pools are defined by invisible boundaries, glass walls, and water overflowing over at least one of its edges. The result is a striking visual effect of overflowing water and an astounding view, but the construction of one is more challenging than a regular pool.
Still, celebrities that live in urban settings can really swim in a glass pool where anyone can ogle at them. Taylor Swift, for instance, lived in a West Village, New York City townhouse that had an indoor swimming pool stretching 30 feet in the basement if you wanted any ideas for a basement remodel. The swimming pool had double-height ceilings and a chandelier, giving her all the privacy and intimacy she wanted.
Get the Popcorn Ready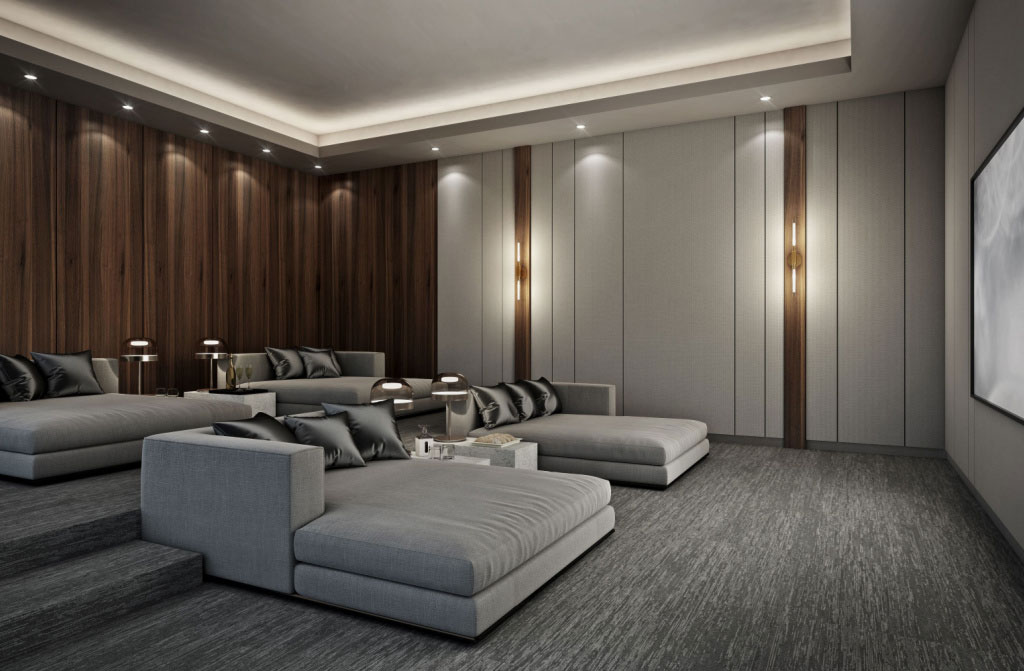 I don't know about you, but I don't believe I've met anyone, celebrity or not, that would say no to a home cinema. I mean, especially with celebrities, many of them starring in movies, do you really think they would say no to their own private home theater? I don't think so. I mean, Rihanna is known to have one and why wouldn't she? Being able to enjoy your favorite movies in your own comfort together with friends once you're off the movie set is a dream and it's no wonder this is the most common amenity A-list celebrities like to have in their homes.
Something that is also a common feature of home cinemas or private home theaters is the snack and beverage bar. From popcorn to nachos, tacos, and any sweet craving you can imagine, having them on hand during the viewing of your favorite movie is more convenient than having to go all the way back to the kitchen and grab them.
This luxury amenity is slowly making its way into many regular homes as including this feature in your home doesn't necessarily mean you have to spend a fortune. I mean, if you want it to look like Rihanna's you might have to spend a pretty penny, but a projector and a white wall can work great for a smaller budget.
In Vino Veritas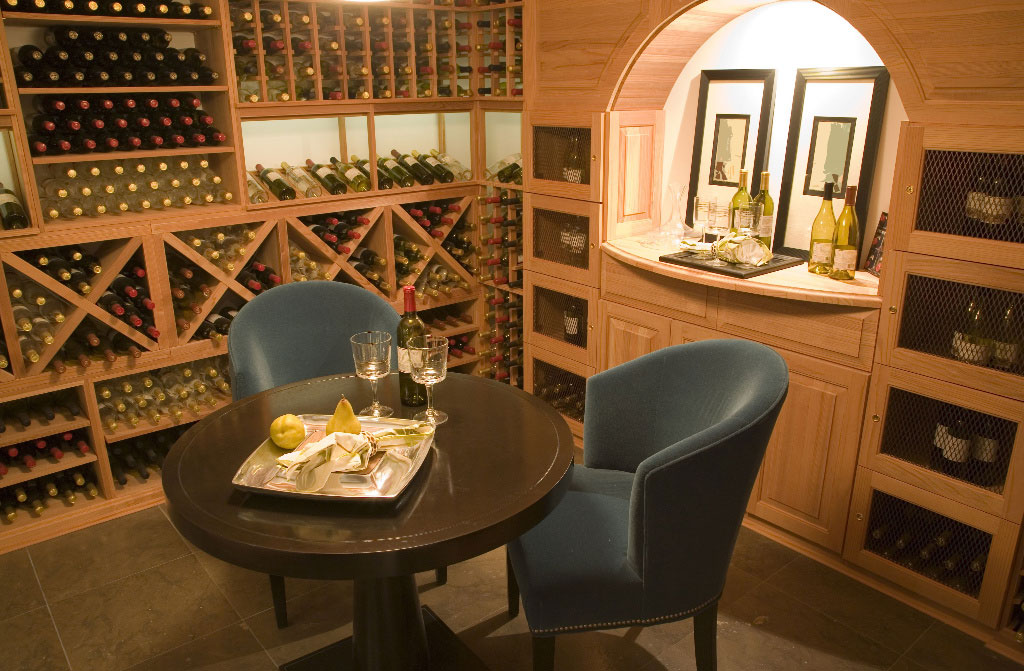 Celebrities like to enjoy the best of the best at their discretion and if they love to delight their senses with the best types of wine available on the market, they also need a place to store it. After all, if you buy a bottle of Chateau Calon-Segur or other European wines you want to store it somewhere where the fine liquid will be preserved as well as possible. Wine rooms or cellars are a common amenity, especially for those A-listers that appreciate perfectly aged wines.
With intricate displays of bottles and intriguing designs, wine cellars can be as simple as a room with stacks of wine bottles on display where the dust can settle in all its glory and underline the age of each bottle of vino, or a mine wine, like Oprah's wine cellar from her Colorado ski home. Aside from housing around 1,600 bottles of rare wine, it looks exactly how you'd expect an abandoned mine to look, complete with sounds of dripping water and wood creaking, but the antique ore cart makes the atmosphere that much more surreal. Features like temperature control are a must and it doesn't hurt to also have a serving area for hosting their celebrity guests.
His & Hers Walk-in Closet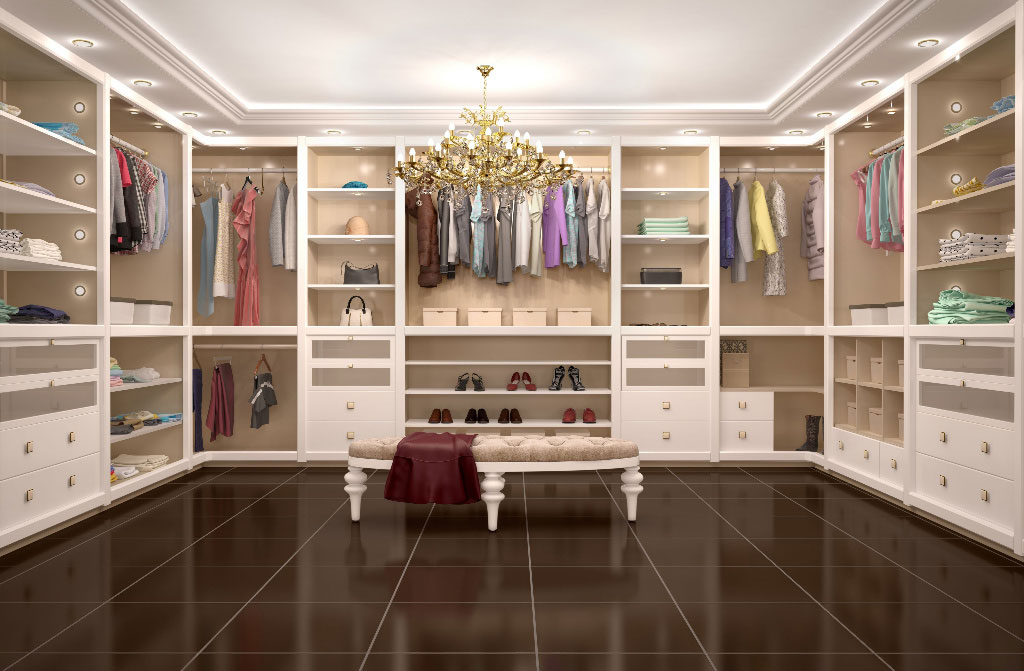 The minimalist interior design might be a highly sought-after design style for celebrities, but that minimalism doesn't seep into their closet. Having ample storage and display space for all their outfits is a must. After all, where else are they going to store all those red carpet designer clothes if not in their walk-in closets. But you should understand that a walk-in closet for an A-list celebrity isn't your average room size. Think more of a large living room. In fact, several walk-in closets are not uncommon in celebrity homes as all their clothing and accessories will surely fill one. For instance, Lady Gaga has several such closets around her home, one even having a fridge in it probably for the meat dress she wore at the 2010 MTV Video Music Awards.
Their active lifestyle and overall life in the spotlight is packed with events, galas, and premieres where paparazzi follow their every move so they need to look on point every time they go out. Or, they could pull a Daniel Radcliffe and use the same clothes in front of the paparazzi for months, just to make every photo unusable and teach them a lesson in the meantime. Some celebrities have walk-in closets that are specially designed for their shoes, and while you might expect me to drop a female name, it's actually DJ Khaled who has a "storage closet" that can house 500 pairs of shoes. Still, probably Celine Dion has one similar as she's a real like Carrie Bradshaw.
Extravagant Celebrity Amenities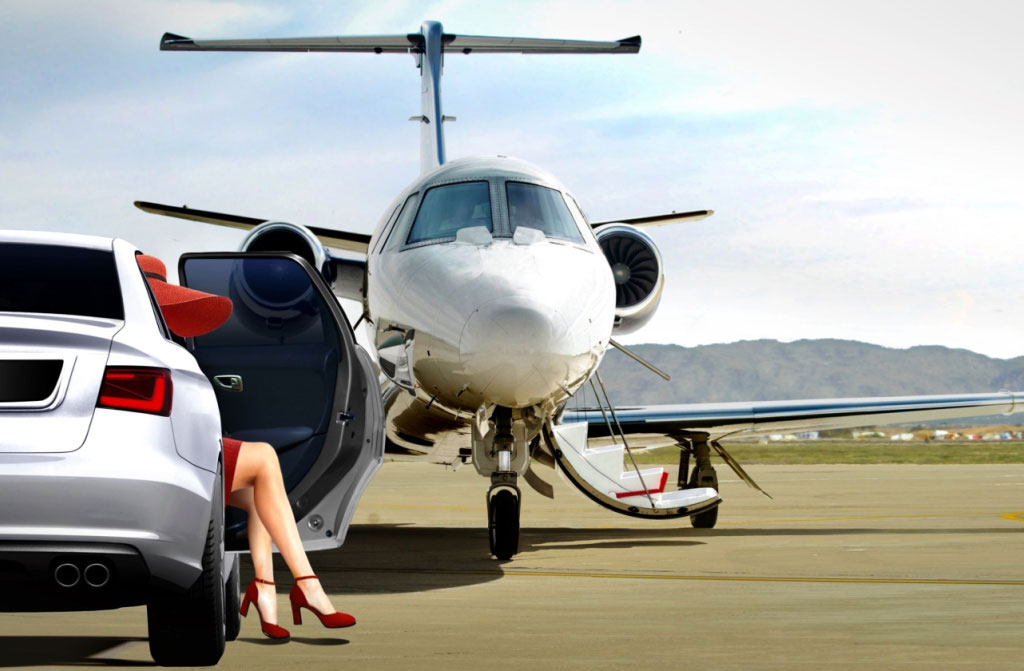 The amenities listed above can be considered as a bare minimum for many celebrities but I dug a little deeper and found that some celebrities really like to go to extremes with their home's amenities. The following are the most extreme celebrity amenities I stumbled upon during the research for this article and, you should know, some will shock you.
John Travolta's Runways
When I mentioned John Travolta's runways above, I did not mean a catwalk but an airplane runway and he has two. The famous actor is a licensed pilot which may explain the runways and the several airplanes he owns. Still, being able to park an airplane in front of your home may be a bit too extravagant for me. Who needs to live by an airport when you can have your own runway?
Drake's Mattress
While many might want to see this mattress, the fact that it cost almost $400,000 is a bit of a shock. The fact that it's made out of compressed leather, polished wood, suede, and brass ornaments might fly by me, but the horsehair, and stingray skin takes it a bit too far. I get that he needs to rest after shows, but why stingrays?
Conclusion
Anyone is allowed to do anything they want with their money for their own comfort and while some of these amenities are understandable and wanted by anyone who's not afraid to dream big, some are a bit too extravagant for my taste or needs. Celebrities live most of their life in the public eye, so their wanting private amenities should not come as a surprise. After all, if you can't be comfortable in your own home, what kind of a life is that? The lifestyle of the rich and famous is something that many of us can't even imagine, but if you want to park your plane in your front yard, have at it. If you want a wine mine, go wild. However, for me, everything stops at stingray skin. Leave the poor creatures alone.
Let us know in the comment section below if any of these amenities are something you would like to implement in your own home. Some of them aren't as impossible to implement and, depending on the scale and style, they might not even be that expensive. Like & Share this article with friends who like to dream big and aim for the stars. It might motivate you or them to land on the Moon at the very least.