Are you starting to feel that sense of wanderlust? Have you decided to let yourself be carried away by it and look for your next adventure? In that case, look no further than Michigan nature! Known for its stunning natural landscapes, the Great Lakes, and charming coastal towns, Michigan has many amazing places that are sure to satisfy your thirst for exploration. But to truly experience the wonders of Michigan nature, you need to stray from the well-trodden paths and explore some of the lesser-known but – in many opinions – the best places to visit in Michigan. Michigan's natural beauty is truly unparalleled, with its vast stretches of beaches, serene lakes, and enchanting forests. From quaint towns with a unique charm to breathtaking cliffs and peaceful hiking trails, it's no exaggeration to say that Michigan has everything one needs for an unforgettable experience.
Stunning landscapes, secluded beaches, and magnificent waterfalls await! So, forget about the crowded tourist spots and join me to discover the best-kept secrets of the Michigan outdoors!
Natural wonders of Michigan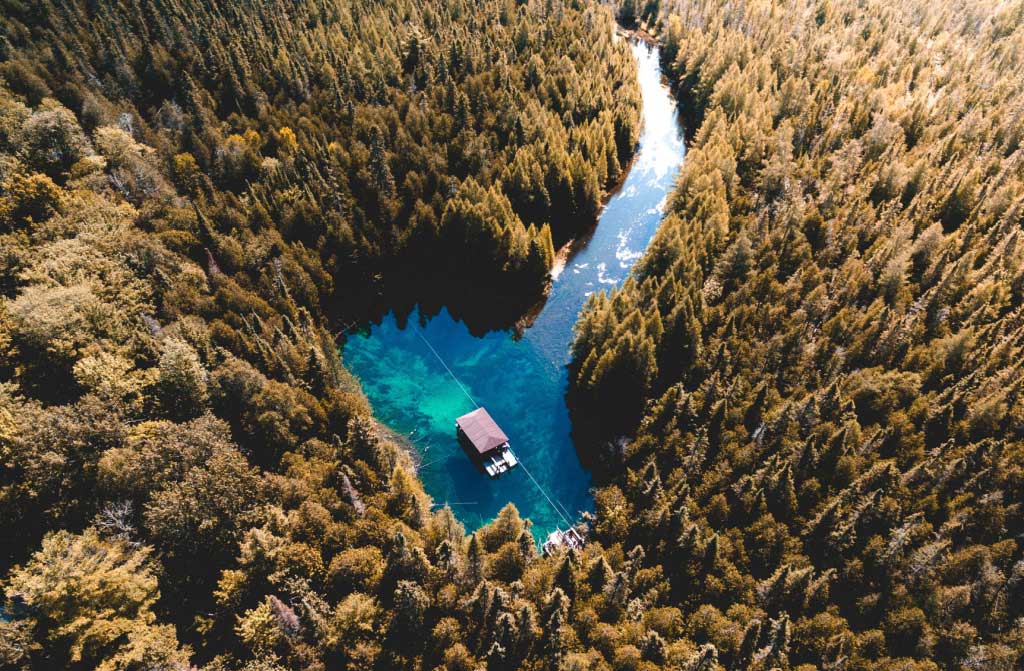 The Great Lake State boasts uncountable natural treasures that will make you stop and marvel at the beauty of Michigan nature. If hiking is not already your thing, after visiting Michigan you will probably develop an interest in adventurous hobbies for outdoor lovers. Here's a selection of the most amazing hidden gems of Michigan outdoors!
Kitch-iti-kipi
Also known as the "Big Spring," is Michigan's largest natural freshwater spring, and is located in Palms Book State Park in Michigan's Upper Peninsula. The spring is also called "The Mirror of Heaven" after its crystal clear water, which allows visitors to observe fish and wildlife in the depths. A self-operated raft takes the visitors to the center of the spring, where the water is over 40 feet deep. The raft is an excellent spot to enjoy the stunning beauty of this Michigan nature gem. The spring remains at a constant 45 degrees Fahrenheit even in the summer.
Spray Falls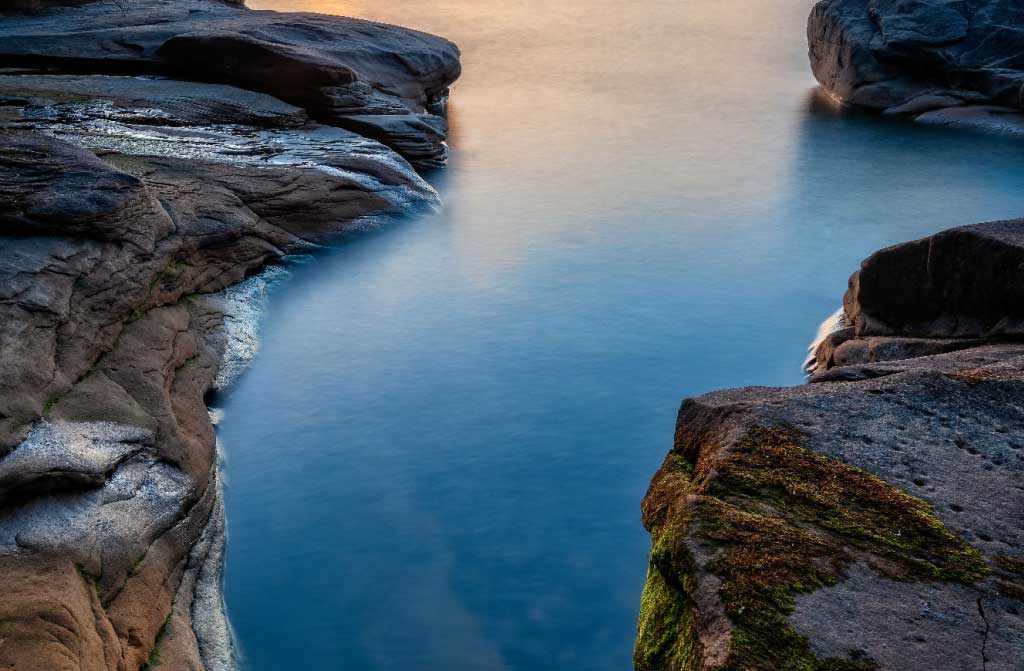 Dropping 70 feet over from a sandstone cliff right into Lake Superior, the waterfall creates a rather dramatic and awe-inspiring sight. The North County Trail leads to this hidden gem, offering adventurous visitors scenic views of lake superior and Michigan nature along the way. The cascading water can best be enjoyed from the water, as the cliffs are very abrupt around the waterfall. Spray Falls is the most breathtaking among the several waterfall sights in Pictured Rocks National Lakeshore. It's an amazing natural wonder of Michigan outdoors that should not be missed on a visit to Michigan.
Chapel Rock
Just a few miles from Spray Falls, on the southern shore of Lake Superior, there lies the next treasure of Michigan nature. The unique sculpture-like rock formation is named for its resemblance to a chapel, and it's an awesome spot for hiking and photography enthusiasts. Hiking the Chapel Loop Trail leads visitors to the rock, where they can enjoy the breathtaking lake and forest views. The trail also leads to Chapel Beach, a lovely sandy beach offering a perfect spot for swimming and sunbathing. Don't miss out on this must-visit iconic natural landmark of Michigan nature on your visit!
Ocqueoc Falls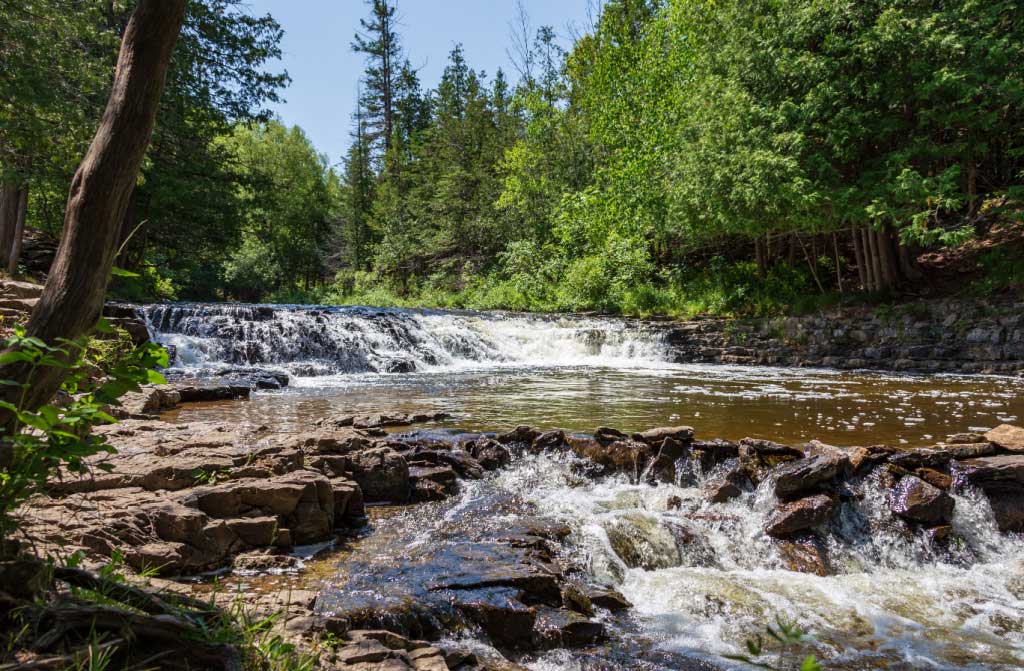 Ocqueoc Falls is a picturesque waterfall located in Ocqueoc Falls State Park. The waterfall, as the largest one in Michigan's Lower Peninsula, must be on the list of Michigan nature's hidden gems. The park offers a range of recreational activities, including fishing, hiking, or picnicking. It is also a great destination for a disability-friendly hiking trip, as the park has a paved trail that is wheelchair accessible and leads visitors to an overlook of the falls. The water cascades over 15 feet, forming a pool below. Ocqueoc Falls is a stunning natural attraction that offers an enjoyable experience for visitors of all abilities.
Arcadia Dunes
The natural preserve on the shore of Lake Michigan stretches over three miles of pristine shoreline and fifteen miles of hiking and biking trails. The place is excellent for awing at towering sand dunes, forests, and wetlands. The Arkadia Dunes Park offers several hiking and biking trails to explore the unique local ecosystem of Michigan nature.
Eben Ice Caves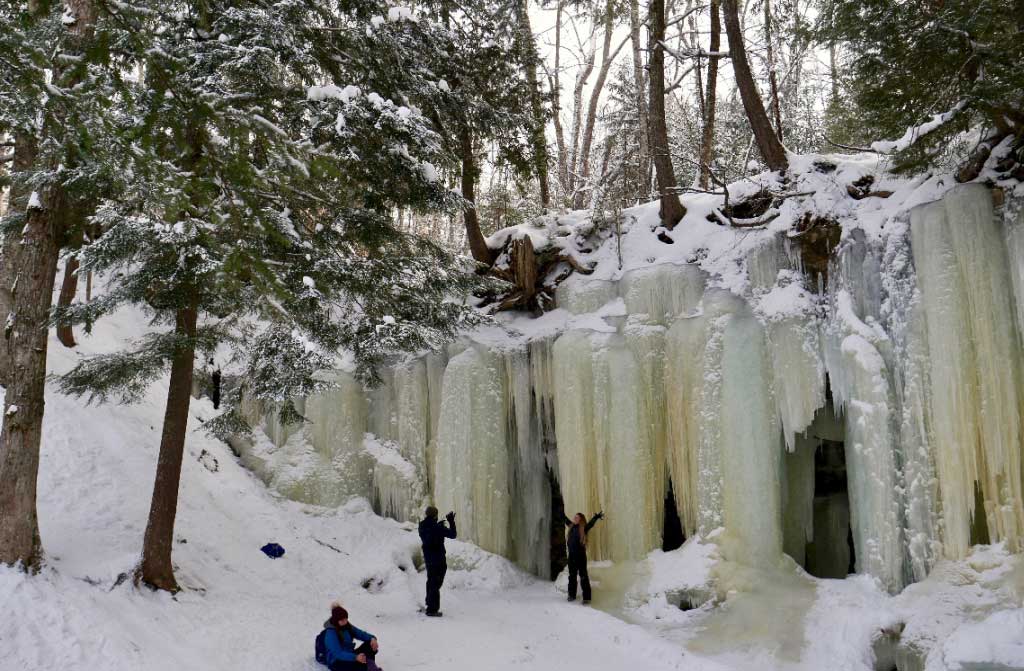 The Eben Ice Caves are amazing hidden gems of Michigan outdoors located in the Upper Peninsula. Those natural wonders that have been created by freezing cold temperatures. The caves are made of ice and snow; visitors can explore the formations by walking near and around them. The sight of the frozen waterfall and ice formations is mesmerizing. And it's different every winter! The Eben Ice Caves are an excellent destination for winter holidays, providing a unique and stunning experience of Michigan nature for visitors seeking an adventure in the snow. The Hiawatha National Forest is the home of the Eben Ice Caves, and they can be visited from January to mid-March.
Urban wonders of the Great Lake State
If you're not much of a hiking enthusiast, there are still plenty of amazing places to explore besides Michigan nature. Here are two of which are perfect for those who like to explore charming US towns!
Saugatuck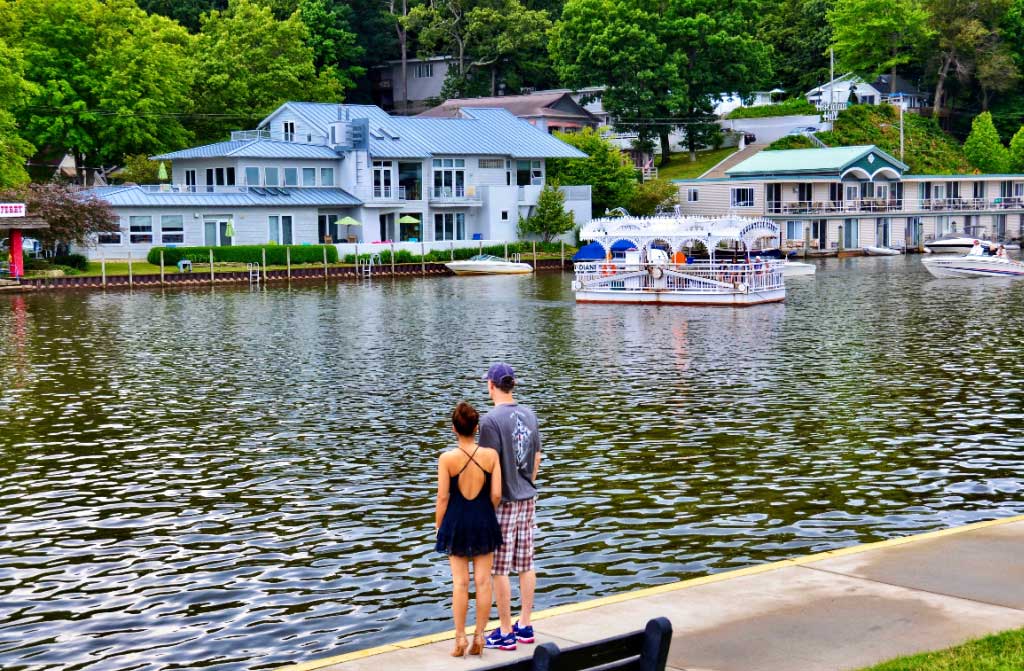 The picturesque town of Saugatuck is known for its beautiful beaches, awesome downtown area, and vibrant art scene. The town is quaintly surrounded by orchards, vineyards, and farms, providing scenic views for visitors to enjoy. The art community is thriving in Saugatuck, with numerous galleries and studios showcasing the works of local artists. The town's downtown area features unique shops, restaurants, and bars. Visitors can enjoy Michigan nature on relaxing boat trips and maybe even explore the nearby sand dunes. Saugatuck is a perfect relaxing vacation destination, however, it's excellent for a getaway filled with art as well.
Kalamazoo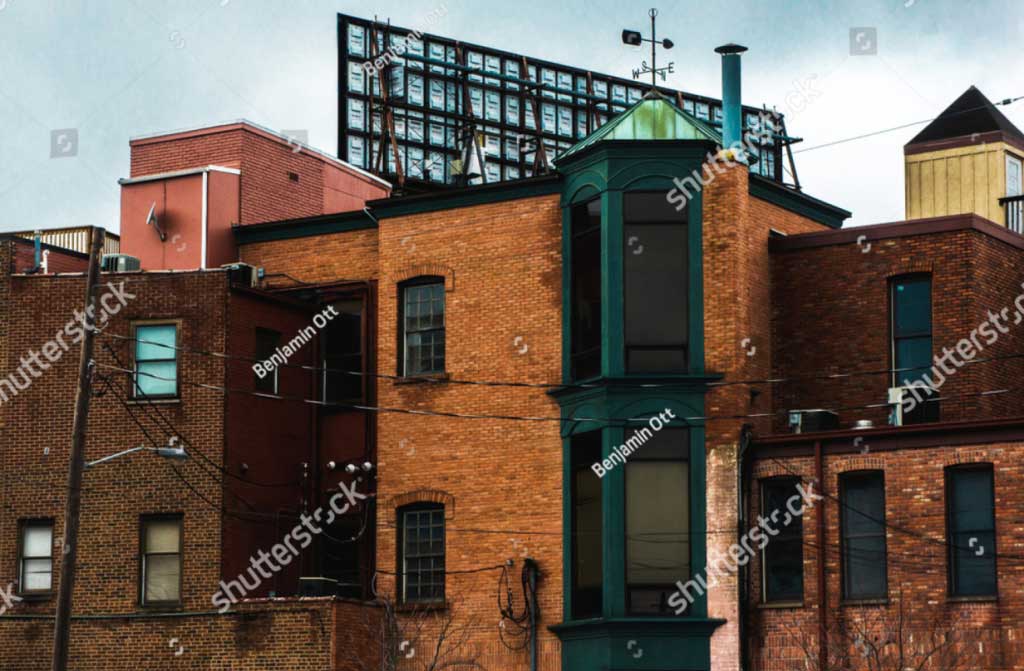 The vibrant town of Kalamazoo should be on your list if you're exploring college towns that are hidden gems. Known for its rich history, thriving arts scene, and world-renowned educational institution, it has been mentioned on the list of best college cities in the USA. The city is home to several colleges and universities like Western Michigan University and Kalamazoo College, which contribute to the city's intellectual and cultural diversity. The downtown area features lots of shops, restaurants, and bars, as well as cultural attractions such as the Kalamazoo Institute of Arts and the Kalamazoo State Theatre. But the art scene is not the only thing that's fizzy in Kalamazoo. The city is also known for its craft beer scene, with numerous breweries and taprooms offering quality local beers and ciders. The Kalamazoo river offers space for water activities to complement the balanced blend of history, culture, and natural beauty this Michigan gem has to offer.
Les Cheneaux Islands
Something in between, the Les Cheneaux islands are great for exploring Michigan outdoors but are excellent for laid-back urban exploration, too. The group of 36 small islands is located on the northern shore of Lake Huron in Michigan's Upper Peninsula. The islands offer lots of recreation opportunities to enjoy Michigan nature, like boating, fishing, or hiking. The narrow channels make a perfect place for boating and sailing adventures. Visitors have the possibility to enjoy the quaint towns located on the islands. Hessel and Cedarville offer a glimpse into the area's rich culture, with their charming restaurants, shops, and resorts offering recreational options for the less adventurous types too. Fun fact: the islands are home to the world's biggest antique boat show. The islands even have their own festival! This hidden gem in Michigan is a popular destination to visit for a summer vacation or a relaxing weekend getaway.
All the amazing things considered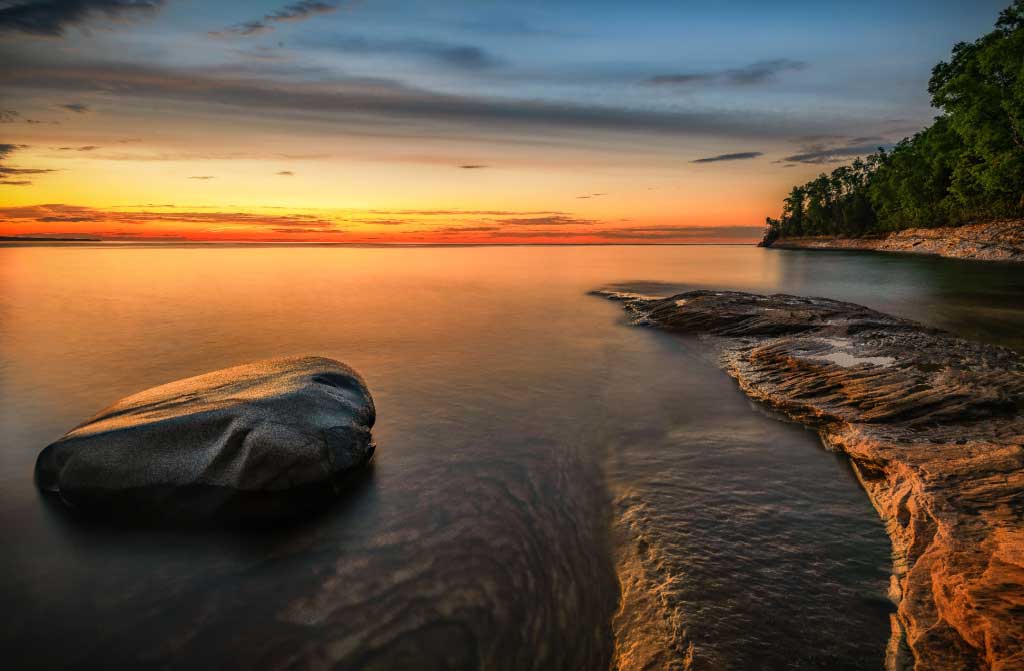 Michigan nature is a wonderland for those with a thirst for adventure and a desire to discover hidden gems. The state offers a diverse range of attractions and activities that cater to all interests and preferences. From exploring the unspoiled beauty of the Upper Peninsula to sampling the best American foods and enjoying the charm of small coastal towns, Michigan is a destination that never disappoints and has something to offer everyone. But to truly experience the wonders of Michigan outdoors, it's better to wander off the beaten paths and explore some of the lesser-known destinations. The hidden gems of Michigan nature you're about to discover offer a glimpse into the state's unique character, allowing you to connect with its people and culture in a more intimate way. And if reading through all these amazing places got you interested in moving to the state, don't hesitate and reach out to local real estate agents in Michigan! They can help you with fresh information on real estate in the state.
So, when you feel the wanderlust again, head to Michigan! You never know what surprises await you in this amazing state. And that's the true beauty of traveling: the journey that allows you to cherish unexpected moments of awe.